Forty5 Presents
Keller Williams
Fri Dec 03, 2021
8:00 PM / Show: 9:00 PM
21+
$25
Keller Williams live at the Vogue Theatre!
HEALTH CHECK REQUIRED
At the artist's request, all attendees of this event are required to have received a negative COVID-19 test within 72-hours prior to entering the venue OR be fully vaccinated against COVID-19. In attending the event, you certify and attest that you and all individuals in your party attending the event will abide by the following regulations:
All fans will provide printed proof of a negative COVID-19 test within 72-hours prior to entering the venue, OR be fully vaccinated against COVID-19 (at least two weeks after final dose) and provide printed documentation providing proof of immunization.
Entry requirements and venue protocols are subject to change.
For more information, please visit http://thevogue.com/healthcheck/
—-
Keller Williams
Virginian, Keller Williams, released his first album in 1994, FREEK, and has since given each of his albums a single syllable title: BUZZ, SPUN, BREATHE, LOOP, LAUGH, HOME, DANCE, STAGE, GRASS, DREAM, TWELVE, LIVE, ODD, THIEF, KIDS, BASS, PICK, FUNK, VAPE, SYNC, RAW, SANS, ADD, SPEED and CELL.  Each title serves as a concise summation of the concept guiding each project. Keller's albums reflect his pursuit to create music that sounds like nothing else. Un-beholden to conventionalism, he seamlessly crosses genre boundaries. The end product is music that encompasses rock, jazz, funk and bluegrass, and always keeps the audience on their feet. Keller built his reputation initially on his engaging live performances, no two of which are ever alike. For most of his career he has performed solo. His stage shows are rooted around Keller singing his compositions and choice cover songs, while accompanying himself on acoustic guitar, bass, guitar synthesizer and drum samples; a technique called live phrase sampling or "looping".  The end result often leans toward a hybrid of alternative folk and groovy electronica, a genre Keller jokingly calls "acoustic dance music" or ADM." Keller's constant evolution has led to numerous band projects as well; Keller & The Keels, Grateful Grass, KWahtro, Keller and the Travelin' McCourys, Grateful Gospel and More Than A Little to name a few. Keller can be found playing clubs and festivals around the U.S. with these projects throughout the year.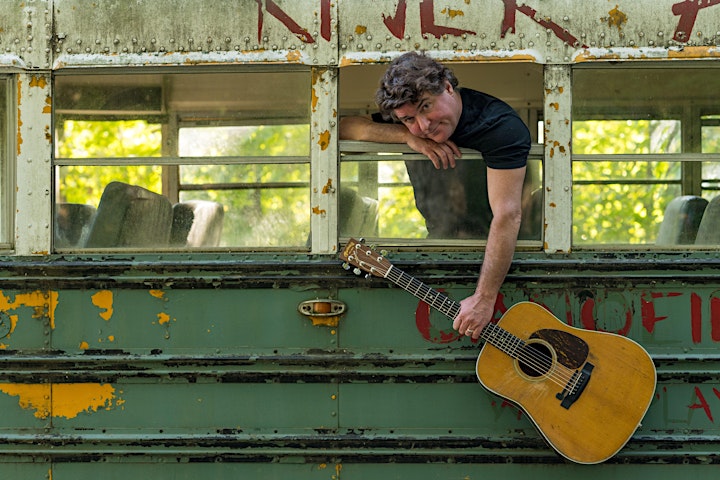 KELLER WILLIAMS
FRIDAY DECEMBER 3RD, 2021
THE VOGUE THEATER
INDIANAPOLIS, IN
TICKETS AT THEVOGUE.COM
PLEASE NOTE:
THIS SHOW IS GENERAL ADMISSION AND SEATING IS NOT PROVIDED. YOU MUST BE 21+ TO ENTER THE VENUE AND ALL TICKETS ARE NON TRANSFERABLE AND NON-REFUNDABLE.
ALL GUESTS MUST WEAR A FACE COVERING PER MARION COUNTY PUBLIC HEALTH ORDER. PLEASE BRING YOUR OWN. DISPOSABLE FACE MASKS WILL BE AVAILABLE FOR PURCHASE AT THE BOX OFFICE, BUT QUANTITIES ARE LIMITED. THIS POLICY IS SUBJECT TO CHANGE BASED ON THE ORDER OF LOCAL AUTHORITIES AND AT THE VENUE'S DISCRETION.
Forty5 Presents Keller Williams at The Vogue Theatre on Friday, December 3, 2021. Photo cred Melodie Yvonne
Forty5 Presents Keller Williams at The Vogue Theatre on Friday, December 3, 2021. Photo cred Melodie Yvonne
Forty5 Presents Keller Williams at The Vogue Theatre on Friday, December 3, 2021. Photo cred Melodie Yvonne
Forty5 Presents Keller Williams at The Vogue Theatre on Friday, December 3, 2021. Photo cred Melodie Yvonne
Forty5 Presents Keller Williams at The Vogue Theatre on Friday, December 3, 2021. Photo cred Melodie Yvonne
Forty5 Presents Keller Williams at The Vogue Theatre on Friday, December 3, 2021. Photo cred Melodie Yvonne
Forty5 Presents Keller Williams at The Vogue Theatre on Friday, December 3, 2021. Photo cred Melodie Yvonne
Forty5 Presents Keller Williams at The Vogue Theatre on Friday, December 3, 2021. Photo cred Melodie Yvonne
+54 More
Forty5 Presents Keller Williams at The Vogue Theatre on Friday, December 3, 2021. Photo cred Melodie Yvonne
Forty5 Presents Keller Williams at The Vogue Theatre on Friday, December 3, 2021. Photo cred Melodie Yvonne
Forty5 Presents Keller Williams at The Vogue Theatre on Friday, December 3, 2021. Photo cred Melodie Yvonne
Forty5 Presents Keller Williams at The Vogue Theatre on Friday, December 3, 2021. Photo cred Melodie Yvonne
Forty5 Presents Keller Williams at The Vogue Theatre on Friday, December 3, 2021. Photo cred Melodie Yvonne
Forty5 Presents Keller Williams at The Vogue Theatre on Friday, December 3, 2021. Photo cred Melodie Yvonne
Forty5 Presents Keller Williams at The Vogue Theatre on Friday, December 3, 2021. Photo cred Melodie Yvonne
Forty5 Presents Keller Williams at The Vogue Theatre on Friday, December 3, 2021. Photo cred Melodie Yvonne
Forty5 Presents Keller Williams at The Vogue Theatre on Friday, December 3, 2021. Photo cred Melodie Yvonne
Forty5 Presents Keller Williams at The Vogue Theatre on Friday, December 3, 2021. Photo cred Melodie Yvonne
Forty5 Presents Keller Williams at The Vogue Theatre on Friday, December 3, 2021. Photo cred Melodie Yvonne
Forty5 Presents Keller Williams at The Vogue Theatre on Friday, December 3, 2021. Photo cred Melodie Yvonne
Forty5 Presents Keller Williams at The Vogue Theatre on Friday, December 3, 2021. Photo cred Melodie Yvonne
Forty5 Presents Keller Williams at The Vogue Theatre on Friday, December 3, 2021. Photo cred Melodie Yvonne
Forty5 Presents Keller Williams at The Vogue Theatre on Friday, December 3, 2021. Photo cred Melodie Yvonne
Forty5 Presents Keller Williams at The Vogue Theatre on Friday, December 3, 2021. Photo cred Melodie Yvonne
Forty5 Presents Keller Williams at The Vogue Theatre on Friday, December 3, 2021. Photo cred Melodie Yvonne
Forty5 Presents Keller Williams at The Vogue Theatre on Friday, December 3, 2021. Photo cred Melodie Yvonne
Forty5 Presents Keller Williams at The Vogue Theatre on Friday, December 3, 2021. Photo cred Melodie Yvonne
Forty5 Presents Keller Williams at The Vogue Theatre on Friday, December 3, 2021. Photo cred Melodie Yvonne
Forty5 Presents Keller Williams at The Vogue Theatre on Friday, December 3, 2021. Photo cred Melodie Yvonne
Forty5 Presents Keller Williams at The Vogue Theatre on Friday, December 3, 2021. Photo cred Melodie Yvonne
Forty5 Presents Keller Williams at The Vogue Theatre on Friday, December 3, 2021. Photo cred Melodie Yvonne
Forty5 Presents Keller Williams at The Vogue Theatre on Friday, December 3, 2021. Photo cred Melodie Yvonne
Forty5 Presents Keller Williams at The Vogue Theatre on Friday, December 3, 2021. Photo cred Melodie Yvonne
Forty5 Presents Keller Williams at The Vogue Theatre on Friday, December 3, 2021. Photo cred Melodie Yvonne
Forty5 Presents Keller Williams at The Vogue Theatre on Friday, December 3, 2021. Photo cred Melodie Yvonne
Forty5 Presents Keller Williams at The Vogue Theatre on Friday, December 3, 2021. Photo cred Melodie Yvonne
Forty5 Presents Keller Williams at The Vogue Theatre on Friday, December 3, 2021. Photo cred Melodie Yvonne
Forty5 Presents Keller Williams at The Vogue Theatre on Friday, December 3, 2021. Photo cred Melodie Yvonne
Forty5 Presents Keller Williams at The Vogue Theatre on Friday, December 3, 2021. Photo cred Melodie Yvonne
Forty5 Presents Keller Williams at The Vogue Theatre on Friday, December 3, 2021. Photo cred Melodie Yvonne
Forty5 Presents Keller Williams at The Vogue Theatre on Friday, December 3, 2021. Photo cred Melodie Yvonne
Forty5 Presents Keller Williams at The Vogue Theatre on Friday, December 3, 2021. Photo cred Melodie Yvonne
Forty5 Presents Keller Williams at The Vogue Theatre on Friday, December 3, 2021. Photo cred Melodie Yvonne
Forty5 Presents Keller Williams at The Vogue Theatre on Friday, December 3, 2021. Photo cred Melodie Yvonne
Forty5 Presents Keller Williams at The Vogue Theatre on Friday, December 3, 2021. Photo cred Melodie Yvonne
Forty5 Presents Keller Williams at The Vogue Theatre on Friday, December 3, 2021. Photo cred Melodie Yvonne
Forty5 Presents Keller Williams at The Vogue Theatre on Friday, December 3, 2021. Photo cred Melodie Yvonne
Forty5 Presents Keller Williams at The Vogue Theatre on Friday, December 3, 2021. Photo cred Melodie Yvonne
Forty5 Presents Keller Williams at The Vogue Theatre on Friday, December 3, 2021. Photo cred Melodie Yvonne
Forty5 Presents Keller Williams at The Vogue Theatre on Friday, December 3, 2021. Photo cred Melodie Yvonne
Forty5 Presents Keller Williams at The Vogue Theatre on Friday, December 3, 2021. Photo cred Melodie Yvonne
Forty5 Presents Keller Williams at The Vogue Theatre on Friday, December 3, 2021. Photo cred Melodie Yvonne
Forty5 Presents Keller Williams at The Vogue Theatre on Friday, December 3, 2021. Photo cred Melodie Yvonne
Forty5 Presents Keller Williams at The Vogue Theatre on Friday, December 3, 2021. Photo cred Melodie Yvonne
Forty5 Presents Keller Williams at The Vogue Theatre on Friday, December 3, 2021. Photo cred Melodie Yvonne
Forty5 Presents Keller Williams at The Vogue Theatre on Friday, December 3, 2021. Photo cred Melodie Yvonne
Forty5 Presents Keller Williams at The Vogue Theatre on Friday, December 3, 2021. Photo cred Melodie Yvonne
Forty5 Presents Keller Williams at The Vogue Theatre on Friday, December 3, 2021. Photo cred Melodie Yvonne
Forty5 Presents Keller Williams at The Vogue Theatre on Friday, December 3, 2021. Photo cred Melodie Yvonne
Forty5 Presents Keller Williams at The Vogue Theatre on Friday, December 3, 2021. Photo cred Melodie Yvonne
Forty5 Presents Keller Williams at The Vogue Theatre on Friday, December 3, 2021. Photo cred Melodie Yvonne
Forty5 Presents Keller Williams at The Vogue Theatre on Friday, December 3, 2021. Photo cred Melodie Yvonne
Other Shows You Might Like
Similar Artists