Forty5 Presents
Brett Dennen: See The World Tour
with The Heavy Hours
Sat Mar 05, 2022
8:00 PM / Show: 8:00 PM
21+
$27.50 to $119
Brett Dennen with special guest The Heavy Hours live at The Vogue Theatre on March 5th, 2022!
HEALTH CHECK REQUIRED
At the artist's request, all attendees of this event will be required to have received a negative COVID-19 test within 72-hours prior to entering the venue OR be fully vaccinated against COVID-19. In attending the event, you certify and attest that you and all individuals in your party attending the event will abide by the following regulations:
Prior to entering the venue, all fans will provide digital or printed proof of a negative COVID-19 test within 72-hours OR be fully vaccinated against COVID-19 (at least two weeks after final dose) and provide digital or printed documentation providing proof of immunization.
Entry requirements and venue protocols are subject to change.
For more information, please visit http://thevogue.com/healthcheck/
—-
Brett Dennen
Brett Dennen is telling us to get out and see the world at a time when we need it more than ever. Flame-haired, six-foot-five, and with a singular gift for meditating on life's most meaningful subjects with equal parts innocence and razor sharp wit, you know Dennen from his decade-plus career as a singer/songwriter. With a successful string of albums and four Top Ten AAA singles like "Make You Crazy," "Wild Child," and 2018's "Already Gone," which achieved his highest chart position yet, Dennen has cemented himself as a fixture in American folk music. What you may not know about Brett is that he did not set out to be a professional musician. It is a surprising revelation for someone who embodies the best of songwriting: singular storytelling, singability, and the unique capacity to hold up a mirror to our lives, our society, and the greater world.
Before all that, he was a painter – a skilled visual artist with a well-honed perspective and a style very much his own. Perhaps it is not so surprising, then, that his lyrics have always seemed to bloom before one's eyes, somehow both stark and colorful, intricately constructed and sweeping in their scope.
And before all that he was a young, avid outdoorsman who spent his childhood camping with his father in and around the Sierra Nevada Mountains, learning the intricacies of the natural world in his native California. Dennen's greatest passion then and now has perhaps been the earth – and it was only as a camp counselor, in front of a roaring campfire with the wilderness unfolding in the background, that he fell in love with the idea of playing music. As an adult he has climbed Mount Kilimanjaro, trekked in Nepal, and is a fierce advocate for environmental protection. He even wrote the new Smokey Bear theme song for Smokey's 75th birthday.
In recent years, Brett Dennen has started to let the world in on his secrets. In 2017, he created the "Lift Series" and "Vacationer Series," two annual tours wherein he combines shows in ski and beach towns with conservation initiatives and education in each locale. An avid skier and surfer as well as a conservationist, Dennen works with local organizations to spearhead beach clean-ups and educate young people to become climate stewards, driving awareness through his music and marrying just a few of his many sides in one effort to help drive positive change. He has also begun to sell some of the hundreds of paintings that accumulate in his California home; he has even let us all in on his artistic process through an Instagram video series called Paint and Play. He recently launched Dennen Goods Co., a lifestyle brand that aims to inspire.
Somewhere in all of that, there is still very much the music. Dennen's next release, See The World, is due out July 23rd on Mick Music. Like the man, himself, the new album is potpourri of experiences and sometimes seeming contradictions. In the album opener and title track, Dennen sings of "diamond beaches" and "prism streams," and reminds us that "You don't have to be rich to get around / There are mansions growing out of the ground." In the refrain, he urges "Days go by / Get out and see the world with your own eyes."
In "Paul Newman Daytona Rolex," we dive into Dennen's signature witticisms. Over an insistent, light-hearted groove, he opens the song, "I never been accused of being fancy / I'm not stupid with my money honey, I could be stupid for free." The song is ostensibly a love letter to a rare watch, one which Dennen does not, in fact, own. Really it is an irresistible, irreverent meditation on what we value as human beings. As Dennen puts it, "the things you can't put a price on should be the things you value the most… to me it's all about self worth and peace of mind."
"Cayamo," a song about the festival-on-a-cruise-ship of the same name is a musing on being overlooked as a musician. He sings, "I ain't your rockabye / Or indie darling guy / Or the train wreck / That makes you feel better / 'Bout your own life." It is funny and biting and self-deprecating but, like all of Dennen's work, it is infused with tremendous heart and an internal call for growth. He sings on, "Everyone has something / That no one else has / They should share it."
Brett Dennen doesn't take his time on his beloved earth for granted. He is intent on exploring the world and exploring himself in the process. Hence, See The World. The album also happens to come at what we hope will be a turning point for all of us – where we all hope to be doing just what Brett wants for us – seeing the world. Quite tangible in the title track and the album as a whole is Dennen's newest and greatest pursuit – that of father to his young son, Van, for whom this song was written. But it is also easy to imagine him writing it for all of us, gently encouraging us to pick up the paint brush, jump in the ocean, and climb whatever mountain lies in front of us. Peppered in equal parts with shrewd quips and vulnerable admissions, the album is ultimately an exploration of life's deepest meaning. And that is certainly emblematic of Brett Dennen, who spans wide as both an artist and a human being – sometimes biting and somehow always generous of spirit – his arms out to meet you where you are. See The World is, in short, reflective of a life well-explored, a life well-pursued, and, we can hope, a life well-lived.
www.brettdennen.live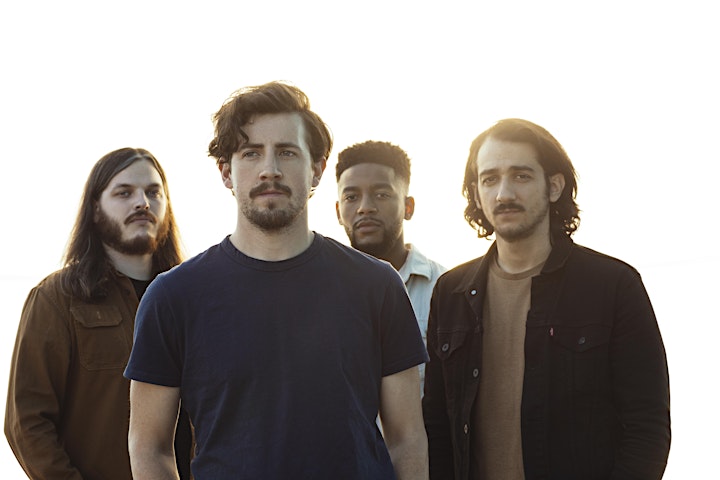 The Heavy Hours
Having made an acclaimed debut in the midst of worldwide crisis, The Heavy Hours now return with WILDFIRE, a five-song collection that further exemplifies their distinctive strain of warm-hearted, open-armed alternative rock. Working with renowned producer Simone Felice (The Lumineers, Matt Maeson, The Avett Brothers), the Cincinnati, OH-based band infuse well-crafted powerful songs like "Desperate Days" and "Wildfire" with uncommon honesty and a radiant energy that converts subtle strokes into an altogether different kind of volume. WILDFIRE packs an emotional punch from the very first chord, fusing larger-than-life melodies and epic choruses with soulful, sophisticated songcraft and remarkably universal lyrical spirit.
"From the moment that we finished tracking 'Wildfire, we all had such a connection to it," says lead singer Michael Marcagi. "I remember being in the studio listening back to it for the first time and thinking, if someone were to ask me, 'What do you guys sound like?,' I would play them this song."
The musicians at the heart of The Heavy Hours have been united for close to a decade, first coming together in high school over a mutual love of diverse sounds spanning contemplative folk to wildly experimental post-rock. In 2018, they rechristened themselves as The Heavy Hours — inspired from a line in William Butler Yeats' Autobiographies — and began fusing their questing spirit and relentless work ethic with an emphasis on more traditional songwriting and production.
Fueled by support from such Ohio heroes as The Black Keys' Dan Auerbach, The Heavy Hours made their way to Sun Mountain Studios in bucolic Boiceville, NY to record with producer Simone Felice and his longtime studio collaborator David Baron (Vance Joy, Matt Maeson). There the band pushed themselves towards new creative heights, resulting in a plethora of material including last year's widescreen debut single, "Don't Walk Away," co-written by Marcagi and Yorio with Auerbach and award-winning songwriter Ronnie Bowman. "A purely American blend of folk, rock and good feelings," declared American Songwriter, hailing the song for "its unbelievably catchy lines and effortlessly organic arrangement… a perfect pairing with a late-summer sunset or an evening with friends."
Summer 2021 saw The Heavy Hours reveal yet another aspect of their multi-faceted nature with a surprisingly tender take on Dua Lipa's glitterball smash, "Don't Start Now," once again bridging aesthetic differences to fashion their own imaginative take on contemporary songcraft.
"We love playing covers," says guitarist AJ Yorio. "That's how the band started; we played pop covers at youth group weekend camps. So, learning hit tunes and reimagining them is a familiar challenge."
"Doing something in that realm was definitely a new challenge for us," says bassist Jonathan Moon. "Something that was at first a little bit out of our comfort zone but in the end turned out really fun."
Refreshingly authentic and impossible to ignore, the WILDFIRE EP further spotlights the spirited versatility and simple elegance that The Heavy Hours have cultivated since day one. Songs like "Desparate Days" and remarkable title track — the latter co-written with Felice — masterfully defines The Heavy Hours' overall approach, melding heart-wrenching, impressionistic lyrics with cinematic scope and joyous musicality.
"'Wildfire' was just an unfinished demo — a song that Simone used to show us where he thought The Heavy Hours could find a sound," says Yorio. "I remember hearing the tune from Simone and having two light bulbs go off. My first thought was, we would never record something like this, but then realizing we have a chance to make this song our own, to finish writing and arranging it. It was a weird process of taking the song into our basement back home and adding our signature to it before taking it back to Woodstock for Simone and Dave to produce. In the end, I think we created something epic."
A recent series of sold out live dates across the Midwest and East Coast alongside New Orleans' legendary Galactic only served to cement the band's commitment and sense of purpose. With the world open once again — and their long awaited debut album on the way — The Heavy Hours are fully focused on the now, keen to fully hit the road and see just how their music touches people.
"It was amazing," says Marcagi. "You could tell that people had been starved for live music for a very long time. The first show we played in Cincinnati was packed to the gills. It just felt like the most amazing night of our lives. It kind of solidified in all of our minds, Oh yeah, this is what we want to be doing with our lives."
"Things are really starting to open up and people are booking shows like crazy," Moon says. "We're like, Alright, this is what we signed up for. Essentially it's like a rocket launch. We're on the ground right now, in our uniforms and our helmets, getting ready for to be sent into space, getting ready for lift-off."
BRETT DENNEN W/ THE HEAVY HOURS
MARCH 5TH, 2022
THE VOGUE THEATER
INDIANAPOLIS, IN
TICKETS AT THEVOGUE.COM
PLEASE NOTE:
SEATING IS NOT PROVIDED FOR GENERAL ADMISSION TICKETS. YOU MUST BE 21+ TO ENTER THE VENUE AND ALL TICKETS ARE NON TRANSFERABLE AND NON-REFUNDABLE
Forty5 Presents Brett Dennen with The Heavy Hours at The Vogue Theatre on Saturday, March 5, 2022. Photo cred Melodie Yvonne
Forty5 Presents Brett Dennen with The Heavy Hours at The Vogue Theatre on Saturday, March 5, 2022. Photo cred Melodie Yvonne
Forty5 Presents Brett Dennen with The Heavy Hours at The Vogue Theatre on Saturday, March 5, 2022. Photo cred Melodie Yvonne
Forty5 Presents Brett Dennen with The Heavy Hours at The Vogue Theatre on Saturday, March 5, 2022. Photo cred Melodie Yvonne
Forty5 Presents Brett Dennen with The Heavy Hours at The Vogue Theatre on Saturday, March 5, 2022. Photo cred Melodie Yvonne
Forty5 Presents Brett Dennen with The Heavy Hours at The Vogue Theatre on Saturday, March 5, 2022. Photo cred Melodie Yvonne
Forty5 Presents Brett Dennen with The Heavy Hours at The Vogue Theatre on Saturday, March 5, 2022. Photo cred Melodie Yvonne
Forty5 Presents Brett Dennen with The Heavy Hours at The Vogue Theatre on Saturday, March 5, 2022. Photo cred Melodie Yvonne
+77 More
Forty5 Presents Brett Dennen with The Heavy Hours at The Vogue Theatre on Saturday, March 5, 2022. Photo cred Melodie Yvonne
Forty5 Presents Brett Dennen with The Heavy Hours at The Vogue Theatre on Saturday, March 5, 2022. Photo cred Melodie Yvonne
Forty5 Presents Brett Dennen with The Heavy Hours at The Vogue Theatre on Saturday, March 5, 2022. Photo cred Melodie Yvonne
Forty5 Presents Brett Dennen with The Heavy Hours at The Vogue Theatre on Saturday, March 5, 2022. Photo cred Melodie Yvonne
Forty5 Presents Brett Dennen with The Heavy Hours at The Vogue Theatre on Saturday, March 5, 2022. Photo cred Melodie Yvonne
Forty5 Presents Brett Dennen with The Heavy Hours at The Vogue Theatre on Saturday, March 5, 2022. Photo cred Melodie Yvonne
Forty5 Presents Brett Dennen with The Heavy Hours at The Vogue Theatre on Saturday, March 5, 2022. Photo cred Melodie Yvonne
Forty5 Presents Brett Dennen with The Heavy Hours at The Vogue Theatre on Saturday, March 5, 2022. Photo cred Melodie Yvonne
Forty5 Presents Brett Dennen with The Heavy Hours at The Vogue Theatre on Saturday, March 5, 2022. Photo cred Melodie Yvonne
Forty5 Presents Brett Dennen with The Heavy Hours at The Vogue Theatre on Saturday, March 5, 2022. Photo cred Melodie Yvonne
Forty5 Presents Brett Dennen with The Heavy Hours at The Vogue Theatre on Saturday, March 5, 2022. Photo cred Melodie Yvonne
Forty5 Presents Brett Dennen with The Heavy Hours at The Vogue Theatre on Saturday, March 5, 2022. Photo cred Melodie Yvonne
Forty5 Presents Brett Dennen with The Heavy Hours at The Vogue Theatre on Saturday, March 5, 2022. Photo cred Melodie Yvonne
Forty5 Presents Brett Dennen with The Heavy Hours at The Vogue Theatre on Saturday, March 5, 2022. Photo cred Melodie Yvonne
Forty5 Presents Brett Dennen with The Heavy Hours at The Vogue Theatre on Saturday, March 5, 2022. Photo cred Melodie Yvonne
Forty5 Presents Brett Dennen with The Heavy Hours at The Vogue Theatre on Saturday, March 5, 2022. Photo cred Melodie Yvonne
Forty5 Presents Brett Dennen with The Heavy Hours at The Vogue Theatre on Saturday, March 5, 2022. Photo cred Melodie Yvonne
Forty5 Presents Brett Dennen with The Heavy Hours at The Vogue Theatre on Saturday, March 5, 2022. Photo cred Melodie Yvonne
Forty5 Presents Brett Dennen with The Heavy Hours at The Vogue Theatre on Saturday, March 5, 2022. Photo cred Melodie Yvonne
Forty5 Presents Brett Dennen with The Heavy Hours at The Vogue Theatre on Saturday, March 5, 2022. Photo cred Melodie Yvonne
Forty5 Presents Brett Dennen with The Heavy Hours at The Vogue Theatre on Saturday, March 5, 2022. Photo cred Melodie Yvonne
Forty5 Presents Brett Dennen with The Heavy Hours at The Vogue Theatre on Saturday, March 5, 2022. Photo cred Melodie Yvonne
Forty5 Presents Brett Dennen with The Heavy Hours at The Vogue Theatre on Saturday, March 5, 2022. Photo cred Melodie Yvonne
Forty5 Presents Brett Dennen with The Heavy Hours at The Vogue Theatre on Saturday, March 5, 2022. Photo cred Melodie Yvonne
Forty5 Presents Brett Dennen with The Heavy Hours at The Vogue Theatre on Saturday, March 5, 2022. Photo cred Melodie Yvonne
Forty5 Presents Brett Dennen with The Heavy Hours at The Vogue Theatre on Saturday, March 5, 2022. Photo cred Melodie Yvonne
Forty5 Presents Brett Dennen with The Heavy Hours at The Vogue Theatre on Saturday, March 5, 2022. Photo cred Melodie Yvonne
Forty5 Presents Brett Dennen with The Heavy Hours at The Vogue Theatre on Saturday, March 5, 2022. Photo cred Melodie Yvonne
Forty5 Presents Brett Dennen with The Heavy Hours at The Vogue Theatre on Saturday, March 5, 2022. Photo cred Melodie Yvonne
Forty5 Presents Brett Dennen with The Heavy Hours at The Vogue Theatre on Saturday, March 5, 2022. Photo cred Melodie Yvonne
Forty5 Presents Brett Dennen with The Heavy Hours at The Vogue Theatre on Saturday, March 5, 2022. Photo cred Melodie Yvonne
Forty5 Presents Brett Dennen with The Heavy Hours at The Vogue Theatre on Saturday, March 5, 2022. Photo cred Melodie Yvonne
Forty5 Presents Brett Dennen with The Heavy Hours at The Vogue Theatre on Saturday, March 5, 2022. Photo cred Melodie Yvonne
Forty5 Presents Brett Dennen with The Heavy Hours at The Vogue Theatre on Saturday, March 5, 2022. Photo cred Melodie Yvonne
Forty5 Presents Brett Dennen with The Heavy Hours at The Vogue Theatre on Saturday, March 5, 2022. Photo cred Melodie Yvonne
Forty5 Presents Brett Dennen with The Heavy Hours at The Vogue Theatre on Saturday, March 5, 2022. Photo cred Melodie Yvonne
Forty5 Presents Brett Dennen with The Heavy Hours at The Vogue Theatre on Saturday, March 5, 2022. Photo cred Melodie Yvonne
Forty5 Presents Brett Dennen with The Heavy Hours at The Vogue Theatre on Saturday, March 5, 2022. Photo cred Melodie Yvonne
Forty5 Presents Brett Dennen with The Heavy Hours at The Vogue Theatre on Saturday, March 5, 2022. Photo cred Melodie Yvonne
Forty5 Presents Brett Dennen with The Heavy Hours at The Vogue Theatre on Saturday, March 5, 2022. Photo cred Melodie Yvonne
Forty5 Presents Brett Dennen with The Heavy Hours at The Vogue Theatre on Saturday, March 5, 2022. Photo cred Melodie Yvonne
Forty5 Presents Brett Dennen with The Heavy Hours at The Vogue Theatre on Saturday, March 5, 2022. Photo cred Melodie Yvonne
Forty5 Presents Brett Dennen with The Heavy Hours at The Vogue Theatre on Saturday, March 5, 2022. Photo cred Melodie Yvonne
Forty5 Presents Brett Dennen with The Heavy Hours at The Vogue Theatre on Saturday, March 5, 2022. Photo cred Melodie Yvonne
Forty5 Presents Brett Dennen with The Heavy Hours at The Vogue Theatre on Saturday, March 5, 2022. Photo cred Melodie Yvonne
Forty5 Presents Brett Dennen with The Heavy Hours at The Vogue Theatre on Saturday, March 5, 2022. Photo cred Melodie Yvonne
Forty5 Presents Brett Dennen with The Heavy Hours at The Vogue Theatre on Saturday, March 5, 2022. Photo cred Melodie Yvonne
Forty5 Presents Brett Dennen with The Heavy Hours at The Vogue Theatre on Saturday, March 5, 2022. Photo cred Melodie Yvonne
Forty5 Presents Brett Dennen with The Heavy Hours at The Vogue Theatre on Saturday, March 5, 2022. Photo cred Melodie Yvonne
Forty5 Presents Brett Dennen with The Heavy Hours at The Vogue Theatre on Saturday, March 5, 2022. Photo cred Melodie Yvonne
Forty5 Presents Brett Dennen with The Heavy Hours at The Vogue Theatre on Saturday, March 5, 2022. Photo cred Melodie Yvonne
Forty5 Presents Brett Dennen with The Heavy Hours at The Vogue Theatre on Saturday, March 5, 2022. Photo cred Melodie Yvonne
Forty5 Presents Brett Dennen with The Heavy Hours at The Vogue Theatre on Saturday, March 5, 2022. Photo cred Melodie Yvonne
Forty5 Presents Brett Dennen with The Heavy Hours at The Vogue Theatre on Saturday, March 5, 2022. Photo cred Melodie Yvonne
Forty5 Presents Brett Dennen with The Heavy Hours at The Vogue Theatre on Saturday, March 5, 2022. Photo cred Melodie Yvonne
Forty5 Presents Brett Dennen with The Heavy Hours at The Vogue Theatre on Saturday, March 5, 2022. Photo cred Melodie Yvonne
Forty5 Presents Brett Dennen with The Heavy Hours at The Vogue Theatre on Saturday, March 5, 2022. Photo cred Melodie Yvonne
Forty5 Presents Brett Dennen with The Heavy Hours at The Vogue Theatre on Saturday, March 5, 2022. Photo cred Melodie Yvonne
Forty5 Presents Brett Dennen with The Heavy Hours at The Vogue Theatre on Saturday, March 5, 2022. Photo cred Melodie Yvonne
Forty5 Presents Brett Dennen with The Heavy Hours at The Vogue Theatre on Saturday, March 5, 2022. Photo cred Melodie Yvonne
Forty5 Presents Brett Dennen with The Heavy Hours at The Vogue Theatre on Saturday, March 5, 2022. Photo cred Melodie Yvonne
Forty5 Presents Brett Dennen with The Heavy Hours at The Vogue Theatre on Saturday, March 5, 2022. Photo cred Melodie Yvonne
Forty5 Presents Brett Dennen with The Heavy Hours at The Vogue Theatre on Saturday, March 5, 2022. Photo cred Melodie Yvonne
Forty5 Presents Brett Dennen with The Heavy Hours at The Vogue Theatre on Saturday, March 5, 2022. Photo cred Melodie Yvonne
Forty5 Presents Brett Dennen with The Heavy Hours at The Vogue Theatre on Saturday, March 5, 2022. Photo cred Melodie Yvonne
Forty5 Presents Brett Dennen with The Heavy Hours at The Vogue Theatre on Saturday, March 5, 2022. Photo cred Melodie Yvonne
Forty5 Presents Brett Dennen with The Heavy Hours at The Vogue Theatre on Saturday, March 5, 2022. Photo cred Melodie Yvonne
Forty5 Presents Brett Dennen with The Heavy Hours at The Vogue Theatre on Saturday, March 5, 2022. Photo cred Melodie Yvonne
Forty5 Presents Brett Dennen with The Heavy Hours at The Vogue Theatre on Saturday, March 5, 2022. Photo cred Melodie Yvonne
Forty5 Presents Brett Dennen with The Heavy Hours at The Vogue Theatre on Saturday, March 5, 2022. Photo cred Melodie Yvonne
Forty5 Presents Brett Dennen with The Heavy Hours at The Vogue Theatre on Saturday, March 5, 2022. Photo cred Melodie Yvonne
Forty5 Presents Brett Dennen with The Heavy Hours at The Vogue Theatre on Saturday, March 5, 2022. Photo cred Melodie Yvonne
Forty5 Presents Brett Dennen with The Heavy Hours at The Vogue Theatre on Saturday, March 5, 2022. Photo cred Melodie Yvonne
Forty5 Presents Brett Dennen with The Heavy Hours at The Vogue Theatre on Saturday, March 5, 2022. Photo cred Melodie Yvonne
Forty5 Presents Brett Dennen with The Heavy Hours at The Vogue Theatre on Saturday, March 5, 2022. Photo cred Melodie Yvonne
Forty5 Presents Brett Dennen with The Heavy Hours at The Vogue Theatre on Saturday, March 5, 2022. Photo cred Melodie Yvonne
Forty5 Presents Brett Dennen with The Heavy Hours at The Vogue Theatre on Saturday, March 5, 2022. Photo cred Melodie Yvonne
Other Shows You Might Like
Similar Artists