Forty5 Presents
Thunderstruck - AC/DC Tribute Band
AC/DC Tribute Band
Sat Dec 04, 2021
8:00 PM / Show: 9:00 PM
21+
$12
Thunderstruck Live at The Vogue in Indianapolis on December 4th, 2021!
Thunderstruck – America's AC/DC Tribute
America's AC/DC gives fans so much more than the sound of AC/DC, they truly capture the high voltage energy and experience.  For fans, it's about a sense of familiarity, and it's about a feeling that snatches up listeners and takes over.  It's about a contagious kind of power and electricity that few AC/DC tribute bands can provide.  From Tyler Melen's ridiculously non-stop on-stage performance replicating the Angus Young of the 70's and 80's, to Bobby Lee Stamper's versatile vocals mimicking both Bon Scott and Brian Johnson ranges, to the incredible rhythm section made up of Kevin Feller on rhythm guitar, Corey Baetz on drums, and Chris Jones on bass, Thunderstruck gives a complete and consistently quality live show as true to the spirit of AC/DC that you can possibly get.
Mammoth Tooth
Mammoth Tooth is a high-energy four-piece Rock N Roll band out of the Indianapolis area. These four well-seasoned musicians came together to form Mammoth Tooth with one vision in mind; have a good time, give the audience one hell of a show, and play Rock N roll the way it was meant to be played… LOUD!!! With Brad Mitchell's ear-splitting lead guitar, Luke Krier's soaring vocals and groovin' bass, Memphis Drake's crooning voice and bone-rattling rhythm guitar, and Preston Nash's thunderous killer drums, Mammoth Tooth is an unstoppable monster of a Rock N Roll band that'll tear the roof off any music venue and leave the audience beggin' for more!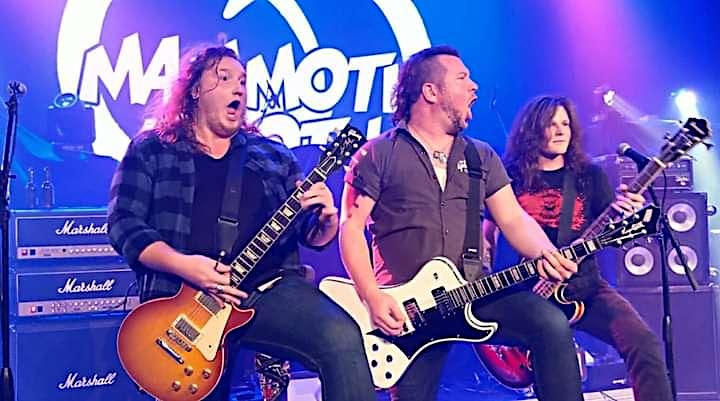 THUNDERSTRUCK
DECEMBER 4TH, 2021
21+
THE VOGUE THEATER
INDIANAPOLIS, IN
TICKETS AT THEVOGUE.COM
PLEASE NOTE:
THIS SHOW IS GENERAL ADMISSION AND SEATING IS NOT PROVIDED. YOU MUST BE 21+ TO ENTER THE VENUE WITH A VALID FORM OF IDENTIFICATION. ALL TICKETS ARE NON TRANSFERABLE AND NON-REFUNDABLE. TWO FORMS OF IDENTIFICATION MAY BE REQUIRED FOR ENTRY.
Forty5 Presents Thunderstruck: America's AC/DC Tribute w/spg Mammoth Tooth at The Vogue in Indianapolis, Indiana on Saturday, December 4, 2021. Photo cred Melodie Yvonne
Forty5 Presents Thunderstruck: America's AC/DC Tribute w/spg Mammoth Tooth at The Vogue in Indianapolis, Indiana on Saturday, December 4, 2021. Photo cred Melodie Yvonne
Forty5 Presents Thunderstruck: America's AC/DC Tribute w/spg Mammoth Tooth at The Vogue in Indianapolis, Indiana on Saturday, December 4, 2021. Photo cred Melodie Yvonne
Forty5 Presents Thunderstruck: America's AC/DC Tribute w/spg Mammoth Tooth at The Vogue in Indianapolis, Indiana on Saturday, December 4, 2021. Photo cred Melodie Yvonne
Forty5 Presents Thunderstruck: America's AC/DC Tribute w/spg Mammoth Tooth at The Vogue in Indianapolis, Indiana on Saturday, December 4, 2021. Photo cred Melodie Yvonne
Forty5 Presents Thunderstruck: America's AC/DC Tribute w/spg Mammoth Tooth at The Vogue in Indianapolis, Indiana on Saturday, December 4, 2021. Photo cred Melodie Yvonne
Forty5 Presents Thunderstruck: America's AC/DC Tribute w/spg Mammoth Tooth at The Vogue in Indianapolis, Indiana on Saturday, December 4, 2021. Photo cred Melodie Yvonne
Forty5 Presents Thunderstruck: America's AC/DC Tribute w/spg Mammoth Tooth at The Vogue in Indianapolis, Indiana on Saturday, December 4, 2021. Photo cred Melodie Yvonne
+102 More
Forty5 Presents Thunderstruck: America's AC/DC Tribute w/spg Mammoth Tooth at The Vogue in Indianapolis, Indiana on Saturday, December 4, 2021. Photo cred Melodie Yvonne
Forty5 Presents Thunderstruck: America's AC/DC Tribute w/spg Mammoth Tooth at The Vogue in Indianapolis, Indiana on Saturday, December 4, 2021. Photo cred Melodie Yvonne
Forty5 Presents Thunderstruck: America's AC/DC Tribute w/spg Mammoth Tooth at The Vogue in Indianapolis, Indiana on Saturday, December 4, 2021. Photo cred Melodie Yvonne
Forty5 Presents Thunderstruck: America's AC/DC Tribute w/spg Mammoth Tooth at The Vogue in Indianapolis, Indiana on Saturday, December 4, 2021. Photo cred Melodie Yvonne
Forty5 Presents Thunderstruck: America's AC/DC Tribute w/spg Mammoth Tooth at The Vogue in Indianapolis, Indiana on Saturday, December 4, 2021. Photo cred Melodie Yvonne
Forty5 Presents Thunderstruck: America's AC/DC Tribute w/spg Mammoth Tooth at The Vogue in Indianapolis, Indiana on Saturday, December 4, 2021. Photo cred Melodie Yvonne
Forty5 Presents Thunderstruck: America's AC/DC Tribute w/spg Mammoth Tooth at The Vogue in Indianapolis, Indiana on Saturday, December 4, 2021. Photo cred Melodie Yvonne
Forty5 Presents Thunderstruck: America's AC/DC Tribute w/spg Mammoth Tooth at The Vogue in Indianapolis, Indiana on Saturday, December 4, 2021. Photo cred Melodie Yvonne
Forty5 Presents Thunderstruck: America's AC/DC Tribute w/spg Mammoth Tooth at The Vogue in Indianapolis, Indiana on Saturday, December 4, 2021. Photo cred Melodie Yvonne
Forty5 Presents Thunderstruck: America's AC/DC Tribute w/spg Mammoth Tooth at The Vogue in Indianapolis, Indiana on Saturday, December 4, 2021. Photo cred Melodie Yvonne
Forty5 Presents Thunderstruck: America's AC/DC Tribute w/spg Mammoth Tooth at The Vogue in Indianapolis, Indiana on Saturday, December 4, 2021. Photo cred Melodie Yvonne
Forty5 Presents Thunderstruck: America's AC/DC Tribute w/spg Mammoth Tooth at The Vogue in Indianapolis, Indiana on Saturday, December 4, 2021. Photo cred Melodie Yvonne
Forty5 Presents Thunderstruck: America's AC/DC Tribute w/spg Mammoth Tooth at The Vogue in Indianapolis, Indiana on Saturday, December 4, 2021. Photo cred Melodie Yvonne
Forty5 Presents Thunderstruck: America's AC/DC Tribute w/spg Mammoth Tooth at The Vogue in Indianapolis, Indiana on Saturday, December 4, 2021. Photo cred Melodie Yvonne
Forty5 Presents Thunderstruck: America's AC/DC Tribute w/spg Mammoth Tooth at The Vogue in Indianapolis, Indiana on Saturday, December 4, 2021. Photo cred Melodie Yvonne
Forty5 Presents Thunderstruck: America's AC/DC Tribute w/spg Mammoth Tooth at The Vogue in Indianapolis, Indiana on Saturday, December 4, 2021. Photo cred Melodie Yvonne
Forty5 Presents Thunderstruck: America's AC/DC Tribute w/spg Mammoth Tooth at The Vogue in Indianapolis, Indiana on Saturday, December 4, 2021. Photo cred Melodie Yvonne
Forty5 Presents Thunderstruck: America's AC/DC Tribute w/spg Mammoth Tooth at The Vogue in Indianapolis, Indiana on Saturday, December 4, 2021. Photo cred Melodie Yvonne
Forty5 Presents Thunderstruck: America's AC/DC Tribute w/spg Mammoth Tooth at The Vogue in Indianapolis, Indiana on Saturday, December 4, 2021. Photo cred Melodie Yvonne
Forty5 Presents Thunderstruck: America's AC/DC Tribute w/spg Mammoth Tooth at The Vogue in Indianapolis, Indiana on Saturday, December 4, 2021. Photo cred Melodie Yvonne
Forty5 Presents Thunderstruck: America's AC/DC Tribute w/spg Mammoth Tooth at The Vogue in Indianapolis, Indiana on Saturday, December 4, 2021. Photo cred Melodie Yvonne
Forty5 Presents Thunderstruck: America's AC/DC Tribute w/spg Mammoth Tooth at The Vogue in Indianapolis, Indiana on Saturday, December 4, 2021. Photo cred Melodie Yvonne
Forty5 Presents Thunderstruck: America's AC/DC Tribute w/spg Mammoth Tooth at The Vogue in Indianapolis, Indiana on Saturday, December 4, 2021. Photo cred Melodie Yvonne
Forty5 Presents Thunderstruck: America's AC/DC Tribute w/spg Mammoth Tooth at The Vogue in Indianapolis, Indiana on Saturday, December 4, 2021. Photo cred Melodie Yvonne
Forty5 Presents Thunderstruck: America's AC/DC Tribute w/spg Mammoth Tooth at The Vogue in Indianapolis, Indiana on Saturday, December 4, 2021. Photo cred Melodie Yvonne
Forty5 Presents Thunderstruck: America's AC/DC Tribute w/spg Mammoth Tooth at The Vogue in Indianapolis, Indiana on Saturday, December 4, 2021. Photo cred Melodie Yvonne
Forty5 Presents Thunderstruck: America's AC/DC Tribute w/spg Mammoth Tooth at The Vogue in Indianapolis, Indiana on Saturday, December 4, 2021. Photo cred Melodie Yvonne
Forty5 Presents Thunderstruck: America's AC/DC Tribute w/spg Mammoth Tooth at The Vogue in Indianapolis, Indiana on Saturday, December 4, 2021. Photo cred Melodie Yvonne
Forty5 Presents Thunderstruck: America's AC/DC Tribute w/spg Mammoth Tooth at The Vogue in Indianapolis, Indiana on Saturday, December 4, 2021. Photo cred Melodie Yvonne
Forty5 Presents Thunderstruck: America's AC/DC Tribute w/spg Mammoth Tooth at The Vogue in Indianapolis, Indiana on Saturday, December 4, 2021. Photo cred Melodie Yvonne
Forty5 Presents Thunderstruck: America's AC/DC Tribute w/spg Mammoth Tooth at The Vogue in Indianapolis, Indiana on Saturday, December 4, 2021. Photo cred Melodie Yvonne
Forty5 Presents Thunderstruck: America's AC/DC Tribute w/spg Mammoth Tooth at The Vogue in Indianapolis, Indiana on Saturday, December 4, 2021. Photo cred Melodie Yvonne
Forty5 Presents Thunderstruck: America's AC/DC Tribute w/spg Mammoth Tooth at The Vogue in Indianapolis, Indiana on Saturday, December 4, 2021. Photo cred Melodie Yvonne
Forty5 Presents Thunderstruck: America's AC/DC Tribute w/spg Mammoth Tooth at The Vogue in Indianapolis, Indiana on Saturday, December 4, 2021. Photo cred Melodie Yvonne
Forty5 Presents Thunderstruck: America's AC/DC Tribute w/spg Mammoth Tooth at The Vogue in Indianapolis, Indiana on Saturday, December 4, 2021. Photo cred Melodie Yvonne
Forty5 Presents Thunderstruck: America's AC/DC Tribute w/spg Mammoth Tooth at The Vogue in Indianapolis, Indiana on Saturday, December 4, 2021. Photo cred Melodie Yvonne
Forty5 Presents Thunderstruck: America's AC/DC Tribute w/spg Mammoth Tooth at The Vogue in Indianapolis, Indiana on Saturday, December 4, 2021. Photo cred Melodie Yvonne
Forty5 Presents Thunderstruck: America's AC/DC Tribute w/spg Mammoth Tooth at The Vogue in Indianapolis, Indiana on Saturday, December 4, 2021. Photo cred Melodie Yvonne
Forty5 Presents Thunderstruck: America's AC/DC Tribute w/spg Mammoth Tooth at The Vogue in Indianapolis, Indiana on Saturday, December 4, 2021. Photo cred Melodie Yvonne
Forty5 Presents Thunderstruck: America's AC/DC Tribute w/spg Mammoth Tooth at The Vogue in Indianapolis, Indiana on Saturday, December 4, 2021. Photo cred Melodie Yvonne
Forty5 Presents Thunderstruck: America's AC/DC Tribute w/spg Mammoth Tooth at The Vogue in Indianapolis, Indiana on Saturday, December 4, 2021. Photo cred Melodie Yvonne
Forty5 Presents Thunderstruck: America's AC/DC Tribute w/spg Mammoth Tooth at The Vogue in Indianapolis, Indiana on Saturday, December 4, 2021. Photo cred Melodie Yvonne
Forty5 Presents Thunderstruck: America's AC/DC Tribute w/spg Mammoth Tooth at The Vogue in Indianapolis, Indiana on Saturday, December 4, 2021. Photo cred Melodie Yvonne
Forty5 Presents Thunderstruck: America's AC/DC Tribute w/spg Mammoth Tooth at The Vogue in Indianapolis, Indiana on Saturday, December 4, 2021. Photo cred Melodie Yvonne
Forty5 Presents Thunderstruck: America's AC/DC Tribute w/spg Mammoth Tooth at The Vogue in Indianapolis, Indiana on Saturday, December 4, 2021. Photo cred Melodie Yvonne
Forty5 Presents Thunderstruck: America's AC/DC Tribute w/spg Mammoth Tooth at The Vogue in Indianapolis, Indiana on Saturday, December 4, 2021. Photo cred Melodie Yvonne
Forty5 Presents Thunderstruck: America's AC/DC Tribute w/spg Mammoth Tooth at The Vogue in Indianapolis, Indiana on Saturday, December 4, 2021. Photo cred Melodie Yvonne
Forty5 Presents Thunderstruck: America's AC/DC Tribute w/spg Mammoth Tooth at The Vogue in Indianapolis, Indiana on Saturday, December 4, 2021. Photo cred Melodie Yvonne
Forty5 Presents Thunderstruck: America's AC/DC Tribute w/spg Mammoth Tooth at The Vogue in Indianapolis, Indiana on Saturday, December 4, 2021. Photo cred Melodie Yvonne
Forty5 Presents Thunderstruck: America's AC/DC Tribute w/spg Mammoth Tooth at The Vogue in Indianapolis, Indiana on Saturday, December 4, 2021. Photo cred Melodie Yvonne
Forty5 Presents Thunderstruck: America's AC/DC Tribute w/spg Mammoth Tooth at The Vogue in Indianapolis, Indiana on Saturday, December 4, 2021. Photo cred Melodie Yvonne
Forty5 Presents Thunderstruck: America's AC/DC Tribute w/spg Mammoth Tooth at The Vogue in Indianapolis, Indiana on Saturday, December 4, 2021. Photo cred Melodie Yvonne
Forty5 Presents Thunderstruck: America's AC/DC Tribute w/spg Mammoth Tooth at The Vogue in Indianapolis, Indiana on Saturday, December 4, 2021. Photo cred Melodie Yvonne
Forty5 Presents Thunderstruck: America's AC/DC Tribute w/spg Mammoth Tooth at The Vogue in Indianapolis, Indiana on Saturday, December 4, 2021. Photo cred Melodie Yvonne
Forty5 Presents Thunderstruck: America's AC/DC Tribute w/spg Mammoth Tooth at The Vogue in Indianapolis, Indiana on Saturday, December 4, 2021. Photo cred Melodie Yvonne
Forty5 Presents Thunderstruck: America's AC/DC Tribute w/spg Mammoth Tooth at The Vogue in Indianapolis, Indiana on Saturday, December 4, 2021. Photo cred Melodie Yvonne
Forty5 Presents Thunderstruck: America's AC/DC Tribute w/spg Mammoth Tooth at The Vogue in Indianapolis, Indiana on Saturday, December 4, 2021. Photo cred Melodie Yvonne
Forty5 Presents Thunderstruck: America's AC/DC Tribute w/spg Mammoth Tooth at The Vogue in Indianapolis, Indiana on Saturday, December 4, 2021. Photo cred Melodie Yvonne
Forty5 Presents Thunderstruck: America's AC/DC Tribute w/spg Mammoth Tooth at The Vogue in Indianapolis, Indiana on Saturday, December 4, 2021. Photo cred Melodie Yvonne
Forty5 Presents Thunderstruck: America's AC/DC Tribute w/spg Mammoth Tooth at The Vogue in Indianapolis, Indiana on Saturday, December 4, 2021. Photo cred Melodie Yvonne
Forty5 Presents Thunderstruck: America's AC/DC Tribute w/spg Mammoth Tooth at The Vogue in Indianapolis, Indiana on Saturday, December 4, 2021. Photo cred Melodie Yvonne
Forty5 Presents Thunderstruck: America's AC/DC Tribute w/spg Mammoth Tooth at The Vogue in Indianapolis, Indiana on Saturday, December 4, 2021. Photo cred Melodie Yvonne
Forty5 Presents Thunderstruck: America's AC/DC Tribute w/spg Mammoth Tooth at The Vogue in Indianapolis, Indiana on Saturday, December 4, 2021. Photo cred Melodie Yvonne
Forty5 Presents Thunderstruck: America's AC/DC Tribute w/spg Mammoth Tooth at The Vogue in Indianapolis, Indiana on Saturday, December 4, 2021. Photo cred Melodie Yvonne
Forty5 Presents Thunderstruck: America's AC/DC Tribute w/spg Mammoth Tooth at The Vogue in Indianapolis, Indiana on Saturday, December 4, 2021. Photo cred Melodie Yvonne
Forty5 Presents Thunderstruck: America's AC/DC Tribute w/spg Mammoth Tooth at The Vogue in Indianapolis, Indiana on Saturday, December 4, 2021. Photo cred Melodie Yvonne
Forty5 Presents Thunderstruck: America's AC/DC Tribute w/spg Mammoth Tooth at The Vogue in Indianapolis, Indiana on Saturday, December 4, 2021. Photo cred Melodie Yvonne
Forty5 Presents Thunderstruck: America's AC/DC Tribute w/spg Mammoth Tooth at The Vogue in Indianapolis, Indiana on Saturday, December 4, 2021. Photo cred Melodie Yvonne
Forty5 Presents Thunderstruck: America's AC/DC Tribute w/spg Mammoth Tooth at The Vogue in Indianapolis, Indiana on Saturday, December 4, 2021. Photo cred Melodie Yvonne
Forty5 Presents Thunderstruck: America's AC/DC Tribute w/spg Mammoth Tooth at The Vogue in Indianapolis, Indiana on Saturday, December 4, 2021. Photo cred Melodie Yvonne
Forty5 Presents Thunderstruck: America's AC/DC Tribute w/spg Mammoth Tooth at The Vogue in Indianapolis, Indiana on Saturday, December 4, 2021. Photo cred Melodie Yvonne
Forty5 Presents Thunderstruck: America's AC/DC Tribute w/spg Mammoth Tooth at The Vogue in Indianapolis, Indiana on Saturday, December 4, 2021. Photo cred Melodie Yvonne
Forty5 Presents Thunderstruck: America's AC/DC Tribute w/spg Mammoth Tooth at The Vogue in Indianapolis, Indiana on Saturday, December 4, 2021. Photo cred Melodie Yvonne
Forty5 Presents Thunderstruck: America's AC/DC Tribute w/spg Mammoth Tooth at The Vogue in Indianapolis, Indiana on Saturday, December 4, 2021. Photo cred Melodie Yvonne
Forty5 Presents Thunderstruck: America's AC/DC Tribute w/spg Mammoth Tooth at The Vogue in Indianapolis, Indiana on Saturday, December 4, 2021. Photo cred Melodie Yvonne
Forty5 Presents Thunderstruck: America's AC/DC Tribute w/spg Mammoth Tooth at The Vogue in Indianapolis, Indiana on Saturday, December 4, 2021. Photo cred Melodie Yvonne
Forty5 Presents Thunderstruck: America's AC/DC Tribute w/spg Mammoth Tooth at The Vogue in Indianapolis, Indiana on Saturday, December 4, 2021. Photo cred Melodie Yvonne
Forty5 Presents Thunderstruck: America's AC/DC Tribute w/spg Mammoth Tooth at The Vogue in Indianapolis, Indiana on Saturday, December 4, 2021. Photo cred Melodie Yvonne
Forty5 Presents Thunderstruck: America's AC/DC Tribute w/spg Mammoth Tooth at The Vogue in Indianapolis, Indiana on Saturday, December 4, 2021. Photo cred Melodie Yvonne
Forty5 Presents Thunderstruck: America's AC/DC Tribute w/spg Mammoth Tooth at The Vogue in Indianapolis, Indiana on Saturday, December 4, 2021. Photo cred Melodie Yvonne
Forty5 Presents Thunderstruck: America's AC/DC Tribute w/spg Mammoth Tooth at The Vogue in Indianapolis, Indiana on Saturday, December 4, 2021. Photo cred Melodie Yvonne
Forty5 Presents Thunderstruck: America's AC/DC Tribute w/spg Mammoth Tooth at The Vogue in Indianapolis, Indiana on Saturday, December 4, 2021. Photo cred Melodie Yvonne
Forty5 Presents Thunderstruck: America's AC/DC Tribute w/spg Mammoth Tooth at The Vogue in Indianapolis, Indiana on Saturday, December 4, 2021. Photo cred Melodie Yvonne
Forty5 Presents Thunderstruck: America's AC/DC Tribute w/spg Mammoth Tooth at The Vogue in Indianapolis, Indiana on Saturday, December 4, 2021. Photo cred Melodie Yvonne
Forty5 Presents Thunderstruck: America's AC/DC Tribute w/spg Mammoth Tooth at The Vogue in Indianapolis, Indiana on Saturday, December 4, 2021. Photo cred Melodie Yvonne
Forty5 Presents Thunderstruck: America's AC/DC Tribute w/spg Mammoth Tooth at The Vogue in Indianapolis, Indiana on Saturday, December 4, 2021. Photo cred Melodie Yvonne
Forty5 Presents Thunderstruck: America's AC/DC Tribute w/spg Mammoth Tooth at The Vogue in Indianapolis, Indiana on Saturday, December 4, 2021. Photo cred Melodie Yvonne
Forty5 Presents Thunderstruck: America's AC/DC Tribute w/spg Mammoth Tooth at The Vogue in Indianapolis, Indiana on Saturday, December 4, 2021. Photo cred Melodie Yvonne
Forty5 Presents Thunderstruck: America's AC/DC Tribute w/spg Mammoth Tooth at The Vogue in Indianapolis, Indiana on Saturday, December 4, 2021. Photo cred Melodie Yvonne
Forty5 Presents Thunderstruck: America's AC/DC Tribute w/spg Mammoth Tooth at The Vogue in Indianapolis, Indiana on Saturday, December 4, 2021. Photo cred Melodie Yvonne
Forty5 Presents Thunderstruck: America's AC/DC Tribute w/spg Mammoth Tooth at The Vogue in Indianapolis, Indiana on Saturday, December 4, 2021. Photo cred Melodie Yvonne
Forty5 Presents Thunderstruck: America's AC/DC Tribute w/spg Mammoth Tooth at The Vogue in Indianapolis, Indiana on Saturday, December 4, 2021. Photo cred Melodie Yvonne
Forty5 Presents Thunderstruck: America's AC/DC Tribute w/spg Mammoth Tooth at The Vogue in Indianapolis, Indiana on Saturday, December 4, 2021. Photo cred Melodie Yvonne
Forty5 Presents Thunderstruck: America's AC/DC Tribute w/spg Mammoth Tooth at The Vogue in Indianapolis, Indiana on Saturday, December 4, 2021. Photo cred Melodie Yvonne
Forty5 Presents Thunderstruck: America's AC/DC Tribute w/spg Mammoth Tooth at The Vogue in Indianapolis, Indiana on Saturday, December 4, 2021. Photo cred Melodie Yvonne
Forty5 Presents Thunderstruck: America's AC/DC Tribute w/spg Mammoth Tooth at The Vogue in Indianapolis, Indiana on Saturday, December 4, 2021. Photo cred Melodie Yvonne
Forty5 Presents Thunderstruck: America's AC/DC Tribute w/spg Mammoth Tooth at The Vogue in Indianapolis, Indiana on Saturday, December 4, 2021. Photo cred Melodie Yvonne
Forty5 Presents Thunderstruck: America's AC/DC Tribute w/spg Mammoth Tooth at The Vogue in Indianapolis, Indiana on Saturday, December 4, 2021. Photo cred Melodie Yvonne
Forty5 Presents Thunderstruck: America's AC/DC Tribute w/spg Mammoth Tooth at The Vogue in Indianapolis, Indiana on Saturday, December 4, 2021. Photo cred Melodie Yvonne
Forty5 Presents Thunderstruck: America's AC/DC Tribute w/spg Mammoth Tooth at The Vogue in Indianapolis, Indiana on Saturday, December 4, 2021. Photo cred Melodie Yvonne
Forty5 Presents Thunderstruck: America's AC/DC Tribute w/spg Mammoth Tooth at The Vogue in Indianapolis, Indiana on Saturday, December 4, 2021. Photo cred Melodie Yvonne
Forty5 Presents Thunderstruck: America's AC/DC Tribute w/spg Mammoth Tooth at The Vogue in Indianapolis, Indiana on Saturday, December 4, 2021. Photo cred Melodie Yvonne
Other Shows You Might Like
Similar Artists