Hambone's Trivia Presents
The Big Show Trivia - "Tech Edition"
Win $2500!
Wed Dec 04, 2019
6:30 PM / Show: 7:30 PM
21+
10.00 USD - 10.00 USD
The Big Show – "Tech Edition" at The Vogue – Indianapolis
Hambone's Trivia Presents: The Big Show Trivia – "Tech Edition"
Do you work at a tech company in Indianapolis?  Or do you just love trivia?  Either way, The Big Show in December is just for you.  Local tech companies such as Salesforce, High Alpha, Angie's List, Zylo, Scale, Pattern89, Tangoe, Springbuk, Sigstr, Lessonly, and more are putting together teams to compete for the big prize!  If you are in tech or know someone in tech, this is a great night out for some fun!
What Is It?
The Big Show is a trivia-based game show created right here in Indianapolis.
To start, each contestant answers 20 multiple choice trivia questions from their phone. Two things matter: how many you get right, and how quickly you get them right.
The top four people are notified that they have qualified for The Big Show. Those four people – get to take 3 more people each on stage to compete. So that's 4 teams of 4 people each. The winning team takes home $2500!
How Does It Work?
Come with a team or come solo – it doesn't matter.  We'll pair you into teams of up to 4 people.  Teams compete in three rounds:
picture rounds (name that movie)
answer 10 trivia questions as a team
compete in three subjective challenges (create the funniest caption for three pictures).
Answer trivia questions to get on stage – the more you get right, and the faster you get them right, the better you do.  The top 4 people bring their team of 4 on stage.
The winning team then has to answer three more questions right to win the $2500 jackpot.
The game itself is designed to be fun for everyone – not just the teams on stage.  Crowd games, audience voting, bluffing, and creativity – there's no other game like it.
Come with your phones fully charged and prepared for a show unlike anything you've ever been a part of.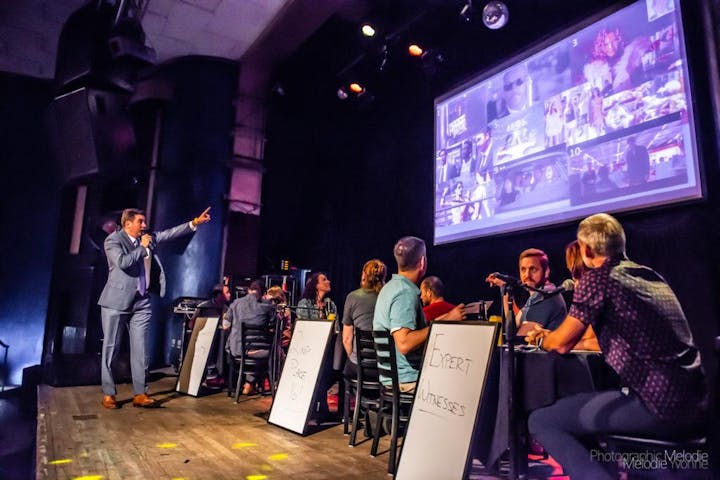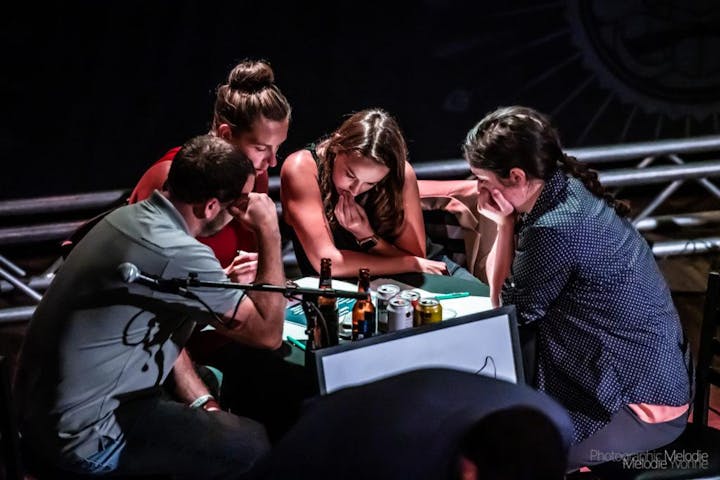 Hambone's Trivia Presents The Big Show was a phenomenal evening that gave teams of contestants from the crowd a chance to win a huge rolling jackpot at The Vogue Theatre on Wednesday, August 14, 2019. Photo Cred Melodie Yvonne
Hambone's Trivia Presents The Big Show was a phenomenal evening that gave teams of contestants from the crowd a chance to win a huge rolling jackpot at The Vogue Theatre on Wednesday, August 14, 2019. Photo Cred Melodie Yvonne
Hambone's Trivia Presents The Big Show was a phenomenal evening that gave teams of contestants from the crowd a chance to win a huge rolling jackpot at The Vogue Theatre on Wednesday, August 14, 2019. Photo Cred Melodie Yvonne
Hambone's Trivia Presents The Big Show was a phenomenal evening that gave teams of contestants from the crowd a chance to win a huge rolling jackpot at The Vogue Theatre on Wednesday, August 14, 2019. Photo Cred Melodie Yvonne
Hambone's Trivia Presents The Big Show was a phenomenal evening that gave teams of contestants from the crowd a chance to win a huge rolling jackpot at The Vogue Theatre on Wednesday, August 14, 2019. Photo Cred Melodie Yvonne
Hambone's Trivia Presents The Big Show was a phenomenal evening that gave teams of contestants from the crowd a chance to win a huge rolling jackpot at The Vogue Theatre on Wednesday, August 14, 2019. Photo Cred Melodie Yvonne
Hambone's Trivia Presents The Big Show was a phenomenal evening that gave teams of contestants from the crowd a chance to win a huge rolling jackpot at The Vogue Theatre on Wednesday, August 14, 2019. Photo Cred Melodie Yvonne
Hambone's Trivia Presents The Big Show was a phenomenal evening that gave teams of contestants from the crowd a chance to win a huge rolling jackpot at The Vogue Theatre on Wednesday, August 14, 2019. Photo Cred Melodie Yvonne
+95 More
Hambone's Trivia Presents The Big Show was a phenomenal evening that gave teams of contestants from the crowd a chance to win a huge rolling jackpot at The Vogue Theatre on Wednesday, August 14, 2019. Photo Cred Melodie Yvonne
Hambone's Trivia Presents The Big Show was a phenomenal evening that gave teams of contestants from the crowd a chance to win a huge rolling jackpot at The Vogue Theatre on Wednesday, August 14, 2019. Photo Cred Melodie Yvonne
Hambone's Trivia Presents The Big Show was a phenomenal evening that gave teams of contestants from the crowd a chance to win a huge rolling jackpot at The Vogue Theatre on Wednesday, August 14, 2019. Photo Cred Melodie Yvonne
Hambone's Trivia Presents The Big Show was a phenomenal evening that gave teams of contestants from the crowd a chance to win a huge rolling jackpot at The Vogue Theatre on Wednesday, August 14, 2019. Photo Cred Melodie Yvonne
Hambone's Trivia Presents The Big Show was a phenomenal evening that gave teams of contestants from the crowd a chance to win a huge rolling jackpot at The Vogue Theatre on Wednesday, August 14, 2019. Photo Cred Melodie Yvonne
Hambone's Trivia Presents The Big Show was a phenomenal evening that gave teams of contestants from the crowd a chance to win a huge rolling jackpot at The Vogue Theatre on Wednesday, August 14, 2019. Photo Cred Melodie Yvonne
Hambone's Trivia Presents The Big Show was a phenomenal evening that gave teams of contestants from the crowd a chance to win a huge rolling jackpot at The Vogue Theatre on Wednesday, August 14, 2019. Photo Cred Melodie Yvonne
Hambone's Trivia Presents The Big Show was a phenomenal evening that gave teams of contestants from the crowd a chance to win a huge rolling jackpot at The Vogue Theatre on Wednesday, August 14, 2019. Photo Cred Melodie Yvonne
Hambone's Trivia Presents The Big Show was a phenomenal evening that gave teams of contestants from the crowd a chance to win a huge rolling jackpot at The Vogue Theatre on Wednesday, August 14, 2019. Photo Cred Melodie Yvonne
Hambone's Trivia Presents The Big Show was a phenomenal evening that gave teams of contestants from the crowd a chance to win a huge rolling jackpot at The Vogue Theatre on Wednesday, August 14, 2019. Photo Cred Melodie Yvonne
Hambone's Trivia Presents The Big Show was a phenomenal evening that gave teams of contestants from the crowd a chance to win a huge rolling jackpot at The Vogue Theatre on Wednesday, August 14, 2019. Photo Cred Melodie Yvonne
Hambone's Trivia Presents The Big Show was a phenomenal evening that gave teams of contestants from the crowd a chance to win a huge rolling jackpot at The Vogue Theatre on Wednesday, August 14, 2019. Photo Cred Melodie Yvonne
Hambone's Trivia Presents The Big Show was a phenomenal evening that gave teams of contestants from the crowd a chance to win a huge rolling jackpot at The Vogue Theatre on Wednesday, August 14, 2019. Photo Cred Melodie Yvonne
Hambone's Trivia Presents The Big Show was a phenomenal evening that gave teams of contestants from the crowd a chance to win a huge rolling jackpot at The Vogue Theatre on Wednesday, August 14, 2019. Photo Cred Melodie Yvonne
Hambone's Trivia Presents The Big Show was a phenomenal evening that gave teams of contestants from the crowd a chance to win a huge rolling jackpot at The Vogue Theatre on Wednesday, August 14, 2019. Photo Cred Melodie Yvonne
Hambone's Trivia Presents The Big Show was a phenomenal evening that gave teams of contestants from the crowd a chance to win a huge rolling jackpot at The Vogue Theatre on Wednesday, August 14, 2019. Photo Cred Melodie Yvonne
Hambone's Trivia Presents The Big Show was a phenomenal evening that gave teams of contestants from the crowd a chance to win a huge rolling jackpot at The Vogue Theatre on Wednesday, August 14, 2019. Photo Cred Melodie Yvonne
Hambone's Trivia Presents The Big Show was a phenomenal evening that gave teams of contestants from the crowd a chance to win a huge rolling jackpot at The Vogue Theatre on Wednesday, August 14, 2019. Photo Cred Melodie Yvonne
Hambone's Trivia Presents The Big Show was a phenomenal evening that gave teams of contestants from the crowd a chance to win a huge rolling jackpot at The Vogue Theatre on Wednesday, August 14, 2019. Photo Cred Melodie Yvonne
Hambone's Trivia Presents The Big Show was a phenomenal evening that gave teams of contestants from the crowd a chance to win a huge rolling jackpot at The Vogue Theatre on Wednesday, August 14, 2019. Photo Cred Melodie Yvonne
Hambone's Trivia Presents The Big Show was a phenomenal evening that gave teams of contestants from the crowd a chance to win a huge rolling jackpot at The Vogue Theatre on Wednesday, August 14, 2019. Photo Cred Melodie Yvonne
Hambone's Trivia Presents The Big Show was a phenomenal evening that gave teams of contestants from the crowd a chance to win a huge rolling jackpot at The Vogue Theatre on Wednesday, August 14, 2019. Photo Cred Melodie Yvonne
Hambone's Trivia Presents The Big Show was a phenomenal evening that gave teams of contestants from the crowd a chance to win a huge rolling jackpot at The Vogue Theatre on Wednesday, August 14, 2019. Photo Cred Melodie Yvonne
Hambone's Trivia Presents The Big Show was a phenomenal evening that gave teams of contestants from the crowd a chance to win a huge rolling jackpot at The Vogue Theatre on Wednesday, August 14, 2019. Photo Cred Melodie Yvonne
Hambone's Trivia Presents The Big Show was a phenomenal evening that gave teams of contestants from the crowd a chance to win a huge rolling jackpot at The Vogue Theatre on Wednesday, August 14, 2019. Photo Cred Melodie Yvonne
Hambone's Trivia Presents The Big Show was a phenomenal evening that gave teams of contestants from the crowd a chance to win a huge rolling jackpot at The Vogue Theatre on Wednesday, August 14, 2019. Photo Cred Melodie Yvonne
Hambone's Trivia Presents The Big Show was a phenomenal evening that gave teams of contestants from the crowd a chance to win a huge rolling jackpot at The Vogue Theatre on Wednesday, August 14, 2019. Photo Cred Melodie Yvonne
Hambone's Trivia Presents The Big Show was a phenomenal evening that gave teams of contestants from the crowd a chance to win a huge rolling jackpot at The Vogue Theatre on Wednesday, August 14, 2019. Photo Cred Melodie Yvonne
Hambone's Trivia Presents The Big Show was a phenomenal evening that gave teams of contestants from the crowd a chance to win a huge rolling jackpot at The Vogue Theatre on Wednesday, August 14, 2019. Photo Cred Melodie Yvonne
Hambone's Trivia Presents The Big Show was a phenomenal evening that gave teams of contestants from the crowd a chance to win a huge rolling jackpot at The Vogue Theatre on Wednesday, August 14, 2019. Photo Cred Melodie Yvonne
Hambone's Trivia Presents The Big Show was a phenomenal evening that gave teams of contestants from the crowd a chance to win a huge rolling jackpot at The Vogue Theatre on Wednesday, August 14, 2019. Photo Cred Melodie Yvonne
Hambone's Trivia Presents The Big Show was a phenomenal evening that gave teams of contestants from the crowd a chance to win a huge rolling jackpot at The Vogue Theatre on Wednesday, August 14, 2019. Photo Cred Melodie Yvonne
Hambone's Trivia Presents The Big Show was a phenomenal evening that gave teams of contestants from the crowd a chance to win a huge rolling jackpot at The Vogue Theatre on Wednesday, August 14, 2019. Photo Cred Melodie Yvonne
Hambone's Trivia Presents The Big Show was a phenomenal evening that gave teams of contestants from the crowd a chance to win a huge rolling jackpot at The Vogue Theatre on Wednesday, August 14, 2019. Photo Cred Melodie Yvonne
Hambone's Trivia Presents The Big Show was a phenomenal evening that gave teams of contestants from the crowd a chance to win a huge rolling jackpot at The Vogue Theatre on Wednesday, August 14, 2019. Photo Cred Melodie Yvonne
Hambone's Trivia Presents The Big Show was a phenomenal evening that gave teams of contestants from the crowd a chance to win a huge rolling jackpot at The Vogue Theatre on Wednesday, August 14, 2019. Photo Cred Melodie Yvonne
Hambone's Trivia Presents The Big Show was a phenomenal evening that gave teams of contestants from the crowd a chance to win a huge rolling jackpot at The Vogue Theatre on Wednesday, August 14, 2019. Photo Cred Melodie Yvonne
Hambone's Trivia Presents The Big Show was a phenomenal evening that gave teams of contestants from the crowd a chance to win a huge rolling jackpot at The Vogue Theatre on Wednesday, August 14, 2019. Photo Cred Melodie Yvonne
Hambone's Trivia Presents The Big Show was a phenomenal evening that gave teams of contestants from the crowd a chance to win a huge rolling jackpot at The Vogue Theatre on Wednesday, August 14, 2019. Photo Cred Melodie Yvonne
Hambone's Trivia Presents The Big Show was a phenomenal evening that gave teams of contestants from the crowd a chance to win a huge rolling jackpot at The Vogue Theatre on Wednesday, August 14, 2019. Photo Cred Melodie Yvonne
Hambone's Trivia Presents The Big Show was a phenomenal evening that gave teams of contestants from the crowd a chance to win a huge rolling jackpot at The Vogue Theatre on Wednesday, August 14, 2019. Photo Cred Melodie Yvonne
Hambone's Trivia Presents The Big Show was a phenomenal evening that gave teams of contestants from the crowd a chance to win a huge rolling jackpot at The Vogue Theatre on Wednesday, August 14, 2019. Photo Cred Melodie Yvonne
Hambone's Trivia Presents The Big Show was a phenomenal evening that gave teams of contestants from the crowd a chance to win a huge rolling jackpot at The Vogue Theatre on Wednesday, August 14, 2019. Photo Cred Melodie Yvonne
Hambone's Trivia Presents The Big Show was a phenomenal evening that gave teams of contestants from the crowd a chance to win a huge rolling jackpot at The Vogue Theatre on Wednesday, August 14, 2019. Photo Cred Melodie Yvonne
Hambone's Trivia Presents The Big Show was a phenomenal evening that gave teams of contestants from the crowd a chance to win a huge rolling jackpot at The Vogue Theatre on Wednesday, August 14, 2019. Photo Cred Melodie Yvonne
Hambone's Trivia Presents The Big Show was a phenomenal evening that gave teams of contestants from the crowd a chance to win a huge rolling jackpot at The Vogue Theatre on Wednesday, August 14, 2019. Photo Cred Melodie Yvonne
Hambone's Trivia Presents The Big Show was a phenomenal evening that gave teams of contestants from the crowd a chance to win a huge rolling jackpot at The Vogue Theatre on Wednesday, August 14, 2019. Photo Cred Melodie Yvonne
Hambone's Trivia Presents The Big Show was a phenomenal evening that gave teams of contestants from the crowd a chance to win a huge rolling jackpot at The Vogue Theatre on Wednesday, August 14, 2019. Photo Cred Melodie Yvonne
Hambone's Trivia Presents The Big Show was a phenomenal evening that gave teams of contestants from the crowd a chance to win a huge rolling jackpot at The Vogue Theatre on Wednesday, August 14, 2019. Photo Cred Melodie Yvonne
Hambone's Trivia Presents The Big Show was a phenomenal evening that gave teams of contestants from the crowd a chance to win a huge rolling jackpot at The Vogue Theatre on Wednesday, August 14, 2019. Photo Cred Melodie Yvonne
Hambone's Trivia Presents The Big Show was a phenomenal evening that gave teams of contestants from the crowd a chance to win a huge rolling jackpot at The Vogue Theatre on Wednesday, August 14, 2019. Photo Cred Melodie Yvonne
Hambone's Trivia Presents The Big Show was a phenomenal evening that gave teams of contestants from the crowd a chance to win a huge rolling jackpot at The Vogue Theatre on Wednesday, August 14, 2019. Photo Cred Melodie Yvonne
Hambone's Trivia Presents The Big Show was a phenomenal evening that gave teams of contestants from the crowd a chance to win a huge rolling jackpot at The Vogue Theatre on Wednesday, August 14, 2019. Photo Cred Melodie Yvonne
Hambone's Trivia Presents The Big Show was a phenomenal evening that gave teams of contestants from the crowd a chance to win a huge rolling jackpot at The Vogue Theatre on Wednesday, August 14, 2019. Photo Cred Melodie Yvonne
Hambone's Trivia Presents The Big Show was a phenomenal evening that gave teams of contestants from the crowd a chance to win a huge rolling jackpot at The Vogue Theatre on Wednesday, August 14, 2019. Photo Cred Melodie Yvonne
Hambone's Trivia Presents The Big Show was a phenomenal evening that gave teams of contestants from the crowd a chance to win a huge rolling jackpot at The Vogue Theatre on Wednesday, August 14, 2019. Photo Cred Melodie Yvonne
Hambone's Trivia Presents The Big Show was a phenomenal evening that gave teams of contestants from the crowd a chance to win a huge rolling jackpot at The Vogue Theatre on Wednesday, August 14, 2019. Photo Cred Melodie Yvonne
Hambone's Trivia Presents The Big Show was a phenomenal evening that gave teams of contestants from the crowd a chance to win a huge rolling jackpot at The Vogue Theatre on Wednesday, August 14, 2019. Photo Cred Melodie Yvonne
Hambone's Trivia Presents The Big Show was a phenomenal evening that gave teams of contestants from the crowd a chance to win a huge rolling jackpot at The Vogue Theatre on Wednesday, August 14, 2019. Photo Cred Melodie Yvonne
Hambone's Trivia Presents The Big Show was a phenomenal evening that gave teams of contestants from the crowd a chance to win a huge rolling jackpot at The Vogue Theatre on Wednesday, August 14, 2019. Photo Cred Melodie Yvonne
Hambone's Trivia Presents The Big Show was a phenomenal evening that gave teams of contestants from the crowd a chance to win a huge rolling jackpot at The Vogue Theatre on Wednesday, August 14, 2019. Photo Cred Melodie Yvonne
Hambone's Trivia Presents The Big Show was a phenomenal evening that gave teams of contestants from the crowd a chance to win a huge rolling jackpot at The Vogue Theatre on Wednesday, August 14, 2019. Photo Cred Melodie Yvonne
Hambone's Trivia Presents The Big Show was a phenomenal evening that gave teams of contestants from the crowd a chance to win a huge rolling jackpot at The Vogue Theatre on Wednesday, August 14, 2019. Photo Cred Melodie Yvonne
Hambone's Trivia Presents The Big Show was a phenomenal evening that gave teams of contestants from the crowd a chance to win a huge rolling jackpot at The Vogue Theatre on Wednesday, August 14, 2019. Photo Cred Melodie Yvonne
Hambone's Trivia Presents The Big Show was a phenomenal evening that gave teams of contestants from the crowd a chance to win a huge rolling jackpot at The Vogue Theatre on Wednesday, August 14, 2019. Photo Cred Melodie Yvonne
Hambone's Trivia Presents The Big Show was a phenomenal evening that gave teams of contestants from the crowd a chance to win a huge rolling jackpot at The Vogue Theatre on Wednesday, August 14, 2019. Photo Cred Melodie Yvonne
Hambone's Trivia Presents The Big Show was a phenomenal evening that gave teams of contestants from the crowd a chance to win a huge rolling jackpot at The Vogue Theatre on Wednesday, August 14, 2019. Photo Cred Melodie Yvonne
Hambone's Trivia Presents The Big Show was a phenomenal evening that gave teams of contestants from the crowd a chance to win a huge rolling jackpot at The Vogue Theatre on Wednesday, August 14, 2019. Photo Cred Melodie Yvonne
Hambone's Trivia Presents The Big Show was a phenomenal evening that gave teams of contestants from the crowd a chance to win a huge rolling jackpot at The Vogue Theatre on Wednesday, August 14, 2019. Photo Cred Melodie Yvonne
Hambone's Trivia Presents The Big Show was a phenomenal evening that gave teams of contestants from the crowd a chance to win a huge rolling jackpot at The Vogue Theatre on Wednesday, August 14, 2019. Photo Cred Melodie Yvonne
Hambone's Trivia Presents The Big Show was a phenomenal evening that gave teams of contestants from the crowd a chance to win a huge rolling jackpot at The Vogue Theatre on Wednesday, August 14, 2019. Photo Cred Melodie Yvonne
Hambone's Trivia Presents The Big Show was a phenomenal evening that gave teams of contestants from the crowd a chance to win a huge rolling jackpot at The Vogue Theatre on Wednesday, August 14, 2019. Photo Cred Melodie Yvonne
Hambone's Trivia Presents The Big Show was a phenomenal evening that gave teams of contestants from the crowd a chance to win a huge rolling jackpot at The Vogue Theatre on Wednesday, August 14, 2019. Photo Cred Melodie Yvonne
Hambone's Trivia Presents The Big Show was a phenomenal evening that gave teams of contestants from the crowd a chance to win a huge rolling jackpot at The Vogue Theatre on Wednesday, August 14, 2019. Photo Cred Melodie Yvonne
Hambone's Trivia Presents The Big Show was a phenomenal evening that gave teams of contestants from the crowd a chance to win a huge rolling jackpot at The Vogue Theatre on Wednesday, August 14, 2019. Photo Cred Melodie Yvonne
Hambone's Trivia Presents The Big Show was a phenomenal evening that gave teams of contestants from the crowd a chance to win a huge rolling jackpot at The Vogue Theatre on Wednesday, August 14, 2019. Photo Cred Melodie Yvonne
Hambone's Trivia Presents The Big Show was a phenomenal evening that gave teams of contestants from the crowd a chance to win a huge rolling jackpot at The Vogue Theatre on Wednesday, August 14, 2019. Photo Cred Melodie Yvonne
Hambone's Trivia Presents The Big Show was a phenomenal evening that gave teams of contestants from the crowd a chance to win a huge rolling jackpot at The Vogue Theatre on Wednesday, August 14, 2019. Photo Cred Melodie Yvonne
Hambone's Trivia Presents The Big Show was a phenomenal evening that gave teams of contestants from the crowd a chance to win a huge rolling jackpot at The Vogue Theatre on Wednesday, August 14, 2019. Photo Cred Melodie Yvonne
Hambone's Trivia Presents The Big Show was a phenomenal evening that gave teams of contestants from the crowd a chance to win a huge rolling jackpot at The Vogue Theatre on Wednesday, August 14, 2019. Photo Cred Melodie Yvonne
Hambone's Trivia Presents The Big Show was a phenomenal evening that gave teams of contestants from the crowd a chance to win a huge rolling jackpot at The Vogue Theatre on Wednesday, August 14, 2019. Photo Cred Melodie Yvonne
Hambone's Trivia Presents The Big Show was a phenomenal evening that gave teams of contestants from the crowd a chance to win a huge rolling jackpot at The Vogue Theatre on Wednesday, August 14, 2019. Photo Cred Melodie Yvonne
Hambone's Trivia Presents The Big Show was a phenomenal evening that gave teams of contestants from the crowd a chance to win a huge rolling jackpot at The Vogue Theatre on Wednesday, August 14, 2019. Photo Cred Melodie Yvonne
Hambone's Trivia Presents The Big Show was a phenomenal evening that gave teams of contestants from the crowd a chance to win a huge rolling jackpot at The Vogue Theatre on Wednesday, August 14, 2019. Photo Cred Melodie Yvonne
Hambone's Trivia Presents The Big Show was a phenomenal evening that gave teams of contestants from the crowd a chance to win a huge rolling jackpot at The Vogue Theatre on Wednesday, August 14, 2019. Photo Cred Melodie Yvonne
Hambone's Trivia Presents The Big Show was a phenomenal evening that gave teams of contestants from the crowd a chance to win a huge rolling jackpot at The Vogue Theatre on Wednesday, August 14, 2019. Photo Cred Melodie Yvonne
Hambone's Trivia Presents The Big Show was a phenomenal evening that gave teams of contestants from the crowd a chance to win a huge rolling jackpot at The Vogue Theatre on Wednesday, August 14, 2019. Photo Cred Melodie Yvonne
Hambone's Trivia Presents The Big Show was a phenomenal evening that gave teams of contestants from the crowd a chance to win a huge rolling jackpot at The Vogue Theatre on Wednesday, August 14, 2019. Photo Cred Melodie Yvonne
Hambone's Trivia Presents The Big Show was a phenomenal evening that gave teams of contestants from the crowd a chance to win a huge rolling jackpot at The Vogue Theatre on Wednesday, August 14, 2019. Photo Cred Melodie Yvonne
Hambone's Trivia Presents The Big Show was a phenomenal evening that gave teams of contestants from the crowd a chance to win a huge rolling jackpot at The Vogue Theatre on Wednesday, August 14, 2019. Photo Cred Melodie Yvonne
Hambone's Trivia Presents The Big Show was a phenomenal evening that gave teams of contestants from the crowd a chance to win a huge rolling jackpot at The Vogue Theatre on Wednesday, August 14, 2019. Photo Cred Melodie Yvonne
Hambone's Trivia Presents The Big Show was a phenomenal evening that gave teams of contestants from the crowd a chance to win a huge rolling jackpot at The Vogue Theatre on Wednesday, August 14, 2019. Photo Cred Melodie Yvonne
Hambone's Trivia Presents The Big Show was a phenomenal evening that gave teams of contestants from the crowd a chance to win a huge rolling jackpot at The Vogue Theatre on Wednesday, August 14, 2019. Photo Cred Melodie Yvonne
Hambone's Trivia Presents The Big Show was a phenomenal evening that gave teams of contestants from the crowd a chance to win a huge rolling jackpot at The Vogue Theatre on Wednesday, August 14, 2019. Photo Cred Melodie Yvonne
Hambone's Trivia Presents The Big Show was a phenomenal evening that gave teams of contestants from the crowd a chance to win a huge rolling jackpot at The Vogue Theatre on Wednesday, August 14, 2019. Photo Cred Melodie Yvonne
Other Shows You Might Like
Similar Artists