Forty5 Presents
Spafford
Thu Oct 14, 2021
8:00 PM / Show: 9:00 PM
21+
$20
Spafford will be live at The Vogue Theater in Indy on October 14, 2021
HEALTH CHECK REQUIRED
At the artist's request, all attendees of this event are required to have received a negative COVID-19 test within 72-hours prior to entering the venue OR be fully vaccinated against COVID-19. In attending the event, you certify and attest that you and all individuals in your party attending the event will abide by the following regulations:
All fans will provide printed proof of a negative COVID-19 test within 72-hours prior to entering the venue, OR be fully vaccinated against COVID-19 (at least two weeks after final dose) and provide printed or digital proof of immunization.
Masks are required to attend this show and must be worn whenever not actively drinking.
Entry requirements and venue protocols are subject to change.
For more information, please visit http://thevogue.com/healthcheck/
——
Spafford has solidified themselves  among the most creative and hard-traveled bands on the contemporary jam scene. Pairing complex compositions with extended improvisations, the rousing energy of the Southwest-based quartet — Brian Moss (guitar, vocals), Jordan Fairless (bass, vocals), Andrew "Red" Johnson (keys, vocals), and Nick Tkachyk (drums, vocals) — is matched by their outstanding talent, versatility of playing styles, and extensive catalogue of original music and innovative covers. Each Spafford show is a sensory expedition of extended jams—an interplay of lights, tones, cascading melodies, and balance that carries a ceaselessly-dancing crowd through the night.
Underscoring a meteoric rise since their start in 2010, the Huffington Post proclaimed "Spafford is the latest buzzword in the jam-band scene . . . Their sound is like everything and nothing you've heard before, making them one of the next big things happening in improvisational music today." (Huffington Post, 2017).
Spafford is remarkable for demonstrating mastery in the art of anticipation, seamless transitions, intoxicating crescendos, and sublime peaks. Their off-the-cuff extended jams create an unpredictable and unforgettable musical experience that Relix attributed to "a wide swath of influences and keen improvisational cohesion . . . all four members of Spafford have ample room to stretch their wings onstage . . . And Spafford pride themselves on being able to chameleon between mid-sized clubs, large festivals and historic venues like Red Rocks." (Relix, 2019).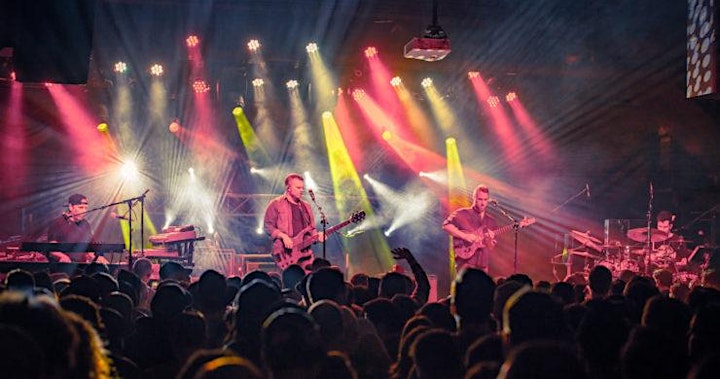 Spafford's discography includes an eclectic mix of studio (e.g. Spafford [2012]; For Amusement Only [2018]; The Gaff Tapes [2019]), live (e.g. Live Vol. 1-3 [2015, 2016, 2020]; A Taste of Fall [2017]; Live at the Drive-In [2020]), and improvisational works (e.g. Abaculus [2017]; Chapel Jam [2019]; Big Field Sessions [2021]). The band is also keen on making video and audio recordings of many of their live shows available shortly after each event, to the delight of their large and growing fanbase.
Featured tour highlights in support of their studio albums include their 2014 Southwest tour, 2016 breakout tour, 2017 tour with Umphrey's McGee, 2018 For Amusement Only tour, and a 40-show winter tour across the U.S. in 2019. Spafford has graced the stages of many national festivals including at Summer Camp, Bonnaroo, Firefly, High Sierra, Levitate, Peach, and Lockn', among many others. Additionally, Spafford has collaborated with the likes of Karl Denson (Rolling Stones, Karl Denson's Tiny Universe); Aron Magner (Disco Biscuits); Brendan Bayliss (Umphrey's McGee); and Jennifer Hartswick, Natalie Cressman, and James Casey (Trey Anastasio Band) during the tenure of their illustrious career.
What We Are Doing To Keep Attendees Safe
Limited Capacity: Per Marion County public health orders, the capacity for this event will be limited.
Face Coverings: All patrons and employees will be required to wear a face covering when entering the venue. Face coverings must remain on when high traffic areas such as restrooms, hallways and service areas. Masks are not required while consuming a beverage or interacting inside of your social circle. Please bring your own mask. Disposable masks are available for purchase at the box office but quantities are limited. Face coverings will not be required while taking class (while at your mat). All participants taking class will remain 6 feet apart for the duration of the class.
Signage: Pay attention to signage as you enter on the exterior of the venue, as well as various points throughout the venue. Remember, by purchasing a ticket and entering the venue you are doing so at your own risk.
Cleaning: The Vogue continues to maintain its enhanced cleaning procedures which include a thorough cleaning before and after every show. The Vogue has implemented a new Viruscide Spray system that is delivered via commercial anaomizer spraying system. The Vogue treats all high-traffic areas with Nu-Foamicide, which is recommended by the CDC to kill Covid-19, before and after shows. Security staff will be responsible for disinfecting high traffic areas including service areas, door handles and restroom facilities throughout the show.
In an effort to reduce and sanitize high-traffic touchpoints, restroom doors will stay open at all times
Line Cue & Entrance Procedures: We will provide a defined entrance lane for you to enter the venue. Please follow the markings on the ground that will help you maintain social distancing as you enter.
New Point-of-Sale System: We've installed a new point-of-sale system that will not only speed up transaction time, it will provide more visibility into your checkout process. Consumer-facing screens allow guests to complete the checkout process more efficiently directly with their credit card or Apple Pay which creates less handling of cash and cards across the service area.
What We Are Doing To Keep Our Staff Safe
All employees will wearing a face covering that covers the nose and mouth
All employees will submit to a pre-shift temperature check. Employees who feel ill or showing any symptoms of illness will not be allowed to work.
Employees will take frequent breaks for personal sanitization and hand washing
Forty 5 Presents Spafford with Eggy at The Vogue Theatre in Indianapolis, Indiana, on October 14, 2021. Photo cred Melodie Yvonne
Forty 5 Presents Spafford with Eggy at The Vogue Theatre in Indianapolis, Indiana, on October 14, 2021. Photo cred Melodie Yvonne
Forty 5 Presents Spafford with Eggy at The Vogue Theatre in Indianapolis, Indiana, on October 14, 2021. Photo cred Melodie Yvonne
Forty 5 Presents Spafford with Eggy at The Vogue Theatre in Indianapolis, Indiana, on October 14, 2021. Photo cred Melodie Yvonne
Forty 5 Presents Spafford with Eggy at The Vogue Theatre in Indianapolis, Indiana, on October 14, 2021. Photo cred Melodie Yvonne
Forty 5 Presents Spafford with Eggy at The Vogue Theatre in Indianapolis, Indiana, on October 14, 2021. Photo cred Melodie Yvonne
Forty 5 Presents Spafford with Eggy at The Vogue Theatre in Indianapolis, Indiana, on October 14, 2021. Photo cred Melodie Yvonne
Forty 5 Presents Spafford with Eggy at The Vogue Theatre in Indianapolis, Indiana, on October 14, 2021. Photo cred Melodie Yvonne
+106 More
Forty 5 Presents Spafford with Eggy at The Vogue Theatre in Indianapolis, Indiana, on October 14, 2021. Photo cred Melodie Yvonne
Forty 5 Presents Spafford with Eggy at The Vogue Theatre in Indianapolis, Indiana, on October 14, 2021. Photo cred Melodie Yvonne
Forty 5 Presents Spafford with Eggy at The Vogue Theatre in Indianapolis, Indiana, on October 14, 2021. Photo cred Melodie Yvonne
Forty 5 Presents Spafford with Eggy at The Vogue Theatre in Indianapolis, Indiana, on October 14, 2021. Photo cred Melodie Yvonne
Forty 5 Presents Spafford with Eggy at The Vogue Theatre in Indianapolis, Indiana, on October 14, 2021. Photo cred Melodie Yvonne
Forty 5 Presents Spafford with Eggy at The Vogue Theatre in Indianapolis, Indiana, on October 14, 2021. Photo cred Melodie Yvonne
Forty 5 Presents Spafford with Eggy at The Vogue Theatre in Indianapolis, Indiana, on October 14, 2021. Photo cred Melodie Yvonne
Forty 5 Presents Spafford with Eggy at The Vogue Theatre in Indianapolis, Indiana, on October 14, 2021. Photo cred Melodie Yvonne
Forty 5 Presents Spafford with Eggy at The Vogue Theatre in Indianapolis, Indiana, on October 14, 2021. Photo cred Melodie Yvonne
Forty 5 Presents Spafford with Eggy at The Vogue Theatre in Indianapolis, Indiana, on October 14, 2021. Photo cred Melodie Yvonne
Forty 5 Presents Spafford with Eggy at The Vogue Theatre in Indianapolis, Indiana, on October 14, 2021. Photo cred Melodie Yvonne
Forty 5 Presents Spafford with Eggy at The Vogue Theatre in Indianapolis, Indiana, on October 14, 2021. Photo cred Melodie Yvonne
Forty 5 Presents Spafford with Eggy at The Vogue Theatre in Indianapolis, Indiana, on October 14, 2021. Photo cred Melodie Yvonne
Forty 5 Presents Spafford with Eggy at The Vogue Theatre in Indianapolis, Indiana, on October 14, 2021. Photo cred Melodie Yvonne
Forty 5 Presents Spafford with Eggy at The Vogue Theatre in Indianapolis, Indiana, on October 14, 2021. Photo cred Melodie Yvonne
Forty 5 Presents Spafford with Eggy at The Vogue Theatre in Indianapolis, Indiana, on October 14, 2021. Photo cred Melodie Yvonne
Forty 5 Presents Spafford with Eggy at The Vogue Theatre in Indianapolis, Indiana, on October 14, 2021. Photo cred Melodie Yvonne
Forty 5 Presents Spafford with Eggy at The Vogue Theatre in Indianapolis, Indiana, on October 14, 2021. Photo cred Melodie Yvonne
Forty 5 Presents Spafford with Eggy at The Vogue Theatre in Indianapolis, Indiana, on October 14, 2021. Photo cred Melodie Yvonne
Forty 5 Presents Spafford with Eggy at The Vogue Theatre in Indianapolis, Indiana, on October 14, 2021. Photo cred Melodie Yvonne
Forty 5 Presents Spafford with Eggy at The Vogue Theatre in Indianapolis, Indiana, on October 14, 2021. Photo cred Melodie Yvonne
Forty 5 Presents Spafford with Eggy at The Vogue Theatre in Indianapolis, Indiana, on October 14, 2021. Photo cred Melodie Yvonne
Forty 5 Presents Spafford with Eggy at The Vogue Theatre in Indianapolis, Indiana, on October 14, 2021. Photo cred Melodie Yvonne
Forty 5 Presents Spafford with Eggy at The Vogue Theatre in Indianapolis, Indiana, on October 14, 2021. Photo cred Melodie Yvonne
Forty 5 Presents Spafford with Eggy at The Vogue Theatre in Indianapolis, Indiana, on October 14, 2021. Photo cred Melodie Yvonne
Forty 5 Presents Spafford with Eggy at The Vogue Theatre in Indianapolis, Indiana, on October 14, 2021. Photo cred Melodie Yvonne
Forty 5 Presents Spafford with Eggy at The Vogue Theatre in Indianapolis, Indiana, on October 14, 2021. Photo cred Melodie Yvonne
Forty 5 Presents Spafford with Eggy at The Vogue Theatre in Indianapolis, Indiana, on October 14, 2021. Photo cred Melodie Yvonne
Forty 5 Presents Spafford with Eggy at The Vogue Theatre in Indianapolis, Indiana, on October 14, 2021. Photo cred Melodie Yvonne
Forty 5 Presents Spafford with Eggy at The Vogue Theatre in Indianapolis, Indiana, on October 14, 2021. Photo cred Melodie Yvonne
Forty 5 Presents Spafford with Eggy at The Vogue Theatre in Indianapolis, Indiana, on October 14, 2021. Photo cred Melodie Yvonne
Forty 5 Presents Spafford with Eggy at The Vogue Theatre in Indianapolis, Indiana, on October 14, 2021. Photo cred Melodie Yvonne
Forty 5 Presents Spafford with Eggy at The Vogue Theatre in Indianapolis, Indiana, on October 14, 2021. Photo cred Melodie Yvonne
Forty 5 Presents Spafford with Eggy at The Vogue Theatre in Indianapolis, Indiana, on October 14, 2021. Photo cred Melodie Yvonne
Forty 5 Presents Spafford with Eggy at The Vogue Theatre in Indianapolis, Indiana, on October 14, 2021. Photo cred Melodie Yvonne
Forty 5 Presents Spafford with Eggy at The Vogue Theatre in Indianapolis, Indiana, on October 14, 2021. Photo cred Melodie Yvonne
Forty 5 Presents Spafford with Eggy at The Vogue Theatre in Indianapolis, Indiana, on October 14, 2021. Photo cred Melodie Yvonne
Forty 5 Presents Spafford with Eggy at The Vogue Theatre in Indianapolis, Indiana, on October 14, 2021. Photo cred Melodie Yvonne
Forty 5 Presents Spafford with Eggy at The Vogue Theatre in Indianapolis, Indiana, on October 14, 2021. Photo cred Melodie Yvonne
Forty 5 Presents Spafford with Eggy at The Vogue Theatre in Indianapolis, Indiana, on October 14, 2021. Photo cred Melodie Yvonne
Forty 5 Presents Spafford with Eggy at The Vogue Theatre in Indianapolis, Indiana, on October 14, 2021. Photo cred Melodie Yvonne
Forty 5 Presents Spafford with Eggy at The Vogue Theatre in Indianapolis, Indiana, on October 14, 2021. Photo cred Melodie Yvonne
Forty 5 Presents Spafford with Eggy at The Vogue Theatre in Indianapolis, Indiana, on October 14, 2021. Photo cred Melodie Yvonne
Forty 5 Presents Spafford with Eggy at The Vogue Theatre in Indianapolis, Indiana, on October 14, 2021. Photo cred Melodie Yvonne
Forty 5 Presents Spafford with Eggy at The Vogue Theatre in Indianapolis, Indiana, on October 14, 2021. Photo cred Melodie Yvonne
Forty 5 Presents Spafford with Eggy at The Vogue Theatre in Indianapolis, Indiana, on October 14, 2021. Photo cred Melodie Yvonne
Forty 5 Presents Spafford with Eggy at The Vogue Theatre in Indianapolis, Indiana, on October 14, 2021. Photo cred Melodie Yvonne
Forty 5 Presents Spafford with Eggy at The Vogue Theatre in Indianapolis, Indiana, on October 14, 2021. Photo cred Melodie Yvonne
Forty 5 Presents Spafford with Eggy at The Vogue Theatre in Indianapolis, Indiana, on October 14, 2021. Photo cred Melodie Yvonne
Forty 5 Presents Spafford with Eggy at The Vogue Theatre in Indianapolis, Indiana, on October 14, 2021. Photo cred Melodie Yvonne
Forty 5 Presents Spafford with Eggy at The Vogue Theatre in Indianapolis, Indiana, on October 14, 2021. Photo cred Melodie Yvonne
Forty 5 Presents Spafford with Eggy at The Vogue Theatre in Indianapolis, Indiana, on October 14, 2021. Photo cred Melodie Yvonne
Forty 5 Presents Spafford with Eggy at The Vogue Theatre in Indianapolis, Indiana, on October 14, 2021. Photo cred Melodie Yvonne
Forty 5 Presents Spafford with Eggy at The Vogue Theatre in Indianapolis, Indiana, on October 14, 2021. Photo cred Melodie Yvonne
Forty 5 Presents Spafford with Eggy at The Vogue Theatre in Indianapolis, Indiana, on October 14, 2021. Photo cred Melodie Yvonne
Forty 5 Presents Spafford with Eggy at The Vogue Theatre in Indianapolis, Indiana, on October 14, 2021. Photo cred Melodie Yvonne
Forty 5 Presents Spafford with Eggy at The Vogue Theatre in Indianapolis, Indiana, on October 14, 2021. Photo cred Melodie Yvonne
Forty 5 Presents Spafford with Eggy at The Vogue Theatre in Indianapolis, Indiana, on October 14, 2021. Photo cred Melodie Yvonne
Forty 5 Presents Spafford with Eggy at The Vogue Theatre in Indianapolis, Indiana, on October 14, 2021. Photo cred Melodie Yvonne
Forty 5 Presents Spafford with Eggy at The Vogue Theatre in Indianapolis, Indiana, on October 14, 2021. Photo cred Melodie Yvonne
Forty 5 Presents Spafford with Eggy at The Vogue Theatre in Indianapolis, Indiana, on October 14, 2021. Photo cred Melodie Yvonne
Forty 5 Presents Spafford with Eggy at The Vogue Theatre in Indianapolis, Indiana, on October 14, 2021. Photo cred Melodie Yvonne
Forty 5 Presents Spafford with Eggy at The Vogue Theatre in Indianapolis, Indiana, on October 14, 2021. Photo cred Melodie Yvonne
Forty 5 Presents Spafford with Eggy at The Vogue Theatre in Indianapolis, Indiana, on October 14, 2021. Photo cred Melodie Yvonne
Forty 5 Presents Spafford with Eggy at The Vogue Theatre in Indianapolis, Indiana, on October 14, 2021. Photo cred Melodie Yvonne
Forty 5 Presents Spafford with Eggy at The Vogue Theatre in Indianapolis, Indiana, on October 14, 2021. Photo cred Melodie Yvonne
Forty 5 Presents Spafford with Eggy at The Vogue Theatre in Indianapolis, Indiana, on October 14, 2021. Photo cred Melodie Yvonne
Forty 5 Presents Spafford with Eggy at The Vogue Theatre in Indianapolis, Indiana, on October 14, 2021. Photo cred Melodie Yvonne
Forty 5 Presents Spafford with Eggy at The Vogue Theatre in Indianapolis, Indiana, on October 14, 2021. Photo cred Melodie Yvonne
Forty 5 Presents Spafford with Eggy at The Vogue Theatre in Indianapolis, Indiana, on October 14, 2021. Photo cred Melodie Yvonne
Forty 5 Presents Spafford with Eggy at The Vogue Theatre in Indianapolis, Indiana, on October 14, 2021. Photo cred Melodie Yvonne
Forty 5 Presents Spafford with Eggy at The Vogue Theatre in Indianapolis, Indiana, on October 14, 2021. Photo cred Melodie Yvonne
Forty 5 Presents Spafford with Eggy at The Vogue Theatre in Indianapolis, Indiana, on October 14, 2021. Photo cred Melodie Yvonne
Forty 5 Presents Spafford with Eggy at The Vogue Theatre in Indianapolis, Indiana, on October 14, 2021. Photo cred Melodie Yvonne
Forty 5 Presents Spafford with Eggy at The Vogue Theatre in Indianapolis, Indiana, on October 14, 2021. Photo cred Melodie Yvonne
Forty 5 Presents Spafford with Eggy at The Vogue Theatre in Indianapolis, Indiana, on October 14, 2021. Photo cred Melodie Yvonne
Forty 5 Presents Spafford with Eggy at The Vogue Theatre in Indianapolis, Indiana, on October 14, 2021. Photo cred Melodie Yvonne
Forty 5 Presents Spafford with Eggy at The Vogue Theatre in Indianapolis, Indiana, on October 14, 2021. Photo cred Melodie Yvonne
Forty 5 Presents Spafford with Eggy at The Vogue Theatre in Indianapolis, Indiana, on October 14, 2021. Photo cred Melodie Yvonne
Forty 5 Presents Spafford with Eggy at The Vogue Theatre in Indianapolis, Indiana, on October 14, 2021. Photo cred Melodie Yvonne
Forty 5 Presents Spafford with Eggy at The Vogue Theatre in Indianapolis, Indiana, on October 14, 2021. Photo cred Melodie Yvonne
Forty 5 Presents Spafford with Eggy at The Vogue Theatre in Indianapolis, Indiana, on October 14, 2021. Photo cred Melodie Yvonne
Forty 5 Presents Spafford with Eggy at The Vogue Theatre in Indianapolis, Indiana, on October 14, 2021. Photo cred Melodie Yvonne
Forty 5 Presents Spafford with Eggy at The Vogue Theatre in Indianapolis, Indiana, on October 14, 2021. Photo cred Melodie Yvonne
Forty 5 Presents Spafford with Eggy at The Vogue Theatre in Indianapolis, Indiana, on October 14, 2021. Photo cred Melodie Yvonne
Forty 5 Presents Spafford with Eggy at The Vogue Theatre in Indianapolis, Indiana, on October 14, 2021. Photo cred Melodie Yvonne
Forty 5 Presents Spafford with Eggy at The Vogue Theatre in Indianapolis, Indiana, on October 14, 2021. Photo cred Melodie Yvonne
Forty 5 Presents Spafford with Eggy at The Vogue Theatre in Indianapolis, Indiana, on October 14, 2021. Photo cred Melodie Yvonne
Forty 5 Presents Spafford with Eggy at The Vogue Theatre in Indianapolis, Indiana, on October 14, 2021. Photo cred Melodie Yvonne
Forty 5 Presents Spafford with Eggy at The Vogue Theatre in Indianapolis, Indiana, on October 14, 2021. Photo cred Melodie Yvonne
Forty 5 Presents Spafford with Eggy at The Vogue Theatre in Indianapolis, Indiana, on October 14, 2021. Photo cred Melodie Yvonne
Forty 5 Presents Spafford with Eggy at The Vogue Theatre in Indianapolis, Indiana, on October 14, 2021. Photo cred Melodie Yvonne
Forty 5 Presents Spafford with Eggy at The Vogue Theatre in Indianapolis, Indiana, on October 14, 2021. Photo cred Melodie Yvonne
Forty 5 Presents Spafford with Eggy at The Vogue Theatre in Indianapolis, Indiana, on October 14, 2021. Photo cred Melodie Yvonne
Forty 5 Presents Spafford with Eggy at The Vogue Theatre in Indianapolis, Indiana, on October 14, 2021. Photo cred Melodie Yvonne
Forty 5 Presents Spafford with Eggy at The Vogue Theatre in Indianapolis, Indiana, on October 14, 2021. Photo cred Melodie Yvonne
Forty 5 Presents Spafford with Eggy at The Vogue Theatre in Indianapolis, Indiana, on October 14, 2021. Photo cred Melodie Yvonne
Forty 5 Presents Spafford with Eggy at The Vogue Theatre in Indianapolis, Indiana, on October 14, 2021. Photo cred Melodie Yvonne
Forty 5 Presents Spafford with Eggy at The Vogue Theatre in Indianapolis, Indiana, on October 14, 2021. Photo cred Melodie Yvonne
Forty 5 Presents Spafford with Eggy at The Vogue Theatre in Indianapolis, Indiana, on October 14, 2021. Photo cred Melodie Yvonne
Forty 5 Presents Spafford with Eggy at The Vogue Theatre in Indianapolis, Indiana, on October 14, 2021. Photo cred Melodie Yvonne
Forty 5 Presents Spafford with Eggy at The Vogue Theatre in Indianapolis, Indiana, on October 14, 2021. Photo cred Melodie Yvonne
Forty 5 Presents Spafford with Eggy at The Vogue Theatre in Indianapolis, Indiana, on October 14, 2021. Photo cred Melodie Yvonne
Forty 5 Presents Spafford with Eggy at The Vogue Theatre in Indianapolis, Indiana, on October 14, 2021. Photo cred Melodie Yvonne
Forty 5 Presents Spafford with Eggy at The Vogue Theatre in Indianapolis, Indiana, on October 14, 2021. Photo cred Melodie Yvonne
Forty 5 Presents Spafford with Eggy at The Vogue Theatre in Indianapolis, Indiana, on October 14, 2021. Photo cred Melodie Yvonne
Other Shows You Might Like
Similar Artists