Forty5 Presents
Monster Energy Outbreak Tour Presents Larkin Poe
with The Collection
Sat Oct 09, 2021
7:00 PM / Show: 8:00 PM
21+
$28
Larkin Poe will be live at The Vogue Theater with Tyler Bryant in Indy on October 9, 2021
About Larkin Poe:
In any normal year, sisters Megan and Rebecca Lovell of Larkin Poe would have released an acclaimed new album and then hit the road for a very long time. But of course, 2020 was no ordinary year. The GRAMMY® Award-nominated sister duo of Rebecca and Megan Lovell kicked things off in June with their fifth studio album, SELF MADE MAN, topping an array of Billboard charts while earning unanimous acclaim around the world. Instead of a summer of tour buses and packed theaters, the Atlanta-bred, Nashville-based Lovells found themselves at home, performing many livestream concerts and adding to their much-loved YouTube covers series. That got them thinking, and now we have Larkin Poe's second album of 2020 – KINDRED SPIRITS, a collection of stripped-back versions of covers, both classic and new.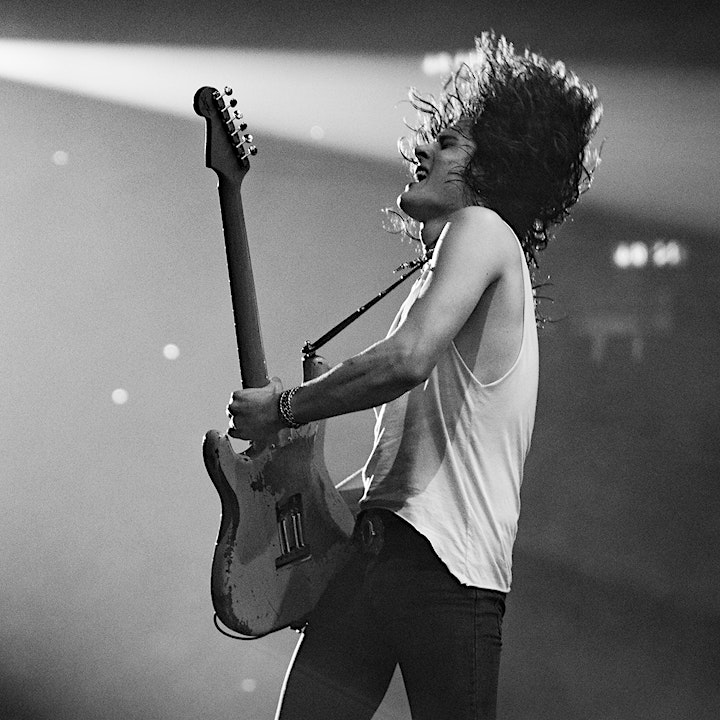 About Tyler Bryant:
Tyler Bryant was seventeen years old when he moved to Nashville from Honey Grove, TX. He was on his own and hell-bent to start a rock and roll band. He did just that when he formed Tyler Bryant & The Shakedown.
Since then, he's carved out a name for himself as a singer, songwriter, guitarist, producer, and performer who has played alongside acts such as AC/DC, Guns N Roses, Jeff Beck, Clutch, Chris Cornell, Aerosmith, Stone Temple Pilots, and many more. Tyler spent his youth obsessing over blues greats such as Muddy Waters and Lightnin' Hopkins. He takes pride in the fact that he's been able to share stages with B.B. King, Hubert Sumlin, and Etta James, to name a few. When asked what one of his favorite achievements was, Bryant responded, "Aside from getting to share a bill with our heroes, Tom Petty & The Heartbreakers, it's been cultivating a grassroots audience around the world of like-minded people who just dig rootsy rock and roll." Whether he's performing with the Shakedown or playing on his own, TB always brings an electric enthusiasm and deep appreciation of the craft to his performances.
MONSTER ENERGY OUTBREAK TOUR PRESENTS
LARKIN POE W/ TYLER BRYANT
SATURDAY, OCTOBER 9, 2021
THE VOGUE THEATER
21+
INDIANAPOLIS, IN
TICKETS AT THEVOGUE.COM
PLEASE NOTE:
THIS SHOW IS GENERAL ADMISSION AND SEATING IS NOT PROVIDED. YOU MUST BE 21+ TO ENTER THE VENUE AND ALL TICKETS ARE NON-TRANSFERABLE AND NON-REFUNDABLE.
The Monster Energy Outbreak Tour ft Larkin Poe with Tyler Bryant was an extraordinary evening at The Vogue on Saturday, October 9, 2021. Photo cred Melodie Yvonne
The Monster Energy Outbreak Tour ft Larkin Poe with Tyler Bryant was an extraordinary evening at The Vogue on Saturday, October 9, 2021. Photo cred Melodie Yvonne
The Monster Energy Outbreak Tour ft Larkin Poe with Tyler Bryant was an extraordinary evening at The Vogue on Saturday, October 9, 2021. Photo cred Melodie Yvonne
The Monster Energy Outbreak Tour ft Larkin Poe with Tyler Bryant was an extraordinary evening at The Vogue on Saturday, October 9, 2021. Photo cred Melodie Yvonne
The Monster Energy Outbreak Tour ft Larkin Poe with Tyler Bryant was an extraordinary evening at The Vogue on Saturday, October 9, 2021. Photo cred Melodie Yvonne
The Monster Energy Outbreak Tour ft Larkin Poe with Tyler Bryant was an extraordinary evening at The Vogue on Saturday, October 9, 2021. Photo cred Melodie Yvonne
The Monster Energy Outbreak Tour ft Larkin Poe with Tyler Bryant was an extraordinary evening at The Vogue on Saturday, October 9, 2021. Photo cred Melodie Yvonne
The Monster Energy Outbreak Tour ft Larkin Poe with Tyler Bryant was an extraordinary evening at The Vogue on Saturday, October 9, 2021. Photo cred Melodie Yvonne
+91 More
The Monster Energy Outbreak Tour ft Larkin Poe with Tyler Bryant was an extraordinary evening at The Vogue on Saturday, October 9, 2021. Photo cred Melodie Yvonne
The Monster Energy Outbreak Tour ft Larkin Poe with Tyler Bryant was an extraordinary evening at The Vogue on Saturday, October 9, 2021. Photo cred Melodie Yvonne
The Monster Energy Outbreak Tour ft Larkin Poe with Tyler Bryant was an extraordinary evening at The Vogue on Saturday, October 9, 2021. Photo cred Melodie Yvonne
The Monster Energy Outbreak Tour ft Larkin Poe with Tyler Bryant was an extraordinary evening at The Vogue on Saturday, October 9, 2021. Photo cred Melodie Yvonne
The Monster Energy Outbreak Tour ft Larkin Poe with Tyler Bryant was an extraordinary evening at The Vogue on Saturday, October 9, 2021. Photo cred Melodie Yvonne
The Monster Energy Outbreak Tour ft Larkin Poe with Tyler Bryant was an extraordinary evening at The Vogue on Saturday, October 9, 2021. Photo cred Melodie Yvonne
The Monster Energy Outbreak Tour ft Larkin Poe with Tyler Bryant was an extraordinary evening at The Vogue on Saturday, October 9, 2021. Photo cred Melodie Yvonne
The Monster Energy Outbreak Tour ft Larkin Poe with Tyler Bryant was an extraordinary evening at The Vogue on Saturday, October 9, 2021. Photo cred Melodie Yvonne
The Monster Energy Outbreak Tour ft Larkin Poe with Tyler Bryant was an extraordinary evening at The Vogue on Saturday, October 9, 2021. Photo cred Melodie Yvonne
The Monster Energy Outbreak Tour ft Larkin Poe with Tyler Bryant was an extraordinary evening at The Vogue on Saturday, October 9, 2021. Photo cred Melodie Yvonne
The Monster Energy Outbreak Tour ft Larkin Poe with Tyler Bryant was an extraordinary evening at The Vogue on Saturday, October 9, 2021. Photo cred Melodie Yvonne
The Monster Energy Outbreak Tour ft Larkin Poe with Tyler Bryant was an extraordinary evening at The Vogue on Saturday, October 9, 2021. Photo cred Melodie Yvonne
The Monster Energy Outbreak Tour ft Larkin Poe with Tyler Bryant was an extraordinary evening at The Vogue on Saturday, October 9, 2021. Photo cred Melodie Yvonne
The Monster Energy Outbreak Tour ft Larkin Poe with Tyler Bryant was an extraordinary evening at The Vogue on Saturday, October 9, 2021. Photo cred Melodie Yvonne
The Monster Energy Outbreak Tour ft Larkin Poe with Tyler Bryant was an extraordinary evening at The Vogue on Saturday, October 9, 2021. Photo cred Melodie Yvonne
The Monster Energy Outbreak Tour ft Larkin Poe with Tyler Bryant was an extraordinary evening at The Vogue on Saturday, October 9, 2021. Photo cred Melodie Yvonne
The Monster Energy Outbreak Tour ft Larkin Poe with Tyler Bryant was an extraordinary evening at The Vogue on Saturday, October 9, 2021. Photo cred Melodie Yvonne
The Monster Energy Outbreak Tour ft Larkin Poe with Tyler Bryant was an extraordinary evening at The Vogue on Saturday, October 9, 2021. Photo cred Melodie Yvonne
The Monster Energy Outbreak Tour ft Larkin Poe with Tyler Bryant was an extraordinary evening at The Vogue on Saturday, October 9, 2021. Photo cred Melodie Yvonne
The Monster Energy Outbreak Tour ft Larkin Poe with Tyler Bryant was an extraordinary evening at The Vogue on Saturday, October 9, 2021. Photo cred Melodie Yvonne
The Monster Energy Outbreak Tour ft Larkin Poe with Tyler Bryant was an extraordinary evening at The Vogue on Saturday, October 9, 2021. Photo cred Melodie Yvonne
The Monster Energy Outbreak Tour ft Larkin Poe with Tyler Bryant was an extraordinary evening at The Vogue on Saturday, October 9, 2021. Photo cred Melodie Yvonne
The Monster Energy Outbreak Tour ft Larkin Poe with Tyler Bryant was an extraordinary evening at The Vogue on Saturday, October 9, 2021. Photo cred Melodie Yvonne
The Monster Energy Outbreak Tour ft Larkin Poe with Tyler Bryant was an extraordinary evening at The Vogue on Saturday, October 9, 2021. Photo cred Melodie Yvonne
The Monster Energy Outbreak Tour ft Larkin Poe with Tyler Bryant was an extraordinary evening at The Vogue on Saturday, October 9, 2021. Photo cred Melodie Yvonne
The Monster Energy Outbreak Tour ft Larkin Poe with Tyler Bryant was an extraordinary evening at The Vogue on Saturday, October 9, 2021. Photo cred Melodie Yvonne
The Monster Energy Outbreak Tour ft Larkin Poe with Tyler Bryant was an extraordinary evening at The Vogue on Saturday, October 9, 2021. Photo cred Melodie Yvonne
The Monster Energy Outbreak Tour ft Larkin Poe with Tyler Bryant was an extraordinary evening at The Vogue on Saturday, October 9, 2021. Photo cred Melodie Yvonne
The Monster Energy Outbreak Tour ft Larkin Poe with Tyler Bryant was an extraordinary evening at The Vogue on Saturday, October 9, 2021. Photo cred Melodie Yvonne
The Monster Energy Outbreak Tour ft Larkin Poe with Tyler Bryant was an extraordinary evening at The Vogue on Saturday, October 9, 2021. Photo cred Melodie Yvonne
The Monster Energy Outbreak Tour ft Larkin Poe with Tyler Bryant was an extraordinary evening at The Vogue on Saturday, October 9, 2021. Photo cred Melodie Yvonne
The Monster Energy Outbreak Tour ft Larkin Poe with Tyler Bryant was an extraordinary evening at The Vogue on Saturday, October 9, 2021. Photo cred Melodie Yvonne
The Monster Energy Outbreak Tour ft Larkin Poe with Tyler Bryant was an extraordinary evening at The Vogue on Saturday, October 9, 2021. Photo cred Melodie Yvonne
The Monster Energy Outbreak Tour ft Larkin Poe with Tyler Bryant was an extraordinary evening at The Vogue on Saturday, October 9, 2021. Photo cred Melodie Yvonne
The Monster Energy Outbreak Tour ft Larkin Poe with Tyler Bryant was an extraordinary evening at The Vogue on Saturday, October 9, 2021. Photo cred Melodie Yvonne
The Monster Energy Outbreak Tour ft Larkin Poe with Tyler Bryant was an extraordinary evening at The Vogue on Saturday, October 9, 2021. Photo cred Melodie Yvonne
The Monster Energy Outbreak Tour ft Larkin Poe with Tyler Bryant was an extraordinary evening at The Vogue on Saturday, October 9, 2021. Photo cred Melodie Yvonne
The Monster Energy Outbreak Tour ft Larkin Poe with Tyler Bryant was an extraordinary evening at The Vogue on Saturday, October 9, 2021. Photo cred Melodie Yvonne
The Monster Energy Outbreak Tour ft Larkin Poe with Tyler Bryant was an extraordinary evening at The Vogue on Saturday, October 9, 2021. Photo cred Melodie Yvonne
The Monster Energy Outbreak Tour ft Larkin Poe with Tyler Bryant was an extraordinary evening at The Vogue on Saturday, October 9, 2021. Photo cred Melodie Yvonne
The Monster Energy Outbreak Tour ft Larkin Poe with Tyler Bryant was an extraordinary evening at The Vogue on Saturday, October 9, 2021. Photo cred Melodie Yvonne
The Monster Energy Outbreak Tour ft Larkin Poe with Tyler Bryant was an extraordinary evening at The Vogue on Saturday, October 9, 2021. Photo cred Melodie Yvonne
The Monster Energy Outbreak Tour ft Larkin Poe with Tyler Bryant was an extraordinary evening at The Vogue on Saturday, October 9, 2021. Photo cred Melodie Yvonne
The Monster Energy Outbreak Tour ft Larkin Poe with Tyler Bryant was an extraordinary evening at The Vogue on Saturday, October 9, 2021. Photo cred Melodie Yvonne
The Monster Energy Outbreak Tour ft Larkin Poe with Tyler Bryant was an extraordinary evening at The Vogue on Saturday, October 9, 2021. Photo cred Melodie Yvonne
The Monster Energy Outbreak Tour ft Larkin Poe with Tyler Bryant was an extraordinary evening at The Vogue on Saturday, October 9, 2021. Photo cred Melodie Yvonne
The Monster Energy Outbreak Tour ft Larkin Poe with Tyler Bryant was an extraordinary evening at The Vogue on Saturday, October 9, 2021. Photo cred Melodie Yvonne
The Monster Energy Outbreak Tour ft Larkin Poe with Tyler Bryant was an extraordinary evening at The Vogue on Saturday, October 9, 2021. Photo cred Melodie Yvonne
The Monster Energy Outbreak Tour ft Larkin Poe with Tyler Bryant was an extraordinary evening at The Vogue on Saturday, October 9, 2021. Photo cred Melodie Yvonne
The Monster Energy Outbreak Tour ft Larkin Poe with Tyler Bryant was an extraordinary evening at The Vogue on Saturday, October 9, 2021. Photo cred Melodie Yvonne
The Monster Energy Outbreak Tour ft Larkin Poe with Tyler Bryant was an extraordinary evening at The Vogue on Saturday, October 9, 2021. Photo cred Melodie Yvonne
The Monster Energy Outbreak Tour ft Larkin Poe with Tyler Bryant was an extraordinary evening at The Vogue on Saturday, October 9, 2021. Photo cred Melodie Yvonne
The Monster Energy Outbreak Tour ft Larkin Poe with Tyler Bryant was an extraordinary evening at The Vogue on Saturday, October 9, 2021. Photo cred Melodie Yvonne
The Monster Energy Outbreak Tour ft Larkin Poe with Tyler Bryant was an extraordinary evening at The Vogue on Saturday, October 9, 2021. Photo cred Melodie Yvonne
The Monster Energy Outbreak Tour ft Larkin Poe with Tyler Bryant was an extraordinary evening at The Vogue on Saturday, October 9, 2021. Photo cred Melodie Yvonne
The Monster Energy Outbreak Tour ft Larkin Poe with Tyler Bryant was an extraordinary evening at The Vogue on Saturday, October 9, 2021. Photo cred Melodie Yvonne
The Monster Energy Outbreak Tour ft Larkin Poe with Tyler Bryant was an extraordinary evening at The Vogue on Saturday, October 9, 2021. Photo cred Melodie Yvonne
The Monster Energy Outbreak Tour ft Larkin Poe with Tyler Bryant was an extraordinary evening at The Vogue on Saturday, October 9, 2021. Photo cred Melodie Yvonne
The Monster Energy Outbreak Tour ft Larkin Poe with Tyler Bryant was an extraordinary evening at The Vogue on Saturday, October 9, 2021. Photo cred Melodie Yvonne
The Monster Energy Outbreak Tour ft Larkin Poe with Tyler Bryant was an extraordinary evening at The Vogue on Saturday, October 9, 2021. Photo cred Melodie Yvonne
The Monster Energy Outbreak Tour ft Larkin Poe with Tyler Bryant was an extraordinary evening at The Vogue on Saturday, October 9, 2021. Photo cred Melodie Yvonne
The Monster Energy Outbreak Tour ft Larkin Poe with Tyler Bryant was an extraordinary evening at The Vogue on Saturday, October 9, 2021. Photo cred Melodie Yvonne
The Monster Energy Outbreak Tour ft Larkin Poe with Tyler Bryant was an extraordinary evening at The Vogue on Saturday, October 9, 2021. Photo cred Melodie Yvonne
The Monster Energy Outbreak Tour ft Larkin Poe with Tyler Bryant was an extraordinary evening at The Vogue on Saturday, October 9, 2021. Photo cred Melodie Yvonne
The Monster Energy Outbreak Tour ft Larkin Poe with Tyler Bryant was an extraordinary evening at The Vogue on Saturday, October 9, 2021. Photo cred Melodie Yvonne
The Monster Energy Outbreak Tour ft Larkin Poe with Tyler Bryant was an extraordinary evening at The Vogue on Saturday, October 9, 2021. Photo cred Melodie Yvonne
The Monster Energy Outbreak Tour ft Larkin Poe with Tyler Bryant was an extraordinary evening at The Vogue on Saturday, October 9, 2021. Photo cred Melodie Yvonne
The Monster Energy Outbreak Tour ft Larkin Poe with Tyler Bryant was an extraordinary evening at The Vogue on Saturday, October 9, 2021. Photo cred Melodie Yvonne
The Monster Energy Outbreak Tour ft Larkin Poe with Tyler Bryant was an extraordinary evening at The Vogue on Saturday, October 9, 2021. Photo cred Melodie Yvonne
The Monster Energy Outbreak Tour ft Larkin Poe with Tyler Bryant was an extraordinary evening at The Vogue on Saturday, October 9, 2021. Photo cred Melodie Yvonne
The Monster Energy Outbreak Tour ft Larkin Poe with Tyler Bryant was an extraordinary evening at The Vogue on Saturday, October 9, 2021. Photo cred Melodie Yvonne
The Monster Energy Outbreak Tour ft Larkin Poe with Tyler Bryant was an extraordinary evening at The Vogue on Saturday, October 9, 2021. Photo cred Melodie Yvonne
The Monster Energy Outbreak Tour ft Larkin Poe with Tyler Bryant was an extraordinary evening at The Vogue on Saturday, October 9, 2021. Photo cred Melodie Yvonne
The Monster Energy Outbreak Tour ft Larkin Poe with Tyler Bryant was an extraordinary evening at The Vogue on Saturday, October 9, 2021. Photo cred Melodie Yvonne
The Monster Energy Outbreak Tour ft Larkin Poe with Tyler Bryant was an extraordinary evening at The Vogue on Saturday, October 9, 2021. Photo cred Melodie Yvonne
The Monster Energy Outbreak Tour ft Larkin Poe with Tyler Bryant was an extraordinary evening at The Vogue on Saturday, October 9, 2021. Photo cred Melodie Yvonne
The Monster Energy Outbreak Tour ft Larkin Poe with Tyler Bryant was an extraordinary evening at The Vogue on Saturday, October 9, 2021. Photo cred Melodie Yvonne
The Monster Energy Outbreak Tour ft Larkin Poe with Tyler Bryant was an extraordinary evening at The Vogue on Saturday, October 9, 2021. Photo cred Melodie Yvonne
The Monster Energy Outbreak Tour ft Larkin Poe with Tyler Bryant was an extraordinary evening at The Vogue on Saturday, October 9, 2021. Photo cred Melodie Yvonne
The Monster Energy Outbreak Tour ft Larkin Poe with Tyler Bryant was an extraordinary evening at The Vogue on Saturday, October 9, 2021. Photo cred Melodie Yvonne
The Monster Energy Outbreak Tour ft Larkin Poe with Tyler Bryant was an extraordinary evening at The Vogue on Saturday, October 9, 2021. Photo cred Melodie Yvonne
The Monster Energy Outbreak Tour ft Larkin Poe with Tyler Bryant was an extraordinary evening at The Vogue on Saturday, October 9, 2021. Photo cred Melodie Yvonne
The Monster Energy Outbreak Tour ft Larkin Poe with Tyler Bryant was an extraordinary evening at The Vogue on Saturday, October 9, 2021. Photo cred Melodie Yvonne
The Monster Energy Outbreak Tour ft Larkin Poe with Tyler Bryant was an extraordinary evening at The Vogue on Saturday, October 9, 2021. Photo cred Melodie Yvonne
The Monster Energy Outbreak Tour ft Larkin Poe with Tyler Bryant was an extraordinary evening at The Vogue on Saturday, October 9, 2021. Photo cred Melodie Yvonne
The Monster Energy Outbreak Tour ft Larkin Poe with Tyler Bryant was an extraordinary evening at The Vogue on Saturday, October 9, 2021. Photo cred Melodie Yvonne
The Monster Energy Outbreak Tour ft Larkin Poe with Tyler Bryant was an extraordinary evening at The Vogue on Saturday, October 9, 2021. Photo cred Melodie Yvonne
The Monster Energy Outbreak Tour ft Larkin Poe with Tyler Bryant was an extraordinary evening at The Vogue on Saturday, October 9, 2021. Photo cred Melodie Yvonne
The Monster Energy Outbreak Tour ft Larkin Poe with Tyler Bryant was an extraordinary evening at The Vogue on Saturday, October 9, 2021. Photo cred Melodie Yvonne
The Monster Energy Outbreak Tour ft Larkin Poe with Tyler Bryant was an extraordinary evening at The Vogue on Saturday, October 9, 2021. Photo cred Melodie Yvonne
The Monster Energy Outbreak Tour ft Larkin Poe with Tyler Bryant was an extraordinary evening at The Vogue on Saturday, October 9, 2021. Photo cred Melodie Yvonne
Other Shows You Might Like
Similar Artists