POSTPONED
Dweezil Zappa
Wed Mar 25, 2020
7:00 PM / Show: 8:00 PM
21+
$30 to $55
Dweezil Zappa "Hot Rats Live! + Other Hot Stuff 1969" at The Vogue – Indianapolis
This show has been postponed.
All tickets for this show will be honored on the rescheduled date.
Stay tuned for the new date.
Doors 7pm / Show 8pm / 21+
$28 Advance / $33 Day Of Show
VIP Soundcheck Party ADD-ON: $25.00 (only 100 available)
General Admission w/ Limited Seating
Dweezil Zappa
https://www.facebook.com/DweezilZappaOfficial/
The son of Frank Zappa, Dweezil Zappa was born on September 5, 1969 in Los Angeles.
It was inevitable that from the moment of his birth his life would be filled wall-to wall with music (his father having listed his religion as "musician" on Dweezil's birth certificate). Dweezil's early years were spent largely away from the spotlight — something of a rarity for the child of a celebrity, but perfect for cultivating a close relationship with his family.
Having watched his father perform concerts from the side of the stage since he was in diapers it was no surprise that he began to show an interest in music early on. At 6 years old he received his first guitar, a Fender Music Master, from his dad. It wasn't until he was 12 that he began to show a serious interest in manipulating the instrument to make music. Having primarily heard the music his father was working on or listening to at home while growing up, Dweezil soon found himself exposed to some new sounds on the radio. Besides his father's music he began listening to the Beatles, Queen, AC/DC, Led Zeppelin, Black Sabbath, The Who and Jimi Hendrix. Like many aspiring guitarists of his generation, Dweezil 's ear was caught in a stranglehold by the trailblazing guitar styles of Edward Van Halen and Randy Rhoads.
To gain more fundamental knowledge of technique and scales Dweezil was fortunate to have some assistance from one of the musicians in his father's band at that time, Steve Vai. Dweezil became remarkably proficient in a very short amount of time due to his intense practicing sessions.
Later that year he recorded his first single, "My Mother Is A Space Cadet", produced by Edward Van Halen and released on Frank Zappa's Barking Pumpkin label.
In 1984, Dweezil contributed guitar solos to both "Stevie's Spanking" and "Sharleena" on Frank's album Them Or Us.
In 1986, Dweezil made his debut in Hollywood as an actor with his role in the classic 80s film "Pretty In Pink." 1987 saw Dweezil raise his profile further with another film role alongside Arnold Schwarzenegger and Mick Fleetwood in "The Running Man."
In television he worked as a guest MTV VJ. During that same period he recorded and released his first full length album, Havin' A Bad Day. This album contained the single "Let's Talk About It" which featured Moon Zappa on vocals and found itself on regular rotation on MTV. The video featured cameo appearances from Frank Zappa, Robert Wagner, Don Johnson and Jane Fonda as well.
Around this same time, Dweezil made his own cameo appearances on records for a variety of diverse artists. He played a solo on the Fat Boys "Baby You're A Rich Man" as well as on the Grammy-nominated cover of "Wipeout" with Herbie Hancock and Terry Bozzio from the "Back To The Beach" film soundtrack. He was asked to join Stevie Ray Vaughan and Bonnie Raitt in contributing guitar performances to Miami Vice star Don Johnson's solo album. While Dweezil actually played on the song "The Last Sound Love Makes" it was his appearance in the video for Don Johnson's single "Heartbeat" that would most notably link him to the project.
1988 saw Dweezil sign a deal with Chrysalis Records, releasing his second album My Guitar Wants To Kill Your Mama.
More TV work followed in 1990 Dweezil and Moon Zappa starred with Laverne And Shirley legend Cindy Williams in a sitcom for CBS titled Normal Life.
With the release of his third album Confessions in 1991, Dweezil began to branch out musically, blending his heavy rock approach with touches of his father's distinct compositional insignia. Guest appearances on this album pointed the way toward the future for Dweezil, including contributions from Nuno Bettencourt, Gary Cherone and Pat Badger of Extreme and legendary guitarists Warren DeMartini, Steve Lukather and Zakk Wylde as well as Frank Zappa sidemen Mike Keneally and Scott Thunes. Both Moon and Ahmet Zappa also added vocals to the album. Dweezil conceived and directed 2 videos from the album, 'Gotta Get To You' and 'Vanity' both of which featured Robert Wagner as a guest star. Robert Wagner has appeared in 4 of Dweezil's videos as well as the "Music For Pets" infomercial spoof.
There were a handful of live shows played to support the Confessions album. That tour saw the band develop a unique set of skills and usher in the birth of a remarkable non-stop medley that grew to contain 200 songs performed in 20 minutes. After completing the Confessions Tour Dweezil formed a new band and project with Ahmet called 'Z'.
Armed with a mountain of material and no permanent drummer the band entered the family-owned rehearsal space called Joe's Garage and rehearsed with several different drummers who ended up playing on tracks for the new album. Those drummers included Terry Bozzio, Mark Craney, Toss Panos, and Tal Bergman. Rather than move to a studio they set up for recording rehearsals. The band recorded over 3 dozen tracks at Joe's Garage. The Shampoohorn album was completed in 1992 but awaited it's release over a year later. It was eventually released with 2 different track listings.
The band featured Mike Keneally and Scott Thunes and initiated its new permanent drummer, Berklee School of Music-trained drummer par excellence Joe Travers before departing for a world tour. Thunes departed later in 1994 and was replaced by Bryan Beller who had attended classes at Berklee alongside Joe Travers. The band toured the US and Europe in 1995. They played original material as well as some more oddball medleys including the infamous "Peavey Medley."
In 1996 they released a follow-up album, Music For Pets. By the time of the album's release, both Beller and Keneally had left the band and Z gradually ceased to exist. Dweezil stayed in the public eye however with several projects including composing the theme music for the Emmy Award winning Fox television show "The Ben Stiller Show" and on camera TV appearances including taking the role of Ajax in the Klasky Csupo animated series Duckman and a TV series for the USA network called Happy Hour which he starred in alongside Ahmet.
2000 saw Dweezil issue his first solo album since 1991's Confessions… with the release of Automatic. By this time, Dweezil's musicianship had come full-circle as he showed off his guitar virtuosity with eclectic all guitar orchestrations of "You're A Mean One Mr. Grinch" and "Hawaii 5-0."
In 2003 More television work came about as Dweezil formed a band for the WB unconventional improvisational comedy "On the Spot" and performed live in each episode.
He also composed the theme music for the WB series "The Jamie Kennedy Experiment" and composed dozens of tracks for the music library Extreme Music. Many of these tracks are heard on various television shows around the world.
The next several years saw Dweezil preparing to take on an extremely difficult challenge — bringing his father's legendary music back to the concert stage. In 2006, some indication of what could be expected surfaced with Dweezil's next solo album Go With What You Know.
Dweezil's current lineup is considered his best version ever. Now a 7-piece band, they are firing on all cylinders propelled by the rhythm section of Ryan Brown on drums and Kurt Morgan on bass. Boundless energy is contributed by the rest of the line-up which includes Sheila Gonzalez, Chris Norton, Cian Coey and boy wonder, Adam Minkoff.
Dweezil's has two daughters, Zola Frank Zappa (born 2006) and Ceylon Indira Zappa (born 2008). His family expanded to include stepdaughter, Mia in 2010. Dweezil and wife, Megan reside in Los Angeles.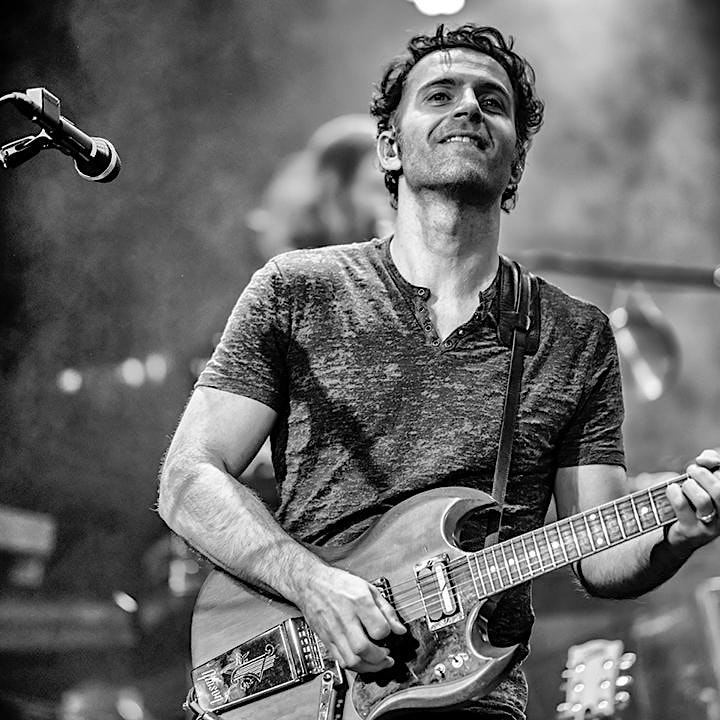 Other Shows You Might Like
Similar Artists