Sun King Concert Series
Crash Test Dummies
Thu Sep 19, 2019
7:00 PM / Show: 8:00 PM
21+
$25.00 -
Crash Test Dummies at The Vogue Theatre – Indianapolis
Thursday, September 19th
Doors 7pm / Show 8pm / 21+
$25 Advance / $30 Day Of Show
General Admission w/ Limited Seating
Crash Test Dummies
Website / Facebook / Twitter / Instagram
Los Angeles, CA – September 18, 2018 – Canadian rock band Crash Test Dummies will reunite for the first time in 17-years to celebrate the 25th anniversary of their seminal sophomore album God shuffled His Feet. The north American tour will launch November 23 and will feature the original line-up of Brad Roberts, Ellen Reid, Dan Roberts, and Mitch Dorge.
"After a huge hit in Canada with our folksier debut album, our next effort was dubbed 'too new a sound' by our Canadian compatriots. In America however, it managed to pique the interest of a new and frankly much larger group of listeners and soon 'MMM MMM MMM MMM became a bonafide hit south of our border, and eventually all over the world," says Brad Roberts. "It was a wild ride for us that year. Now we're celebrating the 25th anniversary reuniting with our original line-up and dusting off our old set lists. It will be the first time we've toured with the full band since 2001, and we're very excited about it."
The 1993 platinum selling and Grammy-nominated album God Shuffled His Feet hit number-one in Austria and New Zealand and also reached the top five in the national albums charts of numerous countries including Australia, Norway, Sweden and Switzerland. The album reached number six in the Netherlands national albums chart, number 2 in the UK and broke the top ten landing at number 9 in the United States Billboard 200 albums chart. God Shuffled His Feet features their most unusual and highly popular single, "Mmm Mmm Mmm Mmm" as well as other fan favorites XX and XXX. The memorable cover artwork featured the superimposed the faces of the band atop figures in the Titian painting "Bacchus and Ariadne."
In 2008 Consequence of Sound featured GSHF in their Guilty Pleasure column stating:
God Shuffled His Feet made the Dummies famous worldwide with a handful of folk-rock songs that shattered the perception of what rock radio could play. "Mmm Mmm Mmm Mmm"-yeah, the humming song about blue hair and birthmarks-had everyone from soccer moms to metal heads singing along and tapping their toes. "Afternoons and Coffeespoons," a hypochondria and T.S. Elliot-inspired romp, soars with gorgeous acoustic strumming, the trademark quirky harmonica playing of Ben Darvill, and the angelic backup vocals of keyboardist Ellen Reid. Songs like the album's title track, "Here I Stand Before Me," and "How Does a Duck Know?" are odd philosophical rockers, taking on everything from theism to Descartes. I credit these particular tunes for making my college philosophy courses bearable.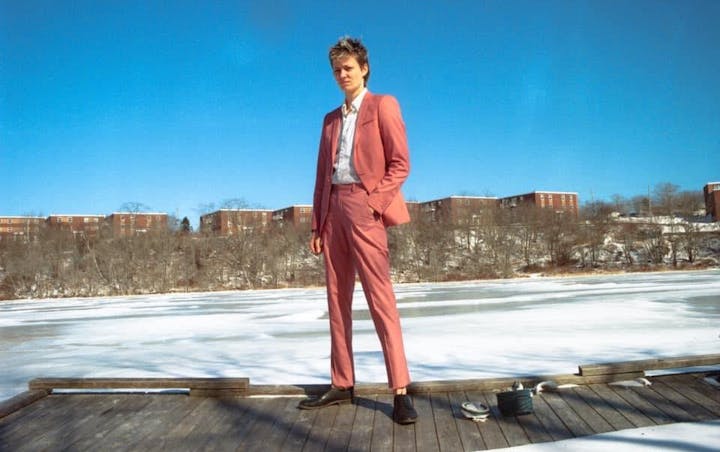 Mo Kenney
Website / Facebook / Twitter / Instagram
I am demented and all my friends are scared of me," Mo Kenney sings on a beloved, unreleased staple of her live shows. "I am an alien waiting for my family." Connection—the rare times we have and hold onto it tenuously, the lack or loss of it, the search for it, and even the creeping feeling that it may be unattainable—is a defining theme of the Dartmouth, Nova Scotia songwriter's body of work. It's no stretch to imagine that it's maybe the main reason her fans are so passionately drawn to her as an artist and performer, either. In a world where connection becomes increasingly scarce, there's a quixotic stubbornness in Kenney's songs, an insistence that forging a bond is worth all the unavoidable pain and heartbreak and self-destruction that might be wrought from it. And there are few songwriters who are able to create such unforgettable melodies while communicating just how rough the ride can be.
Throughout Kenney's own rough ride, from troubled teenagerdom and teaching herself Elliott Smith songs in her small-town bedroom to battling with her demons on 2017's eclectic and brash The Details, music has remained constant. At 17, she stunned Maritime rock 'n' roll legend Joel Plaskett with a couple songs recorded at her friend's high school, eventually leading to a long-running collaborative relationship between the two. In 2012, she released her self-titled debut, a powerful first impression that melds her extraordinary knack for nuance—the dreamy, award-winning folk tune "Sucker," for example—and a clear bent toward sounds more incendiary and ambitious that shows up on the driving kiss-off "Déjà Vu" and her cover of Bowie's "Five Years," which explodes with an interstellar crescendo worthy of the Starman. She expands that vibe on In My Dreams, venting existential frustration by almost gleefully urging the listener to blow her head off on the hazy pop of "Take Me Outside," dabbling in spacey prog rock for the stomping "Mountains to the Mess," and stylishly sowing sorrow on the title track over subtle, '60s-tinged piano, convinced that she's hallucinated an absent lover.
Kenney pathologically mines the most shadowy corners of herself in order to surface with something unflinchingly honest, but The Details found her exploring uncharted territory. It traces her own strange, devastating, and ultimately hopeful trip through the trials and tribulations of booze-fuelled breakdowns, clouds of depression, and disintegrating relationships. It sounds as fraught as the subject matter demands. "On The Roof" seethes with suffocating anxiety and punchy guitar; the jangle of "Unglued" is deceptively sunshiney, the way someone might force a smile as they're falling apart; and "Feelin' Good" offers some real redemption in its weird, soothing sparseness, but feels tentative, as though Kenney is aware things could still unravel at any moment.
It's this willingness to bare so much of herself—not all, mind you—on record and on stage that draws in fans from all over the world, people far and wide who feel like aliens themselves, looking to connect with anyone or anything. And that illuminates a comforting truth: sometimes the fear that you don't belong in this world is the most human feeling you can feel. With a touring history that's seen her play her tunes for swaths of the United States, Europe, Australia, and the UK, the future will find Kenney continuing to tour as much as possible, expanding her sonic reach here on Earth and perhaps beyond, beamed up somewhere deep in the cosmos among other beings like her.
Other Shows You Might Like
Similar Artists