Forty5 Presents
Aly & AJ - A Touch of the Beat Tour
A Touch of the Beat Tour
Thu Apr 21, 2022
7:00 PM / Show: 8:00 PM
21+
$25 to $199
Aly & AJ with special guests The Brummies at The Vogue in Indianapolis on April 21, 2022
Aly & AJ have spent over a decade putting an eternal creative truth into practice: you don't find your voice by waiting around; you create it, by writing through. After rising to fame as teen stars in the worlds of Disney pop and TV sitcoms—beloved right at the cross-section of millennials and Gen Z, as evidenced by the recent runway TikTok revival of their 2007 kiss-off "Potential Breakup Song"—the sisters have quietly worked on songs. They chiseled away at their craft, manifesting themselves honestly.
Their first album in 14 years is called a touch of the beat gets you up on your feet gets you out and then into the sun, which is just right. This long and winding name befits their singular journey through music, a title full of rhythm and poetry, but with an ease and a brightness: All qualities that help define the newly independent sound of Aly & AJ. Having survived the slick, hyper-manicured pop sphere with their souls in tact, the Torrance, California-born duo—and lifelong musical collaborators—have transformed their sound into something looser and more personal. (Along the way, they produced the 2015 Richard Linklater-inspired film, Weepah Way for Now, based on their own experiences of sisterhood, stardom, and growth.)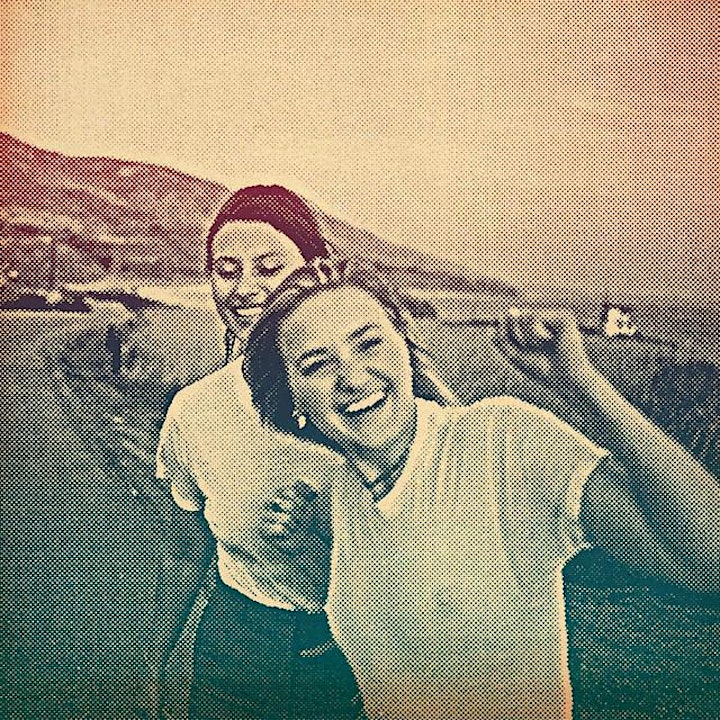 From the sparkling rush of "Pretty Places" and "Listen!!!" to the stay-at-home waltz of "Slow Dancing" and the aching acoustic ballad "Hold Out," a touch of the beat is the sound of two women in flight. At the core is still Aly & AJ's preternatural melodic talents and virtuosic harmonies. But with a team of collaborators at the vanguard of alternative pop—producer Yves Rothman (Yves Tumor, Miya Folick, Freya Ridings) and co-writer Jorge Elbrecht (Sky Ferreira, Japanese Breakfast, Wild Nothing)—they've incorporated sunstruck guitars and subtle electronic flourishes, going full dream-rock. "We were experimenting, playing with the kinds of songs we wanted to release and the kinds of artists we want to be," Aly said of their sonic recalibration. Other guests include Jack Tatum of dream-pop band Wild Nothing, Voidz guitarist Amir Yaghmai and bassist Jake Bercovici, guitarist Samuel Stewart (Lo Moon), and drummer James McAlister (Taylor Swift, Sufjan Stevens, The National). Aly & AJ also called upon some personal feminist rock heroes, like Heart's Nancy Wilson and Melissa Etheridge.
Like a gust of air blowing through a cracked-open car window, cruising the Pacific Coast Highway, a touch of the beat is a West Coast album through and through, evoking what AJ called "how you'd think of California if you were thinking of California as a melody." Most of the instrumentation was recorded live in the studio at the iconic Sunset Sound in the summer of 2020 (although the songs were largely written pre-COVID-19 shutdowns), drawing inspiration from the energy and feeling of 1960s and '70s rock. Aly & AJ mention the emotional sweep of Bruce Springsteen, and a kind of timeless Americana. "There is a groundedness to songs like 'Pretty Places' or 'Hold Out' that feels classic to us," Aly said, noting, too, their admiration of the 1990s Lilith Fair generation of women singer-songwriters. "There are a lot of musicians from that '90s era who AJ and I really look up to, and were a huge part of our listening experience as kids," Aly said.
Of all their new collaborators, the guitar playing and backing vocals from Nancy Wilson feel especially meaningful: Aly & AJ grew up listening to Heart—"Our mom would always play their records for us," AJ said, "She loved that it was a sister band"—and they first reached out to Wilson a decade ago. At the time, they were working on their never-released third album for former label Hollywood Records, which they wanted to be a rock album, but the execs didn't get it. "We wrote half a dozen songs with Nancy and none of them came out," Aly said. "But we stayed friends. We just adore her." It's all too fitting, then, that Wilson appears on "Listen!!!," a song about feeling lost and trapped, but finding your way out: "There are so many times we've found ourselves in situations like, 'How did I get myself here? I need to get out and I need to do it now,'" Aly said. "We wanted to create a song about that that also felt empowering, that captured an urgency but also a hope that there is a way out. As strong women, you can find a path out."
Though they've faced and cleared many frustrating hurdles of the music industry, Aly & AJ never lost ahold of what's most crucial: sustaining the joy of the process, working at their own pace, and embracing the sense of camaraderie that comes with writing and recording. "We learned the importance of saying 'no' really early on," AJ said, and Aly added, "We said no to a lot of things that really changed the trajectory of where we are now as band. But I think it ultimately saved us." They list off their mid-2000s Disney peers—"Selena, Demi, Miley, Jonas, the list goes on"—whose megastardom didn't appeal to them as much as creative control, their relationship as sisters, and their mental health. "Sometimes you're not meant for that success at that age," Aly said. "It can be really overwhelming. Somehow, we escaped."
Aly & AJ are now at a point where they can celebrate their unique past—"We've become these accidental TikTok queens," AJ laughs—while staying true to a vision that feels right to them. In an inspiring turn, they even re-recorded "Potential Breakup Song," ridding it of the AutoTune that defined so much 2000s pop and singing an explicit update of the lyrics (which their fans had been requesting for years). "It's funny to have been making music together for so long, to be able to finish each other's sentences and perfectly match our voices to each other," Aly reflects. "Some people will ask, 'Who's singing on this?' And it's both of us: our third voice. We have a third voice that comes from my and AJ's voices together."
From the very beginning, "Pretty Places" captures that magic: "All we've got is us now," Aly & AJ sing together, as this charged new music blooms into a glorious sprawl. It's the best song of Aly & AJ's career, an ode to autonomy and the beginning of a new chapter. On a touch of the beat, a "pretty" place is wherever you are with your person, where you can be yourselves together. "The basis of that song was: we can pack up, move, go anywhere, we can be in a whole other city tomorrow if we want," Aly said. "We can change our whole destiny, our whole life," and AJ finished her thought: "Nothing's stopping us."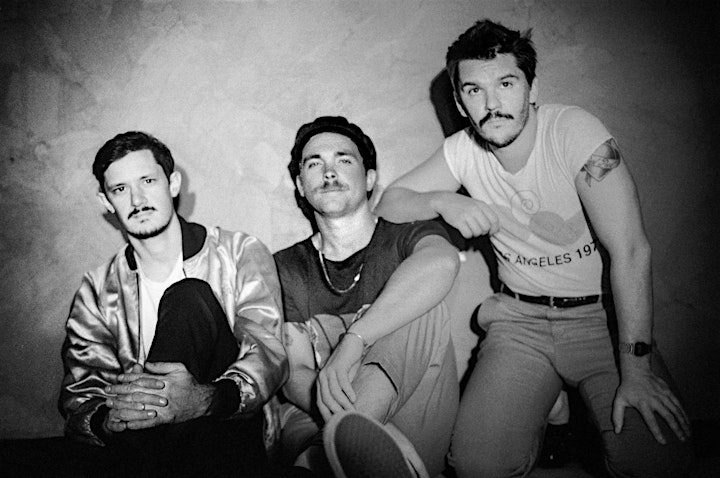 THE BRUMMIES
Independent artists, The Brummies, made up of vocalists and multi-instrumentalists John Davidson and Jacob Bryant, and drummer Trevor Davis, have been playing together in various incarnations since high school, growing up together outside of Birmingham, AL. The members count the Beatles, Elton John, ELO, Blitzen Trapper and My Morning Jacket among their influences, but also have an affinity for sweeping film soundtracks. Their trademark sound evokes the psych-rock vibe of the Sixties and the soft indie-folk of the Nineties, yet possesses a timeless quality all its own.
Previous album Eternal Reach was recorded at Battle Tapes Recording in Nashville with Grammy award-winning engineer Jeremy Ferguson (Cage The Elephant) and co-producer David Hopkins. The album which Billboard magazine states as "gorgeous," "lush," and "…an album to be listened to from start to finish," includes single "Drive Away" featuring Grammy-winner Kacey Musgraves.
Aly & AJ with special guests The Brummies
April 21, 2022
21+
THE VOGUE THEATRE
INDIANAPOLIS, IN
PLEASE NOTE:
THIS SHOW IS GENERAL ADMISSION AND SEATING IS NOT PROVIDED. YOU MUST BE 21+ TO ENTER THE VENUE WITH A VALID FORM OF IDENTIFICATION. ALL TICKETS ARE NON-TRANSFERABLE AND NON-REFUNDABLE. TWO FORMS OF IDENTIFICATION MAY BE REQUIRED FOR ENTRY.
Forty5 Presents Aly and AJ wsg The Brummies at The Vogue in Indianapolis on Thursday, April 21, 2022. Photo cred Melodie Yvonne
Forty5 Presents Aly and AJ wsg The Brummies at The Vogue in Indianapolis on Thursday, April 21, 2022. Photo cred Melodie Yvonne
Forty5 Presents Aly and AJ wsg The Brummies at The Vogue in Indianapolis on Thursday, April 21, 2022. Photo cred Melodie Yvonne
Forty5 Presents Aly and AJ wsg The Brummies at The Vogue in Indianapolis on Thursday, April 21, 2022. Photo cred Melodie Yvonne
Forty5 Presents Aly and AJ wsg The Brummies at The Vogue in Indianapolis on Thursday, April 21, 2022. Photo cred Melodie Yvonne
Forty5 Presents Aly and AJ wsg The Brummies at The Vogue in Indianapolis on Thursday, April 21, 2022. Photo cred Melodie Yvonne
Forty5 Presents Aly and AJ wsg The Brummies at The Vogue in Indianapolis on Thursday, April 21, 2022. Photo cred Melodie Yvonne
Forty5 Presents Aly and AJ wsg The Brummies at The Vogue in Indianapolis on Thursday, April 21, 2022. Photo cred Melodie Yvonne
+121 More
Forty5 Presents Aly and AJ wsg The Brummies at The Vogue in Indianapolis on Thursday, April 21, 2022. Photo cred Melodie Yvonne
Forty5 Presents Aly and AJ wsg The Brummies at The Vogue in Indianapolis on Thursday, April 21, 2022. Photo cred Melodie Yvonne
Forty5 Presents Aly and AJ wsg The Brummies at The Vogue in Indianapolis on Thursday, April 21, 2022. Photo cred Melodie Yvonne
Forty5 Presents Aly and AJ wsg The Brummies at The Vogue in Indianapolis on Thursday, April 21, 2022. Photo cred Melodie Yvonne
Forty5 Presents Aly and AJ wsg The Brummies at The Vogue in Indianapolis on Thursday, April 21, 2022. Photo cred Melodie Yvonne
Forty5 Presents Aly and AJ wsg The Brummies at The Vogue in Indianapolis on Thursday, April 21, 2022. Photo cred Melodie Yvonne
Forty5 Presents Aly and AJ wsg The Brummies at The Vogue in Indianapolis on Thursday, April 21, 2022. Photo cred Melodie Yvonne
Forty5 Presents Aly and AJ wsg The Brummies at The Vogue in Indianapolis on Thursday, April 21, 2022. Photo cred Melodie Yvonne
Forty5 Presents Aly and AJ wsg The Brummies at The Vogue in Indianapolis on Thursday, April 21, 2022. Photo cred Melodie Yvonne
Forty5 Presents Aly and AJ wsg The Brummies at The Vogue in Indianapolis on Thursday, April 21, 2022. Photo cred Melodie Yvonne
Forty5 Presents Aly and AJ wsg The Brummies at The Vogue in Indianapolis on Thursday, April 21, 2022. Photo cred Melodie Yvonne
Forty5 Presents Aly and AJ wsg The Brummies at The Vogue in Indianapolis on Thursday, April 21, 2022. Photo cred Melodie Yvonne
Forty5 Presents Aly and AJ wsg The Brummies at The Vogue in Indianapolis on Thursday, April 21, 2022. Photo cred Melodie Yvonne
Forty5 Presents Aly and AJ wsg The Brummies at The Vogue in Indianapolis on Thursday, April 21, 2022. Photo cred Melodie Yvonne
Forty5 Presents Aly and AJ wsg The Brummies at The Vogue in Indianapolis on Thursday, April 21, 2022. Photo cred Melodie Yvonne
Forty5 Presents Aly and AJ wsg The Brummies at The Vogue in Indianapolis on Thursday, April 21, 2022. Photo cred Melodie Yvonne
Forty5 Presents Aly and AJ wsg The Brummies at The Vogue in Indianapolis on Thursday, April 21, 2022. Photo cred Melodie Yvonne
Forty5 Presents Aly and AJ wsg The Brummies at The Vogue in Indianapolis on Thursday, April 21, 2022. Photo cred Melodie Yvonne
Forty5 Presents Aly and AJ wsg The Brummies at The Vogue in Indianapolis on Thursday, April 21, 2022. Photo cred Melodie Yvonne
Forty5 Presents Aly and AJ wsg The Brummies at The Vogue in Indianapolis on Thursday, April 21, 2022. Photo cred Melodie Yvonne
Forty5 Presents Aly and AJ wsg The Brummies at The Vogue in Indianapolis on Thursday, April 21, 2022. Photo cred Melodie Yvonne
Forty5 Presents Aly and AJ wsg The Brummies at The Vogue in Indianapolis on Thursday, April 21, 2022. Photo cred Melodie Yvonne
Forty5 Presents Aly and AJ wsg The Brummies at The Vogue in Indianapolis on Thursday, April 21, 2022. Photo cred Melodie Yvonne
Forty5 Presents Aly and AJ wsg The Brummies at The Vogue in Indianapolis on Thursday, April 21, 2022. Photo cred Melodie Yvonne
Forty5 Presents Aly and AJ wsg The Brummies at The Vogue in Indianapolis on Thursday, April 21, 2022. Photo cred Melodie Yvonne
Forty5 Presents Aly and AJ wsg The Brummies at The Vogue in Indianapolis on Thursday, April 21, 2022. Photo cred Melodie Yvonne
Forty5 Presents Aly and AJ wsg The Brummies at The Vogue in Indianapolis on Thursday, April 21, 2022. Photo cred Melodie Yvonne
Forty5 Presents Aly and AJ wsg The Brummies at The Vogue in Indianapolis on Thursday, April 21, 2022. Photo cred Melodie Yvonne
Forty5 Presents Aly and AJ wsg The Brummies at The Vogue in Indianapolis on Thursday, April 21, 2022. Photo cred Melodie Yvonne
Forty5 Presents Aly and AJ wsg The Brummies at The Vogue in Indianapolis on Thursday, April 21, 2022. Photo cred Melodie Yvonne
Forty5 Presents Aly and AJ wsg The Brummies at The Vogue in Indianapolis on Thursday, April 21, 2022. Photo cred Melodie Yvonne
Forty5 Presents Aly and AJ wsg The Brummies at The Vogue in Indianapolis on Thursday, April 21, 2022. Photo cred Melodie Yvonne
Forty5 Presents Aly and AJ wsg The Brummies at The Vogue in Indianapolis on Thursday, April 21, 2022. Photo cred Melodie Yvonne
Forty5 Presents Aly and AJ wsg The Brummies at The Vogue in Indianapolis on Thursday, April 21, 2022. Photo cred Melodie Yvonne
Forty5 Presents Aly and AJ wsg The Brummies at The Vogue in Indianapolis on Thursday, April 21, 2022. Photo cred Melodie Yvonne
Forty5 Presents Aly and AJ wsg The Brummies at The Vogue in Indianapolis on Thursday, April 21, 2022. Photo cred Melodie Yvonne
Forty5 Presents Aly and AJ wsg The Brummies at The Vogue in Indianapolis on Thursday, April 21, 2022. Photo cred Melodie Yvonne
Forty5 Presents Aly and AJ wsg The Brummies at The Vogue in Indianapolis on Thursday, April 21, 2022. Photo cred Melodie Yvonne
Forty5 Presents Aly and AJ wsg The Brummies at The Vogue in Indianapolis on Thursday, April 21, 2022. Photo cred Melodie Yvonne
Forty5 Presents Aly and AJ wsg The Brummies at The Vogue in Indianapolis on Thursday, April 21, 2022. Photo cred Melodie Yvonne
Forty5 Presents Aly and AJ wsg The Brummies at The Vogue in Indianapolis on Thursday, April 21, 2022. Photo cred Melodie Yvonne
Forty5 Presents Aly and AJ wsg The Brummies at The Vogue in Indianapolis on Thursday, April 21, 2022. Photo cred Melodie Yvonne
Forty5 Presents Aly and AJ wsg The Brummies at The Vogue in Indianapolis on Thursday, April 21, 2022. Photo cred Melodie Yvonne
Forty5 Presents Aly and AJ wsg The Brummies at The Vogue in Indianapolis on Thursday, April 21, 2022. Photo cred Melodie Yvonne
Forty5 Presents Aly and AJ wsg The Brummies at The Vogue in Indianapolis on Thursday, April 21, 2022. Photo cred Melodie Yvonne
Forty5 Presents Aly and AJ wsg The Brummies at The Vogue in Indianapolis on Thursday, April 21, 2022. Photo cred Melodie Yvonne
Forty5 Presents Aly and AJ wsg The Brummies at The Vogue in Indianapolis on Thursday, April 21, 2022. Photo cred Melodie Yvonne
Forty5 Presents Aly and AJ wsg The Brummies at The Vogue in Indianapolis on Thursday, April 21, 2022. Photo cred Melodie Yvonne
Forty5 Presents Aly and AJ wsg The Brummies at The Vogue in Indianapolis on Thursday, April 21, 2022. Photo cred Melodie Yvonne
Forty5 Presents Aly and AJ wsg The Brummies at The Vogue in Indianapolis on Thursday, April 21, 2022. Photo cred Melodie Yvonne
Forty5 Presents Aly and AJ wsg The Brummies at The Vogue in Indianapolis on Thursday, April 21, 2022. Photo cred Melodie Yvonne
Forty5 Presents Aly and AJ wsg The Brummies at The Vogue in Indianapolis on Thursday, April 21, 2022. Photo cred Melodie Yvonne
Forty5 Presents Aly and AJ wsg The Brummies at The Vogue in Indianapolis on Thursday, April 21, 2022. Photo cred Melodie Yvonne
Forty5 Presents Aly and AJ wsg The Brummies at The Vogue in Indianapolis on Thursday, April 21, 2022. Photo cred Melodie Yvonne
Forty5 Presents Aly and AJ wsg The Brummies at The Vogue in Indianapolis on Thursday, April 21, 2022. Photo cred Melodie Yvonne
Forty5 Presents Aly and AJ wsg The Brummies at The Vogue in Indianapolis on Thursday, April 21, 2022. Photo cred Melodie Yvonne
Forty5 Presents Aly and AJ wsg The Brummies at The Vogue in Indianapolis on Thursday, April 21, 2022. Photo cred Melodie Yvonne
Forty5 Presents Aly and AJ wsg The Brummies at The Vogue in Indianapolis on Thursday, April 21, 2022. Photo cred Melodie Yvonne
Forty5 Presents Aly and AJ wsg The Brummies at The Vogue in Indianapolis on Thursday, April 21, 2022. Photo cred Melodie Yvonne
Forty5 Presents Aly and AJ wsg The Brummies at The Vogue in Indianapolis on Thursday, April 21, 2022. Photo cred Melodie Yvonne
Forty5 Presents Aly and AJ wsg The Brummies at The Vogue in Indianapolis on Thursday, April 21, 2022. Photo cred Melodie Yvonne
Forty5 Presents Aly and AJ wsg The Brummies at The Vogue in Indianapolis on Thursday, April 21, 2022. Photo cred Melodie Yvonne
Forty5 Presents Aly and AJ wsg The Brummies at The Vogue in Indianapolis on Thursday, April 21, 2022. Photo cred Melodie Yvonne
Forty5 Presents Aly and AJ wsg The Brummies at The Vogue in Indianapolis on Thursday, April 21, 2022. Photo cred Melodie Yvonne
Forty5 Presents Aly and AJ wsg The Brummies at The Vogue in Indianapolis on Thursday, April 21, 2022. Photo cred Melodie Yvonne
Forty5 Presents Aly and AJ wsg The Brummies at The Vogue in Indianapolis on Thursday, April 21, 2022. Photo cred Melodie Yvonne
Forty5 Presents Aly and AJ wsg The Brummies at The Vogue in Indianapolis on Thursday, April 21, 2022. Photo cred Melodie Yvonne
Forty5 Presents Aly and AJ wsg The Brummies at The Vogue in Indianapolis on Thursday, April 21, 2022. Photo cred Melodie Yvonne
Forty5 Presents Aly and AJ wsg The Brummies at The Vogue in Indianapolis on Thursday, April 21, 2022. Photo cred Melodie Yvonne
Forty5 Presents Aly and AJ wsg The Brummies at The Vogue in Indianapolis on Thursday, April 21, 2022. Photo cred Melodie Yvonne
Forty5 Presents Aly and AJ wsg The Brummies at The Vogue in Indianapolis on Thursday, April 21, 2022. Photo cred Melodie Yvonne
Forty5 Presents Aly and AJ wsg The Brummies at The Vogue in Indianapolis on Thursday, April 21, 2022. Photo cred Melodie Yvonne
Forty5 Presents Aly and AJ wsg The Brummies at The Vogue in Indianapolis on Thursday, April 21, 2022. Photo cred Melodie Yvonne
Forty5 Presents Aly and AJ wsg The Brummies at The Vogue in Indianapolis on Thursday, April 21, 2022. Photo cred Melodie Yvonne
Forty5 Presents Aly and AJ wsg The Brummies at The Vogue in Indianapolis on Thursday, April 21, 2022. Photo cred Melodie Yvonne
Forty5 Presents Aly and AJ wsg The Brummies at The Vogue in Indianapolis on Thursday, April 21, 2022. Photo cred Melodie Yvonne
Forty5 Presents Aly and AJ wsg The Brummies at The Vogue in Indianapolis on Thursday, April 21, 2022. Photo cred Melodie Yvonne
Forty5 Presents Aly and AJ wsg The Brummies at The Vogue in Indianapolis on Thursday, April 21, 2022. Photo cred Melodie Yvonne
Forty5 Presents Aly and AJ wsg The Brummies at The Vogue in Indianapolis on Thursday, April 21, 2022. Photo cred Melodie Yvonne
Forty5 Presents Aly and AJ wsg The Brummies at The Vogue in Indianapolis on Thursday, April 21, 2022. Photo cred Melodie Yvonne
Forty5 Presents Aly and AJ wsg The Brummies at The Vogue in Indianapolis on Thursday, April 21, 2022. Photo cred Melodie Yvonne
Forty5 Presents Aly and AJ wsg The Brummies at The Vogue in Indianapolis on Thursday, April 21, 2022. Photo cred Melodie Yvonne
Forty5 Presents Aly and AJ wsg The Brummies at The Vogue in Indianapolis on Thursday, April 21, 2022. Photo cred Melodie Yvonne
Forty5 Presents Aly and AJ wsg The Brummies at The Vogue in Indianapolis on Thursday, April 21, 2022. Photo cred Melodie Yvonne
Forty5 Presents Aly and AJ wsg The Brummies at The Vogue in Indianapolis on Thursday, April 21, 2022. Photo cred Melodie Yvonne
Forty5 Presents Aly and AJ wsg The Brummies at The Vogue in Indianapolis on Thursday, April 21, 2022. Photo cred Melodie Yvonne
Forty5 Presents Aly and AJ wsg The Brummies at The Vogue in Indianapolis on Thursday, April 21, 2022. Photo cred Melodie Yvonne
Forty5 Presents Aly and AJ wsg The Brummies at The Vogue in Indianapolis on Thursday, April 21, 2022. Photo cred Melodie Yvonne
Forty5 Presents Aly and AJ wsg The Brummies at The Vogue in Indianapolis on Thursday, April 21, 2022. Photo cred Melodie Yvonne
Forty5 Presents Aly and AJ wsg The Brummies at The Vogue in Indianapolis on Thursday, April 21, 2022. Photo cred Melodie Yvonne
Forty5 Presents Aly and AJ wsg The Brummies at The Vogue in Indianapolis on Thursday, April 21, 2022. Photo cred Melodie Yvonne
Forty5 Presents Aly and AJ wsg The Brummies at The Vogue in Indianapolis on Thursday, April 21, 2022. Photo cred Melodie Yvonne
Forty5 Presents Aly and AJ wsg The Brummies at The Vogue in Indianapolis on Thursday, April 21, 2022. Photo cred Melodie Yvonne
Forty5 Presents Aly and AJ wsg The Brummies at The Vogue in Indianapolis on Thursday, April 21, 2022. Photo cred Melodie Yvonne
Forty5 Presents Aly and AJ wsg The Brummies at The Vogue in Indianapolis on Thursday, April 21, 2022. Photo cred Melodie Yvonne
Forty5 Presents Aly and AJ wsg The Brummies at The Vogue in Indianapolis on Thursday, April 21, 2022. Photo cred Melodie Yvonne
Forty5 Presents Aly and AJ wsg The Brummies at The Vogue in Indianapolis on Thursday, April 21, 2022. Photo cred Melodie Yvonne
Forty5 Presents Aly and AJ wsg The Brummies at The Vogue in Indianapolis on Thursday, April 21, 2022. Photo cred Melodie Yvonne
Forty5 Presents Aly and AJ wsg The Brummies at The Vogue in Indianapolis on Thursday, April 21, 2022. Photo cred Melodie Yvonne
Forty5 Presents Aly and AJ wsg The Brummies at The Vogue in Indianapolis on Thursday, April 21, 2022. Photo cred Melodie Yvonne
Forty5 Presents Aly and AJ wsg The Brummies at The Vogue in Indianapolis on Thursday, April 21, 2022. Photo cred Melodie Yvonne
Forty5 Presents Aly and AJ wsg The Brummies at The Vogue in Indianapolis on Thursday, April 21, 2022. Photo cred Melodie Yvonne
Forty5 Presents Aly and AJ wsg The Brummies at The Vogue in Indianapolis on Thursday, April 21, 2022. Photo cred Melodie Yvonne
Forty5 Presents Aly and AJ wsg The Brummies at The Vogue in Indianapolis on Thursday, April 21, 2022. Photo cred Melodie Yvonne
Forty5 Presents Aly and AJ wsg The Brummies at The Vogue in Indianapolis on Thursday, April 21, 2022. Photo cred Melodie Yvonne
Forty5 Presents Aly and AJ wsg The Brummies at The Vogue in Indianapolis on Thursday, April 21, 2022. Photo cred Melodie Yvonne
Forty5 Presents Aly and AJ wsg The Brummies at The Vogue in Indianapolis on Thursday, April 21, 2022. Photo cred Melodie Yvonne
Forty5 Presents Aly and AJ wsg The Brummies at The Vogue in Indianapolis on Thursday, April 21, 2022. Photo cred Melodie Yvonne
Forty5 Presents Aly and AJ wsg The Brummies at The Vogue in Indianapolis on Thursday, April 21, 2022. Photo cred Melodie Yvonne
Forty5 Presents Aly and AJ wsg The Brummies at The Vogue in Indianapolis on Thursday, April 21, 2022. Photo cred Melodie Yvonne
Forty5 Presents Aly and AJ wsg The Brummies at The Vogue in Indianapolis on Thursday, April 21, 2022. Photo cred Melodie Yvonne
Forty5 Presents Aly and AJ wsg The Brummies at The Vogue in Indianapolis on Thursday, April 21, 2022. Photo cred Melodie Yvonne
Forty5 Presents Aly and AJ wsg The Brummies at The Vogue in Indianapolis on Thursday, April 21, 2022. Photo cred Melodie Yvonne
Forty5 Presents Aly and AJ wsg The Brummies at The Vogue in Indianapolis on Thursday, April 21, 2022. Photo cred Melodie Yvonne
Forty5 Presents Aly and AJ wsg The Brummies at The Vogue in Indianapolis on Thursday, April 21, 2022. Photo cred Melodie Yvonne
Forty5 Presents Aly and AJ wsg The Brummies at The Vogue in Indianapolis on Thursday, April 21, 2022. Photo cred Melodie Yvonne
Forty5 Presents Aly and AJ wsg The Brummies at The Vogue in Indianapolis on Thursday, April 21, 2022. Photo cred Melodie Yvonne
Forty5 Presents Aly and AJ wsg The Brummies at The Vogue in Indianapolis on Thursday, April 21, 2022. Photo cred Melodie Yvonne
Forty5 Presents Aly and AJ wsg The Brummies at The Vogue in Indianapolis on Thursday, April 21, 2022. Photo cred Melodie Yvonne
Forty5 Presents Aly and AJ wsg The Brummies at The Vogue in Indianapolis on Thursday, April 21, 2022. Photo cred Melodie Yvonne
Forty5 Presents Aly and AJ wsg The Brummies at The Vogue in Indianapolis on Thursday, April 21, 2022. Photo cred Melodie Yvonne
Other Shows You Might Like
Similar Artists