92.3 WTTS & MOKB Present
Whitney w/ Chai
with CHAI
Wed Jan 29, 2020
7:00 PM / Show: 8:00 PM
21+
$25 to $27
Restlessness is at the heart of Whitney's resonant and stunning sophomore album Forever Turned Around. As Julien Ehrlich and Max Kakacek realized over the past three years, life can change drastically. Priorities shift, relationships evolve, home can become far away, and even when luck momentarily works out, there's still that underlying search for something better.
While the success of their 2016 debut Light Upon The Lake uprooted them away from Chicago to seemingly endless tours across the world, Ehrlich's and Kakacek's partnership only strengthened. "Our friendship has kept us going even though so much has happened in the years since we started the band," says Ehrlich. Their bond has been the one constant as they've weathered the transitional period of their mid-twenties, supporting each other through bouts of heartache, loss, and uncertainty. But lately, as they've found home through themselves, their romantic relationships, and their friends, there's an uneasiness that comes from stability. When Ehrlich sings on "Valleys (My Love)," "There's fire burning in the trees / Maybe life is the way it seems" it's a mission statement of the existential questions raised throughout.
This is what Forever Turned Around grapples with: the anxiety and acceptance that time is limited. Across 10 songs, Ehrlich and Kakacek skeptically yet masterfully navigate questions of mortality, doubt, love, and friendship in a grander scope than they've attempted before. It's an album about partnership — romantic, familial and communal, but most importantly a love in friendship: the bonds between two best friends and creative partners and the joy and stress that comes with it. As Ehrlich sings on "Used To Be Lonely:" 'Well it made no sense at all / Until you came along." It tackles the blissful confusion that comes from seeing the way things unexpectedly change over time.
Whitney has long been a full-fledged band with keyboardist Malcolm Brown, guitarist Print Choteau, bassist Josiah Marshall, and trumpeter Will Miller backing them live, along with Asrar who's returning to the fold on their upcoming tour. On the album, the wider and more maximalist songs match the tight-knit chemistry of their electric performances thanks to Tucker Martine's immaculate mixes. "We've become such a well toured band and developed this groove that you can hear it all over the LP," says Ehrlich. Though the stoner instrumental freakout "Rhododendron" is the most obvious example of this vibe, with its slinking guitar leads and Miller's flailing trumpet lines, other songs like "Before I Know It" evoke the breezy melancholy of Labi Siffre.
Forever Turned Around is an album about relationships. It deals with how they evolve or flounder and how loneliness can creep in unexpectedly. Penultimate track "Friend of Mine" captures this sentiment beautifully. The emotional centerpiece of the album, it builds to a crescendo during the chorus with Ehrlich singing of an old acquaintance, "While you're drifting away / Like a cloud hanging over the pines." Happiness can be fleeting but this album proves that even when it feels like time is turning on its head and there's either a moment of clarity or crippling doubt, there's still beauty in figuring it all out.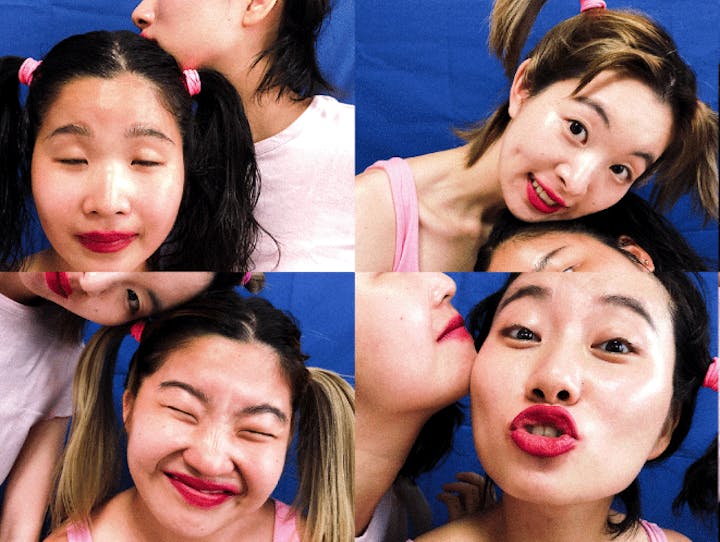 Chai
Japanese four-piece CHAI may worship at the altar of kawaii – their homeland's culture of cute– but they're not about to be pushed around by the idle bosses and the ignorant patriarchy. The ultra-concise pop of their debut LP PINK is about to be overhauled on their new album. CHAI are ready to light the fuse; CHAI are PUNK.
"'PUNK' for us, of course, is not the genre of music," say the band. "'PUNK' to us is to overturn the worn-out values associated with 'kawaii' or 'cute' created up to this point. 'PUNK' is a word that expresses a strong sense of self. To be yourself more, to become the person you truly want to be, to believe in yourself in every instance!"
First single 'Fashionista' is a rebellious demand for self-acceptance in the face of society's pressures: "Even if you don't dress or do your makeup like how society expects you too, you're still a "Fashionista" by expressing yourself how you want to. You decide what you want to wear, how you want to look, what you don't want to wear, and that is what makes you a Fashionista!"
At the core of their music is the concept of "Neo-Kawaii." They outlined to concept in several interviews in 2018. In Pitchfork's Rising interview, it's described as "a move towards the embrace and celebration of human imperfection. 'Neo-Kawaii' is properly summarized on the single 'N.E.O.' from Pink, which directly comments on oppressive beauty standards, offering a list of supposed imperfections that translate to 'Small eyes/Flat nose/No shape/Fat legs!' Chai seek to reclaim them as perfect."
Late last year, the band also shared the delightfully insane video for "GREAT JOB," another song off the forthcoming album, where CHAI compare house work to ridding yourself from all negativity. "Some people look at house work as a negative duty but it's actually a positive duty that represents a refreshed, new you." Yuuki picks up on this: "Of course we want to continue show our style of positivity-meets-pop but in life there's definitely times of sadness, times of frustration and even irritating moments that with 'PUNK', we want everyone to know can be used as energy to fuel the positivity from the negativity".
Their inner strength comes out in the music. If PINK was a plastic, hyper-bright introduction, then PUNK is a deeper, more impactful graduation. It's the movement from vivid orange to radiating red. Drummer Yuna adds:"Compared with our first album, PUNK represents a more concentrated version of our individualities."
Yuuki crafted the irrepressible album sleeve, with a laughing girl bursting through a shell. The message, they say, is clear: "Hello, New Me!"
MOKB Presents Whitney w/ Chai at The Vogue – Indianapolis
Other Shows You Might Like
Similar Artists