Forty5 Presents
The Prince Project
Prince and the Revolution Tribute Band
Sat Jan 15, 2022
8:00 PM / Show: 8:00 PM
21+
$20
The Prince Project Live at The Vogue Theatre in Indianapolis on January 15th, 2022
The Prince Project: Prince and the Revolution Tribute Band
Let us transport you back to 1984 – when berets were raspberry, Corvettes were red, and rain was purple. Witness the sights and sounds of the famous Minneapolis First Avenue. So grab your tickets, put on your best purple, and LET'S GO CRAZY!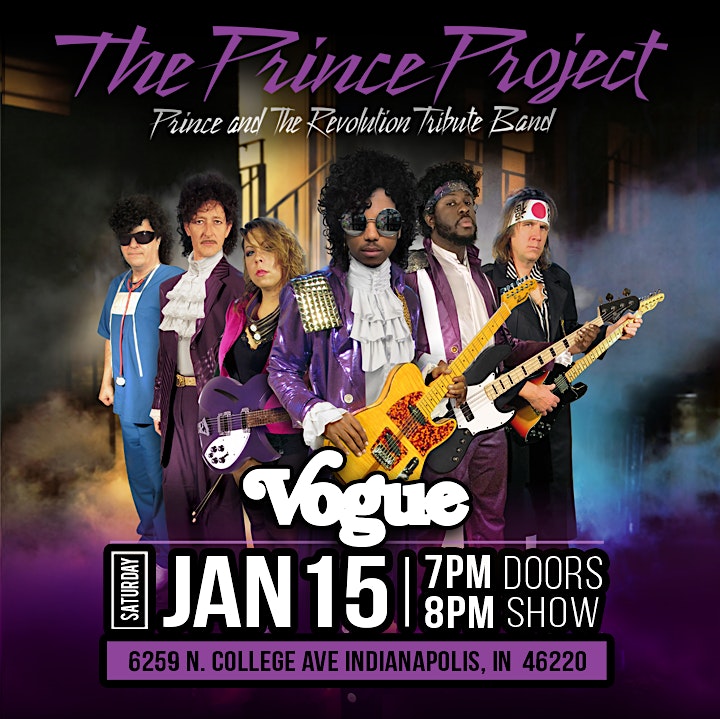 THE PRINCE PROJECT: PRINCE AND THE REVOLUTION TRIBUTE BAND
SATURDAY, JAN. 15, 2022
21+
THE VOGUE THEATER
INDIANAPOLIS, IN
TICKETS AT THEVOGUE.COM
PLEASE NOTE:
THIS SHOW IS GENERAL ADMISSION AND SEATING IS NOT PROVIDED. YOU MUST BE 21+ TO ENTER THE VENUE WITH A VALID FORM OF IDENTIFICATION. ALL TICKETS ARE NON-TRANSFERABLE AND NON-REFUNDABLE. TWO FORMS OF IDENTIFICATION MAY BE REQUIRED FOR ENTRY.
The Prince Project treated The Vogue Theatre to a phenomenal deep dive into one of the world's most legendary discographies courtesy of Forty5 Presents on Sunday, January 15, 2022. Photo cred Melodie Yvonne
The Prince Project treated The Vogue Theatre to a phenomenal deep dive into one of the world's most legendary discographies courtesy of Forty5 Presents on Sunday, January 15, 2022. Photo cred Melodie Yvonne
The Prince Project treated The Vogue Theatre to a phenomenal deep dive into one of the world's most legendary discographies courtesy of Forty5 Presents on Sunday, January 15, 2022. Photo cred Melodie Yvonne
The Prince Project treated The Vogue Theatre to a phenomenal deep dive into one of the world's most legendary discographies courtesy of Forty5 Presents on Sunday, January 15, 2022. Photo cred Melodie Yvonne
The Prince Project treated The Vogue Theatre to a phenomenal deep dive into one of the world's most legendary discographies courtesy of Forty5 Presents on Sunday, January 15, 2022. Photo cred Melodie Yvonne
The Prince Project treated The Vogue Theatre to a phenomenal deep dive into one of the world's most legendary discographies courtesy of Forty5 Presents on Sunday, January 15, 2022. Photo cred Melodie Yvonne
The Prince Project treated The Vogue Theatre to a phenomenal deep dive into one of the world's most legendary discographies courtesy of Forty5 Presents on Sunday, January 15, 2022. Photo cred Melodie Yvonne
The Prince Project treated The Vogue Theatre to a phenomenal deep dive into one of the world's most legendary discographies courtesy of Forty5 Presents on Sunday, January 15, 2022. Photo cred Melodie Yvonne
+94 More
The Prince Project treated The Vogue Theatre to a phenomenal deep dive into one of the world's most legendary discographies courtesy of Forty5 Presents on Sunday, January 15, 2022. Photo cred Melodie Yvonne
The Prince Project treated The Vogue Theatre to a phenomenal deep dive into one of the world's most legendary discographies courtesy of Forty5 Presents on Sunday, January 15, 2022. Photo cred Melodie Yvonne
The Prince Project treated The Vogue Theatre to a phenomenal deep dive into one of the world's most legendary discographies courtesy of Forty5 Presents on Sunday, January 15, 2022. Photo cred Melodie Yvonne
The Prince Project treated The Vogue Theatre to a phenomenal deep dive into one of the world's most legendary discographies courtesy of Forty5 Presents on Sunday, January 15, 2022. Photo cred Melodie Yvonne
The Prince Project treated The Vogue Theatre to a phenomenal deep dive into one of the world's most legendary discographies courtesy of Forty5 Presents on Sunday, January 15, 2022. Photo cred Melodie Yvonne
The Prince Project treated The Vogue Theatre to a phenomenal deep dive into one of the world's most legendary discographies courtesy of Forty5 Presents on Sunday, January 15, 2022. Photo cred Melodie Yvonne
The Prince Project treated The Vogue Theatre to a phenomenal deep dive into one of the world's most legendary discographies courtesy of Forty5 Presents on Sunday, January 15, 2022. Photo cred Melodie Yvonne
The Prince Project treated The Vogue Theatre to a phenomenal deep dive into one of the world's most legendary discographies courtesy of Forty5 Presents on Sunday, January 15, 2022. Photo cred Melodie Yvonne
The Prince Project treated The Vogue Theatre to a phenomenal deep dive into one of the world's most legendary discographies courtesy of Forty5 Presents on Sunday, January 15, 2022. Photo cred Melodie Yvonne
The Prince Project treated The Vogue Theatre to a phenomenal deep dive into one of the world's most legendary discographies courtesy of Forty5 Presents on Sunday, January 15, 2022. Photo cred Melodie Yvonne
The Prince Project treated The Vogue Theatre to a phenomenal deep dive into one of the world's most legendary discographies courtesy of Forty5 Presents on Sunday, January 15, 2022. Photo cred Melodie Yvonne
The Prince Project treated The Vogue Theatre to a phenomenal deep dive into one of the world's most legendary discographies courtesy of Forty5 Presents on Sunday, January 15, 2022. Photo cred Melodie Yvonne
The Prince Project treated The Vogue Theatre to a phenomenal deep dive into one of the world's most legendary discographies courtesy of Forty5 Presents on Sunday, January 15, 2022. Photo cred Melodie Yvonne
The Prince Project treated The Vogue Theatre to a phenomenal deep dive into one of the world's most legendary discographies courtesy of Forty5 Presents on Sunday, January 15, 2022. Photo cred Melodie Yvonne
The Prince Project treated The Vogue Theatre to a phenomenal deep dive into one of the world's most legendary discographies courtesy of Forty5 Presents on Sunday, January 15, 2022. Photo cred Melodie Yvonne
The Prince Project treated The Vogue Theatre to a phenomenal deep dive into one of the world's most legendary discographies courtesy of Forty5 Presents on Sunday, January 15, 2022. Photo cred Melodie Yvonne
The Prince Project treated The Vogue Theatre to a phenomenal deep dive into one of the world's most legendary discographies courtesy of Forty5 Presents on Sunday, January 15, 2022. Photo cred Melodie Yvonne
The Prince Project treated The Vogue Theatre to a phenomenal deep dive into one of the world's most legendary discographies courtesy of Forty5 Presents on Sunday, January 15, 2022. Photo cred Melodie Yvonne
The Prince Project treated The Vogue Theatre to a phenomenal deep dive into one of the world's most legendary discographies courtesy of Forty5 Presents on Sunday, January 15, 2022. Photo cred Melodie Yvonne
The Prince Project treated The Vogue Theatre to a phenomenal deep dive into one of the world's most legendary discographies courtesy of Forty5 Presents on Sunday, January 15, 2022. Photo cred Melodie Yvonne
The Prince Project treated The Vogue Theatre to a phenomenal deep dive into one of the world's most legendary discographies courtesy of Forty5 Presents on Sunday, January 15, 2022. Photo cred Melodie Yvonne
The Prince Project treated The Vogue Theatre to a phenomenal deep dive into one of the world's most legendary discographies courtesy of Forty5 Presents on Sunday, January 15, 2022. Photo cred Melodie Yvonne
The Prince Project treated The Vogue Theatre to a phenomenal deep dive into one of the world's most legendary discographies courtesy of Forty5 Presents on Sunday, January 15, 2022. Photo cred Melodie Yvonne
The Prince Project treated The Vogue Theatre to a phenomenal deep dive into one of the world's most legendary discographies courtesy of Forty5 Presents on Sunday, January 15, 2022. Photo cred Melodie Yvonne
The Prince Project treated The Vogue Theatre to a phenomenal deep dive into one of the world's most legendary discographies courtesy of Forty5 Presents on Sunday, January 15, 2022. Photo cred Melodie Yvonne
The Prince Project treated The Vogue Theatre to a phenomenal deep dive into one of the world's most legendary discographies courtesy of Forty5 Presents on Sunday, January 15, 2022. Photo cred Melodie Yvonne
The Prince Project treated The Vogue Theatre to a phenomenal deep dive into one of the world's most legendary discographies courtesy of Forty5 Presents on Sunday, January 15, 2022. Photo cred Melodie Yvonne
The Prince Project treated The Vogue Theatre to a phenomenal deep dive into one of the world's most legendary discographies courtesy of Forty5 Presents on Sunday, January 15, 2022. Photo cred Melodie Yvonne
The Prince Project treated The Vogue Theatre to a phenomenal deep dive into one of the world's most legendary discographies courtesy of Forty5 Presents on Sunday, January 15, 2022. Photo cred Melodie Yvonne
The Prince Project treated The Vogue Theatre to a phenomenal deep dive into one of the world's most legendary discographies courtesy of Forty5 Presents on Sunday, January 15, 2022. Photo cred Melodie Yvonne
The Prince Project treated The Vogue Theatre to a phenomenal deep dive into one of the world's most legendary discographies courtesy of Forty5 Presents on Sunday, January 15, 2022. Photo cred Melodie Yvonne
The Prince Project treated The Vogue Theatre to a phenomenal deep dive into one of the world's most legendary discographies courtesy of Forty5 Presents on Sunday, January 15, 2022. Photo cred Melodie Yvonne
The Prince Project treated The Vogue Theatre to a phenomenal deep dive into one of the world's most legendary discographies courtesy of Forty5 Presents on Sunday, January 15, 2022. Photo cred Melodie Yvonne
The Prince Project treated The Vogue Theatre to a phenomenal deep dive into one of the world's most legendary discographies courtesy of Forty5 Presents on Sunday, January 15, 2022. Photo cred Melodie Yvonne
The Prince Project treated The Vogue Theatre to a phenomenal deep dive into one of the world's most legendary discographies courtesy of Forty5 Presents on Sunday, January 15, 2022. Photo cred Melodie Yvonne
The Prince Project treated The Vogue Theatre to a phenomenal deep dive into one of the world's most legendary discographies courtesy of Forty5 Presents on Sunday, January 15, 2022. Photo cred Melodie Yvonne
The Prince Project treated The Vogue Theatre to a phenomenal deep dive into one of the world's most legendary discographies courtesy of Forty5 Presents on Sunday, January 15, 2022. Photo cred Melodie Yvonne
The Prince Project treated The Vogue Theatre to a phenomenal deep dive into one of the world's most legendary discographies courtesy of Forty5 Presents on Sunday, January 15, 2022. Photo cred Melodie Yvonne
The Prince Project treated The Vogue Theatre to a phenomenal deep dive into one of the world's most legendary discographies courtesy of Forty5 Presents on Sunday, January 15, 2022. Photo cred Melodie Yvonne
The Prince Project treated The Vogue Theatre to a phenomenal deep dive into one of the world's most legendary discographies courtesy of Forty5 Presents on Sunday, January 15, 2022. Photo cred Melodie Yvonne
The Prince Project treated The Vogue Theatre to a phenomenal deep dive into one of the world's most legendary discographies courtesy of Forty5 Presents on Sunday, January 15, 2022. Photo cred Melodie Yvonne
The Prince Project treated The Vogue Theatre to a phenomenal deep dive into one of the world's most legendary discographies courtesy of Forty5 Presents on Sunday, January 15, 2022. Photo cred Melodie Yvonne
The Prince Project treated The Vogue Theatre to a phenomenal deep dive into one of the world's most legendary discographies courtesy of Forty5 Presents on Sunday, January 15, 2022. Photo cred Melodie Yvonne
The Prince Project treated The Vogue Theatre to a phenomenal deep dive into one of the world's most legendary discographies courtesy of Forty5 Presents on Sunday, January 15, 2022. Photo cred Melodie Yvonne
The Prince Project treated The Vogue Theatre to a phenomenal deep dive into one of the world's most legendary discographies courtesy of Forty5 Presents on Sunday, January 15, 2022. Photo cred Melodie Yvonne
The Prince Project treated The Vogue Theatre to a phenomenal deep dive into one of the world's most legendary discographies courtesy of Forty5 Presents on Sunday, January 15, 2022. Photo cred Melodie Yvonne
The Prince Project treated The Vogue Theatre to a phenomenal deep dive into one of the world's most legendary discographies courtesy of Forty5 Presents on Sunday, January 15, 2022. Photo cred Melodie Yvonne
The Prince Project treated The Vogue Theatre to a phenomenal deep dive into one of the world's most legendary discographies courtesy of Forty5 Presents on Sunday, January 15, 2022. Photo cred Melodie Yvonne
The Prince Project treated The Vogue Theatre to a phenomenal deep dive into one of the world's most legendary discographies courtesy of Forty5 Presents on Sunday, January 15, 2022. Photo cred Melodie Yvonne
The Prince Project treated The Vogue Theatre to a phenomenal deep dive into one of the world's most legendary discographies courtesy of Forty5 Presents on Sunday, January 15, 2022. Photo cred Melodie Yvonne
The Prince Project treated The Vogue Theatre to a phenomenal deep dive into one of the world's most legendary discographies courtesy of Forty5 Presents on Sunday, January 15, 2022. Photo cred Melodie Yvonne
The Prince Project treated The Vogue Theatre to a phenomenal deep dive into one of the world's most legendary discographies courtesy of Forty5 Presents on Sunday, January 15, 2022. Photo cred Melodie Yvonne
The Prince Project treated The Vogue Theatre to a phenomenal deep dive into one of the world's most legendary discographies courtesy of Forty5 Presents on Sunday, January 15, 2022. Photo cred Melodie Yvonne
The Prince Project treated The Vogue Theatre to a phenomenal deep dive into one of the world's most legendary discographies courtesy of Forty5 Presents on Sunday, January 15, 2022. Photo cred Melodie Yvonne
The Prince Project treated The Vogue Theatre to a phenomenal deep dive into one of the world's most legendary discographies courtesy of Forty5 Presents on Sunday, January 15, 2022. Photo cred Melodie Yvonne
The Prince Project treated The Vogue Theatre to a phenomenal deep dive into one of the world's most legendary discographies courtesy of Forty5 Presents on Sunday, January 15, 2022. Photo cred Melodie Yvonne
The Prince Project treated The Vogue Theatre to a phenomenal deep dive into one of the world's most legendary discographies courtesy of Forty5 Presents on Sunday, January 15, 2022. Photo cred Melodie Yvonne
The Prince Project treated The Vogue Theatre to a phenomenal deep dive into one of the world's most legendary discographies courtesy of Forty5 Presents on Sunday, January 15, 2022. Photo cred Melodie Yvonne
The Prince Project treated The Vogue Theatre to a phenomenal deep dive into one of the world's most legendary discographies courtesy of Forty5 Presents on Sunday, January 15, 2022. Photo cred Melodie Yvonne
The Prince Project treated The Vogue Theatre to a phenomenal deep dive into one of the world's most legendary discographies courtesy of Forty5 Presents on Sunday, January 15, 2022. Photo cred Melodie Yvonne
The Prince Project treated The Vogue Theatre to a phenomenal deep dive into one of the world's most legendary discographies courtesy of Forty5 Presents on Sunday, January 15, 2022. Photo cred Melodie Yvonne
The Prince Project treated The Vogue Theatre to a phenomenal deep dive into one of the world's most legendary discographies courtesy of Forty5 Presents on Sunday, January 15, 2022. Photo cred Melodie Yvonne
The Prince Project treated The Vogue Theatre to a phenomenal deep dive into one of the world's most legendary discographies courtesy of Forty5 Presents on Sunday, January 15, 2022. Photo cred Melodie Yvonne
The Prince Project treated The Vogue Theatre to a phenomenal deep dive into one of the world's most legendary discographies courtesy of Forty5 Presents on Sunday, January 15, 2022. Photo cred Melodie Yvonne
The Prince Project treated The Vogue Theatre to a phenomenal deep dive into one of the world's most legendary discographies courtesy of Forty5 Presents on Sunday, January 15, 2022. Photo cred Melodie Yvonne
The Prince Project treated The Vogue Theatre to a phenomenal deep dive into one of the world's most legendary discographies courtesy of Forty5 Presents on Sunday, January 15, 2022. Photo cred Melodie Yvonne
The Prince Project treated The Vogue Theatre to a phenomenal deep dive into one of the world's most legendary discographies courtesy of Forty5 Presents on Sunday, January 15, 2022. Photo cred Melodie Yvonne
The Prince Project treated The Vogue Theatre to a phenomenal deep dive into one of the world's most legendary discographies courtesy of Forty5 Presents on Sunday, January 15, 2022. Photo cred Melodie Yvonne
The Prince Project treated The Vogue Theatre to a phenomenal deep dive into one of the world's most legendary discographies courtesy of Forty5 Presents on Sunday, January 15, 2022. Photo cred Melodie Yvonne
The Prince Project treated The Vogue Theatre to a phenomenal deep dive into one of the world's most legendary discographies courtesy of Forty5 Presents on Sunday, January 15, 2022. Photo cred Melodie Yvonne
The Prince Project treated The Vogue Theatre to a phenomenal deep dive into one of the world's most legendary discographies courtesy of Forty5 Presents on Sunday, January 15, 2022. Photo cred Melodie Yvonne
The Prince Project treated The Vogue Theatre to a phenomenal deep dive into one of the world's most legendary discographies courtesy of Forty5 Presents on Sunday, January 15, 2022. Photo cred Melodie Yvonne
The Prince Project treated The Vogue Theatre to a phenomenal deep dive into one of the world's most legendary discographies courtesy of Forty5 Presents on Sunday, January 15, 2022. Photo cred Melodie Yvonne
The Prince Project treated The Vogue Theatre to a phenomenal deep dive into one of the world's most legendary discographies courtesy of Forty5 Presents on Sunday, January 15, 2022. Photo cred Melodie Yvonne
The Prince Project treated The Vogue Theatre to a phenomenal deep dive into one of the world's most legendary discographies courtesy of Forty5 Presents on Sunday, January 15, 2022. Photo cred Melodie Yvonne
The Prince Project treated The Vogue Theatre to a phenomenal deep dive into one of the world's most legendary discographies courtesy of Forty5 Presents on Sunday, January 15, 2022. Photo cred Melodie Yvonne
The Prince Project treated The Vogue Theatre to a phenomenal deep dive into one of the world's most legendary discographies courtesy of Forty5 Presents on Sunday, January 15, 2022. Photo cred Melodie Yvonne
The Prince Project treated The Vogue Theatre to a phenomenal deep dive into one of the world's most legendary discographies courtesy of Forty5 Presents on Sunday, January 15, 2022. Photo cred Melodie Yvonne
The Prince Project treated The Vogue Theatre to a phenomenal deep dive into one of the world's most legendary discographies courtesy of Forty5 Presents on Sunday, January 15, 2022. Photo cred Melodie Yvonne
The Prince Project treated The Vogue Theatre to a phenomenal deep dive into one of the world's most legendary discographies courtesy of Forty5 Presents on Sunday, January 15, 2022. Photo cred Melodie Yvonne
The Prince Project treated The Vogue Theatre to a phenomenal deep dive into one of the world's most legendary discographies courtesy of Forty5 Presents on Sunday, January 15, 2022. Photo cred Melodie Yvonne
The Prince Project treated The Vogue Theatre to a phenomenal deep dive into one of the world's most legendary discographies courtesy of Forty5 Presents on Sunday, January 15, 2022. Photo cred Melodie Yvonne
The Prince Project treated The Vogue Theatre to a phenomenal deep dive into one of the world's most legendary discographies courtesy of Forty5 Presents on Sunday, January 15, 2022. Photo cred Melodie Yvonne
The Prince Project treated The Vogue Theatre to a phenomenal deep dive into one of the world's most legendary discographies courtesy of Forty5 Presents on Sunday, January 15, 2022. Photo cred Melodie Yvonne
The Prince Project treated The Vogue Theatre to a phenomenal deep dive into one of the world's most legendary discographies courtesy of Forty5 Presents on Sunday, January 15, 2022. Photo cred Melodie Yvonne
The Prince Project treated The Vogue Theatre to a phenomenal deep dive into one of the world's most legendary discographies courtesy of Forty5 Presents on Sunday, January 15, 2022. Photo cred Melodie Yvonne
The Prince Project treated The Vogue Theatre to a phenomenal deep dive into one of the world's most legendary discographies courtesy of Forty5 Presents on Sunday, January 15, 2022. Photo cred Melodie Yvonne
The Prince Project treated The Vogue Theatre to a phenomenal deep dive into one of the world's most legendary discographies courtesy of Forty5 Presents on Sunday, January 15, 2022. Photo cred Melodie Yvonne
The Prince Project treated The Vogue Theatre to a phenomenal deep dive into one of the world's most legendary discographies courtesy of Forty5 Presents on Sunday, January 15, 2022. Photo cred Melodie Yvonne
The Prince Project treated The Vogue Theatre to a phenomenal deep dive into one of the world's most legendary discographies courtesy of Forty5 Presents on Sunday, January 15, 2022. Photo cred Melodie Yvonne
The Prince Project treated The Vogue Theatre to a phenomenal deep dive into one of the world's most legendary discographies courtesy of Forty5 Presents on Sunday, January 15, 2022. Photo cred Melodie Yvonne
The Prince Project treated The Vogue Theatre to a phenomenal deep dive into one of the world's most legendary discographies courtesy of Forty5 Presents on Sunday, January 15, 2022. Photo cred Melodie Yvonne
The Prince Project treated The Vogue Theatre to a phenomenal deep dive into one of the world's most legendary discographies courtesy of Forty5 Presents on Sunday, January 15, 2022. Photo cred Melodie Yvonne
The Prince Project treated The Vogue Theatre to a phenomenal deep dive into one of the world's most legendary discographies courtesy of Forty5 Presents on Sunday, January 15, 2022. Photo cred Melodie Yvonne
Other Shows You Might Like
Similar Artists