Forty5 Presents
The Main Squeeze
with The Palace
Wed Nov 24, 2021
8:00 PM / Show: 9:00 PM
21+
$20
The Main Squeeze with special guest The Palace LIVE at The Vogue Theatre in Indianapolis on November 24, 2021
HEALTH CHECK REQUIRED
At the artist's request, all attendees of this event will be required to have received a negative COVID-19 test within 72-hours prior to entering the venue OR be fully vaccinated against COVID-19. In attending the event, you certify and attest that you and all individuals in your party attending the event will abide by the following regulations:
Prior to entering the venue, all fans will provide digital or printed proof of a negative diagnostic COVID-19 test within 72-hours OR be fully vaccinated against COVID-19 (at least two weeks after final dose) and provide digital or printed documentation providing proof of immunization.
Masks are required whenever not actively drinking.
Entry requirements and venue protocols are subject to change.
For more information, please visit http://thevogue.com/healthcheck/
—-
THE MAIN SQUEEZE
The Main Squeeze is a raging funk experience born within the thriving live music scene of Bloomington, Indiana. Much like each member's varied backgrounds and influences, their sound is an eclectic blend of inspiration which seamlessly navigates through funk, rock, electro, and jazz, while still rooting itself in a style only they could call their own. Their unique ability to tackle and funkify such a wide variety of music makes each show a unique experience in its own right.
Their live performances, which fuse soulful vocals, intricate jams, tight grooves, and ripping solos have helped them develop a dedicated and rapidly growing fan base in the Midwest and the East Coast earning them slots at music festivals such as Bonnaroo, Summer Camp, Equifunk, Big Pig, and GlowFest.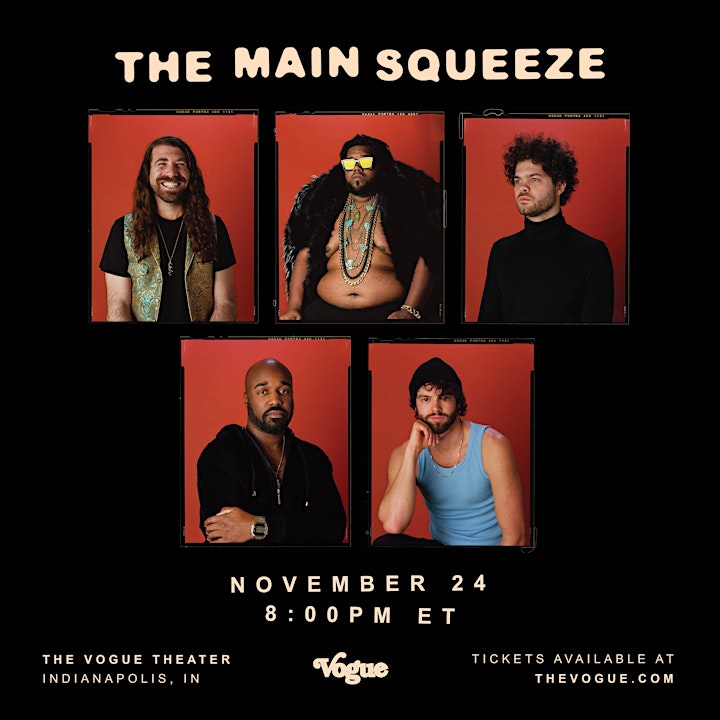 THE PALACE
Alternating between sweet soulful vocal runs and unabashed lead guitar, the band is about having fun with a few breaks for tenderness. Although the sound will swell and have you dancing to chugging blues riffs about "whatchamacall'em", the noise will regularly make way for vocal runs that hush the room. The Palace was named after the house that was the social center of the band and the feeling of being at an intimate party has never left the set. If rock wore a smile and soul a smirk, there you have The Palace.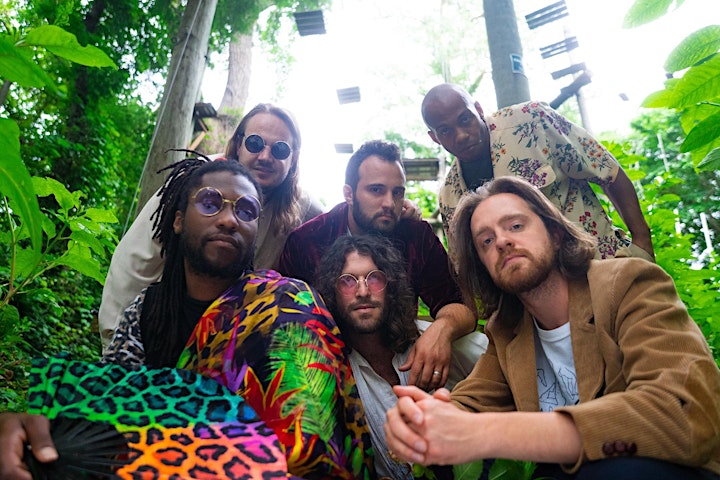 THE MAIN SQUEEZE
NOVEMBER 24, 2021
THE VOGUE THEATER
INDIANAPOLIS, IN
TICKETS AT THEVOGUE.COM
PLEASE NOTE:
YOU MUST BE 21+ TO ENTER THE VENUE WITH A GOVERNMENT ISSUED ID. 2 FORMS OF IDENTIFICATION MAY BE REQUESTED TO GAIN ENTRY TO THE VENUE. THIS SHOW IS A GENERAL ADMISSION SHOW AND SEATING IS NOT PROVIDED.
SEATING UPGRADES MAY BE AVAILABLE. KEEP AN EYE ON YOUR EMAIL AFTER PURCHASING YOUR TICKET.
ALL TICKETS ARE NON TRANSFERABLE AND NON-REFUNDABLE.
Forty5 Presents The Main Squeeze with The Palace at The Vogue Theatre on Wednesday, November 24, 2021. Photo cred Melodie Yvonne
Forty5 Presents The Main Squeeze with The Palace at The Vogue Theatre on Wednesday, November 24, 2021. Photo cred Melodie Yvonne
Forty5 Presents The Main Squeeze with The Palace at The Vogue Theatre on Wednesday, November 24, 2021. Photo cred Melodie Yvonne
Forty5 Presents The Main Squeeze with The Palace at The Vogue Theatre on Wednesday, November 24, 2021. Photo cred Melodie Yvonne
Forty5 Presents The Main Squeeze with The Palace at The Vogue Theatre on Wednesday, November 24, 2021. Photo cred Melodie Yvonne
Forty5 Presents The Main Squeeze with The Palace at The Vogue Theatre on Wednesday, November 24, 2021. Photo cred Melodie Yvonne
Forty5 Presents The Main Squeeze with The Palace at The Vogue Theatre on Wednesday, November 24, 2021. Photo cred Melodie Yvonne
Forty5 Presents The Main Squeeze with The Palace at The Vogue Theatre on Wednesday, November 24, 2021. Photo cred Melodie Yvonne
+73 More
Forty5 Presents The Main Squeeze with The Palace at The Vogue Theatre on Wednesday, November 24, 2021. Photo cred Melodie Yvonne
Forty5 Presents The Main Squeeze with The Palace at The Vogue Theatre on Wednesday, November 24, 2021. Photo cred Melodie Yvonne
Forty5 Presents The Main Squeeze with The Palace at The Vogue Theatre on Wednesday, November 24, 2021. Photo cred Melodie Yvonne
Forty5 Presents The Main Squeeze with The Palace at The Vogue Theatre on Wednesday, November 24, 2021. Photo cred Melodie Yvonne
Forty5 Presents The Main Squeeze with The Palace at The Vogue Theatre on Wednesday, November 24, 2021. Photo cred Melodie Yvonne
Forty5 Presents The Main Squeeze with The Palace at The Vogue Theatre on Wednesday, November 24, 2021. Photo cred Melodie Yvonne
Forty5 Presents The Main Squeeze with The Palace at The Vogue Theatre on Wednesday, November 24, 2021. Photo cred Melodie Yvonne
Forty5 Presents The Main Squeeze with The Palace at The Vogue Theatre on Wednesday, November 24, 2021. Photo cred Melodie Yvonne
Forty5 Presents The Main Squeeze with The Palace at The Vogue Theatre on Wednesday, November 24, 2021. Photo cred Melodie Yvonne
Forty5 Presents The Main Squeeze with The Palace at The Vogue Theatre on Wednesday, November 24, 2021. Photo cred Melodie Yvonne
Forty5 Presents The Main Squeeze with The Palace at The Vogue Theatre on Wednesday, November 24, 2021. Photo cred Melodie Yvonne
Forty5 Presents The Main Squeeze with The Palace at The Vogue Theatre on Wednesday, November 24, 2021. Photo cred Melodie Yvonne
Forty5 Presents The Main Squeeze with The Palace at The Vogue Theatre on Wednesday, November 24, 2021. Photo cred Melodie Yvonne
Forty5 Presents The Main Squeeze with The Palace at The Vogue Theatre on Wednesday, November 24, 2021. Photo cred Melodie Yvonne
Forty5 Presents The Main Squeeze with The Palace at The Vogue Theatre on Wednesday, November 24, 2021. Photo cred Melodie Yvonne
Forty5 Presents The Main Squeeze with The Palace at The Vogue Theatre on Wednesday, November 24, 2021. Photo cred Melodie Yvonne
Forty5 Presents The Main Squeeze with The Palace at The Vogue Theatre on Wednesday, November 24, 2021. Photo cred Melodie Yvonne
Forty5 Presents The Main Squeeze with The Palace at The Vogue Theatre on Wednesday, November 24, 2021. Photo cred Melodie Yvonne
Forty5 Presents The Main Squeeze with The Palace at The Vogue Theatre on Wednesday, November 24, 2021. Photo cred Melodie Yvonne
Forty5 Presents The Main Squeeze with The Palace at The Vogue Theatre on Wednesday, November 24, 2021. Photo cred Melodie Yvonne
Forty5 Presents The Main Squeeze with The Palace at The Vogue Theatre on Wednesday, November 24, 2021. Photo cred Melodie Yvonne
Forty5 Presents The Main Squeeze with The Palace at The Vogue Theatre on Wednesday, November 24, 2021. Photo cred Melodie Yvonne
Forty5 Presents The Main Squeeze with The Palace at The Vogue Theatre on Wednesday, November 24, 2021. Photo cred Melodie Yvonne
Forty5 Presents The Main Squeeze with The Palace at The Vogue Theatre on Wednesday, November 24, 2021. Photo cred Melodie Yvonne
Forty5 Presents The Main Squeeze with The Palace at The Vogue Theatre on Wednesday, November 24, 2021. Photo cred Melodie Yvonne
Forty5 Presents The Main Squeeze with The Palace at The Vogue Theatre on Wednesday, November 24, 2021. Photo cred Melodie Yvonne
Forty5 Presents The Main Squeeze with The Palace at The Vogue Theatre on Wednesday, November 24, 2021. Photo cred Melodie Yvonne
Forty5 Presents The Main Squeeze with The Palace at The Vogue Theatre on Wednesday, November 24, 2021. Photo cred Melodie Yvonne
Forty5 Presents The Main Squeeze with The Palace at The Vogue Theatre on Wednesday, November 24, 2021. Photo cred Melodie Yvonne
Forty5 Presents The Main Squeeze with The Palace at The Vogue Theatre on Wednesday, November 24, 2021. Photo cred Melodie Yvonne
Forty5 Presents The Main Squeeze with The Palace at The Vogue Theatre on Wednesday, November 24, 2021. Photo cred Melodie Yvonne
Forty5 Presents The Main Squeeze with The Palace at The Vogue Theatre on Wednesday, November 24, 2021. Photo cred Melodie Yvonne
Forty5 Presents The Main Squeeze with The Palace at The Vogue Theatre on Wednesday, November 24, 2021. Photo cred Melodie Yvonne
Forty5 Presents The Main Squeeze with The Palace at The Vogue Theatre on Wednesday, November 24, 2021. Photo cred Melodie Yvonne
Forty5 Presents The Main Squeeze with The Palace at The Vogue Theatre on Wednesday, November 24, 2021. Photo cred Melodie Yvonne
Forty5 Presents The Main Squeeze with The Palace at The Vogue Theatre on Wednesday, November 24, 2021. Photo cred Melodie Yvonne
Forty5 Presents The Main Squeeze with The Palace at The Vogue Theatre on Wednesday, November 24, 2021. Photo cred Melodie Yvonne
Forty5 Presents The Main Squeeze with The Palace at The Vogue Theatre on Wednesday, November 24, 2021. Photo cred Melodie Yvonne
Forty5 Presents The Main Squeeze with The Palace at The Vogue Theatre on Wednesday, November 24, 2021. Photo cred Melodie Yvonne
Forty5 Presents The Main Squeeze with The Palace at The Vogue Theatre on Wednesday, November 24, 2021. Photo cred Melodie Yvonne
Forty5 Presents The Main Squeeze with The Palace at The Vogue Theatre on Wednesday, November 24, 2021. Photo cred Melodie Yvonne
Forty5 Presents The Main Squeeze with The Palace at The Vogue Theatre on Wednesday, November 24, 2021. Photo cred Melodie Yvonne
Forty5 Presents The Main Squeeze with The Palace at The Vogue Theatre on Wednesday, November 24, 2021. Photo cred Melodie Yvonne
Forty5 Presents The Main Squeeze with The Palace at The Vogue Theatre on Wednesday, November 24, 2021. Photo cred Melodie Yvonne
Forty5 Presents The Main Squeeze with The Palace at The Vogue Theatre on Wednesday, November 24, 2021. Photo cred Melodie Yvonne
Forty5 Presents The Main Squeeze with The Palace at The Vogue Theatre on Wednesday, November 24, 2021. Photo cred Melodie Yvonne
Forty5 Presents The Main Squeeze with The Palace at The Vogue Theatre on Wednesday, November 24, 2021. Photo cred Melodie Yvonne
Forty5 Presents The Main Squeeze with The Palace at The Vogue Theatre on Wednesday, November 24, 2021. Photo cred Melodie Yvonne
Forty5 Presents The Main Squeeze with The Palace at The Vogue Theatre on Wednesday, November 24, 2021. Photo cred Melodie Yvonne
Forty5 Presents The Main Squeeze with The Palace at The Vogue Theatre on Wednesday, November 24, 2021. Photo cred Melodie Yvonne
Forty5 Presents The Main Squeeze with The Palace at The Vogue Theatre on Wednesday, November 24, 2021. Photo cred Melodie Yvonne
Forty5 Presents The Main Squeeze with The Palace at The Vogue Theatre on Wednesday, November 24, 2021. Photo cred Melodie Yvonne
Forty5 Presents The Main Squeeze with The Palace at The Vogue Theatre on Wednesday, November 24, 2021. Photo cred Melodie Yvonne
Forty5 Presents The Main Squeeze with The Palace at The Vogue Theatre on Wednesday, November 24, 2021. Photo cred Melodie Yvonne
Forty5 Presents The Main Squeeze with The Palace at The Vogue Theatre on Wednesday, November 24, 2021. Photo cred Melodie Yvonne
Forty5 Presents The Main Squeeze with The Palace at The Vogue Theatre on Wednesday, November 24, 2021. Photo cred Melodie Yvonne
Forty5 Presents The Main Squeeze with The Palace at The Vogue Theatre on Wednesday, November 24, 2021. Photo cred Melodie Yvonne
Forty5 Presents The Main Squeeze with The Palace at The Vogue Theatre on Wednesday, November 24, 2021. Photo cred Melodie Yvonne
Forty5 Presents The Main Squeeze with The Palace at The Vogue Theatre on Wednesday, November 24, 2021. Photo cred Melodie Yvonne
Forty5 Presents The Main Squeeze with The Palace at The Vogue Theatre on Wednesday, November 24, 2021. Photo cred Melodie Yvonne
Forty5 Presents The Main Squeeze with The Palace at The Vogue Theatre on Wednesday, November 24, 2021. Photo cred Melodie Yvonne
Forty5 Presents The Main Squeeze with The Palace at The Vogue Theatre on Wednesday, November 24, 2021. Photo cred Melodie Yvonne
Forty5 Presents The Main Squeeze with The Palace at The Vogue Theatre on Wednesday, November 24, 2021. Photo cred Melodie Yvonne
Forty5 Presents The Main Squeeze with The Palace at The Vogue Theatre on Wednesday, November 24, 2021. Photo cred Melodie Yvonne
Forty5 Presents The Main Squeeze with The Palace at The Vogue Theatre on Wednesday, November 24, 2021. Photo cred Melodie Yvonne
Forty5 Presents The Main Squeeze with The Palace at The Vogue Theatre on Wednesday, November 24, 2021. Photo cred Melodie Yvonne
Forty5 Presents The Main Squeeze with The Palace at The Vogue Theatre on Wednesday, November 24, 2021. Photo cred Melodie Yvonne
Forty5 Presents The Main Squeeze with The Palace at The Vogue Theatre on Wednesday, November 24, 2021. Photo cred Melodie Yvonne
Forty5 Presents The Main Squeeze with The Palace at The Vogue Theatre on Wednesday, November 24, 2021. Photo cred Melodie Yvonne
Forty5 Presents The Main Squeeze with The Palace at The Vogue Theatre on Wednesday, November 24, 2021. Photo cred Melodie Yvonne
Forty5 Presents The Main Squeeze with The Palace at The Vogue Theatre on Wednesday, November 24, 2021. Photo cred Melodie Yvonne
Forty5 Presents The Main Squeeze with The Palace at The Vogue Theatre on Wednesday, November 24, 2021. Photo cred Melodie Yvonne
Forty5 Presents The Main Squeeze with The Palace at The Vogue Theatre on Wednesday, November 24, 2021. Photo cred Melodie Yvonne
Other Shows You Might Like
Similar Artists