The Vogue Presents
The Infamous Stringdusters & We Banjo 3
Wed Oct 20, 2021 + Google Cal
7:00 PM / Show: 8:00 PM
21+
$25 to $30
Buy Tickets
The Infamous Stringdusters and We Banjo 3 at The Vogue Theatre in Indianapolis on October 20, 2021
The Infamous Stringdusters dig deep into their bluegrass roots for their eleventh full-length record A Tribute to Bill Monroe, made available on Americana Vibes. For this album – which pays homage to the Father of Bluegrass includes songs that shaped them individually, and as a band, and recorded them each remotely from their home studios.
"Bill Monroe was, as far as I can remember, the first bluegrass music I owned," shared Andy Hall. I asked my uncle for a Bill Monroe CD box set and got it as a birthday present when I turned 18. The sound coming out of my speakers blew my mind, almost like ancient acoustic heavy metal. But then a song like 'A Voice From On High' would come on, and even though it was slow, it had this captivating power. The ancient tones."
The GRAMMY® Award-winning quintet—Andy Falco [guitar], Chris Pandolfi [banjo], Andy Hall [dobro], Jeremy Garrett [fiddle], and Travis Book [double bass]—have musical influences that truly run the gamut, but their common denominator is certainly bluegrass — the sound that has in essence defined the course of their career.
This particular body of work, the first in a series of bluegrass tribute albums, was an obvious choice in that Bill Monroe truly laid the foundation for bluegrass as we know it today.
This particular style of music is still played, and honored, 75 years later and remains a total creative force, something that albeit separated by the devastating impact of Covid-19 on the live music industry, the 'Dusters (as they're known to their fans) came together in their truest, most authentic form to create.
The Infamous Stringdusters stand out as the rare group who can team up with contemporary artists on late night television one night and headline the legendary Red Rocks Amphitheatre or perform alongside The Grateful Dead's Phil Lesh the next, and have recently emerged as proprietors behind their newly found independent record label, Americana Vibes.

Manifesting an actual flock of impassioned fandom, much like those who paved the road before them, the band have attracted a faithful international audience that continues to grow. Moreover, their powerful music and performances paved the way for a GRAMMY® Award win in the category of "Best Bluegrass Album" for 2017's Laws of Gravity, and a number of International Bluegrass Music Awards in a variety of categories.
Sometimes going back to the roots is where we are most likely to find opportunities for growth and evolution, so A Tribute to Bill Monroe was the catalyst for returning home.
"Once we realized that we were going to be grounded for a good while, we found the best way for us to stay connected musically, as a band spread out around the country, would be to record remotely, each guy from his own home studio," shared Andy Falco. "The silver lining of it was recording albums [such as Dust the Halls: An Acoustic Christmas Holiday and A Tribute to Bill Monroe) like we always talked about but didn't have the time to actually do because of our busy touring schedule. The most important thing is for the art to continue, and we are very happy to have been able to create despite our different geographical locations."
Bill Monroe was most widely known for his mandolin playing, however interestingly enough, the mandolin does not appear once in the Dusters' interpretation. So, while the nature of Bill Monroe's bluegrass resides within the spirit of innovation, the Dusters took that same leap of faith in excluding Monroe's instrument in that they "followed their own path to be innovators in the music they create together," shared Jeremy Garrett, "along with exploiting the musical foundation they all share."
This album, like both December 2020's holiday album and their last pre-pandemic effort, Rise Sun, was self-produced offering the band an opportunity to stay connected musically, together/apart, for which they are grateful.
A Tribute to Bill Monroe is the Infamous Stringdusters telling listeners that they are slowly and continually evolving, by honoring the roots of the music that has shaped them as a band and individually. The songs are meaningful, and the musical parts have become more essential.
The Dusters are a brotherhood, but that family extends beyond the band even. And with most of the past year apart (and off), the guys can't wait to hear what the future has in store for them musically speaking, and the hope is to bring that very musical joy back into people's lives.
"[the band] summon the light, which is all the more astonishing considering they tend to formulate their ideas individually before bringing them to the table." – Bluegrass Situation
"…they represent a different side of the same socially aware coin that funds less positive, equally progressive artists' countercultural capital." – No Depression
About We Banjo 3
Debuting in the U.S. in 2012, We Banjo 3 has since emerged as fast-rising touring darlings in the country that two of the members now call home. The Galway, Ireland, and Nashville-based quartet––comprised of two sets of brothers, Enda & Fergal Scahill and Martin & David Howley––continually push musical boundaries while maintaining an unwavering devotion to the essential audience experience. WB3 seamlessly converge the shared and varied traditions of Americana, Bluegrass, and Celtic music with pop
sensible songcraft to create a truly unique and gratifying signature sound. Brilliantly commanded instruments––banjo, fiddle, mandolin, guitar, and percussion––effortlessly elevate lead singer David Howley's propulsive voice. Live on stage, their songs carry the listener along until, at the perfect moment, the band crescendos into catchy choruses with pitch perfect harmonies. We Banjo 3 deliver their music with such palpable rapport, stunning precision, and infectious energy, it's impossible to pigeonhole what kind of listener might suddenly consider themselves a WB3 fan. With recent stunning performances at such broad ranging festivals Merlefest, BottleRock, Summercamp, ROMP, Wintergrass and others, enthusiasts of almost every genre of music are taking notice.
Actor/comedian and musician Steve Martin says of the band, "We Banjo 3…are making waves…here in America. They are playing the banjo in a style that I didn't even know could be played like that." Northwest Cultural Blog said, "There are few adjectives left to describe the authenticity and the electrifying experience you get when you first see/hear We Banjo 3 live on stage…It's the incorporation of each and every one of its members, their individual charisma, their energy, their passion and their very soul, that makes them one of the greatest live musical acts the world has to offer today."
We Banjo 3 released their 6th CD, Roots To Rise Live, in July of 2019 in conjunction of the band's summer and fall 2019 U.S. tours. Recorded at The Ark in Ann Arbor, Michigan, the CD features a mix of original material, traditional compositions, select cover songs, and two previously unreleased tunes. The CD debuted at the beginning of August at # 1 on Billboard's Bluegrass Albums Chart spending 4 weeks in the peak position. The band's 2018 studio recording, Haven, spent 3 weeks at # 1 on that chart, marking the first time an Irish band held the # 1 position on this chart. When Haven re-entered the chart at # 5 in August 2019, joining Roots To Rise Live at the #1 position, WB3 made history again as the only Irish band to hold two top-5 chart positions simultaneously. Of Roots To Rise Live, Songlines Magazine reviewed "…this album by Celtgrass pioneers We Banjo 3 scorches its way through a rollercoaster set colliding their native Galway heritage with liberal helpings of blistering bluegrass and a telling nod to pop music."
We Banjo 3 is committed to giving back to the community, and raising awareness around the issue of mental health is a cause that is dear to their hearts. Toward this effort, We Banjo 3 donate $2.00 for every t-shirt and CD sold on their U.S. tours to organizations that work to provide mental health resources. In 2019, WB3 raised $7500.00 for Mental Health America, the nation's leading community-based nonprofit dedicated to addressing the needs of those living with mental illness and to promoting the mental health of all Americans. For 2020, We Banjo 3 is pleased to partner with start-up not-for-profit Backline. Backline works to support the mental health of music industry professionals and their families by providing streamlined access to mental health and wellness services and educational resources specific to the work and lifestyle of the music industry community. For more information on Backline, visit www.backline.care.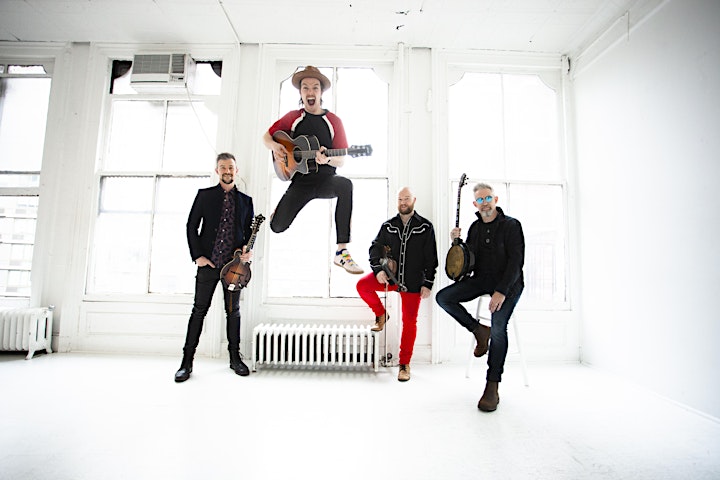 The Infamous Stringdusters with We Banjo 3
Wednesday October 20, 2021
Doors at 7pm / Show at 8pm
Tickets at TheVogue.com
IndyMojo Presents The Infamous Stringdusters with The Way Down Wanderers was a beautifully harmonious evening at The Vogue Theatre in Indianapolis, Indiana on Thursday, February 13, 2020. Photo cred Melodie Yvonne
IndyMojo Presents The Infamous Stringdusters with The Way Down Wanderers was a beautifully harmonious evening at The Vogue Theatre in Indianapolis, Indiana on Thursday, February 13, 2020. Photo cred Melodie Yvonne
IndyMojo Presents The Infamous Stringdusters with The Way Down Wanderers was a beautifully harmonious evening at The Vogue Theatre in Indianapolis, Indiana on Thursday, February 13, 2020. Photo cred Melodie Yvonne
IndyMojo Presents The Infamous Stringdusters with The Way Down Wanderers was a beautifully harmonious evening at The Vogue Theatre in Indianapolis, Indiana on Thursday, February 13, 2020. Photo cred Melodie Yvonne
IndyMojo Presents The Infamous Stringdusters with The Way Down Wanderers was a beautifully harmonious evening at The Vogue Theatre in Indianapolis, Indiana on Thursday, February 13, 2020. Photo cred Melodie Yvonne
IndyMojo Presents The Infamous Stringdusters with The Way Down Wanderers was a beautifully harmonious evening at The Vogue Theatre in Indianapolis, Indiana on Thursday, February 13, 2020. Photo cred Melodie Yvonne
IndyMojo Presents The Infamous Stringdusters with The Way Down Wanderers was a beautifully harmonious evening at The Vogue Theatre in Indianapolis, Indiana on Thursday, February 13, 2020. Photo cred Melodie Yvonne
IndyMojo Presents The Infamous Stringdusters with The Way Down Wanderers was a beautifully harmonious evening at The Vogue Theatre in Indianapolis, Indiana on Thursday, February 13, 2020. Photo cred Melodie Yvonne
+67 More
IndyMojo Presents The Infamous Stringdusters with The Way Down Wanderers was a beautifully harmonious evening at The Vogue Theatre in Indianapolis, Indiana on Thursday, February 13, 2020. Photo cred Melodie Yvonne
IndyMojo Presents The Infamous Stringdusters with The Way Down Wanderers was a beautifully harmonious evening at The Vogue Theatre in Indianapolis, Indiana on Thursday, February 13, 2020. Photo cred Melodie Yvonne
IndyMojo Presents The Infamous Stringdusters with The Way Down Wanderers was a beautifully harmonious evening at The Vogue Theatre in Indianapolis, Indiana on Thursday, February 13, 2020. Photo cred Melodie Yvonne
IndyMojo Presents The Infamous Stringdusters with The Way Down Wanderers was a beautifully harmonious evening at The Vogue Theatre in Indianapolis, Indiana on Thursday, February 13, 2020. Photo cred Melodie Yvonne
IndyMojo Presents The Infamous Stringdusters with The Way Down Wanderers was a beautifully harmonious evening at The Vogue Theatre in Indianapolis, Indiana on Thursday, February 13, 2020. Photo cred Melodie Yvonne
IndyMojo Presents The Infamous Stringdusters with The Way Down Wanderers was a beautifully harmonious evening at The Vogue Theatre in Indianapolis, Indiana on Thursday, February 13, 2020. Photo cred Melodie Yvonne
IndyMojo Presents The Infamous Stringdusters with The Way Down Wanderers was a beautifully harmonious evening at The Vogue Theatre in Indianapolis, Indiana on Thursday, February 13, 2020. Photo cred Melodie Yvonne
IndyMojo Presents The Infamous Stringdusters with The Way Down Wanderers was a beautifully harmonious evening at The Vogue Theatre in Indianapolis, Indiana on Thursday, February 13, 2020. Photo cred Melodie Yvonne
IndyMojo Presents The Infamous Stringdusters with The Way Down Wanderers was a beautifully harmonious evening at The Vogue Theatre in Indianapolis, Indiana on Thursday, February 13, 2020. Photo cred Melodie Yvonne
IndyMojo Presents The Infamous Stringdusters with The Way Down Wanderers was a beautifully harmonious evening at The Vogue Theatre in Indianapolis, Indiana on Thursday, February 13, 2020. Photo cred Melodie Yvonne
IndyMojo Presents The Infamous Stringdusters with The Way Down Wanderers was a beautifully harmonious evening at The Vogue Theatre in Indianapolis, Indiana on Thursday, February 13, 2020. Photo cred Melodie Yvonne
IndyMojo Presents The Infamous Stringdusters with The Way Down Wanderers was a beautifully harmonious evening at The Vogue Theatre in Indianapolis, Indiana on Thursday, February 13, 2020. Photo cred Melodie Yvonne
IndyMojo Presents The Infamous Stringdusters with The Way Down Wanderers was a beautifully harmonious evening at The Vogue Theatre in Indianapolis, Indiana on Thursday, February 13, 2020. Photo cred Melodie Yvonne
IndyMojo Presents The Infamous Stringdusters with The Way Down Wanderers was a beautifully harmonious evening at The Vogue Theatre in Indianapolis, Indiana on Thursday, February 13, 2020. Photo cred Melodie Yvonne
IndyMojo Presents The Infamous Stringdusters with The Way Down Wanderers was a beautifully harmonious evening at The Vogue Theatre in Indianapolis, Indiana on Thursday, February 13, 2020. Photo cred Melodie Yvonne
IndyMojo Presents The Infamous Stringdusters with The Way Down Wanderers was a beautifully harmonious evening at The Vogue Theatre in Indianapolis, Indiana on Thursday, February 13, 2020. Photo cred Melodie Yvonne
IndyMojo Presents The Infamous Stringdusters with The Way Down Wanderers was a beautifully harmonious evening at The Vogue Theatre in Indianapolis, Indiana on Thursday, February 13, 2020. Photo cred Melodie Yvonne
IndyMojo Presents The Infamous Stringdusters with The Way Down Wanderers was a beautifully harmonious evening at The Vogue Theatre in Indianapolis, Indiana on Thursday, February 13, 2020. Photo cred Melodie Yvonne
IndyMojo Presents The Infamous Stringdusters with The Way Down Wanderers was a beautifully harmonious evening at The Vogue Theatre in Indianapolis, Indiana on Thursday, February 13, 2020. Photo cred Melodie Yvonne
IndyMojo Presents The Infamous Stringdusters with The Way Down Wanderers was a beautifully harmonious evening at The Vogue Theatre in Indianapolis, Indiana on Thursday, February 13, 2020. Photo cred Melodie Yvonne
IndyMojo Presents The Infamous Stringdusters with The Way Down Wanderers was a beautifully harmonious evening at The Vogue Theatre in Indianapolis, Indiana on Thursday, February 13, 2020. Photo cred Melodie Yvonne
IndyMojo Presents The Infamous Stringdusters with The Way Down Wanderers was a beautifully harmonious evening at The Vogue Theatre in Indianapolis, Indiana on Thursday, February 13, 2020. Photo cred Melodie Yvonne
IndyMojo Presents The Infamous Stringdusters with The Way Down Wanderers was a beautifully harmonious evening at The Vogue Theatre in Indianapolis, Indiana on Thursday, February 13, 2020. Photo cred Melodie Yvonne
IndyMojo Presents The Infamous Stringdusters with The Way Down Wanderers was a beautifully harmonious evening at The Vogue Theatre in Indianapolis, Indiana on Thursday, February 13, 2020. Photo cred Melodie Yvonne
IndyMojo Presents The Infamous Stringdusters with The Way Down Wanderers was a beautifully harmonious evening at The Vogue Theatre in Indianapolis, Indiana on Thursday, February 13, 2020. Photo cred Melodie Yvonne
IndyMojo Presents The Infamous Stringdusters with The Way Down Wanderers was a beautifully harmonious evening at The Vogue Theatre in Indianapolis, Indiana on Thursday, February 13, 2020. Photo cred Melodie Yvonne
IndyMojo Presents The Infamous Stringdusters with The Way Down Wanderers was a beautifully harmonious evening at The Vogue Theatre in Indianapolis, Indiana on Thursday, February 13, 2020. Photo cred Melodie Yvonne
IndyMojo Presents The Infamous Stringdusters with The Way Down Wanderers was a beautifully harmonious evening at The Vogue Theatre in Indianapolis, Indiana on Thursday, February 13, 2020. Photo cred Melodie Yvonne
IndyMojo Presents The Infamous Stringdusters with The Way Down Wanderers was a beautifully harmonious evening at The Vogue Theatre in Indianapolis, Indiana on Thursday, February 13, 2020. Photo cred Melodie Yvonne
IndyMojo Presents The Infamous Stringdusters with The Way Down Wanderers was a beautifully harmonious evening at The Vogue Theatre in Indianapolis, Indiana on Thursday, February 13, 2020. Photo cred Melodie Yvonne
IndyMojo Presents The Infamous Stringdusters with The Way Down Wanderers was a beautifully harmonious evening at The Vogue Theatre in Indianapolis, Indiana on Thursday, February 13, 2020. Photo cred Melodie Yvonne
IndyMojo Presents The Infamous Stringdusters with The Way Down Wanderers was a beautifully harmonious evening at The Vogue Theatre in Indianapolis, Indiana on Thursday, February 13, 2020. Photo cred Melodie Yvonne
IndyMojo Presents The Infamous Stringdusters with The Way Down Wanderers was a beautifully harmonious evening at The Vogue Theatre in Indianapolis, Indiana on Thursday, February 13, 2020. Photo cred Melodie Yvonne
IndyMojo Presents The Infamous Stringdusters with The Way Down Wanderers was a beautifully harmonious evening at The Vogue Theatre in Indianapolis, Indiana on Thursday, February 13, 2020. Photo cred Melodie Yvonne
IndyMojo Presents The Infamous Stringdusters with The Way Down Wanderers was a beautifully harmonious evening at The Vogue Theatre in Indianapolis, Indiana on Thursday, February 13, 2020. Photo cred Melodie Yvonne
IndyMojo Presents The Infamous Stringdusters with The Way Down Wanderers was a beautifully harmonious evening at The Vogue Theatre in Indianapolis, Indiana on Thursday, February 13, 2020. Photo cred Melodie Yvonne
IndyMojo Presents The Infamous Stringdusters with The Way Down Wanderers was a beautifully harmonious evening at The Vogue Theatre in Indianapolis, Indiana on Thursday, February 13, 2020. Photo cred Melodie Yvonne
IndyMojo Presents The Infamous Stringdusters with The Way Down Wanderers was a beautifully harmonious evening at The Vogue Theatre in Indianapolis, Indiana on Thursday, February 13, 2020. Photo cred Melodie Yvonne
IndyMojo Presents The Infamous Stringdusters with The Way Down Wanderers was a beautifully harmonious evening at The Vogue Theatre in Indianapolis, Indiana on Thursday, February 13, 2020. Photo cred Melodie Yvonne
IndyMojo Presents The Infamous Stringdusters with The Way Down Wanderers was a beautifully harmonious evening at The Vogue Theatre in Indianapolis, Indiana on Thursday, February 13, 2020. Photo cred Melodie Yvonne
IndyMojo Presents The Infamous Stringdusters with The Way Down Wanderers was a beautifully harmonious evening at The Vogue Theatre in Indianapolis, Indiana on Thursday, February 13, 2020. Photo cred Melodie Yvonne
IndyMojo Presents The Infamous Stringdusters with The Way Down Wanderers was a beautifully harmonious evening at The Vogue Theatre in Indianapolis, Indiana on Thursday, February 13, 2020. Photo cred Melodie Yvonne
IndyMojo Presents The Infamous Stringdusters with The Way Down Wanderers was a beautifully harmonious evening at The Vogue Theatre in Indianapolis, Indiana on Thursday, February 13, 2020. Photo cred Melodie Yvonne
IndyMojo Presents The Infamous Stringdusters with The Way Down Wanderers was a beautifully harmonious evening at The Vogue Theatre in Indianapolis, Indiana on Thursday, February 13, 2020. Photo cred Melodie Yvonne
IndyMojo Presents The Infamous Stringdusters with The Way Down Wanderers was a beautifully harmonious evening at The Vogue Theatre in Indianapolis, Indiana on Thursday, February 13, 2020. Photo cred Melodie Yvonne
IndyMojo Presents The Infamous Stringdusters with The Way Down Wanderers was a beautifully harmonious evening at The Vogue Theatre in Indianapolis, Indiana on Thursday, February 13, 2020. Photo cred Melodie Yvonne
IndyMojo Presents The Infamous Stringdusters with The Way Down Wanderers was a beautifully harmonious evening at The Vogue Theatre in Indianapolis, Indiana on Thursday, February 13, 2020. Photo cred Melodie Yvonne
IndyMojo Presents The Infamous Stringdusters with The Way Down Wanderers was a beautifully harmonious evening at The Vogue Theatre in Indianapolis, Indiana on Thursday, February 13, 2020. Photo cred Melodie Yvonne
IndyMojo Presents The Infamous Stringdusters with The Way Down Wanderers was a beautifully harmonious evening at The Vogue Theatre in Indianapolis, Indiana on Thursday, February 13, 2020. Photo cred Melodie Yvonne
IndyMojo Presents The Infamous Stringdusters with The Way Down Wanderers was a beautifully harmonious evening at The Vogue Theatre in Indianapolis, Indiana on Thursday, February 13, 2020. Photo cred Melodie Yvonne
IndyMojo Presents The Infamous Stringdusters with The Way Down Wanderers was a beautifully harmonious evening at The Vogue Theatre in Indianapolis, Indiana on Thursday, February 13, 2020. Photo cred Melodie Yvonne
IndyMojo Presents The Infamous Stringdusters with The Way Down Wanderers was a beautifully harmonious evening at The Vogue Theatre in Indianapolis, Indiana on Thursday, February 13, 2020. Photo cred Melodie Yvonne
IndyMojo Presents The Infamous Stringdusters with The Way Down Wanderers was a beautifully harmonious evening at The Vogue Theatre in Indianapolis, Indiana on Thursday, February 13, 2020. Photo cred Melodie Yvonne
IndyMojo Presents The Infamous Stringdusters with The Way Down Wanderers was a beautifully harmonious evening at The Vogue Theatre in Indianapolis, Indiana on Thursday, February 13, 2020. Photo cred Melodie Yvonne
IndyMojo Presents The Infamous Stringdusters with The Way Down Wanderers was a beautifully harmonious evening at The Vogue Theatre in Indianapolis, Indiana on Thursday, February 13, 2020. Photo cred Melodie Yvonne
IndyMojo Presents The Infamous Stringdusters with The Way Down Wanderers was a beautifully harmonious evening at The Vogue Theatre in Indianapolis, Indiana on Thursday, February 13, 2020. Photo cred Melodie Yvonne
IndyMojo Presents The Infamous Stringdusters with The Way Down Wanderers was a beautifully harmonious evening at The Vogue Theatre in Indianapolis, Indiana on Thursday, February 13, 2020. Photo cred Melodie Yvonne
IndyMojo Presents The Infamous Stringdusters with The Way Down Wanderers was a beautifully harmonious evening at The Vogue Theatre in Indianapolis, Indiana on Thursday, February 13, 2020. Photo cred Melodie Yvonne
IndyMojo Presents The Infamous Stringdusters with The Way Down Wanderers was a beautifully harmonious evening at The Vogue Theatre in Indianapolis, Indiana on Thursday, February 13, 2020. Photo cred Melodie Yvonne
IndyMojo Presents The Infamous Stringdusters with The Way Down Wanderers was a beautifully harmonious evening at The Vogue Theatre in Indianapolis, Indiana on Thursday, February 13, 2020. Photo cred Melodie Yvonne
IndyMojo Presents The Infamous Stringdusters with The Way Down Wanderers was a beautifully harmonious evening at The Vogue Theatre in Indianapolis, Indiana on Thursday, February 13, 2020. Photo cred Melodie Yvonne
IndyMojo Presents The Infamous Stringdusters with The Way Down Wanderers was a beautifully harmonious evening at The Vogue Theatre in Indianapolis, Indiana on Thursday, February 13, 2020. Photo cred Melodie Yvonne
IndyMojo Presents The Infamous Stringdusters with The Way Down Wanderers was a beautifully harmonious evening at The Vogue Theatre in Indianapolis, Indiana on Thursday, February 13, 2020. Photo cred Melodie Yvonne
IndyMojo Presents The Infamous Stringdusters with The Way Down Wanderers was a beautifully harmonious evening at The Vogue Theatre in Indianapolis, Indiana on Thursday, February 13, 2020. Photo cred Melodie Yvonne
IndyMojo Presents The Infamous Stringdusters with The Way Down Wanderers was a beautifully harmonious evening at The Vogue Theatre in Indianapolis, Indiana on Thursday, February 13, 2020. Photo cred Melodie Yvonne
IndyMojo Presents The Infamous Stringdusters with The Way Down Wanderers was a beautifully harmonious evening at The Vogue Theatre in Indianapolis, Indiana on Thursday, February 13, 2020. Photo cred Melodie Yvonne
IndyMojo Presents The Infamous Stringdusters with The Way Down Wanderers was a beautifully harmonious evening at The Vogue Theatre in Indianapolis, Indiana on Thursday, February 13, 2020. Photo cred Melodie Yvonne
Other Shows You Might Like
Similar Artists