Forty5 Presents
The Glorious Sons
The Unfinished Business Tour
Sun Dec 12, 2021 + Google Cal
6:50 PM / Show: 7:50 PM
21+
$25 to $115
Buy Tickets
The Glorious Sons live at the Vogue on December 12, 2021
The Glorious Sons were right in the thick of a wild and triumphant arena tour when they realized it was time to record their next album. "There was an energy surrounding the band at that point that I'd never experienced before," says frontman Brett Emmons. "We felt this mania, almost like we were invincible or something. I didn't know if it was healthy, but I did know that we needed to capitalize on it and carry that momentum straight back into the studio with us."
The resulting record, 'A War On Everything,' is The Glorious Sons' most exhilarating release yet, a taut, timeless blast of rock and roll that marries confident swagger with penetrating insight and reckless abandon. The album is both reflective and raucous, meditating on materialism and meaning in the modern age as it grapples with love and loneliness, purpose and perseverance, anxiety and alienation.
The arrangements are suitably eclectic and wide-ranging to match, hinting at the classics while forging a distinctly 21st century sound that veers from explosive, radio-ready bombast one moment to tender, fingerpicked intimacy the next, always with just a hint of danger and darkness lurking right beneath the surface. Broad as its sonic palette is, 'A War On Everything' still manages to retain a deliberate sense of cohesion throughout, a feat accomplished in no small part thanks to The Glorious Sons' unwavering commitment to grit, guts, and honesty in everything they do.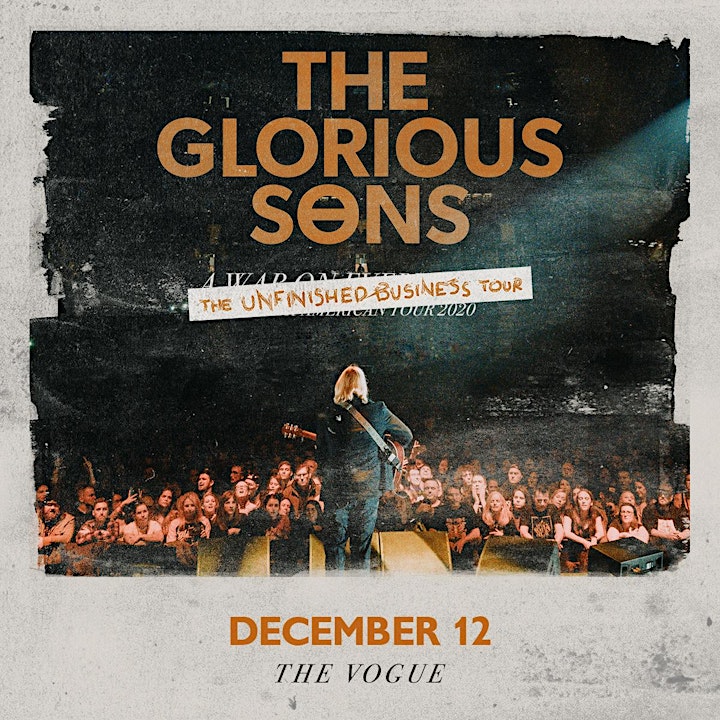 What We Are Doing To Keep Attendees Safe
Limited Capacity: Per Marion County public health orders, the capacity for this event will be limited.
Face Coverings: All patrons and employees will be required to wear a face covering when entering the venue. Face coverings must remain on when high traffic areas such as restrooms, hallways and service areas. Masks are not required while consuming a beverage or interacting inside of your social circle. Please bring your own mask. Disposable masks are available for purchase at the box office but quantities are limited. Face coverings will not be required while taking class (while at your mat). All participants taking class will remain 6 feet apart for the duration of the class.
Signage: Pay attention to signage as you enter on the exterior of the venue, as well as various points throughout the venue. Remember, by purchasing a ticket and entering the venue you are doing so at your own risk.
Cleaning: The Vogue continues to maintain its enhanced cleaning procedures which include a thorough cleaning before and after every show. The Vogue has implemented a new Viruscide Spray system that is delivered via commercial anaomizer spraying system. The Vogue treats all high-traffic areas with Nu-Foamicide, which is recommended by the CDC to kill Covid-19, before and after shows. Security staff will be responsible for disinfecting high traffic areas including service areas, door handles and restroom facilities throughout the show.
In an effort to reduce and sanitize high-traffic touchpoints, restroom doors will stay open at all times
Line Cue & Entrance Procedures: We will provide a defined entrance lane for you to enter the venue. Please follow the markings on the ground that will help you maintain social distancing as you enter.
New Point-of-Sale System: We've installed a new point-of-sale system that will not only speed up transaction time, it will provide more visibility into your checkout process. Consumer-facing screens allow guests to complete the checkout process more efficiently directly with their credit card or Apple Pay which creates less handling of cash and cards across the service area.
What We Are Doing To Keep Our Staff Safe
All employees will wearing a face covering that covers the nose and mouth
All employees will submit to a pre-shift temperature check. Employees who feel ill or showing any symptoms of illness will not be allowed to work.
Employees will take frequent breaks for personal sanitization and hand washing
Other Shows You Might Like
Similar Artists