SOLD OUT
Forty5 Presents
The Emo Night Tour
Sat Mar 12, 2022
8:00 PM / Show: 8:00 PM
21+
$15 to $20
The Emo Night Tour Live at The Vogue Theatre on Saturday March 12th, 2022
The Emo Night Tour is coming to Indianapolis!
Imagine going to a show and hearing Taking Back Sunday, Fall Out Boy, Panic! At The Disco, My Chemical Romance, and many more, all only playing their best songs…all night long.
Welcome to The Emo Night Tour.
The Emo Night Tour DJs will be spinning all the angst your teenage dirtbag heart desires all night long and will make you feel like you're at Warped Tour '08 minus all the dust and melting in the sun!
These shows will be selling out and fast, so make sure to Tell All Your Friends and Sugar, Come Down!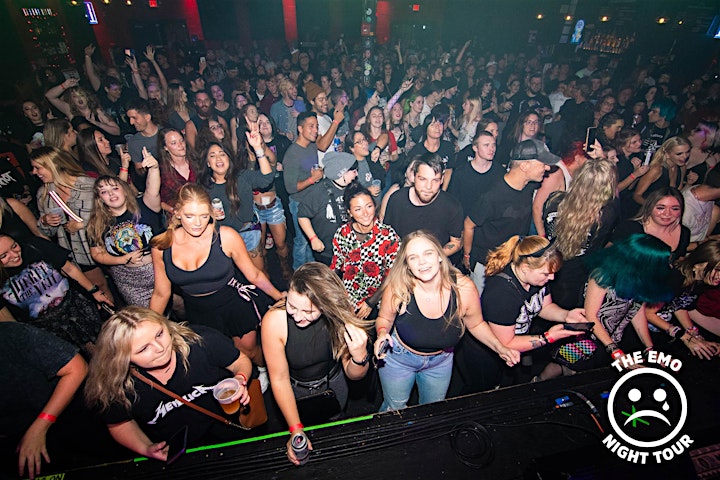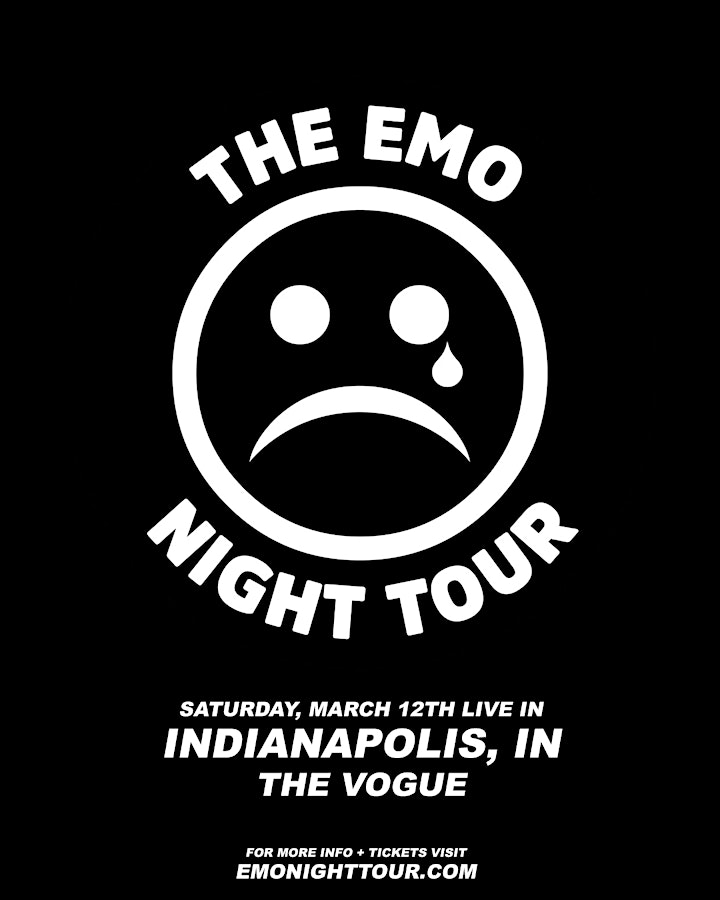 THE EMO NIGHT TOUR
MARCH 12, 2022
21+
THE VOGUE THEATER
INDIANAPOLIS, IN
TICKETS AT THEVOGUE.COM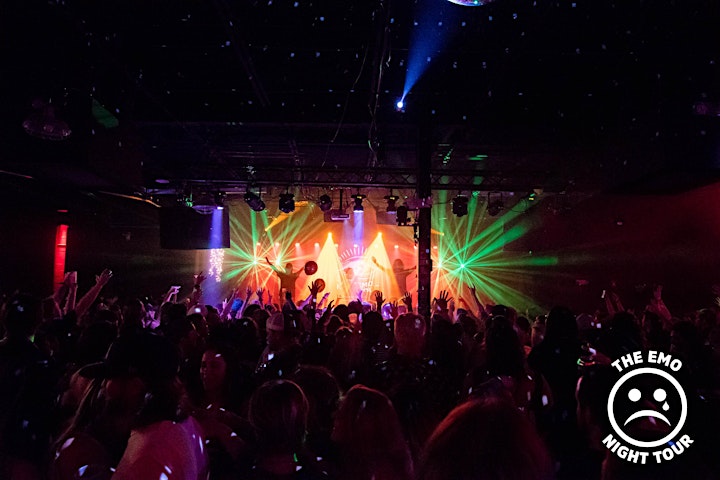 PLEASE NOTE:
THIS SHOW IS GENERAL ADMISSION AND SEATING IS NOT PROVIDED. YOU MUST BE 21+ TO ENTER THE VENUE WITH A VALID FORM OF IDENTIFICATION. ALL TICKETS ARE NON TRANSFERABLE AND NON-REFUNDABLE. TWO FORMS OF IDENTIFICATION MAY BE REQUIRED FOR ENTRY.
Forty5 Presents The Emo Night Tour Live at The Vogue Theatre on Saturday, March 12th, 2022. Photo cred Melodie Yvonne
Forty5 Presents The Emo Night Tour Live at The Vogue Theatre on Saturday, March 12th, 2022. Photo cred Melodie Yvonne
Forty5 Presents The Emo Night Tour Live at The Vogue Theatre on Saturday, March 12th, 2022. Photo cred Melodie Yvonne
Forty5 Presents The Emo Night Tour Live at The Vogue Theatre on Saturday, March 12th, 2022. Photo cred Melodie Yvonne
Forty5 Presents The Emo Night Tour Live at The Vogue Theatre on Saturday, March 12th, 2022. Photo cred Melodie Yvonne
Forty5 Presents The Emo Night Tour Live at The Vogue Theatre on Saturday, March 12th, 2022. Photo cred Melodie Yvonne
Forty5 Presents The Emo Night Tour Live at The Vogue Theatre on Saturday, March 12th, 2022. Photo cred Melodie Yvonne
Forty5 Presents The Emo Night Tour Live at The Vogue Theatre on Saturday, March 12th, 2022. Photo cred Melodie Yvonne
+51 More
Forty5 Presents The Emo Night Tour Live at The Vogue Theatre on Saturday, March 12th, 2022. Photo cred Melodie Yvonne
Forty5 Presents The Emo Night Tour Live at The Vogue Theatre on Saturday, March 12th, 2022. Photo cred Melodie Yvonne
Forty5 Presents The Emo Night Tour Live at The Vogue Theatre on Saturday, March 12th, 2022. Photo cred Melodie Yvonne
Forty5 Presents The Emo Night Tour Live at The Vogue Theatre on Saturday, March 12th, 2022. Photo cred Melodie Yvonne
Forty5 Presents The Emo Night Tour Live at The Vogue Theatre on Saturday, March 12th, 2022. Photo cred Melodie Yvonne
Forty5 Presents The Emo Night Tour Live at The Vogue Theatre on Saturday, March 12th, 2022. Photo cred Melodie Yvonne
Forty5 Presents The Emo Night Tour Live at The Vogue Theatre on Saturday, March 12th, 2022. Photo cred Melodie Yvonne
Forty5 Presents The Emo Night Tour Live at The Vogue Theatre on Saturday, March 12th, 2022. Photo cred Melodie Yvonne
Forty5 Presents The Emo Night Tour Live at The Vogue Theatre on Saturday, March 12th, 2022. Photo cred Melodie Yvonne
Forty5 Presents The Emo Night Tour Live at The Vogue Theatre on Saturday, March 12th, 2022. Photo cred Melodie Yvonne
Forty5 Presents The Emo Night Tour Live at The Vogue Theatre on Saturday, March 12th, 2022. Photo cred Melodie Yvonne
Forty5 Presents The Emo Night Tour Live at The Vogue Theatre on Saturday, March 12th, 2022. Photo cred Melodie Yvonne
Forty5 Presents The Emo Night Tour Live at The Vogue Theatre on Saturday, March 12th, 2022. Photo cred Melodie Yvonne
Forty5 Presents The Emo Night Tour Live at The Vogue Theatre on Saturday, March 12th, 2022. Photo cred Melodie Yvonne
Forty5 Presents The Emo Night Tour Live at The Vogue Theatre on Saturday, March 12th, 2022. Photo cred Melodie Yvonne
Forty5 Presents The Emo Night Tour Live at The Vogue Theatre on Saturday, March 12th, 2022. Photo cred Melodie Yvonne
Forty5 Presents The Emo Night Tour Live at The Vogue Theatre on Saturday, March 12th, 2022. Photo cred Melodie Yvonne
Forty5 Presents The Emo Night Tour Live at The Vogue Theatre on Saturday, March 12th, 2022. Photo cred Melodie Yvonne
Forty5 Presents The Emo Night Tour Live at The Vogue Theatre on Saturday, March 12th, 2022. Photo cred Melodie Yvonne
Forty5 Presents The Emo Night Tour Live at The Vogue Theatre on Saturday, March 12th, 2022. Photo cred Melodie Yvonne
Forty5 Presents The Emo Night Tour Live at The Vogue Theatre on Saturday, March 12th, 2022. Photo cred Melodie Yvonne
Forty5 Presents The Emo Night Tour Live at The Vogue Theatre on Saturday, March 12th, 2022. Photo cred Melodie Yvonne
Forty5 Presents The Emo Night Tour Live at The Vogue Theatre on Saturday, March 12th, 2022. Photo cred Melodie Yvonne
Forty5 Presents The Emo Night Tour Live at The Vogue Theatre on Saturday, March 12th, 2022. Photo cred Melodie Yvonne
Forty5 Presents The Emo Night Tour Live at The Vogue Theatre on Saturday, March 12th, 2022. Photo cred Melodie Yvonne
Forty5 Presents The Emo Night Tour Live at The Vogue Theatre on Saturday, March 12th, 2022. Photo cred Melodie Yvonne
Forty5 Presents The Emo Night Tour Live at The Vogue Theatre on Saturday, March 12th, 2022. Photo cred Melodie Yvonne
Forty5 Presents The Emo Night Tour Live at The Vogue Theatre on Saturday, March 12th, 2022. Photo cred Melodie Yvonne
Forty5 Presents The Emo Night Tour Live at The Vogue Theatre on Saturday, March 12th, 2022. Photo cred Melodie Yvonne
Forty5 Presents The Emo Night Tour Live at The Vogue Theatre on Saturday, March 12th, 2022. Photo cred Melodie Yvonne
Forty5 Presents The Emo Night Tour Live at The Vogue Theatre on Saturday, March 12th, 2022. Photo cred Melodie Yvonne
Forty5 Presents The Emo Night Tour Live at The Vogue Theatre on Saturday, March 12th, 2022. Photo cred Melodie Yvonne
Forty5 Presents The Emo Night Tour Live at The Vogue Theatre on Saturday, March 12th, 2022. Photo cred Melodie Yvonne
Forty5 Presents The Emo Night Tour Live at The Vogue Theatre on Saturday, March 12th, 2022. Photo cred Melodie Yvonne
Forty5 Presents The Emo Night Tour Live at The Vogue Theatre on Saturday, March 12th, 2022. Photo cred Melodie Yvonne
Forty5 Presents The Emo Night Tour Live at The Vogue Theatre on Saturday, March 12th, 2022. Photo cred Melodie Yvonne
Forty5 Presents The Emo Night Tour Live at The Vogue Theatre on Saturday, March 12th, 2022. Photo cred Melodie Yvonne
Forty5 Presents The Emo Night Tour Live at The Vogue Theatre on Saturday, March 12th, 2022. Photo cred Melodie Yvonne
Forty5 Presents The Emo Night Tour Live at The Vogue Theatre on Saturday, March 12th, 2022. Photo cred Melodie Yvonne
Forty5 Presents The Emo Night Tour Live at The Vogue Theatre on Saturday, March 12th, 2022. Photo cred Melodie Yvonne
Forty5 Presents The Emo Night Tour Live at The Vogue Theatre on Saturday, March 12th, 2022. Photo cred Melodie Yvonne
Forty5 Presents The Emo Night Tour Live at The Vogue Theatre on Saturday, March 12th, 2022. Photo cred Melodie Yvonne
Forty5 Presents The Emo Night Tour Live at The Vogue Theatre on Saturday, March 12th, 2022. Photo cred Melodie Yvonne
Forty5 Presents The Emo Night Tour Live at The Vogue Theatre on Saturday, March 12th, 2022. Photo cred Melodie Yvonne
Forty5 Presents The Emo Night Tour Live at The Vogue Theatre on Saturday, March 12th, 2022. Photo cred Melodie Yvonne
Forty5 Presents The Emo Night Tour Live at The Vogue Theatre on Saturday, March 12th, 2022. Photo cred Melodie Yvonne
Forty5 Presents The Emo Night Tour Live at The Vogue Theatre on Saturday, March 12th, 2022. Photo cred Melodie Yvonne
Forty5 Presents The Emo Night Tour Live at The Vogue Theatre on Saturday, March 12th, 2022. Photo cred Melodie Yvonne
Forty5 Presents The Emo Night Tour Live at The Vogue Theatre on Saturday, March 12th, 2022. Photo cred Melodie Yvonne
Forty5 Presents The Emo Night Tour Live at The Vogue Theatre on Saturday, March 12th, 2022. Photo cred Melodie Yvonne
Forty5 Presents The Emo Night Tour Live at The Vogue Theatre on Saturday, March 12th, 2022. Photo cred Melodie Yvonne
Other Shows You Might Like
Similar Artists