Interactive Trivia + Game Show
The Big Show
Win $2500!
Wed Nov 20, 2019
7:00 PM / Show: 8:00 PM
21+
$10
The Big Show – Trivia with a Twist
Wednesday, October 16th
Doors 7pm / Show 8pm / 21+
$10
General Admission / Limited Seating
____________________________________
Hambone's Trivia Presents: The Big Show
A game show created right here in Indianapolis. Teams of contestants are chosen from the crowd.
It's a little bit trivia, a little bit Rock n' Roll.
Winning team has a chance to win the rolling jackpot – currently at $2500. Come with your phones fully charged and prepared for a show unlike anything you've ever been a part of.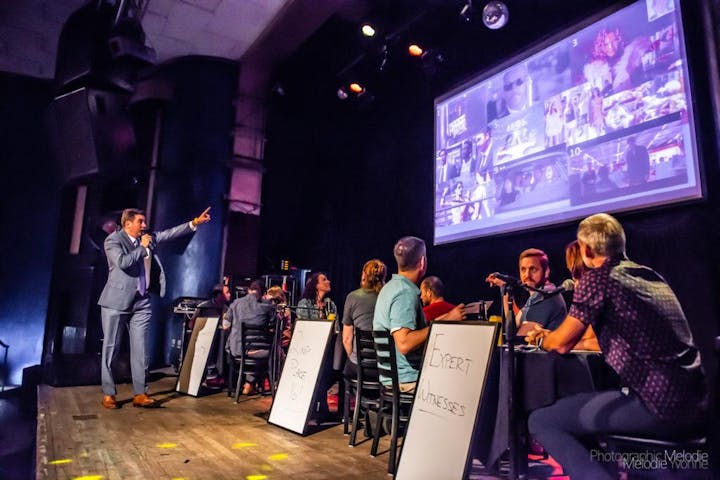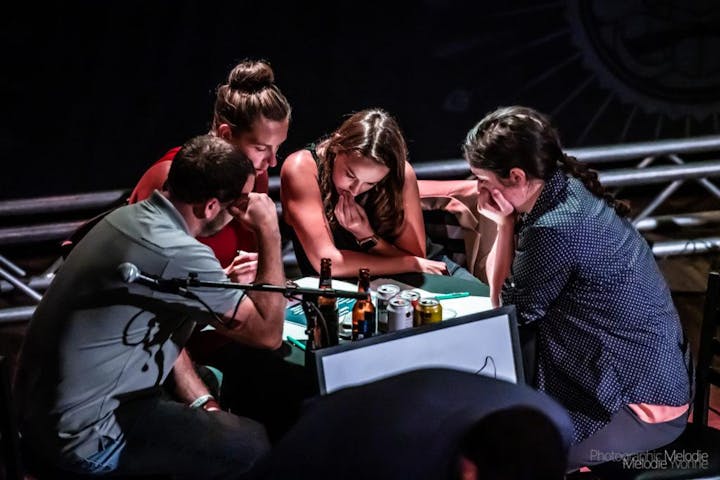 Hambone's Trivia Presents The Big Show was a phenomenal evening that gave teams of contestants from the crowd a chance to win a huge rolling jackpot at The Vogue Theatre on Wednesday, August 14, 2019. Photo Cred Melodie Yvonne
Hambone's Trivia Presents The Big Show was a phenomenal evening that gave teams of contestants from the crowd a chance to win a huge rolling jackpot at The Vogue Theatre on Wednesday, August 14, 2019. Photo Cred Melodie Yvonne
Hambone's Trivia Presents The Big Show was a phenomenal evening that gave teams of contestants from the crowd a chance to win a huge rolling jackpot at The Vogue Theatre on Wednesday, August 14, 2019. Photo Cred Melodie Yvonne
Hambone's Trivia Presents The Big Show was a phenomenal evening that gave teams of contestants from the crowd a chance to win a huge rolling jackpot at The Vogue Theatre on Wednesday, August 14, 2019. Photo Cred Melodie Yvonne
Hambone's Trivia Presents The Big Show was a phenomenal evening that gave teams of contestants from the crowd a chance to win a huge rolling jackpot at The Vogue Theatre on Wednesday, August 14, 2019. Photo Cred Melodie Yvonne
Hambone's Trivia Presents The Big Show was a phenomenal evening that gave teams of contestants from the crowd a chance to win a huge rolling jackpot at The Vogue Theatre on Wednesday, August 14, 2019. Photo Cred Melodie Yvonne
Hambone's Trivia Presents The Big Show was a phenomenal evening that gave teams of contestants from the crowd a chance to win a huge rolling jackpot at The Vogue Theatre on Wednesday, August 14, 2019. Photo Cred Melodie Yvonne
Hambone's Trivia Presents The Big Show was a phenomenal evening that gave teams of contestants from the crowd a chance to win a huge rolling jackpot at The Vogue Theatre on Wednesday, August 14, 2019. Photo Cred Melodie Yvonne
+95 More
Hambone's Trivia Presents The Big Show was a phenomenal evening that gave teams of contestants from the crowd a chance to win a huge rolling jackpot at The Vogue Theatre on Wednesday, August 14, 2019. Photo Cred Melodie Yvonne
Hambone's Trivia Presents The Big Show was a phenomenal evening that gave teams of contestants from the crowd a chance to win a huge rolling jackpot at The Vogue Theatre on Wednesday, August 14, 2019. Photo Cred Melodie Yvonne
Hambone's Trivia Presents The Big Show was a phenomenal evening that gave teams of contestants from the crowd a chance to win a huge rolling jackpot at The Vogue Theatre on Wednesday, August 14, 2019. Photo Cred Melodie Yvonne
Hambone's Trivia Presents The Big Show was a phenomenal evening that gave teams of contestants from the crowd a chance to win a huge rolling jackpot at The Vogue Theatre on Wednesday, August 14, 2019. Photo Cred Melodie Yvonne
Hambone's Trivia Presents The Big Show was a phenomenal evening that gave teams of contestants from the crowd a chance to win a huge rolling jackpot at The Vogue Theatre on Wednesday, August 14, 2019. Photo Cred Melodie Yvonne
Hambone's Trivia Presents The Big Show was a phenomenal evening that gave teams of contestants from the crowd a chance to win a huge rolling jackpot at The Vogue Theatre on Wednesday, August 14, 2019. Photo Cred Melodie Yvonne
Hambone's Trivia Presents The Big Show was a phenomenal evening that gave teams of contestants from the crowd a chance to win a huge rolling jackpot at The Vogue Theatre on Wednesday, August 14, 2019. Photo Cred Melodie Yvonne
Hambone's Trivia Presents The Big Show was a phenomenal evening that gave teams of contestants from the crowd a chance to win a huge rolling jackpot at The Vogue Theatre on Wednesday, August 14, 2019. Photo Cred Melodie Yvonne
Hambone's Trivia Presents The Big Show was a phenomenal evening that gave teams of contestants from the crowd a chance to win a huge rolling jackpot at The Vogue Theatre on Wednesday, August 14, 2019. Photo Cred Melodie Yvonne
Hambone's Trivia Presents The Big Show was a phenomenal evening that gave teams of contestants from the crowd a chance to win a huge rolling jackpot at The Vogue Theatre on Wednesday, August 14, 2019. Photo Cred Melodie Yvonne
Hambone's Trivia Presents The Big Show was a phenomenal evening that gave teams of contestants from the crowd a chance to win a huge rolling jackpot at The Vogue Theatre on Wednesday, August 14, 2019. Photo Cred Melodie Yvonne
Hambone's Trivia Presents The Big Show was a phenomenal evening that gave teams of contestants from the crowd a chance to win a huge rolling jackpot at The Vogue Theatre on Wednesday, August 14, 2019. Photo Cred Melodie Yvonne
Hambone's Trivia Presents The Big Show was a phenomenal evening that gave teams of contestants from the crowd a chance to win a huge rolling jackpot at The Vogue Theatre on Wednesday, August 14, 2019. Photo Cred Melodie Yvonne
Hambone's Trivia Presents The Big Show was a phenomenal evening that gave teams of contestants from the crowd a chance to win a huge rolling jackpot at The Vogue Theatre on Wednesday, August 14, 2019. Photo Cred Melodie Yvonne
Hambone's Trivia Presents The Big Show was a phenomenal evening that gave teams of contestants from the crowd a chance to win a huge rolling jackpot at The Vogue Theatre on Wednesday, August 14, 2019. Photo Cred Melodie Yvonne
Hambone's Trivia Presents The Big Show was a phenomenal evening that gave teams of contestants from the crowd a chance to win a huge rolling jackpot at The Vogue Theatre on Wednesday, August 14, 2019. Photo Cred Melodie Yvonne
Hambone's Trivia Presents The Big Show was a phenomenal evening that gave teams of contestants from the crowd a chance to win a huge rolling jackpot at The Vogue Theatre on Wednesday, August 14, 2019. Photo Cred Melodie Yvonne
Hambone's Trivia Presents The Big Show was a phenomenal evening that gave teams of contestants from the crowd a chance to win a huge rolling jackpot at The Vogue Theatre on Wednesday, August 14, 2019. Photo Cred Melodie Yvonne
Hambone's Trivia Presents The Big Show was a phenomenal evening that gave teams of contestants from the crowd a chance to win a huge rolling jackpot at The Vogue Theatre on Wednesday, August 14, 2019. Photo Cred Melodie Yvonne
Hambone's Trivia Presents The Big Show was a phenomenal evening that gave teams of contestants from the crowd a chance to win a huge rolling jackpot at The Vogue Theatre on Wednesday, August 14, 2019. Photo Cred Melodie Yvonne
Hambone's Trivia Presents The Big Show was a phenomenal evening that gave teams of contestants from the crowd a chance to win a huge rolling jackpot at The Vogue Theatre on Wednesday, August 14, 2019. Photo Cred Melodie Yvonne
Hambone's Trivia Presents The Big Show was a phenomenal evening that gave teams of contestants from the crowd a chance to win a huge rolling jackpot at The Vogue Theatre on Wednesday, August 14, 2019. Photo Cred Melodie Yvonne
Hambone's Trivia Presents The Big Show was a phenomenal evening that gave teams of contestants from the crowd a chance to win a huge rolling jackpot at The Vogue Theatre on Wednesday, August 14, 2019. Photo Cred Melodie Yvonne
Hambone's Trivia Presents The Big Show was a phenomenal evening that gave teams of contestants from the crowd a chance to win a huge rolling jackpot at The Vogue Theatre on Wednesday, August 14, 2019. Photo Cred Melodie Yvonne
Hambone's Trivia Presents The Big Show was a phenomenal evening that gave teams of contestants from the crowd a chance to win a huge rolling jackpot at The Vogue Theatre on Wednesday, August 14, 2019. Photo Cred Melodie Yvonne
Hambone's Trivia Presents The Big Show was a phenomenal evening that gave teams of contestants from the crowd a chance to win a huge rolling jackpot at The Vogue Theatre on Wednesday, August 14, 2019. Photo Cred Melodie Yvonne
Hambone's Trivia Presents The Big Show was a phenomenal evening that gave teams of contestants from the crowd a chance to win a huge rolling jackpot at The Vogue Theatre on Wednesday, August 14, 2019. Photo Cred Melodie Yvonne
Hambone's Trivia Presents The Big Show was a phenomenal evening that gave teams of contestants from the crowd a chance to win a huge rolling jackpot at The Vogue Theatre on Wednesday, August 14, 2019. Photo Cred Melodie Yvonne
Hambone's Trivia Presents The Big Show was a phenomenal evening that gave teams of contestants from the crowd a chance to win a huge rolling jackpot at The Vogue Theatre on Wednesday, August 14, 2019. Photo Cred Melodie Yvonne
Hambone's Trivia Presents The Big Show was a phenomenal evening that gave teams of contestants from the crowd a chance to win a huge rolling jackpot at The Vogue Theatre on Wednesday, August 14, 2019. Photo Cred Melodie Yvonne
Hambone's Trivia Presents The Big Show was a phenomenal evening that gave teams of contestants from the crowd a chance to win a huge rolling jackpot at The Vogue Theatre on Wednesday, August 14, 2019. Photo Cred Melodie Yvonne
Hambone's Trivia Presents The Big Show was a phenomenal evening that gave teams of contestants from the crowd a chance to win a huge rolling jackpot at The Vogue Theatre on Wednesday, August 14, 2019. Photo Cred Melodie Yvonne
Hambone's Trivia Presents The Big Show was a phenomenal evening that gave teams of contestants from the crowd a chance to win a huge rolling jackpot at The Vogue Theatre on Wednesday, August 14, 2019. Photo Cred Melodie Yvonne
Hambone's Trivia Presents The Big Show was a phenomenal evening that gave teams of contestants from the crowd a chance to win a huge rolling jackpot at The Vogue Theatre on Wednesday, August 14, 2019. Photo Cred Melodie Yvonne
Hambone's Trivia Presents The Big Show was a phenomenal evening that gave teams of contestants from the crowd a chance to win a huge rolling jackpot at The Vogue Theatre on Wednesday, August 14, 2019. Photo Cred Melodie Yvonne
Hambone's Trivia Presents The Big Show was a phenomenal evening that gave teams of contestants from the crowd a chance to win a huge rolling jackpot at The Vogue Theatre on Wednesday, August 14, 2019. Photo Cred Melodie Yvonne
Hambone's Trivia Presents The Big Show was a phenomenal evening that gave teams of contestants from the crowd a chance to win a huge rolling jackpot at The Vogue Theatre on Wednesday, August 14, 2019. Photo Cred Melodie Yvonne
Hambone's Trivia Presents The Big Show was a phenomenal evening that gave teams of contestants from the crowd a chance to win a huge rolling jackpot at The Vogue Theatre on Wednesday, August 14, 2019. Photo Cred Melodie Yvonne
Hambone's Trivia Presents The Big Show was a phenomenal evening that gave teams of contestants from the crowd a chance to win a huge rolling jackpot at The Vogue Theatre on Wednesday, August 14, 2019. Photo Cred Melodie Yvonne
Hambone's Trivia Presents The Big Show was a phenomenal evening that gave teams of contestants from the crowd a chance to win a huge rolling jackpot at The Vogue Theatre on Wednesday, August 14, 2019. Photo Cred Melodie Yvonne
Hambone's Trivia Presents The Big Show was a phenomenal evening that gave teams of contestants from the crowd a chance to win a huge rolling jackpot at The Vogue Theatre on Wednesday, August 14, 2019. Photo Cred Melodie Yvonne
Hambone's Trivia Presents The Big Show was a phenomenal evening that gave teams of contestants from the crowd a chance to win a huge rolling jackpot at The Vogue Theatre on Wednesday, August 14, 2019. Photo Cred Melodie Yvonne
Hambone's Trivia Presents The Big Show was a phenomenal evening that gave teams of contestants from the crowd a chance to win a huge rolling jackpot at The Vogue Theatre on Wednesday, August 14, 2019. Photo Cred Melodie Yvonne
Hambone's Trivia Presents The Big Show was a phenomenal evening that gave teams of contestants from the crowd a chance to win a huge rolling jackpot at The Vogue Theatre on Wednesday, August 14, 2019. Photo Cred Melodie Yvonne
Hambone's Trivia Presents The Big Show was a phenomenal evening that gave teams of contestants from the crowd a chance to win a huge rolling jackpot at The Vogue Theatre on Wednesday, August 14, 2019. Photo Cred Melodie Yvonne
Hambone's Trivia Presents The Big Show was a phenomenal evening that gave teams of contestants from the crowd a chance to win a huge rolling jackpot at The Vogue Theatre on Wednesday, August 14, 2019. Photo Cred Melodie Yvonne
Hambone's Trivia Presents The Big Show was a phenomenal evening that gave teams of contestants from the crowd a chance to win a huge rolling jackpot at The Vogue Theatre on Wednesday, August 14, 2019. Photo Cred Melodie Yvonne
Hambone's Trivia Presents The Big Show was a phenomenal evening that gave teams of contestants from the crowd a chance to win a huge rolling jackpot at The Vogue Theatre on Wednesday, August 14, 2019. Photo Cred Melodie Yvonne
Hambone's Trivia Presents The Big Show was a phenomenal evening that gave teams of contestants from the crowd a chance to win a huge rolling jackpot at The Vogue Theatre on Wednesday, August 14, 2019. Photo Cred Melodie Yvonne
Hambone's Trivia Presents The Big Show was a phenomenal evening that gave teams of contestants from the crowd a chance to win a huge rolling jackpot at The Vogue Theatre on Wednesday, August 14, 2019. Photo Cred Melodie Yvonne
Hambone's Trivia Presents The Big Show was a phenomenal evening that gave teams of contestants from the crowd a chance to win a huge rolling jackpot at The Vogue Theatre on Wednesday, August 14, 2019. Photo Cred Melodie Yvonne
Hambone's Trivia Presents The Big Show was a phenomenal evening that gave teams of contestants from the crowd a chance to win a huge rolling jackpot at The Vogue Theatre on Wednesday, August 14, 2019. Photo Cred Melodie Yvonne
Hambone's Trivia Presents The Big Show was a phenomenal evening that gave teams of contestants from the crowd a chance to win a huge rolling jackpot at The Vogue Theatre on Wednesday, August 14, 2019. Photo Cred Melodie Yvonne
Hambone's Trivia Presents The Big Show was a phenomenal evening that gave teams of contestants from the crowd a chance to win a huge rolling jackpot at The Vogue Theatre on Wednesday, August 14, 2019. Photo Cred Melodie Yvonne
Hambone's Trivia Presents The Big Show was a phenomenal evening that gave teams of contestants from the crowd a chance to win a huge rolling jackpot at The Vogue Theatre on Wednesday, August 14, 2019. Photo Cred Melodie Yvonne
Hambone's Trivia Presents The Big Show was a phenomenal evening that gave teams of contestants from the crowd a chance to win a huge rolling jackpot at The Vogue Theatre on Wednesday, August 14, 2019. Photo Cred Melodie Yvonne
Hambone's Trivia Presents The Big Show was a phenomenal evening that gave teams of contestants from the crowd a chance to win a huge rolling jackpot at The Vogue Theatre on Wednesday, August 14, 2019. Photo Cred Melodie Yvonne
Hambone's Trivia Presents The Big Show was a phenomenal evening that gave teams of contestants from the crowd a chance to win a huge rolling jackpot at The Vogue Theatre on Wednesday, August 14, 2019. Photo Cred Melodie Yvonne
Hambone's Trivia Presents The Big Show was a phenomenal evening that gave teams of contestants from the crowd a chance to win a huge rolling jackpot at The Vogue Theatre on Wednesday, August 14, 2019. Photo Cred Melodie Yvonne
Hambone's Trivia Presents The Big Show was a phenomenal evening that gave teams of contestants from the crowd a chance to win a huge rolling jackpot at The Vogue Theatre on Wednesday, August 14, 2019. Photo Cred Melodie Yvonne
Hambone's Trivia Presents The Big Show was a phenomenal evening that gave teams of contestants from the crowd a chance to win a huge rolling jackpot at The Vogue Theatre on Wednesday, August 14, 2019. Photo Cred Melodie Yvonne
Hambone's Trivia Presents The Big Show was a phenomenal evening that gave teams of contestants from the crowd a chance to win a huge rolling jackpot at The Vogue Theatre on Wednesday, August 14, 2019. Photo Cred Melodie Yvonne
Hambone's Trivia Presents The Big Show was a phenomenal evening that gave teams of contestants from the crowd a chance to win a huge rolling jackpot at The Vogue Theatre on Wednesday, August 14, 2019. Photo Cred Melodie Yvonne
Hambone's Trivia Presents The Big Show was a phenomenal evening that gave teams of contestants from the crowd a chance to win a huge rolling jackpot at The Vogue Theatre on Wednesday, August 14, 2019. Photo Cred Melodie Yvonne
Hambone's Trivia Presents The Big Show was a phenomenal evening that gave teams of contestants from the crowd a chance to win a huge rolling jackpot at The Vogue Theatre on Wednesday, August 14, 2019. Photo Cred Melodie Yvonne
Hambone's Trivia Presents The Big Show was a phenomenal evening that gave teams of contestants from the crowd a chance to win a huge rolling jackpot at The Vogue Theatre on Wednesday, August 14, 2019. Photo Cred Melodie Yvonne
Hambone's Trivia Presents The Big Show was a phenomenal evening that gave teams of contestants from the crowd a chance to win a huge rolling jackpot at The Vogue Theatre on Wednesday, August 14, 2019. Photo Cred Melodie Yvonne
Hambone's Trivia Presents The Big Show was a phenomenal evening that gave teams of contestants from the crowd a chance to win a huge rolling jackpot at The Vogue Theatre on Wednesday, August 14, 2019. Photo Cred Melodie Yvonne
Hambone's Trivia Presents The Big Show was a phenomenal evening that gave teams of contestants from the crowd a chance to win a huge rolling jackpot at The Vogue Theatre on Wednesday, August 14, 2019. Photo Cred Melodie Yvonne
Hambone's Trivia Presents The Big Show was a phenomenal evening that gave teams of contestants from the crowd a chance to win a huge rolling jackpot at The Vogue Theatre on Wednesday, August 14, 2019. Photo Cred Melodie Yvonne
Hambone's Trivia Presents The Big Show was a phenomenal evening that gave teams of contestants from the crowd a chance to win a huge rolling jackpot at The Vogue Theatre on Wednesday, August 14, 2019. Photo Cred Melodie Yvonne
Hambone's Trivia Presents The Big Show was a phenomenal evening that gave teams of contestants from the crowd a chance to win a huge rolling jackpot at The Vogue Theatre on Wednesday, August 14, 2019. Photo Cred Melodie Yvonne
Hambone's Trivia Presents The Big Show was a phenomenal evening that gave teams of contestants from the crowd a chance to win a huge rolling jackpot at The Vogue Theatre on Wednesday, August 14, 2019. Photo Cred Melodie Yvonne
Hambone's Trivia Presents The Big Show was a phenomenal evening that gave teams of contestants from the crowd a chance to win a huge rolling jackpot at The Vogue Theatre on Wednesday, August 14, 2019. Photo Cred Melodie Yvonne
Hambone's Trivia Presents The Big Show was a phenomenal evening that gave teams of contestants from the crowd a chance to win a huge rolling jackpot at The Vogue Theatre on Wednesday, August 14, 2019. Photo Cred Melodie Yvonne
Hambone's Trivia Presents The Big Show was a phenomenal evening that gave teams of contestants from the crowd a chance to win a huge rolling jackpot at The Vogue Theatre on Wednesday, August 14, 2019. Photo Cred Melodie Yvonne
Hambone's Trivia Presents The Big Show was a phenomenal evening that gave teams of contestants from the crowd a chance to win a huge rolling jackpot at The Vogue Theatre on Wednesday, August 14, 2019. Photo Cred Melodie Yvonne
Hambone's Trivia Presents The Big Show was a phenomenal evening that gave teams of contestants from the crowd a chance to win a huge rolling jackpot at The Vogue Theatre on Wednesday, August 14, 2019. Photo Cred Melodie Yvonne
Hambone's Trivia Presents The Big Show was a phenomenal evening that gave teams of contestants from the crowd a chance to win a huge rolling jackpot at The Vogue Theatre on Wednesday, August 14, 2019. Photo Cred Melodie Yvonne
Hambone's Trivia Presents The Big Show was a phenomenal evening that gave teams of contestants from the crowd a chance to win a huge rolling jackpot at The Vogue Theatre on Wednesday, August 14, 2019. Photo Cred Melodie Yvonne
Hambone's Trivia Presents The Big Show was a phenomenal evening that gave teams of contestants from the crowd a chance to win a huge rolling jackpot at The Vogue Theatre on Wednesday, August 14, 2019. Photo Cred Melodie Yvonne
Hambone's Trivia Presents The Big Show was a phenomenal evening that gave teams of contestants from the crowd a chance to win a huge rolling jackpot at The Vogue Theatre on Wednesday, August 14, 2019. Photo Cred Melodie Yvonne
Hambone's Trivia Presents The Big Show was a phenomenal evening that gave teams of contestants from the crowd a chance to win a huge rolling jackpot at The Vogue Theatre on Wednesday, August 14, 2019. Photo Cred Melodie Yvonne
Hambone's Trivia Presents The Big Show was a phenomenal evening that gave teams of contestants from the crowd a chance to win a huge rolling jackpot at The Vogue Theatre on Wednesday, August 14, 2019. Photo Cred Melodie Yvonne
Hambone's Trivia Presents The Big Show was a phenomenal evening that gave teams of contestants from the crowd a chance to win a huge rolling jackpot at The Vogue Theatre on Wednesday, August 14, 2019. Photo Cred Melodie Yvonne
Hambone's Trivia Presents The Big Show was a phenomenal evening that gave teams of contestants from the crowd a chance to win a huge rolling jackpot at The Vogue Theatre on Wednesday, August 14, 2019. Photo Cred Melodie Yvonne
Hambone's Trivia Presents The Big Show was a phenomenal evening that gave teams of contestants from the crowd a chance to win a huge rolling jackpot at The Vogue Theatre on Wednesday, August 14, 2019. Photo Cred Melodie Yvonne
Hambone's Trivia Presents The Big Show was a phenomenal evening that gave teams of contestants from the crowd a chance to win a huge rolling jackpot at The Vogue Theatre on Wednesday, August 14, 2019. Photo Cred Melodie Yvonne
Hambone's Trivia Presents The Big Show was a phenomenal evening that gave teams of contestants from the crowd a chance to win a huge rolling jackpot at The Vogue Theatre on Wednesday, August 14, 2019. Photo Cred Melodie Yvonne
Hambone's Trivia Presents The Big Show was a phenomenal evening that gave teams of contestants from the crowd a chance to win a huge rolling jackpot at The Vogue Theatre on Wednesday, August 14, 2019. Photo Cred Melodie Yvonne
Hambone's Trivia Presents The Big Show was a phenomenal evening that gave teams of contestants from the crowd a chance to win a huge rolling jackpot at The Vogue Theatre on Wednesday, August 14, 2019. Photo Cred Melodie Yvonne
Hambone's Trivia Presents The Big Show was a phenomenal evening that gave teams of contestants from the crowd a chance to win a huge rolling jackpot at The Vogue Theatre on Wednesday, August 14, 2019. Photo Cred Melodie Yvonne
Hambone's Trivia Presents The Big Show was a phenomenal evening that gave teams of contestants from the crowd a chance to win a huge rolling jackpot at The Vogue Theatre on Wednesday, August 14, 2019. Photo Cred Melodie Yvonne
Hambone's Trivia Presents The Big Show was a phenomenal evening that gave teams of contestants from the crowd a chance to win a huge rolling jackpot at The Vogue Theatre on Wednesday, August 14, 2019. Photo Cred Melodie Yvonne
Hambone's Trivia Presents The Big Show was a phenomenal evening that gave teams of contestants from the crowd a chance to win a huge rolling jackpot at The Vogue Theatre on Wednesday, August 14, 2019. Photo Cred Melodie Yvonne
Other Shows You Might Like
Similar Artists