The Vogue Presents
Smells Like Nirvana - Nirvana Tribute Band
With Smells Like Nirvana - Nirvana Tribute Band
Fri Apr 23, 2021
7:00 PM / Show: 8:00 PM
21+
$15 to $20
Evening of music performed by Smells Like Nirvana, with Special Guest Dead Original!
About Smells Like Nirvana
Celebrate the legendary sounds of Nirvana & Kurt Cobain with national traveling Nirvana tribute 'Smells Like Nirvana' as they will perform songs from Nevermind, In Utero, Bleach, and more (b-sides/rare songs).
Smells Like Nirvana is composed of seasoned pros and die-hard fans of Nirvana fronted by Paul Wandtke (ex Trivium, Rock of Ages), drummer Sean McCole and bassist Mike Petrasek (Bedlem). They are opening the show with their new original rock trio Dead Original fronted by Paul Wandtke who has drummed for the Grammy nominated metal band Trivium and the hit musical Rock of Ages.
Make this show special by submitting a song request via smellslikenirvanatribute.com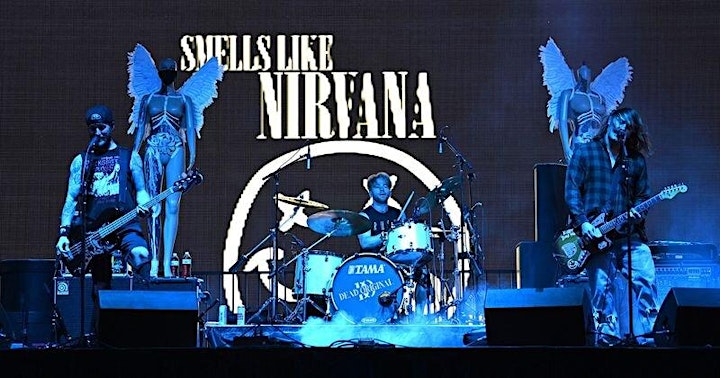 See a Video Preview of Smells Like Nirvana:
About Dead Original
Prior to Covid, Dead Original has supported Seether, Jonathan Davis, 10 Years and most notably supported and toured with Candlebox! Lead singer of Candlebox Kevin Martin loved Dead Original so much, he even came on stage and they did a cover of Nirvana's In Bloom at a sold out show at the Surf Ballroom to over 2,000 people in Des Moine, IA. Stream and listen to their debut album titled 'Bought and Sold' released on Feb 23rd, 2021 grab a physical copy at a show or via deadoriginal.com
What We Are Doing To Keep Attendees Safe
Limited Capacity: Per Marion County public health orders, the capacity for this event will be limited.
Face Coverings: All patrons and employees will be required to wear a face covering when entering the venue. Face coverings must remain on when high traffic areas such as restrooms, hallways and service areas. Masks are not required while consuming a beverage or interacting inside of your social circle. Please bring your own mask. Disposable masks are available for purchase at the box office but quantities are limited. Face coverings will not be required while taking class (while at your mat). All participants taking class will remain 6 feet apart for the duration of the class.
Signage: Pay attention to signage as you enter on the exterior of the venue, as well as various points throughout the venue. Remember, by purchasing a ticket and entering the venue you are doing so at your own risk.
Cleaning: The Vogue continues to maintain its enhanced cleaning procedures which include a thorough cleaning before and after every show. The Vogue has implemented a new Viruscide Spray system that is delivered via commercial anaomizer spraying system. The Vogue treats all high-traffic areas with Nu-Foamicide, which is recommended by the CDC to kill Covid-19, before and after shows. Security staff will be responsible for disinfecting high traffic areas including service areas, door handles and restroom facilities throughout the show.
In an effort to reduce and sanitize high-traffic touchpoints, restroom doors will stay open at all times
Line Cue & Entrance Procedures: We will provide a defined entrance lane for you to enter the venue. Please follow the markings on the ground that will help you maintain social distancing as you enter.
New Point-of-Sale System: We've installed a new point-of-sale system that will not only speed up transaction time, it will provide more visibility into your checkout process. Consumer-facing screens allow guests to complete the checkout process more efficiently directly with their credit card or Apple Pay which creates less handling of cash and cards across the service area.
What We Are Doing To Keep Our Staff Safe
All employees will wearing a face covering that covers the nose and mouth
All employees will submit to a pre-shift temperature check. Employees who feel ill or showing any symptoms of illness will not be allowed to work.
Employees will take frequent breaks for personal sanitization and hand washing
It was a beautifully grungy evening of rock brought by Smells like Nirvana and special guest, Dead Original, at The Vogue Theatre on Friday, April 23, 2021. Photo cred Melodie Yvonne
It was a beautifully grungy evening of rock brought by Smells like Nirvana and special guest, Dead Original, at The Vogue Theatre on Friday, April 23, 2021. Photo cred Melodie Yvonne
It was a beautifully grungy evening of rock brought by Smells like Nirvana and special guest, Dead Original, at The Vogue Theatre on Friday, April 23, 2021. Photo cred Melodie Yvonne
It was a beautifully grungy evening of rock brought by Smells like Nirvana and special guest, Dead Original, at The Vogue Theatre on Friday, April 23, 2021. Photo cred Melodie Yvonne
It was a beautifully grungy evening of rock brought by Smells like Nirvana and special guest, Dead Original, at The Vogue Theatre on Friday, April 23, 2021. Photo cred Melodie Yvonne
It was a beautifully grungy evening of rock brought by Smells like Nirvana and special guest, Dead Original, at The Vogue Theatre on Friday, April 23, 2021. Photo cred Melodie Yvonne
It was a beautifully grungy evening of rock brought by Smells like Nirvana and special guest, Dead Original, at The Vogue Theatre on Friday, April 23, 2021. Photo cred Melodie Yvonne
It was a beautifully grungy evening of rock brought by Smells like Nirvana and special guest, Dead Original, at The Vogue Theatre on Friday, April 23, 2021. Photo cred Melodie Yvonne
+89 More
It was a beautifully grungy evening of rock brought by Smells like Nirvana and special guest, Dead Original, at The Vogue Theatre on Friday, April 23, 2021. Photo cred Melodie Yvonne
It was a beautifully grungy evening of rock brought by Smells like Nirvana and special guest, Dead Original, at The Vogue Theatre on Friday, April 23, 2021. Photo cred Melodie Yvonne
It was a beautifully grungy evening of rock brought by Smells like Nirvana and special guest, Dead Original, at The Vogue Theatre on Friday, April 23, 2021. Photo cred Melodie Yvonne
It was a beautifully grungy evening of rock brought by Smells like Nirvana and special guest, Dead Original, at The Vogue Theatre on Friday, April 23, 2021. Photo cred Melodie Yvonne
It was a beautifully grungy evening of rock brought by Smells like Nirvana and special guest, Dead Original, at The Vogue Theatre on Friday, April 23, 2021. Photo cred Melodie Yvonne
It was a beautifully grungy evening of rock brought by Smells like Nirvana and special guest, Dead Original, at The Vogue Theatre on Friday, April 23, 2021. Photo cred Melodie Yvonne
It was a beautifully grungy evening of rock brought by Smells like Nirvana and special guest, Dead Original, at The Vogue Theatre on Friday, April 23, 2021. Photo cred Melodie Yvonne
It was a beautifully grungy evening of rock brought by Smells like Nirvana and special guest, Dead Original, at The Vogue Theatre on Friday, April 23, 2021. Photo cred Melodie Yvonne
It was a beautifully grungy evening of rock brought by Smells like Nirvana and special guest, Dead Original, at The Vogue Theatre on Friday, April 23, 2021. Photo cred Melodie Yvonne
It was a beautifully grungy evening of rock brought by Smells like Nirvana and special guest, Dead Original, at The Vogue Theatre on Friday, April 23, 2021. Photo cred Melodie Yvonne
It was a beautifully grungy evening of rock brought by Smells like Nirvana and special guest, Dead Original, at The Vogue Theatre on Friday, April 23, 2021. Photo cred Melodie Yvonne
It was a beautifully grungy evening of rock brought by Smells like Nirvana and special guest, Dead Original, at The Vogue Theatre on Friday, April 23, 2021. Photo cred Melodie Yvonne
It was a beautifully grungy evening of rock brought by Smells like Nirvana and special guest, Dead Original, at The Vogue Theatre on Friday, April 23, 2021. Photo cred Melodie Yvonne
It was a beautifully grungy evening of rock brought by Smells like Nirvana and special guest, Dead Original, at The Vogue Theatre on Friday, April 23, 2021. Photo cred Melodie Yvonne
It was a beautifully grungy evening of rock brought by Smells like Nirvana and special guest, Dead Original, at The Vogue Theatre on Friday, April 23, 2021. Photo cred Melodie Yvonne
It was a beautifully grungy evening of rock brought by Smells like Nirvana and special guest, Dead Original, at The Vogue Theatre on Friday, April 23, 2021. Photo cred Melodie Yvonne
It was a beautifully grungy evening of rock brought by Smells like Nirvana and special guest, Dead Original, at The Vogue Theatre on Friday, April 23, 2021. Photo cred Melodie Yvonne
It was a beautifully grungy evening of rock brought by Smells like Nirvana and special guest, Dead Original, at The Vogue Theatre on Friday, April 23, 2021. Photo cred Melodie Yvonne
It was a beautifully grungy evening of rock brought by Smells like Nirvana and special guest, Dead Original, at The Vogue Theatre on Friday, April 23, 2021. Photo cred Melodie Yvonne
It was a beautifully grungy evening of rock brought by Smells like Nirvana and special guest, Dead Original, at The Vogue Theatre on Friday, April 23, 2021. Photo cred Melodie Yvonne
It was a beautifully grungy evening of rock brought by Smells like Nirvana and special guest, Dead Original, at The Vogue Theatre on Friday, April 23, 2021. Photo cred Melodie Yvonne
It was a beautifully grungy evening of rock brought by Smells like Nirvana and special guest, Dead Original, at The Vogue Theatre on Friday, April 23, 2021. Photo cred Melodie Yvonne
It was a beautifully grungy evening of rock brought by Smells like Nirvana and special guest, Dead Original, at The Vogue Theatre on Friday, April 23, 2021. Photo cred Melodie Yvonne
It was a beautifully grungy evening of rock brought by Smells like Nirvana and special guest, Dead Original, at The Vogue Theatre on Friday, April 23, 2021. Photo cred Melodie Yvonne
It was a beautifully grungy evening of rock brought by Smells like Nirvana and special guest, Dead Original, at The Vogue Theatre on Friday, April 23, 2021. Photo cred Melodie Yvonne
It was a beautifully grungy evening of rock brought by Smells like Nirvana and special guest, Dead Original, at The Vogue Theatre on Friday, April 23, 2021. Photo cred Melodie Yvonne
It was a beautifully grungy evening of rock brought by Smells like Nirvana and special guest, Dead Original, at The Vogue Theatre on Friday, April 23, 2021. Photo cred Melodie Yvonne
It was a beautifully grungy evening of rock brought by Smells like Nirvana and special guest, Dead Original, at The Vogue Theatre on Friday, April 23, 2021. Photo cred Melodie Yvonne
It was a beautifully grungy evening of rock brought by Smells like Nirvana and special guest, Dead Original, at The Vogue Theatre on Friday, April 23, 2021. Photo cred Melodie Yvonne
It was a beautifully grungy evening of rock brought by Smells like Nirvana and special guest, Dead Original, at The Vogue Theatre on Friday, April 23, 2021. Photo cred Melodie Yvonne
It was a beautifully grungy evening of rock brought by Smells like Nirvana and special guest, Dead Original, at The Vogue Theatre on Friday, April 23, 2021. Photo cred Melodie Yvonne
It was a beautifully grungy evening of rock brought by Smells like Nirvana and special guest, Dead Original, at The Vogue Theatre on Friday, April 23, 2021. Photo cred Melodie Yvonne
It was a beautifully grungy evening of rock brought by Smells like Nirvana and special guest, Dead Original, at The Vogue Theatre on Friday, April 23, 2021. Photo cred Melodie Yvonne
It was a beautifully grungy evening of rock brought by Smells like Nirvana and special guest, Dead Original, at The Vogue Theatre on Friday, April 23, 2021. Photo cred Melodie Yvonne
It was a beautifully grungy evening of rock brought by Smells like Nirvana and special guest, Dead Original, at The Vogue Theatre on Friday, April 23, 2021. Photo cred Melodie Yvonne
It was a beautifully grungy evening of rock brought by Smells like Nirvana and special guest, Dead Original, at The Vogue Theatre on Friday, April 23, 2021. Photo cred Melodie Yvonne
It was a beautifully grungy evening of rock brought by Smells like Nirvana and special guest, Dead Original, at The Vogue Theatre on Friday, April 23, 2021. Photo cred Melodie Yvonne
It was a beautifully grungy evening of rock brought by Smells like Nirvana and special guest, Dead Original, at The Vogue Theatre on Friday, April 23, 2021. Photo cred Melodie Yvonne
It was a beautifully grungy evening of rock brought by Smells like Nirvana and special guest, Dead Original, at The Vogue Theatre on Friday, April 23, 2021. Photo cred Melodie Yvonne
It was a beautifully grungy evening of rock brought by Smells like Nirvana and special guest, Dead Original, at The Vogue Theatre on Friday, April 23, 2021. Photo cred Melodie Yvonne
It was a beautifully grungy evening of rock brought by Smells like Nirvana and special guest, Dead Original, at The Vogue Theatre on Friday, April 23, 2021. Photo cred Melodie Yvonne
It was a beautifully grungy evening of rock brought by Smells like Nirvana and special guest, Dead Original, at The Vogue Theatre on Friday, April 23, 2021. Photo cred Melodie Yvonne
It was a beautifully grungy evening of rock brought by Smells like Nirvana and special guest, Dead Original, at The Vogue Theatre on Friday, April 23, 2021. Photo cred Melodie Yvonne
It was a beautifully grungy evening of rock brought by Smells like Nirvana and special guest, Dead Original, at The Vogue Theatre on Friday, April 23, 2021. Photo cred Melodie Yvonne
It was a beautifully grungy evening of rock brought by Smells like Nirvana and special guest, Dead Original, at The Vogue Theatre on Friday, April 23, 2021. Photo cred Melodie Yvonne
It was a beautifully grungy evening of rock brought by Smells like Nirvana and special guest, Dead Original, at The Vogue Theatre on Friday, April 23, 2021. Photo cred Melodie Yvonne
It was a beautifully grungy evening of rock brought by Smells like Nirvana and special guest, Dead Original, at The Vogue Theatre on Friday, April 23, 2021. Photo cred Melodie Yvonne
It was a beautifully grungy evening of rock brought by Smells like Nirvana and special guest, Dead Original, at The Vogue Theatre on Friday, April 23, 2021. Photo cred Melodie Yvonne
It was a beautifully grungy evening of rock brought by Smells like Nirvana and special guest, Dead Original, at The Vogue Theatre on Friday, April 23, 2021. Photo cred Melodie Yvonne
It was a beautifully grungy evening of rock brought by Smells like Nirvana and special guest, Dead Original, at The Vogue Theatre on Friday, April 23, 2021. Photo cred Melodie Yvonne
It was a beautifully grungy evening of rock brought by Smells like Nirvana and special guest, Dead Original, at The Vogue Theatre on Friday, April 23, 2021. Photo cred Melodie Yvonne
It was a beautifully grungy evening of rock brought by Smells like Nirvana and special guest, Dead Original, at The Vogue Theatre on Friday, April 23, 2021. Photo cred Melodie Yvonne
It was a beautifully grungy evening of rock brought by Smells like Nirvana and special guest, Dead Original, at The Vogue Theatre on Friday, April 23, 2021. Photo cred Melodie Yvonne
It was a beautifully grungy evening of rock brought by Smells like Nirvana and special guest, Dead Original, at The Vogue Theatre on Friday, April 23, 2021. Photo cred Melodie Yvonne
It was a beautifully grungy evening of rock brought by Smells like Nirvana and special guest, Dead Original, at The Vogue Theatre on Friday, April 23, 2021. Photo cred Melodie Yvonne
It was a beautifully grungy evening of rock brought by Smells like Nirvana and special guest, Dead Original, at The Vogue Theatre on Friday, April 23, 2021. Photo cred Melodie Yvonne
It was a beautifully grungy evening of rock brought by Smells like Nirvana and special guest, Dead Original, at The Vogue Theatre on Friday, April 23, 2021. Photo cred Melodie Yvonne
It was a beautifully grungy evening of rock brought by Smells like Nirvana and special guest, Dead Original, at The Vogue Theatre on Friday, April 23, 2021. Photo cred Melodie Yvonne
It was a beautifully grungy evening of rock brought by Smells like Nirvana and special guest, Dead Original, at The Vogue Theatre on Friday, April 23, 2021. Photo cred Melodie Yvonne
It was a beautifully grungy evening of rock brought by Smells like Nirvana and special guest, Dead Original, at The Vogue Theatre on Friday, April 23, 2021. Photo cred Melodie Yvonne
It was a beautifully grungy evening of rock brought by Smells like Nirvana and special guest, Dead Original, at The Vogue Theatre on Friday, April 23, 2021. Photo cred Melodie Yvonne
It was a beautifully grungy evening of rock brought by Smells like Nirvana and special guest, Dead Original, at The Vogue Theatre on Friday, April 23, 2021. Photo cred Melodie Yvonne
It was a beautifully grungy evening of rock brought by Smells like Nirvana and special guest, Dead Original, at The Vogue Theatre on Friday, April 23, 2021. Photo cred Melodie Yvonne
It was a beautifully grungy evening of rock brought by Smells like Nirvana and special guest, Dead Original, at The Vogue Theatre on Friday, April 23, 2021. Photo cred Melodie Yvonne
It was a beautifully grungy evening of rock brought by Smells like Nirvana and special guest, Dead Original, at The Vogue Theatre on Friday, April 23, 2021. Photo cred Melodie Yvonne
It was a beautifully grungy evening of rock brought by Smells like Nirvana and special guest, Dead Original, at The Vogue Theatre on Friday, April 23, 2021. Photo cred Melodie Yvonne
It was a beautifully grungy evening of rock brought by Smells like Nirvana and special guest, Dead Original, at The Vogue Theatre on Friday, April 23, 2021. Photo cred Melodie Yvonne
It was a beautifully grungy evening of rock brought by Smells like Nirvana and special guest, Dead Original, at The Vogue Theatre on Friday, April 23, 2021. Photo cred Melodie Yvonne
It was a beautifully grungy evening of rock brought by Smells like Nirvana and special guest, Dead Original, at The Vogue Theatre on Friday, April 23, 2021. Photo cred Melodie Yvonne
It was a beautifully grungy evening of rock brought by Smells like Nirvana and special guest, Dead Original, at The Vogue Theatre on Friday, April 23, 2021. Photo cred Melodie Yvonne
It was a beautifully grungy evening of rock brought by Smells like Nirvana and special guest, Dead Original, at The Vogue Theatre on Friday, April 23, 2021. Photo cred Melodie Yvonne
It was a beautifully grungy evening of rock brought by Smells like Nirvana and special guest, Dead Original, at The Vogue Theatre on Friday, April 23, 2021. Photo cred Melodie Yvonne
It was a beautifully grungy evening of rock brought by Smells like Nirvana and special guest, Dead Original, at The Vogue Theatre on Friday, April 23, 2021. Photo cred Melodie Yvonne
It was a beautifully grungy evening of rock brought by Smells like Nirvana and special guest, Dead Original, at The Vogue Theatre on Friday, April 23, 2021. Photo cred Melodie Yvonne
It was a beautifully grungy evening of rock brought by Smells like Nirvana and special guest, Dead Original, at The Vogue Theatre on Friday, April 23, 2021. Photo cred Melodie Yvonne
It was a beautifully grungy evening of rock brought by Smells like Nirvana and special guest, Dead Original, at The Vogue Theatre on Friday, April 23, 2021. Photo cred Melodie Yvonne
It was a beautifully grungy evening of rock brought by Smells like Nirvana and special guest, Dead Original, at The Vogue Theatre on Friday, April 23, 2021. Photo cred Melodie Yvonne
It was a beautifully grungy evening of rock brought by Smells like Nirvana and special guest, Dead Original, at The Vogue Theatre on Friday, April 23, 2021. Photo cred Melodie Yvonne
It was a beautifully grungy evening of rock brought by Smells like Nirvana and special guest, Dead Original, at The Vogue Theatre on Friday, April 23, 2021. Photo cred Melodie Yvonne
It was a beautifully grungy evening of rock brought by Smells like Nirvana and special guest, Dead Original, at The Vogue Theatre on Friday, April 23, 2021. Photo cred Melodie Yvonne
It was a beautifully grungy evening of rock brought by Smells like Nirvana and special guest, Dead Original, at The Vogue Theatre on Friday, April 23, 2021. Photo cred Melodie Yvonne
It was a beautifully grungy evening of rock brought by Smells like Nirvana and special guest, Dead Original, at The Vogue Theatre on Friday, April 23, 2021. Photo cred Melodie Yvonne
It was a beautifully grungy evening of rock brought by Smells like Nirvana and special guest, Dead Original, at The Vogue Theatre on Friday, April 23, 2021. Photo cred Melodie Yvonne
It was a beautifully grungy evening of rock brought by Smells like Nirvana and special guest, Dead Original, at The Vogue Theatre on Friday, April 23, 2021. Photo cred Melodie Yvonne
It was a beautifully grungy evening of rock brought by Smells like Nirvana and special guest, Dead Original, at The Vogue Theatre on Friday, April 23, 2021. Photo cred Melodie Yvonne
It was a beautifully grungy evening of rock brought by Smells like Nirvana and special guest, Dead Original, at The Vogue Theatre on Friday, April 23, 2021. Photo cred Melodie Yvonne
It was a beautifully grungy evening of rock brought by Smells like Nirvana and special guest, Dead Original, at The Vogue Theatre on Friday, April 23, 2021. Photo cred Melodie Yvonne
It was a beautifully grungy evening of rock brought by Smells like Nirvana and special guest, Dead Original, at The Vogue Theatre on Friday, April 23, 2021. Photo cred Melodie Yvonne
It was a beautifully grungy evening of rock brought by Smells like Nirvana and special guest, Dead Original, at The Vogue Theatre on Friday, April 23, 2021. Photo cred Melodie Yvonne
Other Shows You Might Like
Similar Artists