Movie Monday at The Vogue
"Rocky Horror Picture Show"
Mon Oct 26, 2020
7:00 PM / Show: 8:00 PM
21+
$10
"ROCKY HORROR PICTURE SHOW"
We'll be playing "Rocky Horror Picture Show" at the Vogue on Monday October 26th at 8pm.
Still in limited release forty-five years after its premiere, it's considered one of the greatest musical films of all time and is the longest-running theatrical release in film history!
"On a wild and rain-swept late-November evening, somewhere at an empty stretch of road outside Ohio's merry Denton, the blissfully-affianced, prudish, and boringly innocent young pair of Brad Majors and Janet Weiss find themselves stranded on their way to visit an ex-tutor. Instead, the couple will inadvertently unearth the cross-dressing Dr Frank-N-Furter's spooky lair of inexhaustible oddities, just in time to partake in the out-of-this-world mad scientist's proud unveiling of his latest, delightfully extravagant, and most daring creation–the ultimate male and the perfect sex symbol: the flaxen-haired, Rocky Horror. But, little by little, as the effervescent transgressive force gobbles up whole the unsuspecting visitors of the night, Brad and Janet slowly begin to embrace the potent fascinations of seduction, while an idolised Rocky roams free in the mansion. Who can interrupt man's union with the absolute pleasure?" – Written by Nick Riganas (IMDb)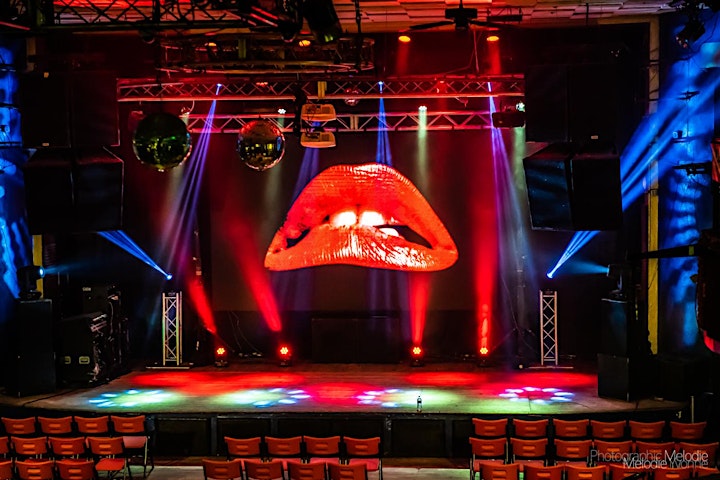 What We Are Doing To Keep Fans Safe
Limited Capacity: Per Marion County public health orders, the capacity for this event will be limited.
Face Coverings: All patrons and employees will be required to wear a face covering when entering the venue. Face coverings must remain on when high traffic areas such as restrooms, hallways and service areas. Masks are not required while consuming a beverage or interacting inside of your social circle. Please bring your own mask. Disposable masks are available for purchase at the box office but quantities are limited.
Signage: Pay attention to signage as you enter on the exterior of the venue, as well as various points throughout the venue. Remember, by purchasing a ticket and entering the venue you are doing so at your own risk.
Cleaning: The Vogue continues to maintain its enhanced cleaning procedures which include a thorough cleaning before and after every show. The Vogue has implemented a new Viruscide Spray system that is delivered via commercial anaomizer spraying system. The Vogue treats all high-traffic areas with Nu-Foamicide, which is recommended by the CDC to kill Covid-19, before and after shows. Security staff will be responsible for disinfecting high traffic areas including service areas, door handles and restroom facilities throughout the show.
In an effort to reduce and sanitize high-traffic touchpoints, restroom doors will stay open at all times
Line Cue & Entrance Procedures: We will provide a defined entrance lane for you to enter the venue. Please follow the markings on the ground that will help you maintain social distancing as you enter.
New Point-of-Sale System: We've installed a new point-of-sale system that will not only speed up transaction time, it will provide more visibility into your checkout process. Consumer-facing screens allow guests to complete the checkout process more efficiently directly with their credit card or Apple Pay which creates less handling of cash and cards across the service area.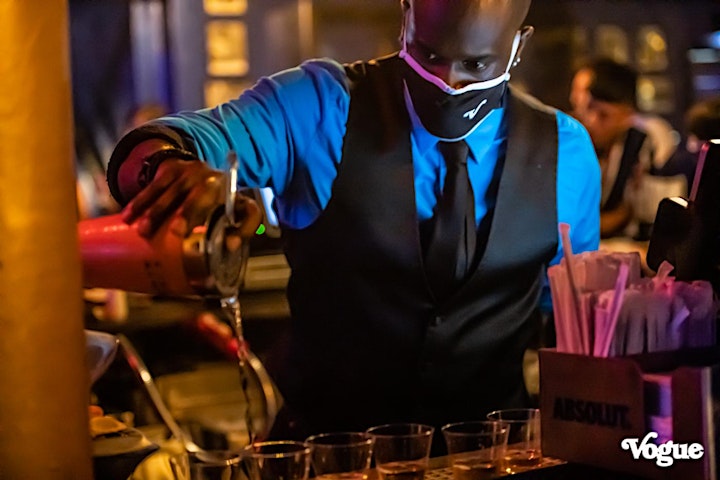 What We Are Doing To Keep Artists Safe
Barricade: When applicable, the Vogue utilizes a stage barricade that allows for proper distancing between the artist and the crowd. This is also a preventative measure to ensure patrons do not get on the stage during the show.
What We Are Doing To Keep Our Staff Safe
All employees will wearing a face covering that covers the nose and mouth
All employees will submit to a pre-shift temperature check. Employees who feel ill or showing any symptoms of illness will not be allowed to work.
Employees will take frequent breaks for personal sanitization and hand washing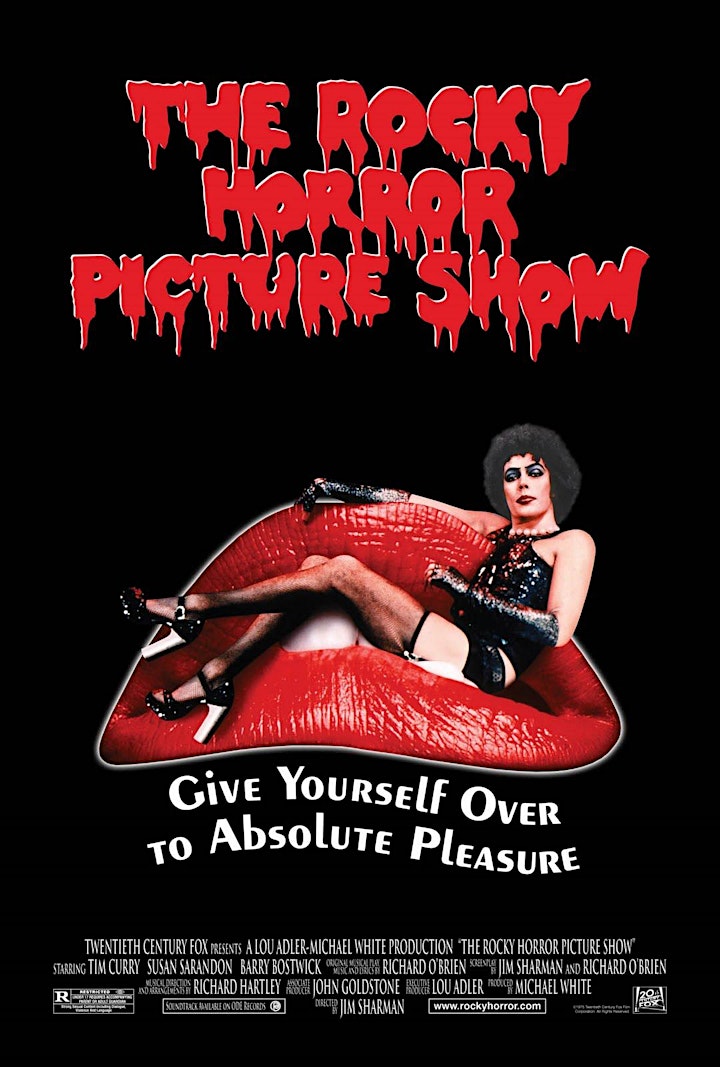 Experience this epic movie and soundtrack through The Vogue's concert PA and enjoy the screening on our LED video wall. The dance floor will be seated and drinks will be available, of course!
______________________________________
Monday, October 26th
Doors 7 PM / Start 8 PM
________________________________________________________________
Important Notice: All tickets are nonrefundable and nontransferable with the exception of event cancellation. Support acts and times are subject to change.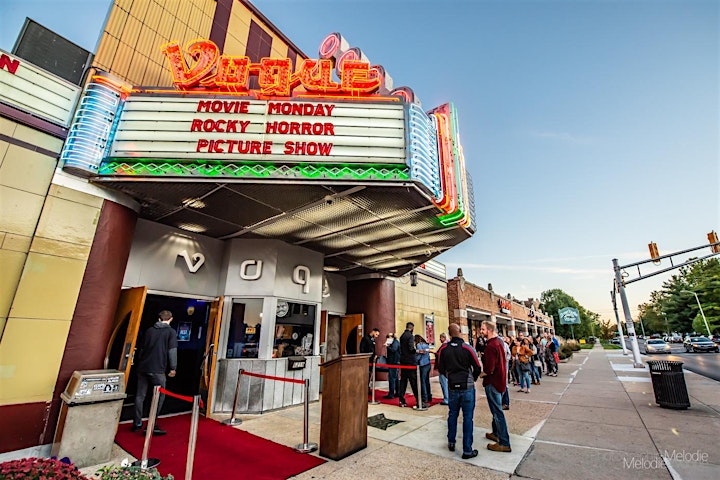 The Vogue Theatre got back to their roots with an amazing sold-out screening of The Rocky Horror Picture Show for Movie Monday on October 14, 2019. Photo cred Melodie Yvonne
The Vogue Theatre got back to their roots with an amazing sold-out screening of The Rocky Horror Picture Show for Movie Monday on October 14, 2019. Photo cred Melodie Yvonne
The Vogue Theatre got back to their roots with an amazing sold-out screening of The Rocky Horror Picture Show for Movie Monday on October 14, 2019. Photo cred Melodie Yvonne
The Vogue Theatre got back to their roots with an amazing sold-out screening of The Rocky Horror Picture Show for Movie Monday on October 14, 2019. Photo cred Melodie Yvonne
The Vogue Theatre got back to their roots with an amazing sold-out screening of The Rocky Horror Picture Show for Movie Monday on October 14, 2019. Photo cred Melodie Yvonne
The Vogue Theatre got back to their roots with an amazing sold-out screening of The Rocky Horror Picture Show for Movie Monday on October 14, 2019. Photo cred Melodie Yvonne
The Vogue Theatre got back to their roots with an amazing sold-out screening of The Rocky Horror Picture Show for Movie Monday on October 14, 2019. Photo cred Melodie Yvonne
The Vogue Theatre got back to their roots with an amazing sold-out screening of The Rocky Horror Picture Show for Movie Monday on October 14, 2019. Photo cred Melodie Yvonne
+88 More
The Vogue Theatre got back to their roots with an amazing sold-out screening of The Rocky Horror Picture Show for Movie Monday on October 14, 2019. Photo cred Melodie Yvonne
The Vogue Theatre got back to their roots with an amazing sold-out screening of The Rocky Horror Picture Show for Movie Monday on October 14, 2019. Photo cred Melodie Yvonne
The Vogue Theatre got back to their roots with an amazing sold-out screening of The Rocky Horror Picture Show for Movie Monday on October 14, 2019. Photo cred Melodie Yvonne
The Vogue Theatre got back to their roots with an amazing sold-out screening of The Rocky Horror Picture Show for Movie Monday on October 14, 2019. Photo cred Melodie Yvonne
The Vogue Theatre got back to their roots with an amazing sold-out screening of The Rocky Horror Picture Show for Movie Monday on October 14, 2019. Photo cred Melodie Yvonne
The Vogue Theatre got back to their roots with an amazing sold-out screening of The Rocky Horror Picture Show for Movie Monday on October 14, 2019. Photo cred Melodie Yvonne
The Vogue Theatre got back to their roots with an amazing sold-out screening of The Rocky Horror Picture Show for Movie Monday on October 14, 2019. Photo cred Melodie Yvonne
The Vogue Theatre got back to their roots with an amazing sold-out screening of The Rocky Horror Picture Show for Movie Monday on October 14, 2019. Photo cred Melodie Yvonne
The Vogue Theatre got back to their roots with an amazing sold-out screening of The Rocky Horror Picture Show for Movie Monday on October 14, 2019. Photo cred Melodie Yvonne
The Vogue Theatre got back to their roots with an amazing sold-out screening of The Rocky Horror Picture Show for Movie Monday on October 14, 2019. Photo cred Melodie Yvonne
The Vogue Theatre got back to their roots with an amazing sold-out screening of The Rocky Horror Picture Show for Movie Monday on October 14, 2019. Photo cred Melodie Yvonne
The Vogue Theatre got back to their roots with an amazing sold-out screening of The Rocky Horror Picture Show for Movie Monday on October 14, 2019. Photo cred Melodie Yvonne
The Vogue Theatre got back to their roots with an amazing sold-out screening of The Rocky Horror Picture Show for Movie Monday on October 14, 2019. Photo cred Melodie Yvonne
The Vogue Theatre got back to their roots with an amazing sold-out screening of The Rocky Horror Picture Show for Movie Monday on October 14, 2019. Photo cred Melodie Yvonne
The Vogue Theatre got back to their roots with an amazing sold-out screening of The Rocky Horror Picture Show for Movie Monday on October 14, 2019. Photo cred Melodie Yvonne
The Vogue Theatre got back to their roots with an amazing sold-out screening of The Rocky Horror Picture Show for Movie Monday on October 14, 2019. Photo cred Melodie Yvonne
The Vogue Theatre got back to their roots with an amazing sold-out screening of The Rocky Horror Picture Show for Movie Monday on October 14, 2019. Photo cred Melodie Yvonne
The Vogue Theatre got back to their roots with an amazing sold-out screening of The Rocky Horror Picture Show for Movie Monday on October 14, 2019. Photo cred Melodie Yvonne
The Vogue Theatre got back to their roots with an amazing sold-out screening of The Rocky Horror Picture Show for Movie Monday on October 14, 2019. Photo cred Melodie Yvonne
The Vogue Theatre got back to their roots with an amazing sold-out screening of The Rocky Horror Picture Show for Movie Monday on October 14, 2019. Photo cred Melodie Yvonne
The Vogue Theatre got back to their roots with an amazing sold-out screening of The Rocky Horror Picture Show for Movie Monday on October 14, 2019. Photo cred Melodie Yvonne
The Vogue Theatre got back to their roots with an amazing sold-out screening of The Rocky Horror Picture Show for Movie Monday on October 14, 2019. Photo cred Melodie Yvonne
The Vogue Theatre got back to their roots with an amazing sold-out screening of The Rocky Horror Picture Show for Movie Monday on October 14, 2019. Photo cred Melodie Yvonne
The Vogue Theatre got back to their roots with an amazing sold-out screening of The Rocky Horror Picture Show for Movie Monday on October 14, 2019. Photo cred Melodie Yvonne
The Vogue Theatre got back to their roots with an amazing sold-out screening of The Rocky Horror Picture Show for Movie Monday on October 14, 2019. Photo cred Melodie Yvonne
The Vogue Theatre got back to their roots with an amazing sold-out screening of The Rocky Horror Picture Show for Movie Monday on October 14, 2019. Photo cred Melodie Yvonne
The Vogue Theatre got back to their roots with an amazing sold-out screening of The Rocky Horror Picture Show for Movie Monday on October 14, 2019. Photo cred Melodie Yvonne
The Vogue Theatre got back to their roots with an amazing sold-out screening of The Rocky Horror Picture Show for Movie Monday on October 14, 2019. Photo cred Melodie Yvonne
The Vogue Theatre got back to their roots with an amazing sold-out screening of The Rocky Horror Picture Show for Movie Monday on October 14, 2019. Photo cred Melodie Yvonne
The Vogue Theatre got back to their roots with an amazing sold-out screening of The Rocky Horror Picture Show for Movie Monday on October 14, 2019. Photo cred Melodie Yvonne
The Vogue Theatre got back to their roots with an amazing sold-out screening of The Rocky Horror Picture Show for Movie Monday on October 14, 2019. Photo cred Melodie Yvonne
The Vogue Theatre got back to their roots with an amazing sold-out screening of The Rocky Horror Picture Show for Movie Monday on October 14, 2019. Photo cred Melodie Yvonne
The Vogue Theatre got back to their roots with an amazing sold-out screening of The Rocky Horror Picture Show for Movie Monday on October 14, 2019. Photo cred Melodie Yvonne
The Vogue Theatre got back to their roots with an amazing sold-out screening of The Rocky Horror Picture Show for Movie Monday on October 14, 2019. Photo cred Melodie Yvonne
The Vogue Theatre got back to their roots with an amazing sold-out screening of The Rocky Horror Picture Show for Movie Monday on October 14, 2019. Photo cred Melodie Yvonne
The Vogue Theatre got back to their roots with an amazing sold-out screening of The Rocky Horror Picture Show for Movie Monday on October 14, 2019. Photo cred Melodie Yvonne
The Vogue Theatre got back to their roots with an amazing sold-out screening of The Rocky Horror Picture Show for Movie Monday on October 14, 2019. Photo cred Melodie Yvonne
The Vogue Theatre got back to their roots with an amazing sold-out screening of The Rocky Horror Picture Show for Movie Monday on October 14, 2019. Photo cred Melodie Yvonne
The Vogue Theatre got back to their roots with an amazing sold-out screening of The Rocky Horror Picture Show for Movie Monday on October 14, 2019. Photo cred Melodie Yvonne
The Vogue Theatre got back to their roots with an amazing sold-out screening of The Rocky Horror Picture Show for Movie Monday on October 14, 2019. Photo cred Melodie Yvonne
The Vogue Theatre got back to their roots with an amazing sold-out screening of The Rocky Horror Picture Show for Movie Monday on October 14, 2019. Photo cred Melodie Yvonne
The Vogue Theatre got back to their roots with an amazing sold-out screening of The Rocky Horror Picture Show for Movie Monday on October 14, 2019. Photo cred Melodie Yvonne
The Vogue Theatre got back to their roots with an amazing sold-out screening of The Rocky Horror Picture Show for Movie Monday on October 14, 2019. Photo cred Melodie Yvonne
The Vogue Theatre got back to their roots with an amazing sold-out screening of The Rocky Horror Picture Show for Movie Monday on October 14, 2019. Photo cred Melodie Yvonne
The Vogue Theatre got back to their roots with an amazing sold-out screening of The Rocky Horror Picture Show for Movie Monday on October 14, 2019. Photo cred Melodie Yvonne
The Vogue Theatre got back to their roots with an amazing sold-out screening of The Rocky Horror Picture Show for Movie Monday on October 14, 2019. Photo cred Melodie Yvonne
The Vogue Theatre got back to their roots with an amazing sold-out screening of The Rocky Horror Picture Show for Movie Monday on October 14, 2019. Photo cred Melodie Yvonne
The Vogue Theatre got back to their roots with an amazing sold-out screening of The Rocky Horror Picture Show for Movie Monday on October 14, 2019. Photo cred Melodie Yvonne
The Vogue Theatre got back to their roots with an amazing sold-out screening of The Rocky Horror Picture Show for Movie Monday on October 14, 2019. Photo cred Melodie Yvonne
The Vogue Theatre got back to their roots with an amazing sold-out screening of The Rocky Horror Picture Show for Movie Monday on October 14, 2019. Photo cred Melodie Yvonne
The Vogue Theatre got back to their roots with an amazing sold-out screening of The Rocky Horror Picture Show for Movie Monday on October 14, 2019. Photo cred Melodie Yvonne
The Vogue Theatre got back to their roots with an amazing sold-out screening of The Rocky Horror Picture Show for Movie Monday on October 14, 2019. Photo cred Melodie Yvonne
The Vogue Theatre got back to their roots with an amazing sold-out screening of The Rocky Horror Picture Show for Movie Monday on October 14, 2019. Photo cred Melodie Yvonne
The Vogue Theatre got back to their roots with an amazing sold-out screening of The Rocky Horror Picture Show for Movie Monday on October 14, 2019. Photo cred Melodie Yvonne
The Vogue Theatre got back to their roots with an amazing sold-out screening of The Rocky Horror Picture Show for Movie Monday on October 14, 2019. Photo cred Melodie Yvonne
The Vogue Theatre got back to their roots with an amazing sold-out screening of The Rocky Horror Picture Show for Movie Monday on October 14, 2019. Photo cred Melodie Yvonne
The Vogue Theatre got back to their roots with an amazing sold-out screening of The Rocky Horror Picture Show for Movie Monday on October 14, 2019. Photo cred Melodie Yvonne
The Vogue Theatre got back to their roots with an amazing sold-out screening of The Rocky Horror Picture Show for Movie Monday on October 14, 2019. Photo cred Melodie Yvonne
The Vogue Theatre got back to their roots with an amazing sold-out screening of The Rocky Horror Picture Show for Movie Monday on October 14, 2019. Photo cred Melodie Yvonne
The Vogue Theatre got back to their roots with an amazing sold-out screening of The Rocky Horror Picture Show for Movie Monday on October 14, 2019. Photo cred Melodie Yvonne
The Vogue Theatre got back to their roots with an amazing sold-out screening of The Rocky Horror Picture Show for Movie Monday on October 14, 2019. Photo cred Melodie Yvonne
The Vogue Theatre got back to their roots with an amazing sold-out screening of The Rocky Horror Picture Show for Movie Monday on October 14, 2019. Photo cred Melodie Yvonne
The Vogue Theatre got back to their roots with an amazing sold-out screening of The Rocky Horror Picture Show for Movie Monday on October 14, 2019. Photo cred Melodie Yvonne
The Vogue Theatre got back to their roots with an amazing sold-out screening of The Rocky Horror Picture Show for Movie Monday on October 14, 2019. Photo cred Melodie Yvonne
The Vogue Theatre got back to their roots with an amazing sold-out screening of The Rocky Horror Picture Show for Movie Monday on October 14, 2019. Photo cred Melodie Yvonne
The Vogue Theatre got back to their roots with an amazing sold-out screening of The Rocky Horror Picture Show for Movie Monday on October 14, 2019. Photo cred Melodie Yvonne
The Vogue Theatre got back to their roots with an amazing sold-out screening of The Rocky Horror Picture Show for Movie Monday on October 14, 2019. Photo cred Melodie Yvonne
The Vogue Theatre got back to their roots with an amazing sold-out screening of The Rocky Horror Picture Show for Movie Monday on October 14, 2019. Photo cred Melodie Yvonne
The Vogue Theatre got back to their roots with an amazing sold-out screening of The Rocky Horror Picture Show for Movie Monday on October 14, 2019. Photo cred Melodie Yvonne
The Vogue Theatre got back to their roots with an amazing sold-out screening of The Rocky Horror Picture Show for Movie Monday on October 14, 2019. Photo cred Melodie Yvonne
The Vogue Theatre got back to their roots with an amazing sold-out screening of The Rocky Horror Picture Show for Movie Monday on October 14, 2019. Photo cred Melodie Yvonne
The Vogue Theatre got back to their roots with an amazing sold-out screening of The Rocky Horror Picture Show for Movie Monday on October 14, 2019. Photo cred Melodie Yvonne
The Vogue Theatre got back to their roots with an amazing sold-out screening of The Rocky Horror Picture Show for Movie Monday on October 14, 2019. Photo cred Melodie Yvonne
The Vogue Theatre got back to their roots with an amazing sold-out screening of The Rocky Horror Picture Show for Movie Monday on October 14, 2019. Photo cred Melodie Yvonne
The Vogue Theatre got back to their roots with an amazing sold-out screening of The Rocky Horror Picture Show for Movie Monday on October 14, 2019. Photo cred Melodie Yvonne
The Vogue Theatre got back to their roots with an amazing sold-out screening of The Rocky Horror Picture Show for Movie Monday on October 14, 2019. Photo cred Melodie Yvonne
The Vogue Theatre got back to their roots with an amazing sold-out screening of The Rocky Horror Picture Show for Movie Monday on October 14, 2019. Photo cred Melodie Yvonne
The Vogue Theatre got back to their roots with an amazing sold-out screening of The Rocky Horror Picture Show for Movie Monday on October 14, 2019. Photo cred Melodie Yvonne
The Vogue Theatre got back to their roots with an amazing sold-out screening of The Rocky Horror Picture Show for Movie Monday on October 14, 2019. Photo cred Melodie Yvonne
The Vogue Theatre got back to their roots with an amazing sold-out screening of The Rocky Horror Picture Show for Movie Monday on October 14, 2019. Photo cred Melodie Yvonne
The Vogue Theatre got back to their roots with an amazing sold-out screening of The Rocky Horror Picture Show for Movie Monday on October 14, 2019. Photo cred Melodie Yvonne
The Vogue Theatre got back to their roots with an amazing sold-out screening of The Rocky Horror Picture Show for Movie Monday on October 14, 2019. Photo cred Melodie Yvonne
The Vogue Theatre got back to their roots with an amazing sold-out screening of The Rocky Horror Picture Show for Movie Monday on October 14, 2019. Photo cred Melodie Yvonne
The Vogue Theatre got back to their roots with an amazing sold-out screening of The Rocky Horror Picture Show for Movie Monday on October 14, 2019. Photo cred Melodie Yvonne
The Vogue Theatre got back to their roots with an amazing sold-out screening of The Rocky Horror Picture Show for Movie Monday on October 14, 2019. Photo cred Melodie Yvonne
The Vogue Theatre got back to their roots with an amazing sold-out screening of The Rocky Horror Picture Show for Movie Monday on October 14, 2019. Photo cred Melodie Yvonne
The Vogue Theatre got back to their roots with an amazing sold-out screening of The Rocky Horror Picture Show for Movie Monday on October 14, 2019. Photo cred Melodie Yvonne
The Vogue Theatre got back to their roots with an amazing sold-out screening of The Rocky Horror Picture Show for Movie Monday on October 14, 2019. Photo cred Melodie Yvonne
Other Shows You Might Like
Similar Artists