MOKB Presents
Real Estate w/ Kate Bollinger
With Kate Bollinger
Wed Nov 10, 2021 + Google Cal
7:00 PM / Show: 8:00 PM
21+
$25 to $30
Buy Tickets
Real Estate w/ Kate Bollinger at The Vogue
DOORS: 7:00 PM, SHOW: 8:00 PM
AGE RESTRICTIONS: 21+
GENERAL ADMISSION, LIMITED SEATING
Important Notice: All tickets are nonrefundable and nontransferable with the exception of event cancellation. Support acts are subject to change.
—————————-
About Real Estate:
Martin Courtney wrote the lyrics to "Half a Human" in a different world. The song, long a staple of Real Estate's live sets, is about the alienation of traveling from town to town, wandering overpasses and McDonald's parking lots, then returning home to the exact same landscape. "I say in the song that it could be anywhere," Courtney says. "We'll play a show, drive half an hour out of town to stay in a cheaper hotel, and you're just walking down some road that isn't meant for pedestrians. [In this case] I'm actually specifically describing this place close to where I live." Now, with touring not an option, and a pervasive sense of formless uncertainty dominating our days, Courtney's exploration of feeling not quite connected to the world you inhabit feels not only prescient, but uniquely situated to address a moment that no one could have expected. This liminal emotional landscape is something that Courtney and the rest of Real Estate have long been perfecting—drawing out suburban ennui into a blurry mix of beautiful nostalgia and distant pain—but across the six songs that make up the Half a Human EP, they take this exploration even further.
The architecture of each of the songs on Half a Human was constructed during sessions for The Main Thing, but came to life when Courtney, along with bassist and vocalist Alex Bleeker, keyboardist Matt Kallman, and guitarist Julian Lynch began trading additional parts back and forth remotely, creating an intricate collection of songs that act as a sort of thesis statement for the band going forward. "My approach to working on parts for Real Estate had come to center around the live experience," says Lynch. "How my guitar sounded in a room in relation to the other instruments in the band…it's definitely a different way to work on music, especially for this band." For Courtney, this sense of exploration was part of a desire to take stock of the success of the band and the uncertainty of the future. "Life keeps changing and additional responsibilities and stresses keep being added, but this band is still here," he says. "When I was writing a lot of these songs for The Main Thing and Half a Human, I was feeling a little weird about being in a band. Like, 'how is this still a thing?' I was feeling silly about it and then coming around to it at the same time. This is what we're good at and it's what we love to do and want to keep doing. I don't want to do anything else."
Though Half a Human is a relatively short EP, it cements the band as indie rock lifers. Their songs still tackle the same thorny subjects of aging and connection and loss of innocence, but the way they're approaching those subjects is a reflection of the people they've grown into since the release of their self-titled album in 2009. You can hear this on "D+," a track written and sung by Bleeker. The song is loosely about the current state of America, but as with all Real Estate songs, the focus is on the smaller moments. It's less about what it all means, and more about excavating the complicated emotional moments that come from existing in the world. In an evocative line that seems to recall witnessing the aftermath of 9/11 from the band's native New Jersey, Bleeker sings "Never forget smoking two cigarettes on the outskirts of town, peeking over." "It feels really bad and is scary and unsettling," he says of the subject matter of the song. "But it's also a reminder that the universal whole is also indifferent to our trifling feelings at the moment."
Elsewhere, the lush "In the Garden," which features gorgeous guitar and keyboard interplay between Lynch and Kallman, is a natural bridge between songs like The Main Thing's Sylvan Esso-featuring "Paper Cup" and the band's future. Casually devastating lines like "I should have learned by now, things don't always work out, but I'm fortunate enough to remain naive," are reflections on the push-and-pull of making art in a rapidly mutating world. Half a Human is about a lot of things, but at its core it's asking a very important universal question: what does it mean to make art in America while holding on to your roots and pushing yourself into exciting new places?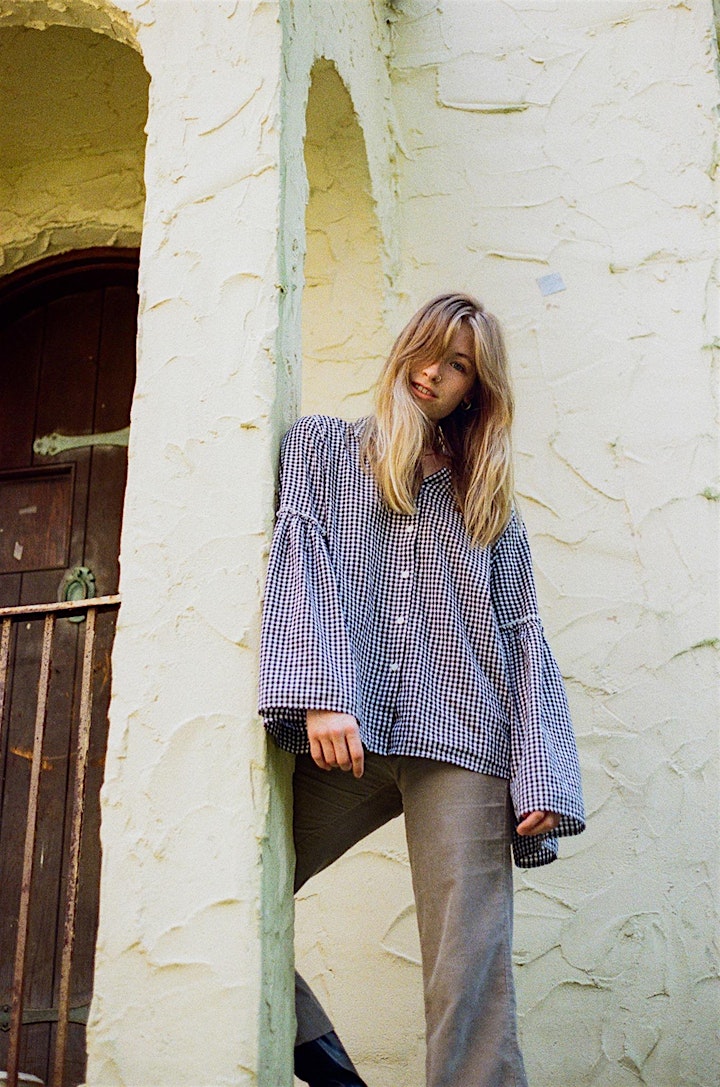 About Kate Bollinger:
For Kate Bollinger, knowing how to articulate exactly what she means would take a seemingly unattainable level of communicational prowess. Because of this, her nuanced songwriting gives listeners a framework within which they can project their own experiences. "It is rare that my words represent my thoughts accurately and even in the instances where I feel that they do, I know that I can't be responsible for the hearing of those words or for the interpretation of them," she explains. "Sometimes I write in a very specific way, but sometimes it is better to write only the skeleton."
From a young age, Bollinger turned to songwriting as a way of testing out ideas and stringing together words, perfecting them until they matched her intentions. Memories of her childhood in Charlottesville evoke melodies emanating from the stereo and experimental sounds leaking out of the basement, where her two older brothers recorded with their bands. Bollinger's mother, a music therapist, released a handful of children's albums, and she welcomed her daughter into the accompanying choir. Being a small part of an ensemble was freeing, and Bollinger went on to perform in local opera productions when she was still in elementary school. "I was shy when I was little and didn't want a speaking role, I just wanted to sing and be on stage," she recalls, laughing. "I still feel that way."
In adolescence, Bollinger absorbed a spectrum of genres that came to influence her future songwriting. On the family's CD rack it may have been possible to find pop icons of the early aughts stacked up against classics of her parents' generations. Feist soundtracked drives with dad, and Bollinger marvelled at the dexterity of those albums, the way they would move from a dance track to R&B to something spare and wholly unexpected. Taking inspiration from her siblings' musical projects, Bollinger began writing songs, and at 14, her brother Will helped her record one at home for the very first time.
From there, Bollinger started gigging around Charlottesville and eventually won free studio time in a local songwriting competition, but put off studio recording until years later when she had a backing band in place. Bollinger met her primary collaborator, John Trainum, while working on her cinematography degree at UVA. Once Bollinger had a collection she felt especially confident in, she booked her free day of recording and knocked out the songs that made up her EP, I Don't Wanna Lose, in a single day. The self-released collection presented Bollinger with new opportunities, like opening for Soccer Mommy in Richmond and hitting the road with Wild Nothing while she was still finishing her degree.
On August 21st, Bollinger will release her new EP A word becomes a sound. "I'm really happy with the way that I Don't Wanna Lose turned out, but everything was so new to me, so I didn't take things where they could have gone. Every song you hear is a live take and I was so excited to record the songs as I had written them, so there wasn't much in the way of production after the fact," Bollinger says. "When we recorded A word becomes a sound, I really pushed myself to actualize what I heard in my head." Recording the EP was hard-fought; the COVID-19 crisis hit before the band was able to finish, so Bollinger and Trainum were forced to complete the project under unprecedented circumstances. The resulting collection comprises five songs, all of which flit between sonic sensibilities, never once settling on a single sustained mood. Taking inspiration from pop, folk, jazz, and beat-driven experimentation, A word becomes a sound grounds itself in Bollinger's nimble voice, which fits a torrent of emotion inside of it. "My music has a really soft center and when I write I am finding a balance between something delicate and the darker feelings surrounding it," Bollinger says. "Many of my songs are about childhood, because I am lucky to have had a pretty idyllic one."
But what happens when childhood ends and the anxieties of adulthood come to dominate a once-carefree mind? "My songs, and the sadness in them, comes from reflecting on an easier time." You can hear that sentiment especially well on lead single "A Couple Things," which is the oldest song on the EP and has been a part of Bollinger's live repertoire since 2018. It finds Bollinger steeped in shifting familial and interpersonal dynamics over a bed of breezy instrumentation. "You always took care of all my baggage/ It's hard now it's somethin' I gotta do," she sings. Bollinger describes "Feel Like Doing Nothing" as a dream pop song, one that was written in close collaboration with Trainum and is unlike anything she's recorded before. Its lyrics yearn for a respite from the weight of responsibility, coalescing with the moody, R&B imbued "Grey Skies," a song that provokes a sense of ease though it contemplates the inevitability of oncoming sorrow.
"I try to write in a way that leaves each song open to interpretation because I want people to hear their own relationships reflected back at them when they listen to my music," Bollinger says. She has described it as a collaborative coloring book, a series of outlines waiting to be filled in by a listener's experiences. To that end, the EP's title track, "A word becomes a sound" produces a lens to read the collection through. It was inspired by Vladimir Nabokov's short story "Terror," in which a man slowly begins to disassociate from his surroundings. Eventually, words lose their meaning entirely. A house is no longer a "house." A tree is no longer a "tree." The "self" becomes something spectral and impossible to define, deferential to the porous boundaries of the world. On A word becomes a sound, Bollinger harnesses that sensation of terrifying and enlivening free-fall.
Other Shows You Might Like
Similar Artists