IndyMojo Presents
Railroad Earth
Tue Mar 03, 2020
7:00 PM / Show: 8:00 PM
21+
$25 to $28
Railroad Earth at The Vogue – Indianapolis
TUESDAY, MARCH 3RD
DOORS: 7:00 PM, SHOW: 8:00 PM
AGE RESTRICTIONS: 21+
TICKETS ON SALE: 11/1 AT 10 AM
$25 ADVANCE/ $28 DAY OF SHOW
SUPPORT: OLD SALT UNION
VIP Tables/Premium Upgrades available here:
http://bit.ly/RailroadEarthPremium
Railroad Earth
https://www.facebook.com/RailroadEarth/
There's a great scene in The Last Waltz – the documentary about The Band's final concert – where director Martin Scorsese is discussing music with drummer/singer/mandolin player Levon Helm. Helm says, "If it mixes with rhythm, and if it dances, then you've got a great combination of all those different kinds of music: country, bluegrass, blues music, show music…"
To which Scorsese, the inquisitive interviewer, asks, "What's it called, then?"
"Rock & roll!"
Clearly looking for a more specific answer, but realizing that he isn't going to get one, Marty laughs. "Rock & roll…"
Well, that's the way it is sometimes: musicians play music, and don't necessarily worry about where it gets filed. It's the writers, record labels, managers, etc., who tend to fret about what "kind" of music it is.
And like The Band, the members of Railroad Earth aren't losing sleep about what "kind" of music they play – they just play it. When they started out in 2001, they were a bunch of guys interested in playing acoustic instruments together. As Railroad Earth violin/vocalist Tim Carbone recalls, "All of us had been playing in various projects for years, and many of us had played together in different projects. But this time, we found ourselves all available at the same time."
Songwriter/lead vocalist Todd Sheaffer continues, "When we started, we only loosely had the idea of getting together and playing some music. It started that informally; just getting together and doing some picking and playing. Over a couple of month period, we started working on some original songs, as well as playing some covers that we thought would be fun to play." Shortly thereafter, they took five songs from their budding repertoire into a studio and knocked out a demo in just two days. Their soon-to-be manager sent that demo to a few festivals, and – to the band's surprise – they were booked at the prestigious Telluride Bluegrass Festival before they'd even played their first gig. This prompted them to quickly go in and record five more songs; the ten combined tracks of which made up their debut album, "The Black Bear Sessions."
That was the beginning of Railroad Earth's journey: since those early days, they've gone on to release five more critically acclaimed studio albums and one hugely popular live one called, "Elko." They've also amassed a huge and loyal fanbase who turn up to support them in every corner of the country, and often take advantage of the band's liberal taping and photo policy. But Railroad Earth bristle at the notion of being lumped into any one "scene." Not out of animosity for any other artists: it's just that they don't find the labels very useful. As Carbone points out, "We use unique acoustic instrumentation, but we're definitely not a bluegrass or country band, which sometimes leaves music writers confused as to how to categorize us. We're essentially playing rock on acoustic instruments."
Ultimately, Railroad Earth's music is driven by the remarkable songs of front-man, Todd Sheaffer, and is delivered with seamless arrangements and superb musicianship courtesy of all six band members. As mandolin/bouzouki player John Skehan points out, "Our M.O. has always been that we can improvise all day long, but we only do it in service to the song. There are a lot of songs that, when we play them live, we adhere to the arrangement from the record. And other songs, in the nature and the spirit of the song, everyone knows we can kind of take flight on them." Sheaffer continues: "The songs are our focus, our focal point; it all starts right there. Anything else just comments on the songs and gives them color. Some songs are more open than others. They 'want' to be approached that way – where we can explore and trade musical ideas and open them up to different territories. But sometimes it is what the song is about."
So: they can jam with the best of them and they have some bluegrass influences, but they use drums and amplifiers (somewhat taboo in the bluegrass world). What kind of music is it then? Mandolin/vocalist John Skehan offers this semi-descriptive term: "I always describe it as a string band, but an amplified string band with drums." Tim Carbone takes a swing: "We're a Country & Eastern band! " Todd Sheaffer offers "A souped-up string band? I don't know. I'm not good at this." Or, as a great drummer/singer/mandolin player with an appreciation for Americana once said: "Rock & roll!"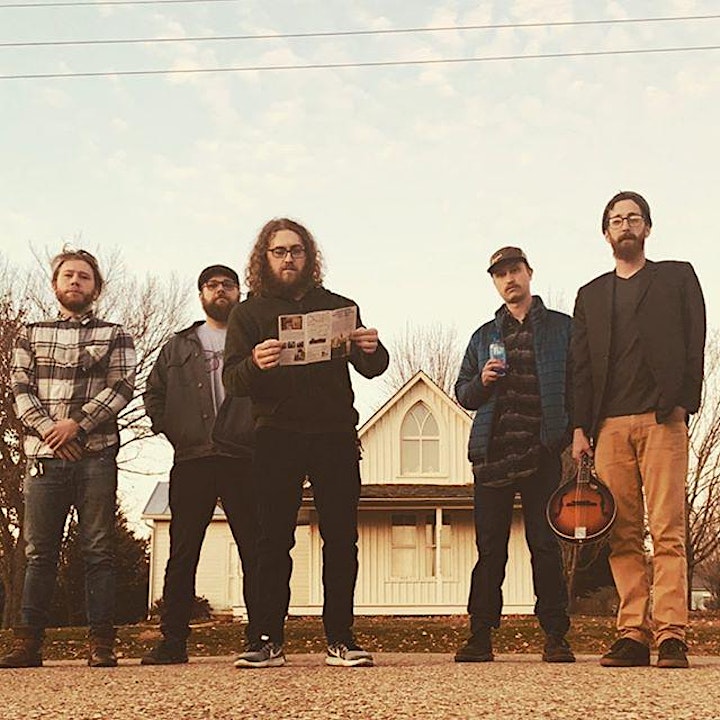 Old Salt Union
Bio: "Old Salt Union has the groove and the chops of a great string band, balanced with infectious rock and roll energy. Their music occupies that sweet space between Old Crow folk and Yonder Mountain jam –not a bad place to be for a band about to break."— No Depression
A great band is more than the proverbial sum of its parts, and in the pursuit of becoming something that can cut through the clutter of YouTube stars and contest show runner-ups, a great roots music band must become a way of life. Less likely to rely on production or image, they've got to connect with their audience only through the craftsmanship of their songs, the energy they channel on the stage and the story that brings them together.
Old Salt Union is a string band founded by a horticulturist, cultivated by classically trained musicians, and fueled by a vocalist/bass player who is also a hip-hop producer with a fondness for the Four Freshmen. It is this collision of styles and musical vocabularies that informs their fresh approach to bluegrass and gives them an electric live performance vibe that seems to pull more from Vaudeville than the front porch.
In 2015 they won the FreshGrass Band contest and found the perfect collaborator in Compass Records co-founder and GRAMMY winning banjoist and composer, Alison Brown, whose attention to detail and high standards pushed the group to develop their influences from beyond a vocabulary to pull from during improvisation and into the foundation of something truly compelling in the roots music landscape.
Violinist John Brighton mentions some names familiar to the Compass roster as key influences, musicians like Darol Anger, Edgar Meyer, Mike Marshall and Mark O'Connor, all of whom have collaborated with Brown in the past. Primary vocalist and bassist, Jesse Farrar (for the indie rock heads – yes, he's related – Son Volt front man Jay Farrar is Jesse's uncle) brings an alternative rock spirit as well as his unique formative experiences as a hip hop producer and bass player for a national tour of The Four Freshmen. The band's self-titled Compass debut combines these instrumental proclivities with pop melodies and harmonies into a coherent piece of work that carves out a road-less-travelled for the band in the now crowded roots music genre.
The album kicks off with a nod to alternative rock sensibilities – a deconstructed symphonic drone creeps in slowly, while Farrar emerges through the atmospherics to deliver the first lines "Stranded on a lonely road/Trying to find my way back home/A dollar and a broken heart/Didn't seem to get me very far". His words are followed by a dramatic moment of silence (a trick often used in hip hop) that quickly launches into "Where I Stand", a hard-driving bluegrass track that gets moving so powerfully you almost don't notice the layer of angelic harmonies flowing consistently underneath.
Mandolinist Justin Wallace takes over lead vocal duties for the second track "Feel My Love" as well as a version of Paul Simon's "You Can Call Me Al". He pops up again on his composition "On My Way" and his no-frills, approachable voice is the perfect complement to Farrar's more gymnastic style. The two work together beautifully on the Wallace-penned, "Hard Line". Wallace is further showcased on the disc's lone instrumental "Flatt Baroque", composed by Brighton, who joins him in some twin mandolin, and it's this more contemplative moment on the album where the listener hears him reaching to be in perfect sync with his bandmate, that best reflects Wallace's role in the evolution story of the band. If Farrar has emerged as the heartbeat, then Wallace is the soul.
Perhaps most surprisingly, the band was founded by banjoist Ryan Murphey, the aforementioned horticulturist who came to bluegrass music and the banjo later in life. Finding a kindred spirit in Dustin Eiskant, the band's former guitarist and Farrar's cousin, the pair started the band in 2012 and Murphey played the banjo and led the band's business through its early incarnations, including the recruitment of Farrar in 2014.
Though the band had established themselves as a growing festival act with performances at LouFest, Stagecoach Festival, Bluegrass Underground, Winter Wondergrass, Freshgrass, Wakarusa, Yonder Mountain String Band's Harvest Festival, and the 2014 Daytona 500, it was their breakout track on Spotify, "Madam Plum" that seemed to amplify awareness of the band beyond the bluegrass bubble.
Of working with the band in the studio, producer Brown says, "These post modern bluegrassers are true renegades. While they look like a bluegrass band, their musical sensibilities run much deeper and broader, borrowing as much from indie rock and jazz fusion as from Bill Monroe. And, even more exciting to me, they know no fear! They are wide open musical adventurers and we had a great time experimenting in the studio at the crossroads of these disparate influences."
The most unexpected but possibly most fascinating song on the album is a ballad entitled "Bought and Sold". Its earnest beauty is balanced with a youthful inventiveness that leaves a solemn mark on the listener who might wake up at the end of it thinking, "What just happened?".
At this point, the future of the band seems marvelously unclear. The album closes with "Here and Off My Mind" which seems like the bluegrass song that Conor Oberst never wrote featuring a lyric that ends with the promise of "a better life" though from the all-hands-on-deck jam session that breaks out in the middle (is that a kazoo?) one gets the sense that the band can't imagine a better one than they have in the beat up Winnebago they currently call home.
Other Shows You Might Like
Similar Artists