Movie Monday at The Vogue Theatre – "National Lampoon's Christmas Vacation"
Back to our roots with Movie Mondays at The Vogue!
Experience these epic movie soundtracks through The Vogue's concert PA and enjoy the screening on our LED video wall.
The dance floor will be seated and drinks available of course!
______________________________________
Monday, December 21
Doors 7 PM / Start 8 PM
$5 Tickets
GA w/ Chairs on the dance floor
______________________________________
"National Lampoon's Christmas Vacation"
Trailer: It's Christmas time and the Griswolds are preparing for a family seasonal celebration, but things never run smoothly for Clark, his wife Ellen and their two kids. Clark's continual bad luck is worsened by his obnoxious family guests, but he manages to keep going knowing that his Christmas bonus is due soon. Written by Rob Hartill(IMDb)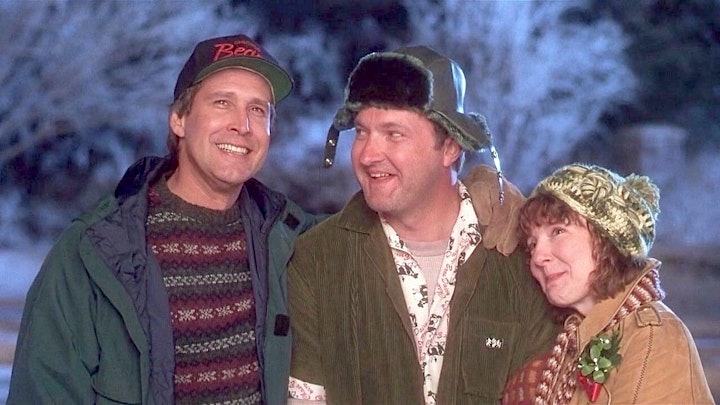 The Vogue Theatre got back to their roots with an amazing sold-out screening of The Rocky Horror Picture Show for Movie Monday on October 14, 2019. Photo cred Melodie Yvonne
The Vogue Theatre got back to their roots with an amazing sold-out screening of The Rocky Horror Picture Show for Movie Monday on October 14, 2019. Photo cred Melodie Yvonne
The Vogue Theatre got back to their roots with an amazing sold-out screening of The Rocky Horror Picture Show for Movie Monday on October 14, 2019. Photo cred Melodie Yvonne
The Vogue Theatre got back to their roots with an amazing sold-out screening of The Rocky Horror Picture Show for Movie Monday on October 14, 2019. Photo cred Melodie Yvonne
The Vogue Theatre got back to their roots with an amazing sold-out screening of The Rocky Horror Picture Show for Movie Monday on October 14, 2019. Photo cred Melodie Yvonne
The Vogue Theatre got back to their roots with an amazing sold-out screening of The Rocky Horror Picture Show for Movie Monday on October 14, 2019. Photo cred Melodie Yvonne
The Vogue Theatre got back to their roots with an amazing sold-out screening of The Rocky Horror Picture Show for Movie Monday on October 14, 2019. Photo cred Melodie Yvonne
The Vogue Theatre got back to their roots with an amazing sold-out screening of The Rocky Horror Picture Show for Movie Monday on October 14, 2019. Photo cred Melodie Yvonne
+88 More
The Vogue Theatre got back to their roots with an amazing sold-out screening of The Rocky Horror Picture Show for Movie Monday on October 14, 2019. Photo cred Melodie Yvonne
The Vogue Theatre got back to their roots with an amazing sold-out screening of The Rocky Horror Picture Show for Movie Monday on October 14, 2019. Photo cred Melodie Yvonne
The Vogue Theatre got back to their roots with an amazing sold-out screening of The Rocky Horror Picture Show for Movie Monday on October 14, 2019. Photo cred Melodie Yvonne
The Vogue Theatre got back to their roots with an amazing sold-out screening of The Rocky Horror Picture Show for Movie Monday on October 14, 2019. Photo cred Melodie Yvonne
The Vogue Theatre got back to their roots with an amazing sold-out screening of The Rocky Horror Picture Show for Movie Monday on October 14, 2019. Photo cred Melodie Yvonne
The Vogue Theatre got back to their roots with an amazing sold-out screening of The Rocky Horror Picture Show for Movie Monday on October 14, 2019. Photo cred Melodie Yvonne
The Vogue Theatre got back to their roots with an amazing sold-out screening of The Rocky Horror Picture Show for Movie Monday on October 14, 2019. Photo cred Melodie Yvonne
The Vogue Theatre got back to their roots with an amazing sold-out screening of The Rocky Horror Picture Show for Movie Monday on October 14, 2019. Photo cred Melodie Yvonne
The Vogue Theatre got back to their roots with an amazing sold-out screening of The Rocky Horror Picture Show for Movie Monday on October 14, 2019. Photo cred Melodie Yvonne
The Vogue Theatre got back to their roots with an amazing sold-out screening of The Rocky Horror Picture Show for Movie Monday on October 14, 2019. Photo cred Melodie Yvonne
The Vogue Theatre got back to their roots with an amazing sold-out screening of The Rocky Horror Picture Show for Movie Monday on October 14, 2019. Photo cred Melodie Yvonne
The Vogue Theatre got back to their roots with an amazing sold-out screening of The Rocky Horror Picture Show for Movie Monday on October 14, 2019. Photo cred Melodie Yvonne
The Vogue Theatre got back to their roots with an amazing sold-out screening of The Rocky Horror Picture Show for Movie Monday on October 14, 2019. Photo cred Melodie Yvonne
The Vogue Theatre got back to their roots with an amazing sold-out screening of The Rocky Horror Picture Show for Movie Monday on October 14, 2019. Photo cred Melodie Yvonne
The Vogue Theatre got back to their roots with an amazing sold-out screening of The Rocky Horror Picture Show for Movie Monday on October 14, 2019. Photo cred Melodie Yvonne
The Vogue Theatre got back to their roots with an amazing sold-out screening of The Rocky Horror Picture Show for Movie Monday on October 14, 2019. Photo cred Melodie Yvonne
The Vogue Theatre got back to their roots with an amazing sold-out screening of The Rocky Horror Picture Show for Movie Monday on October 14, 2019. Photo cred Melodie Yvonne
The Vogue Theatre got back to their roots with an amazing sold-out screening of The Rocky Horror Picture Show for Movie Monday on October 14, 2019. Photo cred Melodie Yvonne
The Vogue Theatre got back to their roots with an amazing sold-out screening of The Rocky Horror Picture Show for Movie Monday on October 14, 2019. Photo cred Melodie Yvonne
The Vogue Theatre got back to their roots with an amazing sold-out screening of The Rocky Horror Picture Show for Movie Monday on October 14, 2019. Photo cred Melodie Yvonne
The Vogue Theatre got back to their roots with an amazing sold-out screening of The Rocky Horror Picture Show for Movie Monday on October 14, 2019. Photo cred Melodie Yvonne
The Vogue Theatre got back to their roots with an amazing sold-out screening of The Rocky Horror Picture Show for Movie Monday on October 14, 2019. Photo cred Melodie Yvonne
The Vogue Theatre got back to their roots with an amazing sold-out screening of The Rocky Horror Picture Show for Movie Monday on October 14, 2019. Photo cred Melodie Yvonne
The Vogue Theatre got back to their roots with an amazing sold-out screening of The Rocky Horror Picture Show for Movie Monday on October 14, 2019. Photo cred Melodie Yvonne
The Vogue Theatre got back to their roots with an amazing sold-out screening of The Rocky Horror Picture Show for Movie Monday on October 14, 2019. Photo cred Melodie Yvonne
The Vogue Theatre got back to their roots with an amazing sold-out screening of The Rocky Horror Picture Show for Movie Monday on October 14, 2019. Photo cred Melodie Yvonne
The Vogue Theatre got back to their roots with an amazing sold-out screening of The Rocky Horror Picture Show for Movie Monday on October 14, 2019. Photo cred Melodie Yvonne
The Vogue Theatre got back to their roots with an amazing sold-out screening of The Rocky Horror Picture Show for Movie Monday on October 14, 2019. Photo cred Melodie Yvonne
The Vogue Theatre got back to their roots with an amazing sold-out screening of The Rocky Horror Picture Show for Movie Monday on October 14, 2019. Photo cred Melodie Yvonne
The Vogue Theatre got back to their roots with an amazing sold-out screening of The Rocky Horror Picture Show for Movie Monday on October 14, 2019. Photo cred Melodie Yvonne
The Vogue Theatre got back to their roots with an amazing sold-out screening of The Rocky Horror Picture Show for Movie Monday on October 14, 2019. Photo cred Melodie Yvonne
The Vogue Theatre got back to their roots with an amazing sold-out screening of The Rocky Horror Picture Show for Movie Monday on October 14, 2019. Photo cred Melodie Yvonne
The Vogue Theatre got back to their roots with an amazing sold-out screening of The Rocky Horror Picture Show for Movie Monday on October 14, 2019. Photo cred Melodie Yvonne
The Vogue Theatre got back to their roots with an amazing sold-out screening of The Rocky Horror Picture Show for Movie Monday on October 14, 2019. Photo cred Melodie Yvonne
The Vogue Theatre got back to their roots with an amazing sold-out screening of The Rocky Horror Picture Show for Movie Monday on October 14, 2019. Photo cred Melodie Yvonne
The Vogue Theatre got back to their roots with an amazing sold-out screening of The Rocky Horror Picture Show for Movie Monday on October 14, 2019. Photo cred Melodie Yvonne
The Vogue Theatre got back to their roots with an amazing sold-out screening of The Rocky Horror Picture Show for Movie Monday on October 14, 2019. Photo cred Melodie Yvonne
The Vogue Theatre got back to their roots with an amazing sold-out screening of The Rocky Horror Picture Show for Movie Monday on October 14, 2019. Photo cred Melodie Yvonne
The Vogue Theatre got back to their roots with an amazing sold-out screening of The Rocky Horror Picture Show for Movie Monday on October 14, 2019. Photo cred Melodie Yvonne
The Vogue Theatre got back to their roots with an amazing sold-out screening of The Rocky Horror Picture Show for Movie Monday on October 14, 2019. Photo cred Melodie Yvonne
The Vogue Theatre got back to their roots with an amazing sold-out screening of The Rocky Horror Picture Show for Movie Monday on October 14, 2019. Photo cred Melodie Yvonne
The Vogue Theatre got back to their roots with an amazing sold-out screening of The Rocky Horror Picture Show for Movie Monday on October 14, 2019. Photo cred Melodie Yvonne
The Vogue Theatre got back to their roots with an amazing sold-out screening of The Rocky Horror Picture Show for Movie Monday on October 14, 2019. Photo cred Melodie Yvonne
The Vogue Theatre got back to their roots with an amazing sold-out screening of The Rocky Horror Picture Show for Movie Monday on October 14, 2019. Photo cred Melodie Yvonne
The Vogue Theatre got back to their roots with an amazing sold-out screening of The Rocky Horror Picture Show for Movie Monday on October 14, 2019. Photo cred Melodie Yvonne
The Vogue Theatre got back to their roots with an amazing sold-out screening of The Rocky Horror Picture Show for Movie Monday on October 14, 2019. Photo cred Melodie Yvonne
The Vogue Theatre got back to their roots with an amazing sold-out screening of The Rocky Horror Picture Show for Movie Monday on October 14, 2019. Photo cred Melodie Yvonne
The Vogue Theatre got back to their roots with an amazing sold-out screening of The Rocky Horror Picture Show for Movie Monday on October 14, 2019. Photo cred Melodie Yvonne
The Vogue Theatre got back to their roots with an amazing sold-out screening of The Rocky Horror Picture Show for Movie Monday on October 14, 2019. Photo cred Melodie Yvonne
The Vogue Theatre got back to their roots with an amazing sold-out screening of The Rocky Horror Picture Show for Movie Monday on October 14, 2019. Photo cred Melodie Yvonne
The Vogue Theatre got back to their roots with an amazing sold-out screening of The Rocky Horror Picture Show for Movie Monday on October 14, 2019. Photo cred Melodie Yvonne
The Vogue Theatre got back to their roots with an amazing sold-out screening of The Rocky Horror Picture Show for Movie Monday on October 14, 2019. Photo cred Melodie Yvonne
The Vogue Theatre got back to their roots with an amazing sold-out screening of The Rocky Horror Picture Show for Movie Monday on October 14, 2019. Photo cred Melodie Yvonne
The Vogue Theatre got back to their roots with an amazing sold-out screening of The Rocky Horror Picture Show for Movie Monday on October 14, 2019. Photo cred Melodie Yvonne
The Vogue Theatre got back to their roots with an amazing sold-out screening of The Rocky Horror Picture Show for Movie Monday on October 14, 2019. Photo cred Melodie Yvonne
The Vogue Theatre got back to their roots with an amazing sold-out screening of The Rocky Horror Picture Show for Movie Monday on October 14, 2019. Photo cred Melodie Yvonne
The Vogue Theatre got back to their roots with an amazing sold-out screening of The Rocky Horror Picture Show for Movie Monday on October 14, 2019. Photo cred Melodie Yvonne
The Vogue Theatre got back to their roots with an amazing sold-out screening of The Rocky Horror Picture Show for Movie Monday on October 14, 2019. Photo cred Melodie Yvonne
The Vogue Theatre got back to their roots with an amazing sold-out screening of The Rocky Horror Picture Show for Movie Monday on October 14, 2019. Photo cred Melodie Yvonne
The Vogue Theatre got back to their roots with an amazing sold-out screening of The Rocky Horror Picture Show for Movie Monday on October 14, 2019. Photo cred Melodie Yvonne
The Vogue Theatre got back to their roots with an amazing sold-out screening of The Rocky Horror Picture Show for Movie Monday on October 14, 2019. Photo cred Melodie Yvonne
The Vogue Theatre got back to their roots with an amazing sold-out screening of The Rocky Horror Picture Show for Movie Monday on October 14, 2019. Photo cred Melodie Yvonne
The Vogue Theatre got back to their roots with an amazing sold-out screening of The Rocky Horror Picture Show for Movie Monday on October 14, 2019. Photo cred Melodie Yvonne
The Vogue Theatre got back to their roots with an amazing sold-out screening of The Rocky Horror Picture Show for Movie Monday on October 14, 2019. Photo cred Melodie Yvonne
The Vogue Theatre got back to their roots with an amazing sold-out screening of The Rocky Horror Picture Show for Movie Monday on October 14, 2019. Photo cred Melodie Yvonne
The Vogue Theatre got back to their roots with an amazing sold-out screening of The Rocky Horror Picture Show for Movie Monday on October 14, 2019. Photo cred Melodie Yvonne
The Vogue Theatre got back to their roots with an amazing sold-out screening of The Rocky Horror Picture Show for Movie Monday on October 14, 2019. Photo cred Melodie Yvonne
The Vogue Theatre got back to their roots with an amazing sold-out screening of The Rocky Horror Picture Show for Movie Monday on October 14, 2019. Photo cred Melodie Yvonne
The Vogue Theatre got back to their roots with an amazing sold-out screening of The Rocky Horror Picture Show for Movie Monday on October 14, 2019. Photo cred Melodie Yvonne
The Vogue Theatre got back to their roots with an amazing sold-out screening of The Rocky Horror Picture Show for Movie Monday on October 14, 2019. Photo cred Melodie Yvonne
The Vogue Theatre got back to their roots with an amazing sold-out screening of The Rocky Horror Picture Show for Movie Monday on October 14, 2019. Photo cred Melodie Yvonne
The Vogue Theatre got back to their roots with an amazing sold-out screening of The Rocky Horror Picture Show for Movie Monday on October 14, 2019. Photo cred Melodie Yvonne
The Vogue Theatre got back to their roots with an amazing sold-out screening of The Rocky Horror Picture Show for Movie Monday on October 14, 2019. Photo cred Melodie Yvonne
The Vogue Theatre got back to their roots with an amazing sold-out screening of The Rocky Horror Picture Show for Movie Monday on October 14, 2019. Photo cred Melodie Yvonne
The Vogue Theatre got back to their roots with an amazing sold-out screening of The Rocky Horror Picture Show for Movie Monday on October 14, 2019. Photo cred Melodie Yvonne
The Vogue Theatre got back to their roots with an amazing sold-out screening of The Rocky Horror Picture Show for Movie Monday on October 14, 2019. Photo cred Melodie Yvonne
The Vogue Theatre got back to their roots with an amazing sold-out screening of The Rocky Horror Picture Show for Movie Monday on October 14, 2019. Photo cred Melodie Yvonne
The Vogue Theatre got back to their roots with an amazing sold-out screening of The Rocky Horror Picture Show for Movie Monday on October 14, 2019. Photo cred Melodie Yvonne
The Vogue Theatre got back to their roots with an amazing sold-out screening of The Rocky Horror Picture Show for Movie Monday on October 14, 2019. Photo cred Melodie Yvonne
The Vogue Theatre got back to their roots with an amazing sold-out screening of The Rocky Horror Picture Show for Movie Monday on October 14, 2019. Photo cred Melodie Yvonne
The Vogue Theatre got back to their roots with an amazing sold-out screening of The Rocky Horror Picture Show for Movie Monday on October 14, 2019. Photo cred Melodie Yvonne
The Vogue Theatre got back to their roots with an amazing sold-out screening of The Rocky Horror Picture Show for Movie Monday on October 14, 2019. Photo cred Melodie Yvonne
The Vogue Theatre got back to their roots with an amazing sold-out screening of The Rocky Horror Picture Show for Movie Monday on October 14, 2019. Photo cred Melodie Yvonne
The Vogue Theatre got back to their roots with an amazing sold-out screening of The Rocky Horror Picture Show for Movie Monday on October 14, 2019. Photo cred Melodie Yvonne
The Vogue Theatre got back to their roots with an amazing sold-out screening of The Rocky Horror Picture Show for Movie Monday on October 14, 2019. Photo cred Melodie Yvonne
The Vogue Theatre got back to their roots with an amazing sold-out screening of The Rocky Horror Picture Show for Movie Monday on October 14, 2019. Photo cred Melodie Yvonne
The Vogue Theatre got back to their roots with an amazing sold-out screening of The Rocky Horror Picture Show for Movie Monday on October 14, 2019. Photo cred Melodie Yvonne
The Vogue Theatre got back to their roots with an amazing sold-out screening of The Rocky Horror Picture Show for Movie Monday on October 14, 2019. Photo cred Melodie Yvonne
Other Shows You Might Like
Similar Artists