Sun King Concert Series
Machine Head
Burn My Eyes 25th Anniversary Tour
Tue Feb 11, 2020
7:00 PM / Show: 8:00 PM
21+
$12.50 to $30
Machine Head at The Vogue – Indianapolis
Undisputed masters of murderous riffs, pugnacious grooves and ferocious hooks since 1991, Machine Head are long established as one of the most influential and incendiary bands in the metal world. Exploding into the world's consciousness with 1994's seminal Burn My Eyes album, the now legendary Oakland crew brutishly redefined what it meant to be heavy, incorporating a wild array of influences into some of the sharpest and most brutal metal anthems ever written. Nearly three decades later, the band founded and led by vocalist/guitarist Robb Flynn has amassed an extraordinary catalogue of classic albums, while routinely enhancing an already formidable reputation as one of heavy music's most powerful and relentless live bands.
From the controversial but hugely successful experiments of 1999's The Burning Red to the globe-conquering might and bombast of 2006's The Blackening (which saw them tour the world for 3 full years, supporting Metallica along the way) Machine Head have never stagnated creatively or taken their foot from the artistic accelerator. With albums like 2014's Bloodstone & Diamonds and 2018's diverse, destructive and politically-supercharged Catharsis, Machine Head have continued their exhilarating evolution, while never losing the furious spirit of their old school, underground roots. Impervious to trends and proud to stand alone: Machine Head is still the bulldozer that crushes all!
Tuesday, February 11
Doors 7:00 PM / Start 8:00 PM
$25 GA Advance / $30 GA Day Of Show / 21+
General Admission w/ Limited Seating
VIP Table / Premium Upgrades are available here:
http://bit.ly/MachineHeadPremium
Machine Head
https://www.facebook.com/pg/MachineHead
Band Members
Robb Flynn – Lead Vocals, Guitar
Dave McClain – Drums
Phil Demmel – Lead Guitar
Jared MacEachern – Bass, Vocals
Hometown
Oakland, CA
Record Label
Nuclear Blast Entertainment
About
New album, CATHARSIS, out worldwide via Nuclear Blast Entertainment.
Order Album: http://machinehead1.com/catharsis /
Tour Dates: http://machinehead1.com/tour.
Official Site: www.machinehead1.com
US Merch Store: store.machinehead1.com
EU Merch Store: www.backstreet-merch.com/stores/machinehead/
Awards
The Blackening – Metal Hammer: Album Of The Decade
Through The Ashes Of Empires – Metal Hammer: Album Of The Year
Unto The Locust: Billboard #22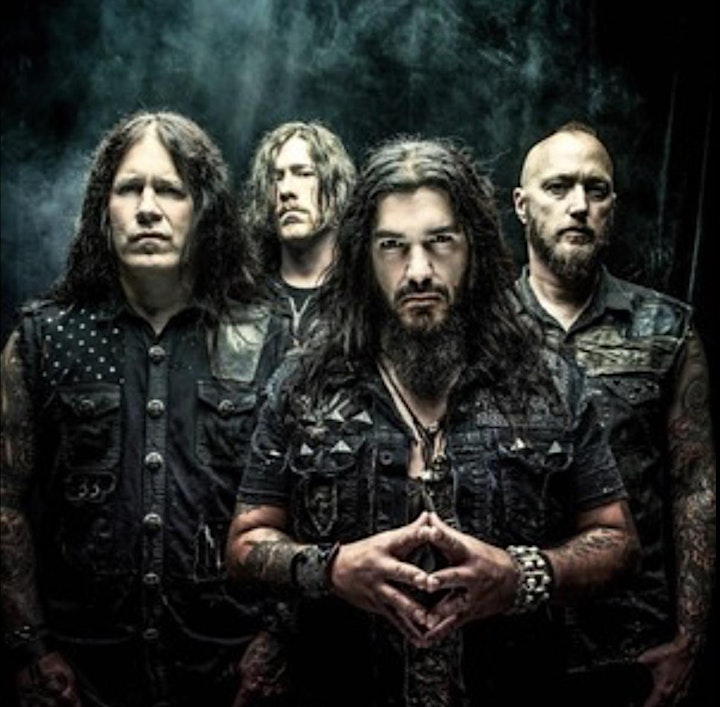 Machine Head powerfully delivered two electrifying sets at The Vogue Theatre in Indianapolis, Indiana on Tuesday, February 11, 2020. Photo cred Melodie Yvonne
Machine Head powerfully delivered two electrifying sets at The Vogue Theatre in Indianapolis, Indiana on Tuesday, February 11, 2020. Photo cred Melodie Yvonne
Machine Head powerfully delivered two electrifying sets at The Vogue Theatre in Indianapolis, Indiana on Tuesday, February 11, 2020. Photo cred Melodie Yvonne
Machine Head powerfully delivered two electrifying sets at The Vogue Theatre in Indianapolis, Indiana on Tuesday, February 11, 2020. Photo cred Melodie Yvonne
Machine Head powerfully delivered two electrifying sets at The Vogue Theatre in Indianapolis, Indiana on Tuesday, February 11, 2020. Photo cred Melodie Yvonne
Machine Head powerfully delivered two electrifying sets at The Vogue Theatre in Indianapolis, Indiana on Tuesday, February 11, 2020. Photo cred Melodie Yvonne
Machine Head powerfully delivered two electrifying sets at The Vogue Theatre in Indianapolis, Indiana on Tuesday, February 11, 2020. Photo cred Melodie Yvonne
Machine Head powerfully delivered two electrifying sets at The Vogue Theatre in Indianapolis, Indiana on Tuesday, February 11, 2020. Photo cred Melodie Yvonne
+70 More
Machine Head powerfully delivered two electrifying sets at The Vogue Theatre in Indianapolis, Indiana on Tuesday, February 11, 2020. Photo cred Melodie Yvonne
Machine Head powerfully delivered two electrifying sets at The Vogue Theatre in Indianapolis, Indiana on Tuesday, February 11, 2020. Photo cred Melodie Yvonne
Machine Head powerfully delivered two electrifying sets at The Vogue Theatre in Indianapolis, Indiana on Tuesday, February 11, 2020. Photo cred Melodie Yvonne
Machine Head powerfully delivered two electrifying sets at The Vogue Theatre in Indianapolis, Indiana on Tuesday, February 11, 2020. Photo cred Melodie Yvonne
Machine Head powerfully delivered two electrifying sets at The Vogue Theatre in Indianapolis, Indiana on Tuesday, February 11, 2020. Photo cred Melodie Yvonne
Machine Head powerfully delivered two electrifying sets at The Vogue Theatre in Indianapolis, Indiana on Tuesday, February 11, 2020. Photo cred Melodie Yvonne
Machine Head powerfully delivered two electrifying sets at The Vogue Theatre in Indianapolis, Indiana on Tuesday, February 11, 2020. Photo cred Melodie Yvonne
Machine Head powerfully delivered two electrifying sets at The Vogue Theatre in Indianapolis, Indiana on Tuesday, February 11, 2020. Photo cred Melodie Yvonne
Machine Head powerfully delivered two electrifying sets at The Vogue Theatre in Indianapolis, Indiana on Tuesday, February 11, 2020. Photo cred Melodie Yvonne
Machine Head powerfully delivered two electrifying sets at The Vogue Theatre in Indianapolis, Indiana on Tuesday, February 11, 2020. Photo cred Melodie Yvonne
Machine Head powerfully delivered two electrifying sets at The Vogue Theatre in Indianapolis, Indiana on Tuesday, February 11, 2020. Photo cred Melodie Yvonne
Machine Head powerfully delivered two electrifying sets at The Vogue Theatre in Indianapolis, Indiana on Tuesday, February 11, 2020. Photo cred Melodie Yvonne
Machine Head powerfully delivered two electrifying sets at The Vogue Theatre in Indianapolis, Indiana on Tuesday, February 11, 2020. Photo cred Melodie Yvonne
Machine Head powerfully delivered two electrifying sets at The Vogue Theatre in Indianapolis, Indiana on Tuesday, February 11, 2020. Photo cred Melodie Yvonne
Machine Head powerfully delivered two electrifying sets at The Vogue Theatre in Indianapolis, Indiana on Tuesday, February 11, 2020. Photo cred Melodie Yvonne
Machine Head powerfully delivered two electrifying sets at The Vogue Theatre in Indianapolis, Indiana on Tuesday, February 11, 2020. Photo cred Melodie Yvonne
Machine Head powerfully delivered two electrifying sets at The Vogue Theatre in Indianapolis, Indiana on Tuesday, February 11, 2020. Photo cred Melodie Yvonne
Machine Head powerfully delivered two electrifying sets at The Vogue Theatre in Indianapolis, Indiana on Tuesday, February 11, 2020. Photo cred Melodie Yvonne
Machine Head powerfully delivered two electrifying sets at The Vogue Theatre in Indianapolis, Indiana on Tuesday, February 11, 2020. Photo cred Melodie Yvonne
Machine Head powerfully delivered two electrifying sets at The Vogue Theatre in Indianapolis, Indiana on Tuesday, February 11, 2020. Photo cred Melodie Yvonne
Machine Head powerfully delivered two electrifying sets at The Vogue Theatre in Indianapolis, Indiana on Tuesday, February 11, 2020. Photo cred Melodie Yvonne
Machine Head powerfully delivered two electrifying sets at The Vogue Theatre in Indianapolis, Indiana on Tuesday, February 11, 2020. Photo cred Melodie Yvonne
Machine Head powerfully delivered two electrifying sets at The Vogue Theatre in Indianapolis, Indiana on Tuesday, February 11, 2020. Photo cred Melodie Yvonne
Machine Head powerfully delivered two electrifying sets at The Vogue Theatre in Indianapolis, Indiana on Tuesday, February 11, 2020. Photo cred Melodie Yvonne
Machine Head powerfully delivered two electrifying sets at The Vogue Theatre in Indianapolis, Indiana on Tuesday, February 11, 2020. Photo cred Melodie Yvonne
Machine Head powerfully delivered two electrifying sets at The Vogue Theatre in Indianapolis, Indiana on Tuesday, February 11, 2020. Photo cred Melodie Yvonne
Machine Head powerfully delivered two electrifying sets at The Vogue Theatre in Indianapolis, Indiana on Tuesday, February 11, 2020. Photo cred Melodie Yvonne
Machine Head powerfully delivered two electrifying sets at The Vogue Theatre in Indianapolis, Indiana on Tuesday, February 11, 2020. Photo cred Melodie Yvonne
Machine Head powerfully delivered two electrifying sets at The Vogue Theatre in Indianapolis, Indiana on Tuesday, February 11, 2020. Photo cred Melodie Yvonne
Machine Head powerfully delivered two electrifying sets at The Vogue Theatre in Indianapolis, Indiana on Tuesday, February 11, 2020. Photo cred Melodie Yvonne
Machine Head powerfully delivered two electrifying sets at The Vogue Theatre in Indianapolis, Indiana on Tuesday, February 11, 2020. Photo cred Melodie Yvonne
Machine Head powerfully delivered two electrifying sets at The Vogue Theatre in Indianapolis, Indiana on Tuesday, February 11, 2020. Photo cred Melodie Yvonne
Machine Head powerfully delivered two electrifying sets at The Vogue Theatre in Indianapolis, Indiana on Tuesday, February 11, 2020. Photo cred Melodie Yvonne
Machine Head powerfully delivered two electrifying sets at The Vogue Theatre in Indianapolis, Indiana on Tuesday, February 11, 2020. Photo cred Melodie Yvonne
Machine Head powerfully delivered two electrifying sets at The Vogue Theatre in Indianapolis, Indiana on Tuesday, February 11, 2020. Photo cred Melodie Yvonne
Machine Head powerfully delivered two electrifying sets at The Vogue Theatre in Indianapolis, Indiana on Tuesday, February 11, 2020. Photo cred Melodie Yvonne
Machine Head powerfully delivered two electrifying sets at The Vogue Theatre in Indianapolis, Indiana on Tuesday, February 11, 2020. Photo cred Melodie Yvonne
Machine Head powerfully delivered two electrifying sets at The Vogue Theatre in Indianapolis, Indiana on Tuesday, February 11, 2020. Photo cred Melodie Yvonne
Machine Head powerfully delivered two electrifying sets at The Vogue Theatre in Indianapolis, Indiana on Tuesday, February 11, 2020. Photo cred Melodie Yvonne
Machine Head powerfully delivered two electrifying sets at The Vogue Theatre in Indianapolis, Indiana on Tuesday, February 11, 2020. Photo cred Melodie Yvonne
Machine Head powerfully delivered two electrifying sets at The Vogue Theatre in Indianapolis, Indiana on Tuesday, February 11, 2020. Photo cred Melodie Yvonne
Machine Head powerfully delivered two electrifying sets at The Vogue Theatre in Indianapolis, Indiana on Tuesday, February 11, 2020. Photo cred Melodie Yvonne
Machine Head powerfully delivered two electrifying sets at The Vogue Theatre in Indianapolis, Indiana on Tuesday, February 11, 2020. Photo cred Melodie Yvonne
Machine Head powerfully delivered two electrifying sets at The Vogue Theatre in Indianapolis, Indiana on Tuesday, February 11, 2020. Photo cred Melodie Yvonne
Machine Head powerfully delivered two electrifying sets at The Vogue Theatre in Indianapolis, Indiana on Tuesday, February 11, 2020. Photo cred Melodie Yvonne
Machine Head powerfully delivered two electrifying sets at The Vogue Theatre in Indianapolis, Indiana on Tuesday, February 11, 2020. Photo cred Melodie Yvonne
Machine Head powerfully delivered two electrifying sets at The Vogue Theatre in Indianapolis, Indiana on Tuesday, February 11, 2020. Photo cred Melodie Yvonne
Machine Head powerfully delivered two electrifying sets at The Vogue Theatre in Indianapolis, Indiana on Tuesday, February 11, 2020. Photo cred Melodie Yvonne
Machine Head powerfully delivered two electrifying sets at The Vogue Theatre in Indianapolis, Indiana on Tuesday, February 11, 2020. Photo cred Melodie Yvonne
Machine Head powerfully delivered two electrifying sets at The Vogue Theatre in Indianapolis, Indiana on Tuesday, February 11, 2020. Photo cred Melodie Yvonne
Machine Head powerfully delivered two electrifying sets at The Vogue Theatre in Indianapolis, Indiana on Tuesday, February 11, 2020. Photo cred Melodie Yvonne
Machine Head powerfully delivered two electrifying sets at The Vogue Theatre in Indianapolis, Indiana on Tuesday, February 11, 2020. Photo cred Melodie Yvonne
Machine Head powerfully delivered two electrifying sets at The Vogue Theatre in Indianapolis, Indiana on Tuesday, February 11, 2020. Photo cred Melodie Yvonne
Machine Head powerfully delivered two electrifying sets at The Vogue Theatre in Indianapolis, Indiana on Tuesday, February 11, 2020. Photo cred Melodie Yvonne
Machine Head powerfully delivered two electrifying sets at The Vogue Theatre in Indianapolis, Indiana on Tuesday, February 11, 2020. Photo cred Melodie Yvonne
Machine Head powerfully delivered two electrifying sets at The Vogue Theatre in Indianapolis, Indiana on Tuesday, February 11, 2020. Photo cred Melodie Yvonne
Machine Head powerfully delivered two electrifying sets at The Vogue Theatre in Indianapolis, Indiana on Tuesday, February 11, 2020. Photo cred Melodie Yvonne
Machine Head powerfully delivered two electrifying sets at The Vogue Theatre in Indianapolis, Indiana on Tuesday, February 11, 2020. Photo cred Melodie Yvonne
Machine Head powerfully delivered two electrifying sets at The Vogue Theatre in Indianapolis, Indiana on Tuesday, February 11, 2020. Photo cred Melodie Yvonne
Machine Head powerfully delivered two electrifying sets at The Vogue Theatre in Indianapolis, Indiana on Tuesday, February 11, 2020. Photo cred Melodie Yvonne
Machine Head powerfully delivered two electrifying sets at The Vogue Theatre in Indianapolis, Indiana on Tuesday, February 11, 2020. Photo cred Melodie Yvonne
Machine Head powerfully delivered two electrifying sets at The Vogue Theatre in Indianapolis, Indiana on Tuesday, February 11, 2020. Photo cred Melodie Yvonne
Machine Head powerfully delivered two electrifying sets at The Vogue Theatre in Indianapolis, Indiana on Tuesday, February 11, 2020. Photo cred Melodie Yvonne
Machine Head powerfully delivered two electrifying sets at The Vogue Theatre in Indianapolis, Indiana on Tuesday, February 11, 2020. Photo cred Melodie Yvonne
Machine Head powerfully delivered two electrifying sets at The Vogue Theatre in Indianapolis, Indiana on Tuesday, February 11, 2020. Photo cred Melodie Yvonne
Machine Head powerfully delivered two electrifying sets at The Vogue Theatre in Indianapolis, Indiana on Tuesday, February 11, 2020. Photo cred Melodie Yvonne
Machine Head powerfully delivered two electrifying sets at The Vogue Theatre in Indianapolis, Indiana on Tuesday, February 11, 2020. Photo cred Melodie Yvonne
Machine Head powerfully delivered two electrifying sets at The Vogue Theatre in Indianapolis, Indiana on Tuesday, February 11, 2020. Photo cred Melodie Yvonne
Machine Head powerfully delivered two electrifying sets at The Vogue Theatre in Indianapolis, Indiana on Tuesday, February 11, 2020. Photo cred Melodie Yvonne
Machine Head powerfully delivered two electrifying sets at The Vogue Theatre in Indianapolis, Indiana on Tuesday, February 11, 2020. Photo cred Melodie Yvonne
Other Shows You Might Like
Similar Artists