IndyMojo Presents
Keller & The Keels
Sat Jan 25, 2020
8:00 PM / Show: 9:00 PM
21+
$25 to $30
Keller & The Keels at The Vogue – Indianapolis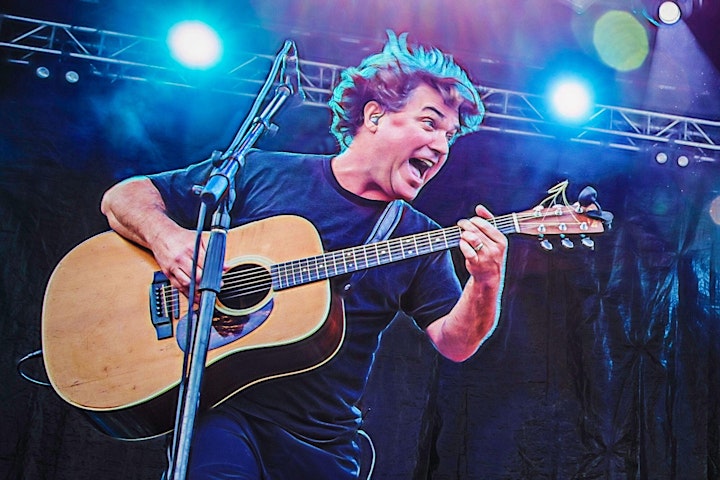 KELLER WILLIAMS is the original Jam-Man (the one-man jam-band) and has been blowing crowds away since 1991.
Keller is famous for his use of phrase looping with multiple instruments, and doing it LIVE to create an unforgettable experience for audiences. A true entertainer, his music combines elements of bluegrass, folk, alternative rock, reggae, electronica/dance, jazz, funk, and other assorted genres.
Williams released his 25th studio album, SPEED, in the Fall of 2019, which sees him reunited with his Bluegrass outfit, Keller & The Keels, as they reinterpret popular songs by celebrated artists including The Doors, Kacey Musgraves, Fiona Apple, Weezer and more.
SPEED is the trio's third collaboration together and features a combination of originals and covers, performed in their trademark psychedelic Appalachian bluegrass style. Once again showcasing Williams' masterful penchant for collaboration and innovation, SPEED proves he's not planning to slow down any time soon.
Don't miss his one-of-a kind performance at The Vogue this Saturday, January 25th!
Saturday, January 25th
Doors 8pm / Show 9pm / 21+
$25 Advance / $30 Day Of Show
More About Keller Williams
IndyMojo Presents Keller Williams & The Keels was a beautiful musical experience at The Vogue Theatre on Saturday, January 25, 2020. Photo cred Melodie Yvonne
IndyMojo Presents Keller Williams & The Keels was a beautiful musical experience at The Vogue Theatre on Saturday, January 25, 2020. Photo cred Melodie Yvonne
IndyMojo Presents Keller Williams & The Keels was a beautiful musical experience at The Vogue Theatre on Saturday, January 25, 2020. Photo cred Melodie Yvonne
IndyMojo Presents Keller Williams & The Keels was a beautiful musical experience at The Vogue Theatre on Saturday, January 25, 2020. Photo cred Melodie Yvonne
IndyMojo Presents Keller Williams & The Keels was a beautiful musical experience at The Vogue Theatre on Saturday, January 25, 2020. Photo cred Melodie Yvonne
IndyMojo Presents Keller Williams & The Keels was a beautiful musical experience at The Vogue Theatre on Saturday, January 25, 2020. Photo cred Melodie Yvonne
IndyMojo Presents Keller Williams & The Keels was a beautiful musical experience at The Vogue Theatre on Saturday, January 25, 2020. Photo cred Melodie Yvonne
IndyMojo Presents Keller Williams & The Keels was a beautiful musical experience at The Vogue Theatre on Saturday, January 25, 2020. Photo cred Melodie Yvonne
+67 More
IndyMojo Presents Keller Williams & The Keels was a beautiful musical experience at The Vogue Theatre on Saturday, January 25, 2020. Photo cred Melodie Yvonne
IndyMojo Presents Keller Williams & The Keels was a beautiful musical experience at The Vogue Theatre on Saturday, January 25, 2020. Photo cred Melodie Yvonne
IndyMojo Presents Keller Williams & The Keels was a beautiful musical experience at The Vogue Theatre on Saturday, January 25, 2020. Photo cred Melodie Yvonne
IndyMojo Presents Keller Williams & The Keels was a beautiful musical experience at The Vogue Theatre on Saturday, January 25, 2020. Photo cred Melodie Yvonne
IndyMojo Presents Keller Williams & The Keels was a beautiful musical experience at The Vogue Theatre on Saturday, January 25, 2020. Photo cred Melodie Yvonne
IndyMojo Presents Keller Williams & The Keels was a beautiful musical experience at The Vogue Theatre on Saturday, January 25, 2020. Photo cred Melodie Yvonne
IndyMojo Presents Keller Williams & The Keels was a beautiful musical experience at The Vogue Theatre on Saturday, January 25, 2020. Photo cred Melodie Yvonne
IndyMojo Presents Keller Williams & The Keels was a beautiful musical experience at The Vogue Theatre on Saturday, January 25, 2020. Photo cred Melodie Yvonne
IndyMojo Presents Keller Williams & The Keels was a beautiful musical experience at The Vogue Theatre on Saturday, January 25, 2020. Photo cred Melodie Yvonne
IndyMojo Presents Keller Williams & The Keels was a beautiful musical experience at The Vogue Theatre on Saturday, January 25, 2020. Photo cred Melodie Yvonne
IndyMojo Presents Keller Williams & The Keels was a beautiful musical experience at The Vogue Theatre on Saturday, January 25, 2020. Photo cred Melodie Yvonne
IndyMojo Presents Keller Williams & The Keels was a beautiful musical experience at The Vogue Theatre on Saturday, January 25, 2020. Photo cred Melodie Yvonne
IndyMojo Presents Keller Williams & The Keels was a beautiful musical experience at The Vogue Theatre on Saturday, January 25, 2020. Photo cred Melodie Yvonne
IndyMojo Presents Keller Williams & The Keels was a beautiful musical experience at The Vogue Theatre on Saturday, January 25, 2020. Photo cred Melodie Yvonne
IndyMojo Presents Keller Williams & The Keels was a beautiful musical experience at The Vogue Theatre on Saturday, January 25, 2020. Photo cred Melodie Yvonne
IndyMojo Presents Keller Williams & The Keels was a beautiful musical experience at The Vogue Theatre on Saturday, January 25, 2020. Photo cred Melodie Yvonne
IndyMojo Presents Keller Williams & The Keels was a beautiful musical experience at The Vogue Theatre on Saturday, January 25, 2020. Photo cred Melodie Yvonne
IndyMojo Presents Keller Williams & The Keels was a beautiful musical experience at The Vogue Theatre on Saturday, January 25, 2020. Photo cred Melodie Yvonne
IndyMojo Presents Keller Williams & The Keels was a beautiful musical experience at The Vogue Theatre on Saturday, January 25, 2020. Photo cred Melodie Yvonne
IndyMojo Presents Keller Williams & The Keels was a beautiful musical experience at The Vogue Theatre on Saturday, January 25, 2020. Photo cred Melodie Yvonne
IndyMojo Presents Keller Williams & The Keels was a beautiful musical experience at The Vogue Theatre on Saturday, January 25, 2020. Photo cred Melodie Yvonne
IndyMojo Presents Keller Williams & The Keels was a beautiful musical experience at The Vogue Theatre on Saturday, January 25, 2020. Photo cred Melodie Yvonne
IndyMojo Presents Keller Williams & The Keels was a beautiful musical experience at The Vogue Theatre on Saturday, January 25, 2020. Photo cred Melodie Yvonne
IndyMojo Presents Keller Williams & The Keels was a beautiful musical experience at The Vogue Theatre on Saturday, January 25, 2020. Photo cred Melodie Yvonne
IndyMojo Presents Keller Williams & The Keels was a beautiful musical experience at The Vogue Theatre on Saturday, January 25, 2020. Photo cred Melodie Yvonne
IndyMojo Presents Keller Williams & The Keels was a beautiful musical experience at The Vogue Theatre on Saturday, January 25, 2020. Photo cred Melodie Yvonne
IndyMojo Presents Keller Williams & The Keels was a beautiful musical experience at The Vogue Theatre on Saturday, January 25, 2020. Photo cred Melodie Yvonne
IndyMojo Presents Keller Williams & The Keels was a beautiful musical experience at The Vogue Theatre on Saturday, January 25, 2020. Photo cred Melodie Yvonne
IndyMojo Presents Keller Williams & The Keels was a beautiful musical experience at The Vogue Theatre on Saturday, January 25, 2020. Photo cred Melodie Yvonne
IndyMojo Presents Keller Williams & The Keels was a beautiful musical experience at The Vogue Theatre on Saturday, January 25, 2020. Photo cred Melodie Yvonne
IndyMojo Presents Keller Williams & The Keels was a beautiful musical experience at The Vogue Theatre on Saturday, January 25, 2020. Photo cred Melodie Yvonne
IndyMojo Presents Keller Williams & The Keels was a beautiful musical experience at The Vogue Theatre on Saturday, January 25, 2020. Photo cred Melodie Yvonne
IndyMojo Presents Keller Williams & The Keels was a beautiful musical experience at The Vogue Theatre on Saturday, January 25, 2020. Photo cred Melodie Yvonne
IndyMojo Presents Keller Williams & The Keels was a beautiful musical experience at The Vogue Theatre on Saturday, January 25, 2020. Photo cred Melodie Yvonne
IndyMojo Presents Keller Williams & The Keels was a beautiful musical experience at The Vogue Theatre on Saturday, January 25, 2020. Photo cred Melodie Yvonne
IndyMojo Presents Keller Williams & The Keels was a beautiful musical experience at The Vogue Theatre on Saturday, January 25, 2020. Photo cred Melodie Yvonne
IndyMojo Presents Keller Williams & The Keels was a beautiful musical experience at The Vogue Theatre on Saturday, January 25, 2020. Photo cred Melodie Yvonne
IndyMojo Presents Keller Williams & The Keels was a beautiful musical experience at The Vogue Theatre on Saturday, January 25, 2020. Photo cred Melodie Yvonne
IndyMojo Presents Keller Williams & The Keels was a beautiful musical experience at The Vogue Theatre on Saturday, January 25, 2020. Photo cred Melodie Yvonne
IndyMojo Presents Keller Williams & The Keels was a beautiful musical experience at The Vogue Theatre on Saturday, January 25, 2020. Photo cred Melodie Yvonne
IndyMojo Presents Keller Williams & The Keels was a beautiful musical experience at The Vogue Theatre on Saturday, January 25, 2020. Photo cred Melodie Yvonne
IndyMojo Presents Keller Williams & The Keels was a beautiful musical experience at The Vogue Theatre on Saturday, January 25, 2020. Photo cred Melodie Yvonne
IndyMojo Presents Keller Williams & The Keels was a beautiful musical experience at The Vogue Theatre on Saturday, January 25, 2020. Photo cred Melodie Yvonne
IndyMojo Presents Keller Williams & The Keels was a beautiful musical experience at The Vogue Theatre on Saturday, January 25, 2020. Photo cred Melodie Yvonne
IndyMojo Presents Keller Williams & The Keels was a beautiful musical experience at The Vogue Theatre on Saturday, January 25, 2020. Photo cred Melodie Yvonne
IndyMojo Presents Keller Williams & The Keels was a beautiful musical experience at The Vogue Theatre on Saturday, January 25, 2020. Photo cred Melodie Yvonne
IndyMojo Presents Keller Williams & The Keels was a beautiful musical experience at The Vogue Theatre on Saturday, January 25, 2020. Photo cred Melodie Yvonne
IndyMojo Presents Keller Williams & The Keels was a beautiful musical experience at The Vogue Theatre on Saturday, January 25, 2020. Photo cred Melodie Yvonne
IndyMojo Presents Keller Williams & The Keels was a beautiful musical experience at The Vogue Theatre on Saturday, January 25, 2020. Photo cred Melodie Yvonne
IndyMojo Presents Keller Williams & The Keels was a beautiful musical experience at The Vogue Theatre on Saturday, January 25, 2020. Photo cred Melodie Yvonne
IndyMojo Presents Keller Williams & The Keels was a beautiful musical experience at The Vogue Theatre on Saturday, January 25, 2020. Photo cred Melodie Yvonne
IndyMojo Presents Keller Williams & The Keels was a beautiful musical experience at The Vogue Theatre on Saturday, January 25, 2020. Photo cred Melodie Yvonne
IndyMojo Presents Keller Williams & The Keels was a beautiful musical experience at The Vogue Theatre on Saturday, January 25, 2020. Photo cred Melodie Yvonne
IndyMojo Presents Keller Williams & The Keels was a beautiful musical experience at The Vogue Theatre on Saturday, January 25, 2020. Photo cred Melodie Yvonne
IndyMojo Presents Keller Williams & The Keels was a beautiful musical experience at The Vogue Theatre on Saturday, January 25, 2020. Photo cred Melodie Yvonne
IndyMojo Presents Keller Williams & The Keels was a beautiful musical experience at The Vogue Theatre on Saturday, January 25, 2020. Photo cred Melodie Yvonne
IndyMojo Presents Keller Williams & The Keels was a beautiful musical experience at The Vogue Theatre on Saturday, January 25, 2020. Photo cred Melodie Yvonne
IndyMojo Presents Keller Williams & The Keels was a beautiful musical experience at The Vogue Theatre on Saturday, January 25, 2020. Photo cred Melodie Yvonne
IndyMojo Presents Keller Williams & The Keels was a beautiful musical experience at The Vogue Theatre on Saturday, January 25, 2020. Photo cred Melodie Yvonne
IndyMojo Presents Keller Williams & The Keels was a beautiful musical experience at The Vogue Theatre on Saturday, January 25, 2020. Photo cred Melodie Yvonne
IndyMojo Presents Keller Williams & The Keels was a beautiful musical experience at The Vogue Theatre on Saturday, January 25, 2020. Photo cred Melodie Yvonne
IndyMojo Presents Keller Williams & The Keels was a beautiful musical experience at The Vogue Theatre on Saturday, January 25, 2020. Photo cred Melodie Yvonne
IndyMojo Presents Keller Williams & The Keels was a beautiful musical experience at The Vogue Theatre on Saturday, January 25, 2020. Photo cred Melodie Yvonne
IndyMojo Presents Keller Williams & The Keels was a beautiful musical experience at The Vogue Theatre on Saturday, January 25, 2020. Photo cred Melodie Yvonne
IndyMojo Presents Keller Williams & The Keels was a beautiful musical experience at The Vogue Theatre on Saturday, January 25, 2020. Photo cred Melodie Yvonne
IndyMojo Presents Keller Williams & The Keels was a beautiful musical experience at The Vogue Theatre on Saturday, January 25, 2020. Photo cred Melodie Yvonne
IndyMojo Presents Keller Williams & The Keels was a beautiful musical experience at The Vogue Theatre on Saturday, January 25, 2020. Photo cred Melodie Yvonne
Other Shows You Might Like
Similar Artists