IndyMojo Presents
Iration
With Ballyhoo!
Sat Feb 22, 2020
6:30 PM / Show: 7:30 PM
21+
$25 to $30
Iration at The Vogue – Indianapolis
SATURDAY, FEBRUARY 22ND
DOORS: 7:00 PM, SHOW: 7:30 PM
AGE RESTRICTIONS: 21+
$25 ADVANCE/ $30 DAY OF SHOW
VIP Tables/Premium Upgrades available here:
Iration
Bio: Iration is an alternative/reggae group of musicians formed in Isla Vista, CA. A deep-rooted reggae influence is fused with elements of rock and pop to create smooth original sounds – "We're all about luv", states the band. The group is made up of members Joseph Dickens (Drums), Joseph King (Engineer), Cayson Peterson (Keyboard/Synth), Micah Pueschel (Guitar/Lead Vocals), Adam Taylor (Bass), and Micah Brown (Guitar/Vocals). All of the members of Iration met while growing up in Hawaii but formed the band after reconnecting in Santa Barbara, CA – the exception being Micah Brown who officially joined the group in 2014.
Iration has been touring nationally since 2008, performing at national festivals like Lollapalooza, Outside Lands, Hangout, and many others. These Hawaiian-bred musicians look forward to spreading their original sound and Aloha spirit all the while never forgetting to get a surf in when possible.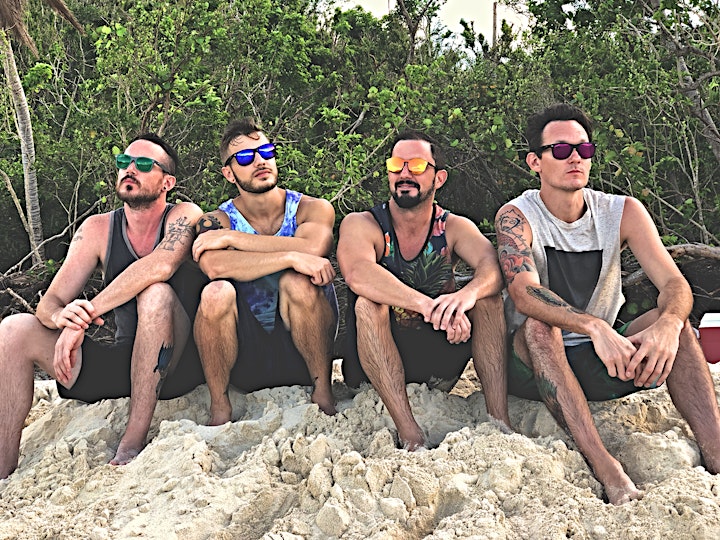 Ballyhoo!
Bio: Hailing from the east coast, Baltimore alt-rockers Ballyhoo! have been on the road, taking their melodic anthems to the people for over a decade. Their "On Tour Forever" work ethic has taken them all over the country, steadily building a fan base of loyal "Hooligans."
In 2013, the band cracked the Billboard 200 chart at #189 with their 5th album, "Pineapple Grenade," released on their own label, Right Coast Records.
In 2014, the album was followed by an EP, "The Cool Down: Vol. 1," a collection of acoustic renditions of classic Ballyhoo! songs as well as 3 brand new songs: "Beach Party," "ADHD" & "Overnight Sensation."
2015 brought even more touring and music with the band supporting well known ska-punkers Less Than Jake and Reel Big Fish, Rock/Reggae icons Pepper, while also releasing two singles: "Fast Times" & "Mixtape." The latter will appear on the band's new album, "girls." slated to be released this Summer. Ballyhoo! joined forces with PledgeMusic, rallying fans to be a part of the making of this new album. The campaign was a success with well over 100% funding.
Now in 2016 with a new album of songs produced by Paul Leary (Sublime) & Matt Wallace (Maroon 5, Faith No More),
Ballyhoo! is back out on the grind.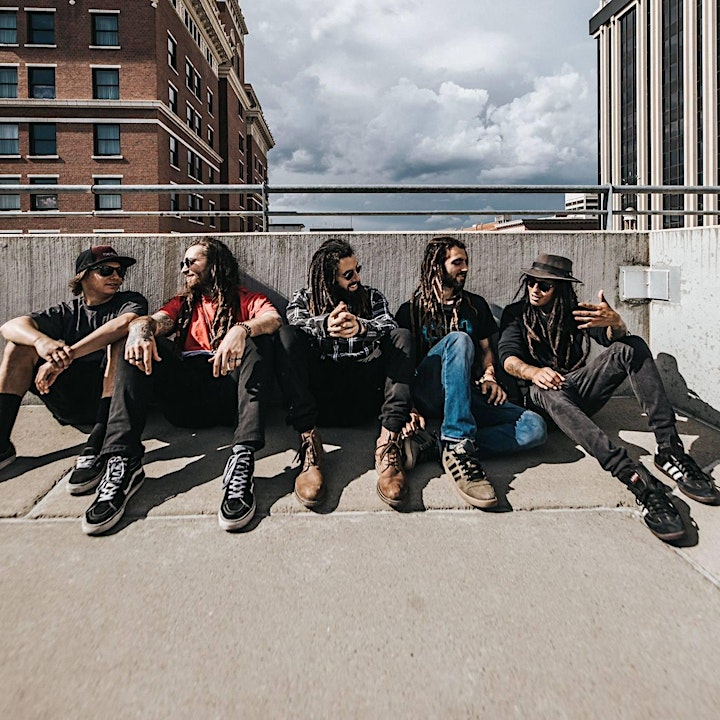 Iya Terra
Bio: As the genre of Reggae music is continuously evolving, Los Angeles, California, based Iya Terra has found a way to take the messages of traditional Roots-Reggae and seamlessly mash them up in a today version. The young group of musicians have chosen the name Iya Terra, meaning "Higher Ground," as the launching pad to create positive, conscious music while spreading messages of anti-establishment, simple living, and a healthy lifestyle. Their modern approach to the music, high-energy performances and full sound add a new dimension to traditional Reggae that appeals to an audience of all ages, opening the doors for them to be labeled as one of today's leaders in the "New Roots" movement.
Lead guitarist and vocalist, Nathan Feinstein, along with lifelong friend and bassist, Nick Loporchio, began their musical journey to spread a conscious message to the masses while singing songs on the sidewalks of UCLA in the summer of 2013. Since then, the band has gone on to add longtime friends, Luis Tovar on keys and Danny Monar on percussion in the spring of 2014, while also acquiring drummer, Blake Bartz, in the fall. Most recently, the band completed their current lineup with Nick Sefakis joining on rhythm guitar in March of 2015.
The band's first recorded release consisted of a 6 song self-titled EP that dropped in the spring of 2014. After receiving a great response and several requests to put out more music, Iya Terra released their first full-length album, "Full Circle," on April 14th, 2015. Produced and engineered by the award winning, JP Hesser, the 10-song album debuted at #4 on the iTunes Reggae Charts and #12 on the Billboard Reggae Charts. Recorded at Castaway 7 Studios in Ventura, California, "Full Circle" is host to several special guest appearances by some of the hottest rising stars in the modern Reggae scene.
Iya Terra set sail on their first tour in August 2014 with good friends, Ital Vibes. The "Link Up Tour 2014," presented by Ozzie of We Should Smoke and constructed solely by Nick and Nathan with no additional management, proved to be a huge success in the next step of the band's musical voyage. Following the tour, the band sought out guidance under Rude Entertainment Productions and since then, has shown no signs of slowing down. Since acquiring the new management in November of 2014, Iya Terra has been relentlessly playing shows all throughout the Southwest region of the United States while also reaching new areas thanks to generous invites to play several music festivals and joining on multiple tours running along the west coast such as the Kingston City Tour with New Kingston (Brooklyn, NY) and True Press (Monrovia, CA), The Youth Rising Tour with Synrgy (San Diego, CA) and Ital Vibes (Carson, CA), and most recently, a run with Tribal Seeds' own, Gonzo with Beyond I Sight (Redondo Beach, CA) and White Glove Service (Fresno, CA).
In their brief time together, Iya Terra has also had the honor of sharing the stage with some of today's biggest Reggae artists, both old and new, such as Barrington Levy, Black Uhuru, Yellow Man, Tarrus Riley, Easy Star All Stars, Alborosie, Ky-Mani Marley, Julian Marley, Marlon Asher, Matisyahu, Common Kings, Proteje, Nahko, Collie Buddz, The Green, Pepper, The Expanders, Arise Roots, House of Shem, Stick Figure, John Browns Body and many more.
Even with their impressive resume, Iya Terra, continues to move forward. The band is currently working on new music with plans to record a new EP in December of 2015. Currently scheduled to make their debut at the 31st annual Reggae On The River, Iya Terra is set to follow up with a few shows playing alongside the recently reunited, Tomorrows Bad Seeds, and a September run with Hawaii's own Inna Vision. What has now become a result of the manifestation of their dreams, the band holds the intent to spread their music through extensive touring so stay tuned for Iya Terra bringing the vibes to a city near you!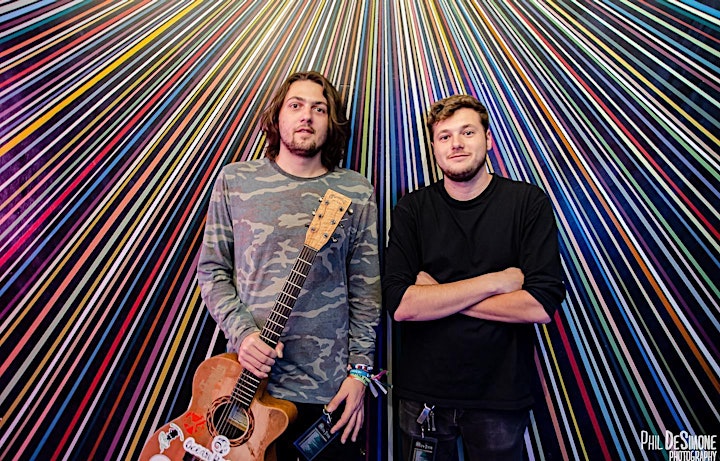 Ries Brothers
Bio: "I have to tell you that you never cease to blow my mind! I still can not believe how much music and great playing/singing, compositions, and soloing comes out of the two of you!" ~ Tris Imboden, legendary drummer , Rock & Roll Hall of Fame Band CHICAGO.
The Ries Brothers (pronounced "Rees") are a multi-genre powerhouse duo from Tampa Bay, Fl. Their unique set-up allows this two-man group to sound like a full band. Older brother Charlie sings lead while SIMULTANEOUSLY playing drums and keyboard bass. His multi-instrumentalist brother Kevin completes the band's "sonic creativity" on guitar, background vocals, and four other instruments throughout their riveting live set.
The brothers began 2019 by playing two sold out shows with Stick Figure followed by a sold out show opening for 311 at the House of Blues which led to being invited to hop on the sold out 311 Caribbean Cruise, playing 3 shows while sailing to Belize and Mexico. In spring the boys completed their third tour with G. Love and also played shows with Galactic. 2019 festivals included the Slightly Stoopid Weekend, Summercamp, Guitarfish Festival, and The Big What, all while finishing up the recording of their 2nd album with producer John Agnello, to be released in early 2020. The Ries Brothers are currently on a 45-city coast-to-coast tour with Iya Terra. Prior to this year they toured twice nationally with the iconic band CHICAGO, toured with the late Butch Trucks (Allman Brothers) and have opened for Daughtry, David Cook, The Family Stone, Little River Band, REO Speedwagon, and Los Lonely Boys among others.
The boys' second album is a follow-up to their debut album "The View From the Outside". They have also released a live DVD from the iconic Iriidium on Broadway in New York City and have been featured on numerous Sugarshack Session videos, which were recently released as a 6-song EP. The Ries Brothers have been named as a breakout artist by Creative Loafing, a favorite band by The Tampa Bay Times, and were two out of 25 selected from the state of Florida to participate in the exclusive Los Angeles Grammy Museum's Music Revolution Project.
IndyMojo Presents Iration with BALLYHOO!, Iya Terra, & The Ries Brothers was a beautifully chill evening at The Vogue Theatre in Indianapolis, Indiana on Saturday, February 22, 2020. Photo cred Melodie Yvonne
IndyMojo Presents Iration with BALLYHOO!, Iya Terra, & The Ries Brothers was a beautifully chill evening at The Vogue Theatre in Indianapolis, Indiana on Saturday, February 22, 2020. Photo cred Melodie Yvonne
IndyMojo Presents Iration with BALLYHOO!, Iya Terra, & The Ries Brothers was a beautifully chill evening at The Vogue Theatre in Indianapolis, Indiana on Saturday, February 22, 2020. Photo cred Melodie Yvonne
IndyMojo Presents Iration with BALLYHOO!, Iya Terra, & The Ries Brothers was a beautifully chill evening at The Vogue Theatre in Indianapolis, Indiana on Saturday, February 22, 2020. Photo cred Melodie Yvonne
IndyMojo Presents Iration with BALLYHOO!, Iya Terra, & The Ries Brothers was a beautifully chill evening at The Vogue Theatre in Indianapolis, Indiana on Saturday, February 22, 2020. Photo cred Melodie Yvonne
IndyMojo Presents Iration with BALLYHOO!, Iya Terra, & The Ries Brothers was a beautifully chill evening at The Vogue Theatre in Indianapolis, Indiana on Saturday, February 22, 2020. Photo cred Melodie Yvonne
IndyMojo Presents Iration with BALLYHOO!, Iya Terra, & The Ries Brothers was a beautifully chill evening at The Vogue Theatre in Indianapolis, Indiana on Saturday, February 22, 2020. Photo cred Melodie Yvonne
IndyMojo Presents Iration with BALLYHOO!, Iya Terra, & The Ries Brothers was a beautifully chill evening at The Vogue Theatre in Indianapolis, Indiana on Saturday, February 22, 2020. Photo cred Melodie Yvonne
+49 More
IndyMojo Presents Iration with BALLYHOO!, Iya Terra, & The Ries Brothers was a beautifully chill evening at The Vogue Theatre in Indianapolis, Indiana on Saturday, February 22, 2020. Photo cred Melodie Yvonne
IndyMojo Presents Iration with BALLYHOO!, Iya Terra, & The Ries Brothers was a beautifully chill evening at The Vogue Theatre in Indianapolis, Indiana on Saturday, February 22, 2020. Photo cred Melodie Yvonne
IndyMojo Presents Iration with BALLYHOO!, Iya Terra, & The Ries Brothers was a beautifully chill evening at The Vogue Theatre in Indianapolis, Indiana on Saturday, February 22, 2020. Photo cred Melodie Yvonne
IndyMojo Presents Iration with BALLYHOO!, Iya Terra, & The Ries Brothers was a beautifully chill evening at The Vogue Theatre in Indianapolis, Indiana on Saturday, February 22, 2020. Photo cred Melodie Yvonne
IndyMojo Presents Iration with BALLYHOO!, Iya Terra, & The Ries Brothers was a beautifully chill evening at The Vogue Theatre in Indianapolis, Indiana on Saturday, February 22, 2020. Photo cred Melodie Yvonne
IndyMojo Presents Iration with BALLYHOO!, Iya Terra, & The Ries Brothers was a beautifully chill evening at The Vogue Theatre in Indianapolis, Indiana on Saturday, February 22, 2020. Photo cred Melodie Yvonne
IndyMojo Presents Iration with BALLYHOO!, Iya Terra, & The Ries Brothers was a beautifully chill evening at The Vogue Theatre in Indianapolis, Indiana on Saturday, February 22, 2020. Photo cred Melodie Yvonne
IndyMojo Presents Iration with BALLYHOO!, Iya Terra, & The Ries Brothers was a beautifully chill evening at The Vogue Theatre in Indianapolis, Indiana on Saturday, February 22, 2020. Photo cred Melodie Yvonne
IndyMojo Presents Iration with BALLYHOO!, Iya Terra, & The Ries Brothers was a beautifully chill evening at The Vogue Theatre in Indianapolis, Indiana on Saturday, February 22, 2020. Photo cred Melodie Yvonne
IndyMojo Presents Iration with BALLYHOO!, Iya Terra, & The Ries Brothers was a beautifully chill evening at The Vogue Theatre in Indianapolis, Indiana on Saturday, February 22, 2020. Photo cred Melodie Yvonne
IndyMojo Presents Iration with BALLYHOO!, Iya Terra, & The Ries Brothers was a beautifully chill evening at The Vogue Theatre in Indianapolis, Indiana on Saturday, February 22, 2020. Photo cred Melodie Yvonne
IndyMojo Presents Iration with BALLYHOO!, Iya Terra, & The Ries Brothers was a beautifully chill evening at The Vogue Theatre in Indianapolis, Indiana on Saturday, February 22, 2020. Photo cred Melodie Yvonne
IndyMojo Presents Iration with BALLYHOO!, Iya Terra, & The Ries Brothers was a beautifully chill evening at The Vogue Theatre in Indianapolis, Indiana on Saturday, February 22, 2020. Photo cred Melodie Yvonne
IndyMojo Presents Iration with BALLYHOO!, Iya Terra, & The Ries Brothers was a beautifully chill evening at The Vogue Theatre in Indianapolis, Indiana on Saturday, February 22, 2020. Photo cred Melodie Yvonne
IndyMojo Presents Iration with BALLYHOO!, Iya Terra, & The Ries Brothers was a beautifully chill evening at The Vogue Theatre in Indianapolis, Indiana on Saturday, February 22, 2020. Photo cred Melodie Yvonne
IndyMojo Presents Iration with BALLYHOO!, Iya Terra, & The Ries Brothers was a beautifully chill evening at The Vogue Theatre in Indianapolis, Indiana on Saturday, February 22, 2020. Photo cred Melodie Yvonne
IndyMojo Presents Iration with BALLYHOO!, Iya Terra, & The Ries Brothers was a beautifully chill evening at The Vogue Theatre in Indianapolis, Indiana on Saturday, February 22, 2020. Photo cred Melodie Yvonne
IndyMojo Presents Iration with BALLYHOO!, Iya Terra, & The Ries Brothers was a beautifully chill evening at The Vogue Theatre in Indianapolis, Indiana on Saturday, February 22, 2020. Photo cred Melodie Yvonne
IndyMojo Presents Iration with BALLYHOO!, Iya Terra, & The Ries Brothers was a beautifully chill evening at The Vogue Theatre in Indianapolis, Indiana on Saturday, February 22, 2020. Photo cred Melodie Yvonne
IndyMojo Presents Iration with BALLYHOO!, Iya Terra, & The Ries Brothers was a beautifully chill evening at The Vogue Theatre in Indianapolis, Indiana on Saturday, February 22, 2020. Photo cred Melodie Yvonne
IndyMojo Presents Iration with BALLYHOO!, Iya Terra, & The Ries Brothers was a beautifully chill evening at The Vogue Theatre in Indianapolis, Indiana on Saturday, February 22, 2020. Photo cred Melodie Yvonne
IndyMojo Presents Iration with BALLYHOO!, Iya Terra, & The Ries Brothers was a beautifully chill evening at The Vogue Theatre in Indianapolis, Indiana on Saturday, February 22, 2020. Photo cred Melodie Yvonne
IndyMojo Presents Iration with BALLYHOO!, Iya Terra, & The Ries Brothers was a beautifully chill evening at The Vogue Theatre in Indianapolis, Indiana on Saturday, February 22, 2020. Photo cred Melodie Yvonne
IndyMojo Presents Iration with BALLYHOO!, Iya Terra, & The Ries Brothers was a beautifully chill evening at The Vogue Theatre in Indianapolis, Indiana on Saturday, February 22, 2020. Photo cred Melodie Yvonne
IndyMojo Presents Iration with BALLYHOO!, Iya Terra, & The Ries Brothers was a beautifully chill evening at The Vogue Theatre in Indianapolis, Indiana on Saturday, February 22, 2020. Photo cred Melodie Yvonne
IndyMojo Presents Iration with BALLYHOO!, Iya Terra, & The Ries Brothers was a beautifully chill evening at The Vogue Theatre in Indianapolis, Indiana on Saturday, February 22, 2020. Photo cred Melodie Yvonne
IndyMojo Presents Iration with BALLYHOO!, Iya Terra, & The Ries Brothers was a beautifully chill evening at The Vogue Theatre in Indianapolis, Indiana on Saturday, February 22, 2020. Photo cred Melodie Yvonne
IndyMojo Presents Iration with BALLYHOO!, Iya Terra, & The Ries Brothers was a beautifully chill evening at The Vogue Theatre in Indianapolis, Indiana on Saturday, February 22, 2020. Photo cred Melodie Yvonne
IndyMojo Presents Iration with BALLYHOO!, Iya Terra, & The Ries Brothers was a beautifully chill evening at The Vogue Theatre in Indianapolis, Indiana on Saturday, February 22, 2020. Photo cred Melodie Yvonne
IndyMojo Presents Iration with BALLYHOO!, Iya Terra, & The Ries Brothers was a beautifully chill evening at The Vogue Theatre in Indianapolis, Indiana on Saturday, February 22, 2020. Photo cred Melodie Yvonne
IndyMojo Presents Iration with BALLYHOO!, Iya Terra, & The Ries Brothers was a beautifully chill evening at The Vogue Theatre in Indianapolis, Indiana on Saturday, February 22, 2020. Photo cred Melodie Yvonne
IndyMojo Presents Iration with BALLYHOO!, Iya Terra, & The Ries Brothers was a beautifully chill evening at The Vogue Theatre in Indianapolis, Indiana on Saturday, February 22, 2020. Photo cred Melodie Yvonne
IndyMojo Presents Iration with BALLYHOO!, Iya Terra, & The Ries Brothers was a beautifully chill evening at The Vogue Theatre in Indianapolis, Indiana on Saturday, February 22, 2020. Photo cred Melodie Yvonne
IndyMojo Presents Iration with BALLYHOO!, Iya Terra, & The Ries Brothers was a beautifully chill evening at The Vogue Theatre in Indianapolis, Indiana on Saturday, February 22, 2020. Photo cred Melodie Yvonne
IndyMojo Presents Iration with BALLYHOO!, Iya Terra, & The Ries Brothers was a beautifully chill evening at The Vogue Theatre in Indianapolis, Indiana on Saturday, February 22, 2020. Photo cred Melodie Yvonne
IndyMojo Presents Iration with BALLYHOO!, Iya Terra, & The Ries Brothers was a beautifully chill evening at The Vogue Theatre in Indianapolis, Indiana on Saturday, February 22, 2020. Photo cred Melodie Yvonne
IndyMojo Presents Iration with BALLYHOO!, Iya Terra, & The Ries Brothers was a beautifully chill evening at The Vogue Theatre in Indianapolis, Indiana on Saturday, February 22, 2020. Photo cred Melodie Yvonne
IndyMojo Presents Iration with BALLYHOO!, Iya Terra, & The Ries Brothers was a beautifully chill evening at The Vogue Theatre in Indianapolis, Indiana on Saturday, February 22, 2020. Photo cred Melodie Yvonne
IndyMojo Presents Iration with BALLYHOO!, Iya Terra, & The Ries Brothers was a beautifully chill evening at The Vogue Theatre in Indianapolis, Indiana on Saturday, February 22, 2020. Photo cred Melodie Yvonne
IndyMojo Presents Iration with BALLYHOO!, Iya Terra, & The Ries Brothers was a beautifully chill evening at The Vogue Theatre in Indianapolis, Indiana on Saturday, February 22, 2020. Photo cred Melodie Yvonne
IndyMojo Presents Iration with BALLYHOO!, Iya Terra, & The Ries Brothers was a beautifully chill evening at The Vogue Theatre in Indianapolis, Indiana on Saturday, February 22, 2020. Photo cred Melodie Yvonne
IndyMojo Presents Iration with BALLYHOO!, Iya Terra, & The Ries Brothers was a beautifully chill evening at The Vogue Theatre in Indianapolis, Indiana on Saturday, February 22, 2020. Photo cred Melodie Yvonne
IndyMojo Presents Iration with BALLYHOO!, Iya Terra, & The Ries Brothers was a beautifully chill evening at The Vogue Theatre in Indianapolis, Indiana on Saturday, February 22, 2020. Photo cred Melodie Yvonne
IndyMojo Presents Iration with BALLYHOO!, Iya Terra, & The Ries Brothers was a beautifully chill evening at The Vogue Theatre in Indianapolis, Indiana on Saturday, February 22, 2020. Photo cred Melodie Yvonne
IndyMojo Presents Iration with BALLYHOO!, Iya Terra, & The Ries Brothers was a beautifully chill evening at The Vogue Theatre in Indianapolis, Indiana on Saturday, February 22, 2020. Photo cred Melodie Yvonne
IndyMojo Presents Iration with BALLYHOO!, Iya Terra, & The Ries Brothers was a beautifully chill evening at The Vogue Theatre in Indianapolis, Indiana on Saturday, February 22, 2020. Photo cred Melodie Yvonne
IndyMojo Presents Iration with BALLYHOO!, Iya Terra, & The Ries Brothers was a beautifully chill evening at The Vogue Theatre in Indianapolis, Indiana on Saturday, February 22, 2020. Photo cred Melodie Yvonne
IndyMojo Presents Iration with BALLYHOO!, Iya Terra, & The Ries Brothers was a beautifully chill evening at The Vogue Theatre in Indianapolis, Indiana on Saturday, February 22, 2020. Photo cred Melodie Yvonne
IndyMojo Presents Iration with BALLYHOO!, Iya Terra, & The Ries Brothers was a beautifully chill evening at The Vogue Theatre in Indianapolis, Indiana on Saturday, February 22, 2020. Photo cred Melodie Yvonne
Other Shows You Might Like
Similar Artists