Forty5 Presents
Here Come The Mummies
with The North 41
Fri Oct 01, 2021 + Google Cal
8:00 PM / Show: 9:00 PM
21+
$27.50
Buy Tickets
Here Come The Mummies at The Vogue Theatre in Indianapolis on October 1, 2021
Here Come the Mummies is an eight-piece funk-rock band of 5000 year-old Egyptian Mummies with a one-track mind. Their "Terrifying Funk from Beyond the Grave" is sure to get you into them (and possibly vice versa).Since their discovery HCTM has been direct support for P-Funk, Al Green, Mavis Staples, KC and the Sunshine Band, and Cheap Trick; rocked Super Bowl Village; become a regular on The Bob and Tom Show; played massive festivals like Summer Camp, Common Ground, Voodoo Fest, Musikfest, Suwannee Hulaween, and Riverbend; and sold tickets by the thousands across large swaths of North America.
Maybe that's why the ladies (and some dudes) can't stop losing their minds over these mayhem-inducing mavens of mirth.Some say they were cursed after deflowering a great Pharaoh's daughter. Others claim they are reincarnated Grammy-Winning studio musicians. Regardless, HCTM's mysterious personas, cunning song-craft, and unrelenting live show will bend your brain, and melt your face. Get ready, for Here Come The Mummies.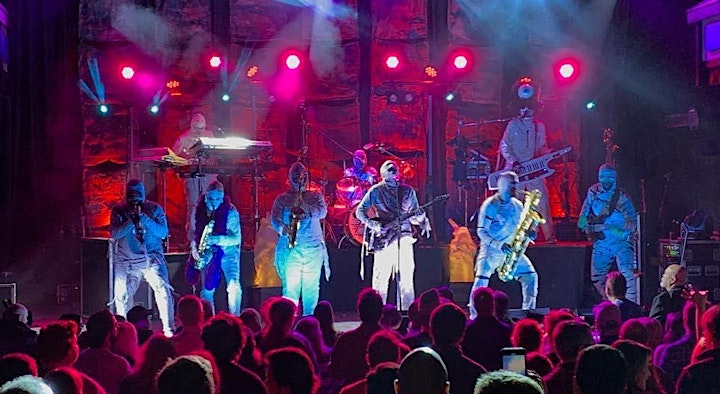 with The North 41
The North 41 is a dynamic blend of Rock, Funk, and Jazz, with the danceability of Pop music and sophisticated musicianship that keeps you hanging on every guitar solo, every drum solo, and every whaling vocal lick. The Chicago-based band has been winning fans all over the midwest since 2014
with Desmond Jones
Desmond Jones is a five-piece American rock band from Grand Rapids, MI. With original music written to complement the group's sound as a whole, the music is centered on melodic guitar riffs, groovy bass lines, funky drumbeats, and smooth saxophone. The group takes influence from Frank Zappa, The Grateful Dead, Phish, Miles Davis, The Band, and Led Zeppelin to name a few. Desmond Jones puts on exciting and high-energy shows with a high level of musicianship and skillful improvisation. Each show, setlist, and song is different from night to night. The group has played over 600 shows in 6 years all over the country. They released their debut studio album in October 2017. Desmond Jones is John Nowak, Isaac Berkowitz, Chris Bota, George Falk, and John Loria.
Other Shows You Might Like
Similar Artists