Sun King Concert Series
Hairbanger's Ball
Sat Dec 28, 2019 + Google Cal
9:00 PM / Show: 10:00 PM
21+
$15.00 -
Buy Tickets
Hairbanger's Ball at The Vogue Theatre – Indianapolis
Saturday, December 28th
Doors 9pm / Show 10pm / 21+
$15 General Admission / $40 Limited 4-Packs
____________________________________________
Hairbanger's Ball
Website / Facebook / Instagram / Twitter
Bio: "In 2001, lamenting the heyday of hairbands, one Chicago band sought to rekindle the flame for these Gods of Rock by tapping into the nostalgic and undeniable energy of that bygone era. They called themselves Hairbanger's Ball.
Born from a "what if?" scenario, Hairbanger's Ball has entrenched themselves as one of the most sought after "80's Hair Rock Tribute Bands" in the United States after years of performing sold out shows from coast to coast, all while exuding the same expert musicianship and flair for the theatrical as their idols. Now on the cusp of celebrating 15 years in existence, Hairbanger's Ball has been a mainstay in music for longer than some of their celebrity counterparts, and routinely perform over 150 shows a year."
________________________________________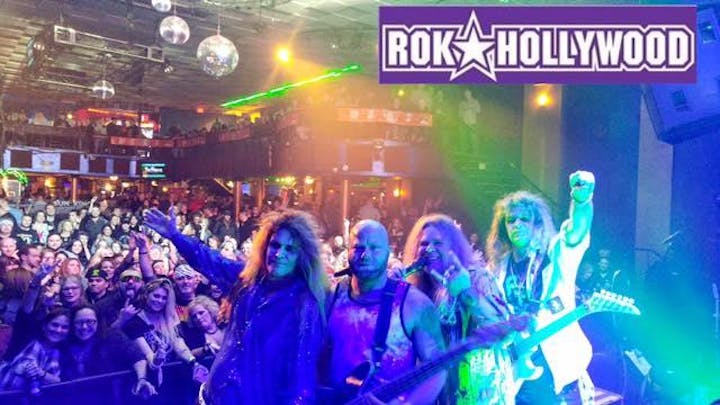 Rok Hollywood
Bio: Rok Hollywood is the culmination of musicians who bring together years of experience, knowledge, and dedication to form a tight, energetic, melodic-rock unit. Blending in grinding guitar riffs with melody-laden vocals, the quintet brings a refreshing sound to the music landscape by incorporating hook-oriented songs, vocal harmonies, and the lost art of the guitar solo.
Performing for audiences across the country, they have had the honor of sharing the stage with bands such as Motley Crue, Def Leppard, Cheap Trick, Poison, Cinderella, RATT, Warrant, Great White Dokken, Kip Winger, LA Guns, Lynyrd Skynyrd, Heart, New York Dolls, Bang Tango, Faster Pussycat, Shooter Jennings, 3 Doors Down, and Naked Beggars.
But don't just read these words. Go see Rok Hollywood and find out for yourself.
Other Shows You Might Like
Similar Artists