The Vogue Presents
Godspeed You! Black Emperor
Tue May 03, 2022 + Google Cal
8:30 PM / Show: 8:30 PM
21+
$29.50
Buy Tickets
An evening of music performed by Godspeed You! Black Emperor
Godspeed You! Black Emperor (formerly punctuated Godspeed You Black Emperor! and abbreviated to GY!BE, GYBE or Godspeed) is a Canadian post-rock band based in Montreal, Quebec.
Formed in 1994 in Montreal, Canada, the band has been highly influential within the post-rock genre. Working with orchestrated arrangements, the nine-piece group created tracks with wide dynamic ranges, a highly evocative use of instrumentation and sounds and uncompromising long form compositions. Their engrossing use of art and visuals in both album packaging and live performances creates an enigmatic aura.
They are most commonly classified as post-rock, but are just as well recognized outside any established scene and take influences from a range of styles including progressive rock, post-punk, classical music, soundtrack composition and the avant-garde. Each release usually consists of an entire piece divided into movements, mostly between 15 and 25 minutes, sometimes eponymously specified in the liner notes.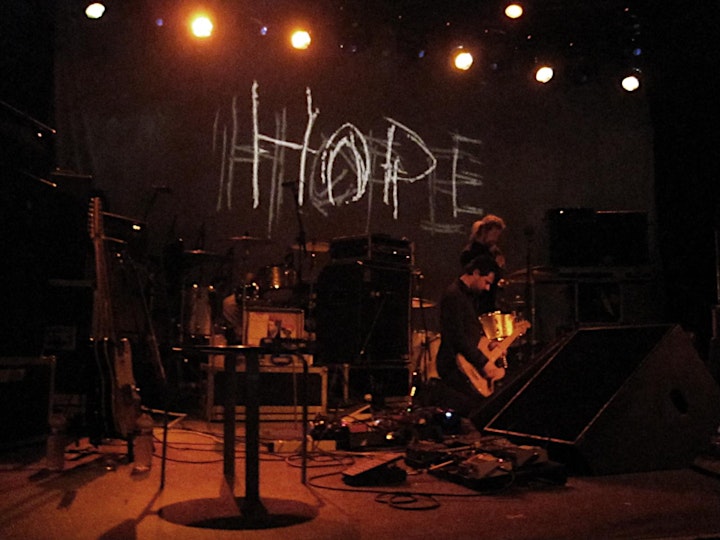 Godspeed You! Black Emperor took their name from a little known 1976 Japanese black-and-white documentary by director Mitsuo Yanagimachi, which follows the exploits of a Japanese biker gang, the Black Emperors.
GY!BE, although formed around 1994 with three members, had as many as fifteen members but tended to have a core group of nine. Their instrumentation varied with the lineup but the music is mostly based around electric and bass guitars, as well as a string and a percussion section. Other instruments such as the glockenspiel or the French horn have made occasional appearances. Some of their recorded pieces have been accompanied by spoken word samples recorded across North America by the band members, including: an apocalyptic street preacher from Vancouver, BC, Canada, an announcement at a gas station, a group of children talking and singing in French, as well as recordings taken from shortwave radio.
Efrim Menuck is the most commonly identified participant in the press process, which has resulted in him being commonly mislabeled as the front-man. He has thus repudiated this label, maybe due to the spirit of the group, which discourages the notion of having a leader.
Members of the group have formed a number of side-projects, including A Silver Mt. Zion, Fly Pan Am, Pas Chic Chic and Set Fire to Flames. GY!BE contributed the song "East Hastings" from their debut album to the soundtrack of the UK film 28 Days Later; however, it is not available on the soundtrack album as the band refused to take part in the "mainstream, corporation-owned music industry" which they have a great distaste for.
The band has often played an unrecorded song entitled "Albanian" when touring. Efrim stated that when the band reformed they would record it for their next release. Another unreleased song, "Gamelan," was also rumored to be recorded for their next release. The songs, renamed "Mladic" and "We Drift Like Worried Fire" respectively, were released as tracks on their 2012 album 'Allelujah! Don't Bend! Ascend!. However due to the band's open taping policy, both these songs were available as high quality audience recordings.
Other Shows You Might Like
Similar Artists