Movie Monday at The Vogue Theatre – "Ferris Bueller's Day Off"
Back to our roots with Movie Mondays at The Vogue!
Experience these epic movie soundtracks through The Vogue's concert PA and enjoy the screening on our LED video wall.
The dance floor will be seated and drinks available of course!
______________________________________
Monday, August 10
Doors 7 PM / Start 8 PM
$5 Tickets
GA w/ Chairs on the dance floor
______________________________________
"Ferris Bueller's Day Off"
Trailer: High school student Ferris Bueller wants a day off from school and he's developed an incredibly sophisticated plan to pull it off. He talks his friend Cameron into taking his father's prized Ferrari and with his girlfriend Sloane head into Chicago for the day. While they are taking in what the city has to offer school principal Ed Rooney is convinced that Ferris is, not for the first time, playing hooky for the day and is hell bent to catch him out. Ferris has anticipated that, much to Rooney's chagrin. Written by garykmcd(IMDb)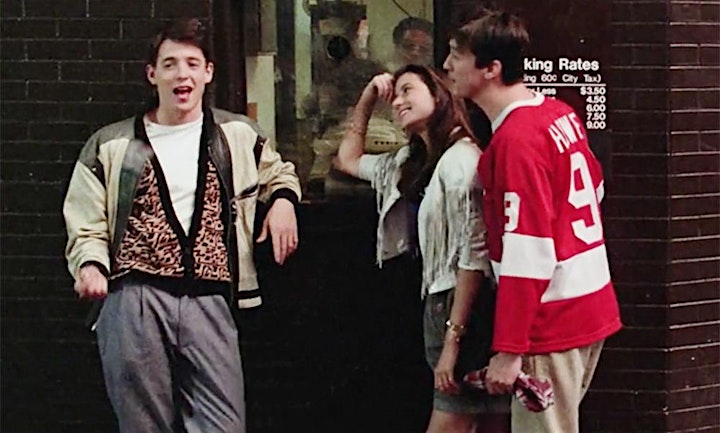 The Vogue Theatre got back to their roots with an amazing sold-out screening of The Rocky Horror Picture Show for Movie Monday on October 14, 2019. Photo cred Melodie Yvonne
The Vogue Theatre got back to their roots with an amazing sold-out screening of The Rocky Horror Picture Show for Movie Monday on October 14, 2019. Photo cred Melodie Yvonne
The Vogue Theatre got back to their roots with an amazing sold-out screening of The Rocky Horror Picture Show for Movie Monday on October 14, 2019. Photo cred Melodie Yvonne
The Vogue Theatre got back to their roots with an amazing sold-out screening of The Rocky Horror Picture Show for Movie Monday on October 14, 2019. Photo cred Melodie Yvonne
The Vogue Theatre got back to their roots with an amazing sold-out screening of The Rocky Horror Picture Show for Movie Monday on October 14, 2019. Photo cred Melodie Yvonne
The Vogue Theatre got back to their roots with an amazing sold-out screening of The Rocky Horror Picture Show for Movie Monday on October 14, 2019. Photo cred Melodie Yvonne
The Vogue Theatre got back to their roots with an amazing sold-out screening of The Rocky Horror Picture Show for Movie Monday on October 14, 2019. Photo cred Melodie Yvonne
The Vogue Theatre got back to their roots with an amazing sold-out screening of The Rocky Horror Picture Show for Movie Monday on October 14, 2019. Photo cred Melodie Yvonne
+88 More
The Vogue Theatre got back to their roots with an amazing sold-out screening of The Rocky Horror Picture Show for Movie Monday on October 14, 2019. Photo cred Melodie Yvonne
The Vogue Theatre got back to their roots with an amazing sold-out screening of The Rocky Horror Picture Show for Movie Monday on October 14, 2019. Photo cred Melodie Yvonne
The Vogue Theatre got back to their roots with an amazing sold-out screening of The Rocky Horror Picture Show for Movie Monday on October 14, 2019. Photo cred Melodie Yvonne
The Vogue Theatre got back to their roots with an amazing sold-out screening of The Rocky Horror Picture Show for Movie Monday on October 14, 2019. Photo cred Melodie Yvonne
The Vogue Theatre got back to their roots with an amazing sold-out screening of The Rocky Horror Picture Show for Movie Monday on October 14, 2019. Photo cred Melodie Yvonne
The Vogue Theatre got back to their roots with an amazing sold-out screening of The Rocky Horror Picture Show for Movie Monday on October 14, 2019. Photo cred Melodie Yvonne
The Vogue Theatre got back to their roots with an amazing sold-out screening of The Rocky Horror Picture Show for Movie Monday on October 14, 2019. Photo cred Melodie Yvonne
The Vogue Theatre got back to their roots with an amazing sold-out screening of The Rocky Horror Picture Show for Movie Monday on October 14, 2019. Photo cred Melodie Yvonne
The Vogue Theatre got back to their roots with an amazing sold-out screening of The Rocky Horror Picture Show for Movie Monday on October 14, 2019. Photo cred Melodie Yvonne
The Vogue Theatre got back to their roots with an amazing sold-out screening of The Rocky Horror Picture Show for Movie Monday on October 14, 2019. Photo cred Melodie Yvonne
The Vogue Theatre got back to their roots with an amazing sold-out screening of The Rocky Horror Picture Show for Movie Monday on October 14, 2019. Photo cred Melodie Yvonne
The Vogue Theatre got back to their roots with an amazing sold-out screening of The Rocky Horror Picture Show for Movie Monday on October 14, 2019. Photo cred Melodie Yvonne
The Vogue Theatre got back to their roots with an amazing sold-out screening of The Rocky Horror Picture Show for Movie Monday on October 14, 2019. Photo cred Melodie Yvonne
The Vogue Theatre got back to their roots with an amazing sold-out screening of The Rocky Horror Picture Show for Movie Monday on October 14, 2019. Photo cred Melodie Yvonne
The Vogue Theatre got back to their roots with an amazing sold-out screening of The Rocky Horror Picture Show for Movie Monday on October 14, 2019. Photo cred Melodie Yvonne
The Vogue Theatre got back to their roots with an amazing sold-out screening of The Rocky Horror Picture Show for Movie Monday on October 14, 2019. Photo cred Melodie Yvonne
The Vogue Theatre got back to their roots with an amazing sold-out screening of The Rocky Horror Picture Show for Movie Monday on October 14, 2019. Photo cred Melodie Yvonne
The Vogue Theatre got back to their roots with an amazing sold-out screening of The Rocky Horror Picture Show for Movie Monday on October 14, 2019. Photo cred Melodie Yvonne
The Vogue Theatre got back to their roots with an amazing sold-out screening of The Rocky Horror Picture Show for Movie Monday on October 14, 2019. Photo cred Melodie Yvonne
The Vogue Theatre got back to their roots with an amazing sold-out screening of The Rocky Horror Picture Show for Movie Monday on October 14, 2019. Photo cred Melodie Yvonne
The Vogue Theatre got back to their roots with an amazing sold-out screening of The Rocky Horror Picture Show for Movie Monday on October 14, 2019. Photo cred Melodie Yvonne
The Vogue Theatre got back to their roots with an amazing sold-out screening of The Rocky Horror Picture Show for Movie Monday on October 14, 2019. Photo cred Melodie Yvonne
The Vogue Theatre got back to their roots with an amazing sold-out screening of The Rocky Horror Picture Show for Movie Monday on October 14, 2019. Photo cred Melodie Yvonne
The Vogue Theatre got back to their roots with an amazing sold-out screening of The Rocky Horror Picture Show for Movie Monday on October 14, 2019. Photo cred Melodie Yvonne
The Vogue Theatre got back to their roots with an amazing sold-out screening of The Rocky Horror Picture Show for Movie Monday on October 14, 2019. Photo cred Melodie Yvonne
The Vogue Theatre got back to their roots with an amazing sold-out screening of The Rocky Horror Picture Show for Movie Monday on October 14, 2019. Photo cred Melodie Yvonne
The Vogue Theatre got back to their roots with an amazing sold-out screening of The Rocky Horror Picture Show for Movie Monday on October 14, 2019. Photo cred Melodie Yvonne
The Vogue Theatre got back to their roots with an amazing sold-out screening of The Rocky Horror Picture Show for Movie Monday on October 14, 2019. Photo cred Melodie Yvonne
The Vogue Theatre got back to their roots with an amazing sold-out screening of The Rocky Horror Picture Show for Movie Monday on October 14, 2019. Photo cred Melodie Yvonne
The Vogue Theatre got back to their roots with an amazing sold-out screening of The Rocky Horror Picture Show for Movie Monday on October 14, 2019. Photo cred Melodie Yvonne
The Vogue Theatre got back to their roots with an amazing sold-out screening of The Rocky Horror Picture Show for Movie Monday on October 14, 2019. Photo cred Melodie Yvonne
The Vogue Theatre got back to their roots with an amazing sold-out screening of The Rocky Horror Picture Show for Movie Monday on October 14, 2019. Photo cred Melodie Yvonne
The Vogue Theatre got back to their roots with an amazing sold-out screening of The Rocky Horror Picture Show for Movie Monday on October 14, 2019. Photo cred Melodie Yvonne
The Vogue Theatre got back to their roots with an amazing sold-out screening of The Rocky Horror Picture Show for Movie Monday on October 14, 2019. Photo cred Melodie Yvonne
The Vogue Theatre got back to their roots with an amazing sold-out screening of The Rocky Horror Picture Show for Movie Monday on October 14, 2019. Photo cred Melodie Yvonne
The Vogue Theatre got back to their roots with an amazing sold-out screening of The Rocky Horror Picture Show for Movie Monday on October 14, 2019. Photo cred Melodie Yvonne
The Vogue Theatre got back to their roots with an amazing sold-out screening of The Rocky Horror Picture Show for Movie Monday on October 14, 2019. Photo cred Melodie Yvonne
The Vogue Theatre got back to their roots with an amazing sold-out screening of The Rocky Horror Picture Show for Movie Monday on October 14, 2019. Photo cred Melodie Yvonne
The Vogue Theatre got back to their roots with an amazing sold-out screening of The Rocky Horror Picture Show for Movie Monday on October 14, 2019. Photo cred Melodie Yvonne
The Vogue Theatre got back to their roots with an amazing sold-out screening of The Rocky Horror Picture Show for Movie Monday on October 14, 2019. Photo cred Melodie Yvonne
The Vogue Theatre got back to their roots with an amazing sold-out screening of The Rocky Horror Picture Show for Movie Monday on October 14, 2019. Photo cred Melodie Yvonne
The Vogue Theatre got back to their roots with an amazing sold-out screening of The Rocky Horror Picture Show for Movie Monday on October 14, 2019. Photo cred Melodie Yvonne
The Vogue Theatre got back to their roots with an amazing sold-out screening of The Rocky Horror Picture Show for Movie Monday on October 14, 2019. Photo cred Melodie Yvonne
The Vogue Theatre got back to their roots with an amazing sold-out screening of The Rocky Horror Picture Show for Movie Monday on October 14, 2019. Photo cred Melodie Yvonne
The Vogue Theatre got back to their roots with an amazing sold-out screening of The Rocky Horror Picture Show for Movie Monday on October 14, 2019. Photo cred Melodie Yvonne
The Vogue Theatre got back to their roots with an amazing sold-out screening of The Rocky Horror Picture Show for Movie Monday on October 14, 2019. Photo cred Melodie Yvonne
The Vogue Theatre got back to their roots with an amazing sold-out screening of The Rocky Horror Picture Show for Movie Monday on October 14, 2019. Photo cred Melodie Yvonne
The Vogue Theatre got back to their roots with an amazing sold-out screening of The Rocky Horror Picture Show for Movie Monday on October 14, 2019. Photo cred Melodie Yvonne
The Vogue Theatre got back to their roots with an amazing sold-out screening of The Rocky Horror Picture Show for Movie Monday on October 14, 2019. Photo cred Melodie Yvonne
The Vogue Theatre got back to their roots with an amazing sold-out screening of The Rocky Horror Picture Show for Movie Monday on October 14, 2019. Photo cred Melodie Yvonne
The Vogue Theatre got back to their roots with an amazing sold-out screening of The Rocky Horror Picture Show for Movie Monday on October 14, 2019. Photo cred Melodie Yvonne
The Vogue Theatre got back to their roots with an amazing sold-out screening of The Rocky Horror Picture Show for Movie Monday on October 14, 2019. Photo cred Melodie Yvonne
The Vogue Theatre got back to their roots with an amazing sold-out screening of The Rocky Horror Picture Show for Movie Monday on October 14, 2019. Photo cred Melodie Yvonne
The Vogue Theatre got back to their roots with an amazing sold-out screening of The Rocky Horror Picture Show for Movie Monday on October 14, 2019. Photo cred Melodie Yvonne
The Vogue Theatre got back to their roots with an amazing sold-out screening of The Rocky Horror Picture Show for Movie Monday on October 14, 2019. Photo cred Melodie Yvonne
The Vogue Theatre got back to their roots with an amazing sold-out screening of The Rocky Horror Picture Show for Movie Monday on October 14, 2019. Photo cred Melodie Yvonne
The Vogue Theatre got back to their roots with an amazing sold-out screening of The Rocky Horror Picture Show for Movie Monday on October 14, 2019. Photo cred Melodie Yvonne
The Vogue Theatre got back to their roots with an amazing sold-out screening of The Rocky Horror Picture Show for Movie Monday on October 14, 2019. Photo cred Melodie Yvonne
The Vogue Theatre got back to their roots with an amazing sold-out screening of The Rocky Horror Picture Show for Movie Monday on October 14, 2019. Photo cred Melodie Yvonne
The Vogue Theatre got back to their roots with an amazing sold-out screening of The Rocky Horror Picture Show for Movie Monday on October 14, 2019. Photo cred Melodie Yvonne
The Vogue Theatre got back to their roots with an amazing sold-out screening of The Rocky Horror Picture Show for Movie Monday on October 14, 2019. Photo cred Melodie Yvonne
The Vogue Theatre got back to their roots with an amazing sold-out screening of The Rocky Horror Picture Show for Movie Monday on October 14, 2019. Photo cred Melodie Yvonne
The Vogue Theatre got back to their roots with an amazing sold-out screening of The Rocky Horror Picture Show for Movie Monday on October 14, 2019. Photo cred Melodie Yvonne
The Vogue Theatre got back to their roots with an amazing sold-out screening of The Rocky Horror Picture Show for Movie Monday on October 14, 2019. Photo cred Melodie Yvonne
The Vogue Theatre got back to their roots with an amazing sold-out screening of The Rocky Horror Picture Show for Movie Monday on October 14, 2019. Photo cred Melodie Yvonne
The Vogue Theatre got back to their roots with an amazing sold-out screening of The Rocky Horror Picture Show for Movie Monday on October 14, 2019. Photo cred Melodie Yvonne
The Vogue Theatre got back to their roots with an amazing sold-out screening of The Rocky Horror Picture Show for Movie Monday on October 14, 2019. Photo cred Melodie Yvonne
The Vogue Theatre got back to their roots with an amazing sold-out screening of The Rocky Horror Picture Show for Movie Monday on October 14, 2019. Photo cred Melodie Yvonne
The Vogue Theatre got back to their roots with an amazing sold-out screening of The Rocky Horror Picture Show for Movie Monday on October 14, 2019. Photo cred Melodie Yvonne
The Vogue Theatre got back to their roots with an amazing sold-out screening of The Rocky Horror Picture Show for Movie Monday on October 14, 2019. Photo cred Melodie Yvonne
The Vogue Theatre got back to their roots with an amazing sold-out screening of The Rocky Horror Picture Show for Movie Monday on October 14, 2019. Photo cred Melodie Yvonne
The Vogue Theatre got back to their roots with an amazing sold-out screening of The Rocky Horror Picture Show for Movie Monday on October 14, 2019. Photo cred Melodie Yvonne
The Vogue Theatre got back to their roots with an amazing sold-out screening of The Rocky Horror Picture Show for Movie Monday on October 14, 2019. Photo cred Melodie Yvonne
The Vogue Theatre got back to their roots with an amazing sold-out screening of The Rocky Horror Picture Show for Movie Monday on October 14, 2019. Photo cred Melodie Yvonne
The Vogue Theatre got back to their roots with an amazing sold-out screening of The Rocky Horror Picture Show for Movie Monday on October 14, 2019. Photo cred Melodie Yvonne
The Vogue Theatre got back to their roots with an amazing sold-out screening of The Rocky Horror Picture Show for Movie Monday on October 14, 2019. Photo cred Melodie Yvonne
The Vogue Theatre got back to their roots with an amazing sold-out screening of The Rocky Horror Picture Show for Movie Monday on October 14, 2019. Photo cred Melodie Yvonne
The Vogue Theatre got back to their roots with an amazing sold-out screening of The Rocky Horror Picture Show for Movie Monday on October 14, 2019. Photo cred Melodie Yvonne
The Vogue Theatre got back to their roots with an amazing sold-out screening of The Rocky Horror Picture Show for Movie Monday on October 14, 2019. Photo cred Melodie Yvonne
The Vogue Theatre got back to their roots with an amazing sold-out screening of The Rocky Horror Picture Show for Movie Monday on October 14, 2019. Photo cred Melodie Yvonne
The Vogue Theatre got back to their roots with an amazing sold-out screening of The Rocky Horror Picture Show for Movie Monday on October 14, 2019. Photo cred Melodie Yvonne
The Vogue Theatre got back to their roots with an amazing sold-out screening of The Rocky Horror Picture Show for Movie Monday on October 14, 2019. Photo cred Melodie Yvonne
The Vogue Theatre got back to their roots with an amazing sold-out screening of The Rocky Horror Picture Show for Movie Monday on October 14, 2019. Photo cred Melodie Yvonne
The Vogue Theatre got back to their roots with an amazing sold-out screening of The Rocky Horror Picture Show for Movie Monday on October 14, 2019. Photo cred Melodie Yvonne
The Vogue Theatre got back to their roots with an amazing sold-out screening of The Rocky Horror Picture Show for Movie Monday on October 14, 2019. Photo cred Melodie Yvonne
The Vogue Theatre got back to their roots with an amazing sold-out screening of The Rocky Horror Picture Show for Movie Monday on October 14, 2019. Photo cred Melodie Yvonne
The Vogue Theatre got back to their roots with an amazing sold-out screening of The Rocky Horror Picture Show for Movie Monday on October 14, 2019. Photo cred Melodie Yvonne
The Vogue Theatre got back to their roots with an amazing sold-out screening of The Rocky Horror Picture Show for Movie Monday on October 14, 2019. Photo cred Melodie Yvonne
Other Shows You Might Like
Similar Artists