Creative Carter Presents
Black & Gold NYE 2022 Celebration
Fri Dec 31, 2021
10:00 PM / Show: 10:00 PM
21+
$40 to $125
Creative Carter Presents Black & Gold NYE 2022 Celebration with Bobby V at The Vogue on December 31st, 2021
New Years Eve Black & Gold Celebration with special guest Bobby V
If you want to bring in the new year in style The Vogue is the place to be!
Guests can look forward to multiple bars, a midnight champagne toast, and many other surprises throughout the night.
Keeping you dancing all night will be DJ Day-Day, Dj Sounds by Todd, DJ-DJ, and DJ Pimp Cee. The event will be hosted by 96.3's radio personality B-Swift and will feature a special performance from Bobby V!
Doors open at 10 pm and we will be celebrating until 3 am. Dress to impress! Classy cocktail attire is strongly recommended but not required.
This is not your average New Year's Eve party and will be one for the books! If you haven't already, be sure to buy your tickets or VIP tables now!
TICKETING AND VIP PRICING
We will have a limited number of $40 Early Bird tickets available.
VIP includes a separate VIP entrance, access to private party areas, special party favors, and more!
$500 VIP TABLES INCLUDE:
(4) ADMISSION TICKETS
CHAMPAGNE
RED CARPET PHOTO
VIP DOOR ENTRANCE
GIFT BAGS FEATURING 2022 PARTY FAVORS
VIP TABLES WILL REQUIRE THE FOLLOWING BAR MINIMUMS:
MAIN FLOOR – I BOTTLE MINIMUM
MEZZANINE – I BOTTLE MINIMUM
SKY BOX — II BOTTLE MINIMUM
For additional information about tables and pricing contact: creativecarterpresents@gmail.com.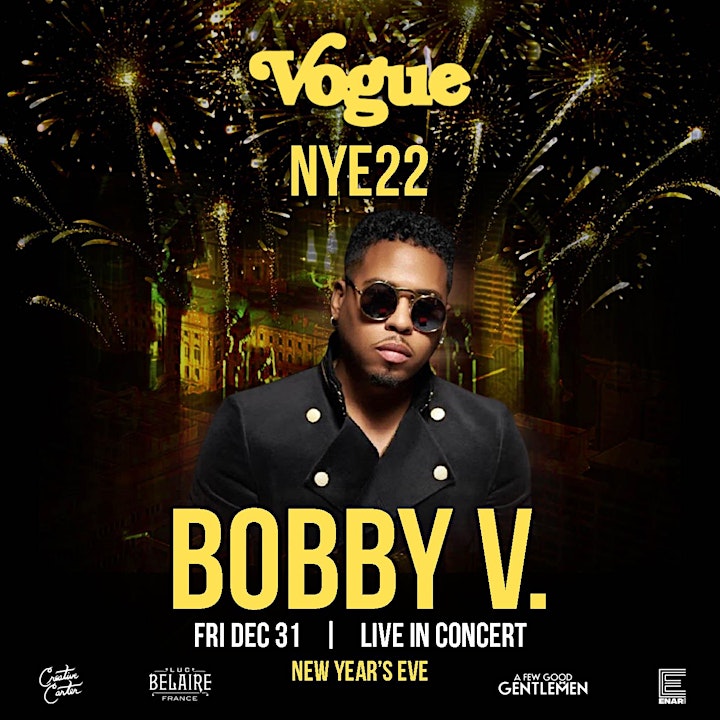 Creative Carter – Black & Gold NYE 2022 Celebration with special guest Bobby V
DECEMBER 31ST, 2021
21+
THE VOGUE THEATER
INDIANAPOLIS, IN
TICKETS AT THEVOGUE.COM
PLEASE NOTE:
THIS SHOW IS GENERAL ADMISSION AND SEATING IS NOT PROVIDED. YOU MUST BE 21+ TO ENTER THE VENUE WITH A VALID FORM OF IDENTIFICATION. ALL TICKETS ARE NON TRANSFERABLE AND NON-REFUNDABLE. TWO FORMS OF IDENTIFICATION MAY BE REQUIRED FOR ENTRY.
Creative Carter's NYE Black & Gold Celebration ft Bobby V with DJ Day-Day, Dj Sounds by Todd, DJ Pimp Cee, and DJ-DJ was an incredible party hosted by 96.3's B-Swift at The Vogue Theatre on Friday, December 31, 2021. Photo cred Melodie Yvonne
Creative Carter's NYE Black & Gold Celebration ft Bobby V with DJ Day-Day, Dj Sounds by Todd, DJ Pimp Cee, and DJ-DJ was an incredible party hosted by 96.3's B-Swift at The Vogue Theatre on Friday, December 31, 2021. Photo cred Melodie Yvonne
Creative Carter's NYE Black & Gold Celebration ft Bobby V with Devon Golder, Allison Victoria, DJ Day-Day, Dj Sounds by Todd, and DJ-DJ was an incredible party hosted by 96.3's B-Swift at The Vogue Theatre on Friday, December 31, 2021. Photo cred Melodie Yvonne
Creative Carter's NYE Black & Gold Celebration ft Bobby V with Devon Golder, Allison Victoria, DJ Day-Day, Dj Sounds by Todd, and DJ-DJ was an incredible party hosted by 96.3's B-Swift at The Vogue Theatre on Friday, December 31, 2021. Photo cred Melodie Yvonne
Creative Carter's NYE Black & Gold Celebration ft Bobby V with Devon Golder, Allison Victoria, DJ Day-Day, Dj Sounds by Todd, and DJ-DJ was an incredible party hosted by 96.3's B-Swift at The Vogue Theatre on Friday, December 31, 2021. Photo cred Melodie Yvonne
Creative Carter's NYE Black & Gold Celebration ft Bobby V with Devon Golder, Allison Victoria, DJ Day-Day, Dj Sounds by Todd, and DJ-DJ was an incredible party hosted by 96.3's B-Swift at The Vogue Theatre on Friday, December 31, 2021. Photo cred Melodie Yvonne
Creative Carter's NYE Black & Gold Celebration ft Bobby V with Devon Golder, Allison Victoria, DJ Day-Day, Dj Sounds by Todd, and DJ-DJ was an incredible party hosted by 96.3's B-Swift at The Vogue Theatre on Friday, December 31, 2021. Photo cred Melodie Yvonne
Creative Carter's NYE Black & Gold Celebration ft Bobby V with Devon Golder, Allison Victoria, DJ Day-Day, Dj Sounds by Todd, and DJ-DJ was an incredible party hosted by 96.3's B-Swift at The Vogue Theatre on Friday, December 31, 2021. Photo cred Melodie Yvonne
+74 More
Creative Carter's NYE Black & Gold Celebration ft Bobby V with Devon Golder, Allison Victoria, DJ Day-Day, Dj Sounds by Todd, and DJ-DJ was an incredible party hosted by 96.3's B-Swift at The Vogue Theatre on Friday, December 31, 2021. Photo cred Melodie Yvonne
Creative Carter's NYE Black & Gold Celebration ft Bobby V with Devon Golder, Allison Victoria, DJ Day-Day, Dj Sounds by Todd, and DJ-DJ was an incredible party hosted by 96.3's B-Swift at The Vogue Theatre on Friday, December 31, 2021. Photo cred Melodie Yvonne
Creative Carter's NYE Black & Gold Celebration ft Bobby V with Devon Golder, Allison Victoria, DJ Day-Day, Dj Sounds by Todd, and DJ-DJ was an incredible party hosted by 96.3's B-Swift at The Vogue Theatre on Friday, December 31, 2021. Photo cred Melodie Yvonne
Creative Carter's NYE Black & Gold Celebration ft Bobby V with Devon Golder, Allison Victoria, DJ Day-Day, Dj Sounds by Todd, and DJ-DJ was an incredible party hosted by 96.3's B-Swift at The Vogue Theatre on Friday, December 31, 2021. Photo cred Melodie Yvonne
Creative Carter's NYE Black & Gold Celebration ft Bobby V with Devon Golder, Allison Victoria, DJ Day-Day, Dj Sounds by Todd, and DJ-DJ was an incredible party hosted by 96.3's B-Swift at The Vogue Theatre on Friday, December 31, 2021. Photo cred Melodie Yvonne
Creative Carter's NYE Black & Gold Celebration ft Bobby V with Devon Golder, Allison Victoria, DJ Day-Day, Dj Sounds by Todd, and DJ-DJ was an incredible party hosted by 96.3's B-Swift at The Vogue Theatre on Friday, December 31, 2021. Photo cred Melodie Yvonne
Creative Carter's NYE Black & Gold Celebration ft Bobby V with Devon Golder, Allison Victoria, DJ Day-Day, Dj Sounds by Todd, and DJ-DJ was an incredible party hosted by 96.3's B-Swift at The Vogue Theatre on Friday, December 31, 2021. Photo cred Melodie Yvonne
Creative Carter's NYE Black & Gold Celebration ft Bobby V with DJ Day-Day, Dj Sounds by Todd, DJ Pimp Cee, and DJ-DJ was an incredible party hosted by 96.3's B-Swift at The Vogue Theatre on Friday, December 31, 2021. Photo cred Melodie Yvonne
Creative Carter's NYE Black & Gold Celebration ft Bobby V with DJ Day-Day, Dj Sounds by Todd, DJ Pimp Cee, and DJ-DJ was an incredible party hosted by 96.3's B-Swift at The Vogue Theatre on Friday, December 31, 2021. Photo cred Melodie Yvonne
Creative Carter's NYE Black & Gold Celebration ft Bobby V with DJ Day-Day, Dj Sounds by Todd, DJ Pimp Cee, and DJ-DJ was an incredible party hosted by 96.3's B-Swift at The Vogue Theatre on Friday, December 31, 2021. Photo cred Melodie Yvonne
Creative Carter's NYE Black & Gold Celebration ft Bobby V with Devon Golder, Allison Victoria, DJ Day-Day, Dj Sounds by Todd, and DJ-DJ was an incredible party hosted by 96.3's B-Swift at The Vogue Theatre on Friday, December 31, 2021. Photo cred Melodie Yvonne
Creative Carter's NYE Black & Gold Celebration ft Bobby V with Devon Golder, Allison Victoria, DJ Day-Day, Dj Sounds by Todd, and DJ-DJ was an incredible party hosted by 96.3's B-Swift at The Vogue Theatre on Friday, December 31, 2021. Photo cred Melodie Yvonne
Creative Carter's NYE Black & Gold Celebration ft Bobby V with Devon Golder, Allison Victoria, DJ Day-Day, Dj Sounds by Todd, and DJ-DJ was an incredible party hosted by 96.3's B-Swift at The Vogue Theatre on Friday, December 31, 2021. Photo cred Melodie Yvonne
Creative Carter's NYE Black & Gold Celebration ft Bobby V with Devon Golder, Allison Victoria, DJ Day-Day, Dj Sounds by Todd, and DJ-DJ was an incredible party hosted by 96.3's B-Swift at The Vogue Theatre on Friday, December 31, 2021. Photo cred Melodie Yvonne
Creative Carter's NYE Black & Gold Celebration ft Bobby V with Devon Golder, Allison Victoria, DJ Day-Day, Dj Sounds by Todd, and DJ-DJ was an incredible party hosted by 96.3's B-Swift at The Vogue Theatre on Friday, December 31, 2021. Photo cred Melodie Yvonne
Creative Carter's NYE Black & Gold Celebration ft Bobby V with Devon Golder, Allison Victoria, DJ Day-Day, Dj Sounds by Todd, and DJ-DJ was an incredible party hosted by 96.3's B-Swift at The Vogue Theatre on Friday, December 31, 2021. Photo cred Melodie Yvonne
Creative Carter's NYE Black & Gold Celebration ft Bobby V with Devon Golder, Allison Victoria, DJ Day-Day, Dj Sounds by Todd, and DJ-DJ was an incredible party hosted by 96.3's B-Swift at The Vogue Theatre on Friday, December 31, 2021. Photo cred Melodie Yvonne
Creative Carter's NYE Black & Gold Celebration ft Bobby V with DJ Day-Day, Dj Sounds by Todd, DJ Pimp Cee, and DJ-DJ was an incredible party hosted by 96.3's B-Swift at The Vogue Theatre on Friday, December 31, 2021. Photo cred Melodie Yvonne
Creative Carter's NYE Black & Gold Celebration ft Bobby V with DJ Day-Day, Dj Sounds by Todd, DJ Pimp Cee, and DJ-DJ was an incredible party hosted by 96.3's B-Swift at The Vogue Theatre on Friday, December 31, 2021. Photo cred Melodie Yvonne
Creative Carter's NYE Black & Gold Celebration ft Bobby V with DJ Day-Day, Dj Sounds by Todd, DJ Pimp Cee, and DJ-DJ was an incredible party hosted by 96.3's B-Swift at The Vogue Theatre on Friday, December 31, 2021. Photo cred Melodie Yvonne
Creative Carter's NYE Black & Gold Celebration ft Bobby V with Devon Golder, Allison Victoria, DJ Day-Day, Dj Sounds by Todd, and DJ-DJ was an incredible party hosted by 96.3's B-Swift at The Vogue Theatre on Friday, December 31, 2021. Photo cred Melodie Yvonne
Creative Carter's NYE Black & Gold Celebration ft Bobby V with Devon Golder, Allison Victoria, DJ Day-Day, Dj Sounds by Todd, and DJ-DJ was an incredible party hosted by 96.3's B-Swift at The Vogue Theatre on Friday, December 31, 2021. Photo cred Melodie Yvonne
Creative Carter's NYE Black & Gold Celebration ft Bobby V with Devon Golder, Allison Victoria, DJ Day-Day, Dj Sounds by Todd, and DJ-DJ was an incredible party hosted by 96.3's B-Swift at The Vogue Theatre on Friday, December 31, 2021. Photo cred Melodie Yvonne
Creative Carter's NYE Black & Gold Celebration ft Bobby V with Devon Golder, Allison Victoria, DJ Day-Day, Dj Sounds by Todd, and DJ-DJ was an incredible party hosted by 96.3's B-Swift at The Vogue Theatre on Friday, December 31, 2021. Photo cred Melodie Yvonne
Creative Carter's NYE Black & Gold Celebration ft Bobby V with Devon Golder, Allison Victoria, DJ Day-Day, Dj Sounds by Todd, and DJ-DJ was an incredible party hosted by 96.3's B-Swift at The Vogue Theatre on Friday, December 31, 2021. Photo cred Melodie Yvonne
Creative Carter's NYE Black & Gold Celebration ft Bobby V with Devon Golder, Allison Victoria, DJ Day-Day, Dj Sounds by Todd, and DJ-DJ was an incredible party hosted by 96.3's B-Swift at The Vogue Theatre on Friday, December 31, 2021. Photo cred Melodie Yvonne
Creative Carter's NYE Black & Gold Celebration ft Bobby V with Devon Golder, Allison Victoria, DJ Day-Day, Dj Sounds by Todd, and DJ-DJ was an incredible party hosted by 96.3's B-Swift at The Vogue Theatre on Friday, December 31, 2021. Photo cred Melodie Yvonne
Creative Carter's NYE Black & Gold Celebration ft Bobby V with Devon Golder, Allison Victoria, DJ Day-Day, Dj Sounds by Todd, and DJ-DJ was an incredible party hosted by 96.3's B-Swift at The Vogue Theatre on Friday, December 31, 2021. Photo cred Melodie Yvonne
Creative Carter's NYE Black & Gold Celebration ft Bobby V with Devon Golder, Allison Victoria, DJ Day-Day, Dj Sounds by Todd, and DJ-DJ was an incredible party hosted by 96.3's B-Swift at The Vogue Theatre on Friday, December 31, 2021. Photo cred Melodie Yvonne
Creative Carter's NYE Black & Gold Celebration ft Bobby V with Devon Golder, Allison Victoria, DJ Day-Day, Dj Sounds by Todd, and DJ-DJ was an incredible party hosted by 96.3's B-Swift at The Vogue Theatre on Friday, December 31, 2021. Photo cred Melodie Yvonne
Creative Carter's NYE Black & Gold Celebration ft Bobby V with Devon Golder, Allison Victoria, DJ Day-Day, Dj Sounds by Todd, and DJ-DJ was an incredible party hosted by 96.3's B-Swift at The Vogue Theatre on Friday, December 31, 2021. Photo cred Melodie Yvonne
Creative Carter's NYE Black & Gold Celebration ft Bobby V with Devon Golder, Allison Victoria, DJ Day-Day, Dj Sounds by Todd, and DJ-DJ was an incredible party hosted by 96.3's B-Swift at The Vogue Theatre on Friday, December 31, 2021. Photo cred Melodie Yvonne
Creative Carter's NYE Black & Gold Celebration ft Bobby V with Devon Golder, Allison Victoria, DJ Day-Day, Dj Sounds by Todd, and DJ-DJ was an incredible party hosted by 96.3's B-Swift at The Vogue Theatre on Friday, December 31, 2021. Photo cred Melodie Yvonne
Creative Carter's NYE Black & Gold Celebration ft Bobby V with Devon Golder, Allison Victoria, DJ Day-Day, Dj Sounds by Todd, and DJ-DJ was an incredible party hosted by 96.3's B-Swift at The Vogue Theatre on Friday, December 31, 2021. Photo cred Melodie Yvonne
Creative Carter's NYE Black & Gold Celebration ft Bobby V with Devon Golder, Allison Victoria, DJ Day-Day, Dj Sounds by Todd, and DJ-DJ was an incredible party hosted by 96.3's B-Swift at The Vogue Theatre on Friday, December 31, 2021. Photo cred Melodie Yvonne
Creative Carter's NYE Black & Gold Celebration ft Bobby V with Devon Golder, Allison Victoria, DJ Day-Day, Dj Sounds by Todd, and DJ-DJ was an incredible party hosted by 96.3's B-Swift at The Vogue Theatre on Friday, December 31, 2021. Photo cred Melodie Yvonne
Creative Carter's NYE Black & Gold Celebration ft Bobby V with Devon Golder, Allison Victoria, DJ Day-Day, Dj Sounds by Todd, and DJ-DJ was an incredible party hosted by 96.3's B-Swift at The Vogue Theatre on Friday, December 31, 2021. Photo cred Melodie Yvonne
Creative Carter's NYE Black & Gold Celebration ft Bobby V with Devon Golder, Allison Victoria, DJ Day-Day, Dj Sounds by Todd, and DJ-DJ was an incredible party hosted by 96.3's B-Swift at The Vogue Theatre on Friday, December 31, 2021. Photo cred Melodie Yvonne
Creative Carter's NYE Black & Gold Celebration ft Bobby V with Devon Golder, Allison Victoria, DJ Day-Day, Dj Sounds by Todd, and DJ-DJ was an incredible party hosted by 96.3's B-Swift at The Vogue Theatre on Friday, December 31, 2021. Photo cred Melodie Yvonne
Creative Carter's NYE Black & Gold Celebration ft Bobby V with Devon Golder, Allison Victoria, DJ Day-Day, Dj Sounds by Todd, and DJ-DJ was an incredible party hosted by 96.3's B-Swift at The Vogue Theatre on Friday, December 31, 2021. Photo cred Melodie Yvonne
Creative Carter's NYE Black & Gold Celebration ft Bobby V with Devon Golder, Allison Victoria, DJ Day-Day, Dj Sounds by Todd, and DJ-DJ was an incredible party hosted by 96.3's B-Swift at The Vogue Theatre on Friday, December 31, 2021. Photo cred Melodie Yvonne
Creative Carter's NYE Black & Gold Celebration ft Bobby V with Devon Golder, Allison Victoria, DJ Day-Day, Dj Sounds by Todd, and DJ-DJ was an incredible party hosted by 96.3's B-Swift at The Vogue Theatre on Friday, December 31, 2021. Photo cred Melodie Yvonne
Creative Carter's NYE Black & Gold Celebration ft Bobby V with Devon Golder, Allison Victoria, DJ Day-Day, Dj Sounds by Todd, and DJ-DJ was an incredible party hosted by 96.3's B-Swift at The Vogue Theatre on Friday, December 31, 2021. Photo cred Melodie Yvonne
Creative Carter's NYE Black & Gold Celebration ft Bobby V with Devon Golder, Allison Victoria, DJ Day-Day, Dj Sounds by Todd, and DJ-DJ was an incredible party hosted by 96.3's B-Swift at The Vogue Theatre on Friday, December 31, 2021. Photo cred Melodie Yvonne
Creative Carter's NYE Black & Gold Celebration ft Bobby V with Devon Golder, Allison Victoria, DJ Day-Day, Dj Sounds by Todd, and DJ-DJ was an incredible party hosted by 96.3's B-Swift at The Vogue Theatre on Friday, December 31, 2021. Photo cred Melodie Yvonne
Creative Carter's NYE Black & Gold Celebration ft Bobby V with Devon Golder, Allison Victoria, DJ Day-Day, Dj Sounds by Todd, and DJ-DJ was an incredible party hosted by 96.3's B-Swift at The Vogue Theatre on Friday, December 31, 2021. Photo cred Melodie Yvonne
Creative Carter's NYE Black & Gold Celebration ft Bobby V with Devon Golder, Allison Victoria, DJ Day-Day, Dj Sounds by Todd, and DJ-DJ was an incredible party hosted by 96.3's B-Swift at The Vogue Theatre on Friday, December 31, 2021. Photo cred Melodie Yvonne
Creative Carter's NYE Black & Gold Celebration ft Bobby V with DJ Day-Day, Dj Sounds by Todd, DJ Pimp Cee, and DJ-DJ was an incredible party hosted by 96.3's B-Swift at The Vogue Theatre on Friday, December 31, 2021. Photo cred Melodie Yvonne
Creative Carter's NYE Black & Gold Celebration ft Bobby V with DJ Day-Day, Dj Sounds by Todd, DJ Pimp Cee, and DJ-DJ was an incredible party hosted by 96.3's B-Swift at The Vogue Theatre on Friday, December 31, 2021. Photo cred Melodie Yvonne
Creative Carter's NYE Black & Gold Celebration ft Bobby V with DJ Day-Day, Dj Sounds by Todd, DJ Pimp Cee, and DJ-DJ was an incredible party hosted by 96.3's B-Swift at The Vogue Theatre on Friday, December 31, 2021. Photo cred Melodie Yvonne
Creative Carter's NYE Black & Gold Celebration ft Bobby V with DJ Day-Day, Dj Sounds by Todd, DJ Pimp Cee, and DJ-DJ was an incredible party hosted by 96.3's B-Swift at The Vogue Theatre on Friday, December 31, 2021. Photo cred Melodie Yvonne
Creative Carter's NYE Black & Gold Celebration ft Bobby V with DJ Day-Day, Dj Sounds by Todd, DJ Pimp Cee, and DJ-DJ was an incredible party hosted by 96.3's B-Swift at The Vogue Theatre on Friday, December 31, 2021. Photo cred Melodie Yvonne
Creative Carter's NYE Black & Gold Celebration ft Bobby V with DJ Day-Day, Dj Sounds by Todd, DJ Pimp Cee, and DJ-DJ was an incredible party hosted by 96.3's B-Swift at The Vogue Theatre on Friday, December 31, 2021. Photo cred Melodie Yvonne
Creative Carter's NYE Black & Gold Celebration ft Bobby V with DJ Day-Day, Dj Sounds by Todd, DJ Pimp Cee, and DJ-DJ was an incredible party hosted by 96.3's B-Swift at The Vogue Theatre on Friday, December 31, 2021. Photo cred Melodie Yvonne
Creative Carter's NYE Black & Gold Celebration ft Bobby V with DJ Day-Day, Dj Sounds by Todd, DJ Pimp Cee, and DJ-DJ was an incredible party hosted by 96.3's B-Swift at The Vogue Theatre on Friday, December 31, 2021. Photo cred Melodie Yvonne
Creative Carter's NYE Black & Gold Celebration ft Bobby V with DJ Day-Day, Dj Sounds by Todd, DJ Pimp Cee, and DJ-DJ was an incredible party hosted by 96.3's B-Swift at The Vogue Theatre on Friday, December 31, 2021. Photo cred Melodie Yvonne
Creative Carter's NYE Black & Gold Celebration ft Bobby V with Devon Golder, Allison Victoria, DJ Day-Day, Dj Sounds by Todd, and DJ-DJ was an incredible party hosted by 96.3's B-Swift at The Vogue Theatre on Friday, December 31, 2021. Photo cred Melodie Yvonne
Creative Carter's NYE Black & Gold Celebration ft Bobby V with Devon Golder, Allison Victoria, DJ Day-Day, Dj Sounds by Todd, and DJ-DJ was an incredible party hosted by 96.3's B-Swift at The Vogue Theatre on Friday, December 31, 2021. Photo cred Melodie Yvonne
Creative Carter's NYE Black & Gold Celebration ft Bobby V with Devon Golder, Allison Victoria, DJ Day-Day, Dj Sounds by Todd, and DJ-DJ was an incredible party hosted by 96.3's B-Swift at The Vogue Theatre on Friday, December 31, 2021. Photo cred Melodie Yvonne
Creative Carter's NYE Black & Gold Celebration ft Bobby V with Devon Golder, Allison Victoria, DJ Day-Day, Dj Sounds by Todd, and DJ-DJ was an incredible party hosted by 96.3's B-Swift at The Vogue Theatre on Friday, December 31, 2021. Photo cred Melodie Yvonne
Creative Carter's NYE Black & Gold Celebration ft Bobby V with Devon Golder, Allison Victoria, DJ Day-Day, Dj Sounds by Todd, and DJ-DJ was an incredible party hosted by 96.3's B-Swift at The Vogue Theatre on Friday, December 31, 2021. Photo cred Melodie Yvonne
Creative Carter's NYE Black & Gold Celebration ft Bobby V with Devon Golder, Allison Victoria, DJ Day-Day, Dj Sounds by Todd, and DJ-DJ was an incredible party hosted by 96.3's B-Swift at The Vogue Theatre on Friday, December 31, 2021. Photo cred Melodie Yvonne
Creative Carter's NYE Black & Gold Celebration ft Bobby V with Devon Golder, Allison Victoria, DJ Day-Day, Dj Sounds by Todd, and DJ-DJ was an incredible party hosted by 96.3's B-Swift at The Vogue Theatre on Friday, December 31, 2021. Photo cred Melodie Yvonne
Creative Carter's NYE Black & Gold Celebration ft Bobby V with Devon Golder, Allison Victoria, DJ Day-Day, Dj Sounds by Todd, and DJ-DJ was an incredible party hosted by 96.3's B-Swift at The Vogue Theatre on Friday, December 31, 2021. Photo cred Melodie Yvonne
Creative Carter's NYE Black & Gold Celebration ft Bobby V with Devon Golder, Allison Victoria, DJ Day-Day, Dj Sounds by Todd, and DJ-DJ was an incredible party hosted by 96.3's B-Swift at The Vogue Theatre on Friday, December 31, 2021. Photo cred Melodie Yvonne
Creative Carter's NYE Black & Gold Celebration ft Bobby V with Devon Golder, Allison Victoria, DJ Day-Day, Dj Sounds by Todd, and DJ-DJ was an incredible party hosted by 96.3's B-Swift at The Vogue Theatre on Friday, December 31, 2021. Photo cred Melodie Yvonne
Creative Carter's NYE Black & Gold Celebration ft Bobby V with Devon Golder, Allison Victoria, DJ Day-Day, Dj Sounds by Todd, and DJ-DJ was an incredible party hosted by 96.3's B-Swift at The Vogue Theatre on Friday, December 31, 2021. Photo cred Melodie Yvonne
Creative Carter's NYE Black & Gold Celebration ft Bobby V with Devon Golder, Allison Victoria, DJ Day-Day, Dj Sounds by Todd, and DJ-DJ was an incredible party hosted by 96.3's B-Swift at The Vogue Theatre on Friday, December 31, 2021. Photo cred Melodie Yvonne
Creative Carter's NYE Black & Gold Celebration ft Bobby V with DJ Day-Day, Dj Sounds by Todd, DJ Pimp Cee, and DJ-DJ was an incredible party hosted by 96.3's B-Swift at The Vogue Theatre on Friday, December 31, 2021. Photo cred Melodie Yvonne
Creative Carter's NYE Black & Gold Celebration ft Bobby V with Devon Golder, Allison Victoria, DJ Day-Day, Dj Sounds by Todd, and DJ-DJ was an incredible party hosted by 96.3's B-Swift at The Vogue Theatre on Friday, December 31, 2021. Photo cred Melodie Yvonne
Creative Carter's NYE Black & Gold Celebration ft Bobby V with Devon Golder, Allison Victoria, DJ Day-Day, Dj Sounds by Todd, and DJ-DJ was an incredible party hosted by 96.3's B-Swift at The Vogue Theatre on Friday, December 31, 2021. Photo cred Melodie Yvonne
Creative Carter's NYE Black & Gold Celebration ft Bobby V with Devon Golder, Allison Victoria, DJ Day-Day, Dj Sounds by Todd, and DJ-DJ was an incredible party hosted by 96.3's B-Swift at The Vogue Theatre on Friday, December 31, 2021. Photo cred Melodie Yvonne
Creative Carter's NYE Black & Gold Celebration ft Bobby V with Devon Golder, Allison Victoria, DJ Day-Day, Dj Sounds by Todd, and DJ-DJ was an incredible party hosted by 96.3's B-Swift at The Vogue Theatre on Friday, December 31, 2021. Photo cred Melodie Yvonne
Creative Carter's NYE Black & Gold Celebration ft Bobby V with Devon Golder, Allison Victoria, DJ Day-Day, Dj Sounds by Todd, and DJ-DJ was an incredible party hosted by 96.3's B-Swift at The Vogue Theatre on Friday, December 31, 2021. Photo cred Melodie Yvonne
Other Shows You Might Like
Similar Artists